Milo Gibson and Annet Mahendru share common bonds both on and off-screen. In real life, they're in-laws. Mahendru is married to Gibson's brother, writer-director Louie Gibson, who's at the helm of the intense thriller Manifest West. The Brothers Gibson are Mel Gibson's sons. On screen, Milo and Annet are husband and wife, in fact, making Manifest West a true family affair.
The engaging coming-of-age story is told through the eyes of a young girl whose family spirals out of control after they decide to live off the grid in the North American wilderness. Michael Cudlitz, Tim Heidecker, Lexy Kolker, and Ava Kolker costar. Louie Gibson shares writing and directing credit with Joe Dietsch (A Cam Life, John Carpenter Live: Behind the Scenes.)
"After my brother sent me the script, I thought it was a cool story about a family who struggles with everyday-life situations that a lot of people struggle with," said Milo Gibson (Hacksaw Ridge, The Outpost). "He was like, 'Hey, do you want to be a part of it, playing Dave Hayes?' I thought, 'Yeah, why not?' It was a character I'd yet to jump into the shoes of. That's what kind of drew me to it. It was an interesting take on something."
The character of Dave isn't your ordinary dad in Manifest West. In fact, after the family runs out of money, the family moves from their comfy confines and live off-grid in the wilderness. There's a bit a dreamy idealism there. However, things soon go south, and the family finds themselves struggling to stay together, braving misunderstandings, psychological torment, and one epic battle with the local police.
Of working with her director-husband and brother-in-law, Mahendru (Escape from Tomorrow, The Walking Dead: World Beyond) said: "Louie is a wonderful partner and nurturer. We raise our children 50/50, and we work together as a family. So, to see him doing this gritty drama was really everything I'd hoped for him. And he did it. He executed it beautifully with his longtime partner, Joe Dietsch. To be part of that was surreal. And to have my brother-in-law, play my husband, was just beyond special. I'm so just so happy people are responding to the story."
"We gelled so well together. I mean, we've known each other forever already," Gibson added. "Sometimes people say, 'Don't go into business with your family.' But this situation wasn't like that. We all gelled. And we all gave each other the freedom to voice our opinions. It was an honor to work with Annet, who is an amazing actress, and to also work with my brother."
Related: Exclusive: Kyle Gallner Chats Up the Global Success of Smile and its Streaming Launch
A Survival Story
Manifest West is about family bonds—both on and off-screen. Mahendru noted the intensity of shooting some scenes.
"It was a very emotional experience for me. Fortunately, I love being emotional," she said. "I wanted to do well. I didn't want to leave this job and never want them to talk to me again, so we had to always check ourselves, and remember that while we're there, just with any project, to check that ego at the door and remember how lucky we are to be able to come together."
Gibson noted the "heavy" parts in the film and that things weren't shot chronologically. That's not unusual for most films but having a sense of chronological order does make things feel smooth in a dramatic film like Manifest West. "I appreciated that all of us were on the same page to get to the place we needed," he said of the process. "We all gave each other everything we had. I think that helps a lot when you're doing heavy scenes."
Mahendru shared that as things get progressively messy for the Hayes Family, it reminded her of parenthood, in general. "That's parenthood in a nutshell. You have to be okay when things go south—you pick yourself back up. There are beautiful moments in the film when the police are outside our cabin, and the windows are boarded up. And the family is blasting heavy metal, and we're just rocking out. It was like, 'We're together,' and it almost didn't matter how awful things were. We just wanted to be together and get a second to figure it out. We just need a little more time.
"And that's what life is like," she added. "Sometimes it feels as if there's never enough time; that we're just wrestling with time. So, the challenge [in filming] was finding hope. The family is just constantly wrestling with good and bad and making sense of it and making sense of the world."
Related: Exclusive: James Purefoy on Returning to the Buoy Band in Fisherman's Friends: One and All
Lessons Learned During Filming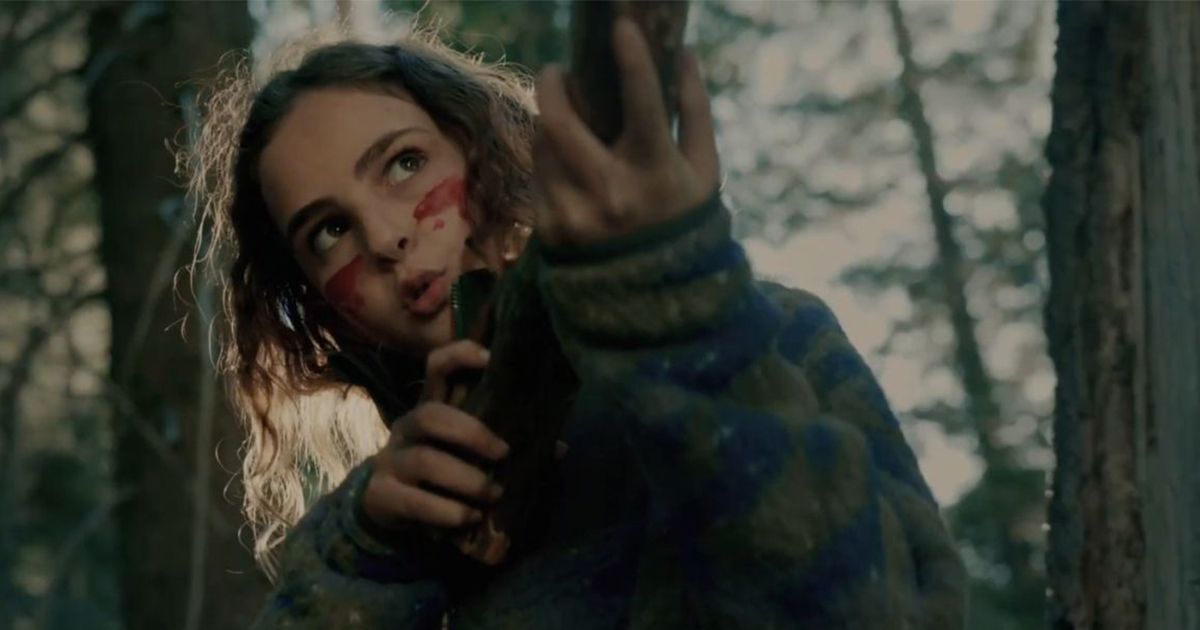 To be sure, Manifest West is a powerful story of how one family attempts to keep it together—against the odds. There's a lot at stake for the Hayes Family. As the film heads toward into its third act, situations intensify. When asked how the more intense scenes may have stretched them as actors, or if there was anything the actors learned about themselves in the process, Gibson and Mahendru are candid.
"I really learned that we're [people in general] always ready," Mahendru said. "A lot of times we feel like we're not ready. For those heavy scenes, we did that first take and it just worked for everyone because we really fought to be together. That was so moving. And all the kids, the dad, the police officer—everyone knew exactly what to do. So, you're always 'ready.'"
"I totally agree with that," Gibson said. "I think there were moments where the director said, 'Oh, we got it,' and you believe it. But sometimes you're like, 'I don't know. Did they really get it or not?' But when they said 'we got it' here, we understood that they actually 'got' what they needed from us.
"And about 'being ready,' that ending scene, I was a little stressed out about that whole thing," he went on. "But when they called action, it just all kind of fell into place perfectly. I realized, 'Okay, shit. This is fine. This is the whole workup for the entire film. And we've been together this whole time. This is it. I've already established this within myself that this is happening.' So, I surprised myself. And I didn't have to dig down that deep to grab out that emotion or grab out what was going on. I kind of shocked myself—it had been sitting there boiling for a while, and it came out. That was a pivotal moment for me. I think in my mind, I realized you just need to manifest it and bring it to the surface."
Manifest West, a Samuel Goldwyn Films release, is playing in theaters.