Move over, Hallmark — the streamers are out in full force with holiday films this year. Besides Netflix with its Lindsay Lohan-starring Falling for Christmas, Hulu enters the holiday ring with a slate of films including Merry Kiss Cam starring Katie Lowes. In the rom-com, the Inventing Anna actress plays widowed artist Jess, who ultimately goes on a first date with sports-fan bartender Danny (Jesse Bradford) at a hockey game. The rest is history once they end up on the infamous kiss cam.
We recently caught up with Lowes about her new film, which is now available for streaming on Hulu. She also dishes on the future of her hit ABC show Scandal, as well as being a mom of two. Read our exclusive interview below.
Loving Christmas and Doing a Holiday Film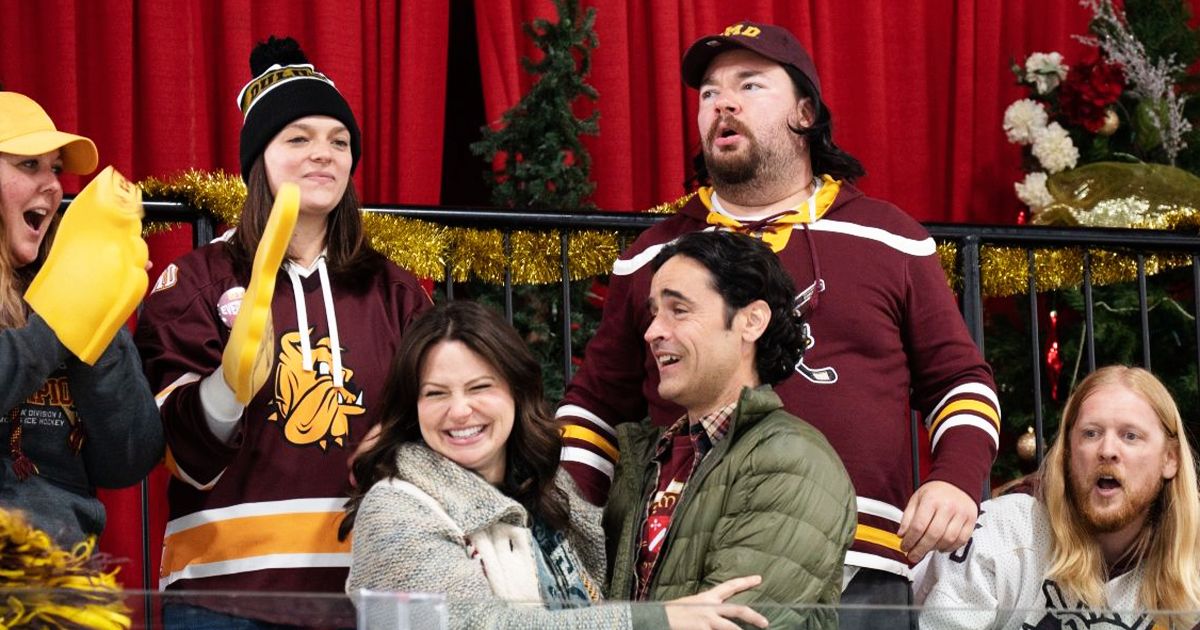 MW: Thanks for taking the time to chat with me!
Katie Lowes: My pleasure. I really am enjoying your [Christmas] sweater… I don't have any single Christmas or holiday sweater in my closet but I have a turtleneck. I can't believe I have no red. It's such an embarrassment. I can't believe I didn't take any of my costumes from Merry Kiss Cam so that I would have holiday attire till the end of time. I just didn't think.
MW: I guess you'll have to grab some if there's a sequel.
Katie Lowes: I would like to do a sequel. I'm saying it here and now: I think there should be a Merry Kiss Cam 2. I would like to go back to Duluth, Minnesota… It is so fun and so lovely. And they were such incredible hosts of our film.
MW: Would you ever do another Christmas movie, whether it's a sequel to this or just another movie in the genre?
Katie Lowes: I love Christmas. I love Christmas movies, and I'm just super, super tight with my family. And I love that they're all just streaming and binge-watching Merry Kiss Cam over and over and over again. So I feel like it's such a gift to, like, give my family a Christmas movie, something that anyone can watch at any age. And it's not like, "Oh gosh, don't let the kids watch Scandal because Katie's doing really weird stuff again." So yes, I would at any time do another one, especially Mary Kiss Cam 2 in Duluth.
Related: Exclusive: Jesse Bradford on Merry Kiss Cam and the Magic of Holiday Films
MW: What was it about Merry Kiss Cam that attracted you to the project?
Katie Lowes: You know, it was really the script and the director. The script came across my desk, and I thought it was such a great idea. I just thought in its simplicity, the idea about a kiss cam and two people who got stuck on it, and they actually end up kissing, and it actually ends up being a good kiss. And then the hockey team wins… [with] crazy, superstitious sports fans. You know, I just thought it was an adorable idea for the script. I loved the lead character. I thought she was complicated and interesting and multidimensional and really dealing with some grief and identity things that interested me. And then I got to meet with the director Lisa France, who I'd never worked with before but was a big fan of her work. And we have a lot of mutual friends, and I just was like, "If this woman's at the helm, I would love to go." Plus, the movie shot in Duluth over the summer, and I just think it's such a perk of this job that I get to travel and bring my family to interesting places that we would otherwise never find ourselves to be. And we got to rent this house on Lake Superior for a month in the summer, and my kids were just running around the Midwest in a little lake town that they'd never been to.
MW: Was your favorite scene to shoot, or favorite moment on set?
Katie Lowes: My really good friend Benny plays the superfan who's sitting behind Jesse and me at the ice skating rink. And I've known him for a million years. I made my Broadway debut and a musical called Waitress which he was also in. And he went to college in Duluth, and he's from Minnesota. And when I got this job, I was like, "I know the perfect dude for this. He went to this college. He's super Midwestern. He lives in New York. He's incredible at improv, and he's an amazing comedian." And those days where we did the scenes — we had two days where we had to get every single ice hockey rink scene done, and he was behind us — I could barely get through the scenes. I was laughing to tears because of all of his improvs and, you know, us having a kiss and him being insane behind us. And you know, watching the hockey, all the hockey guys they had hired to play the game, it was just very exciting — and somewhere I've never been. I just had a great time.
The Future of Scandal and Other Projects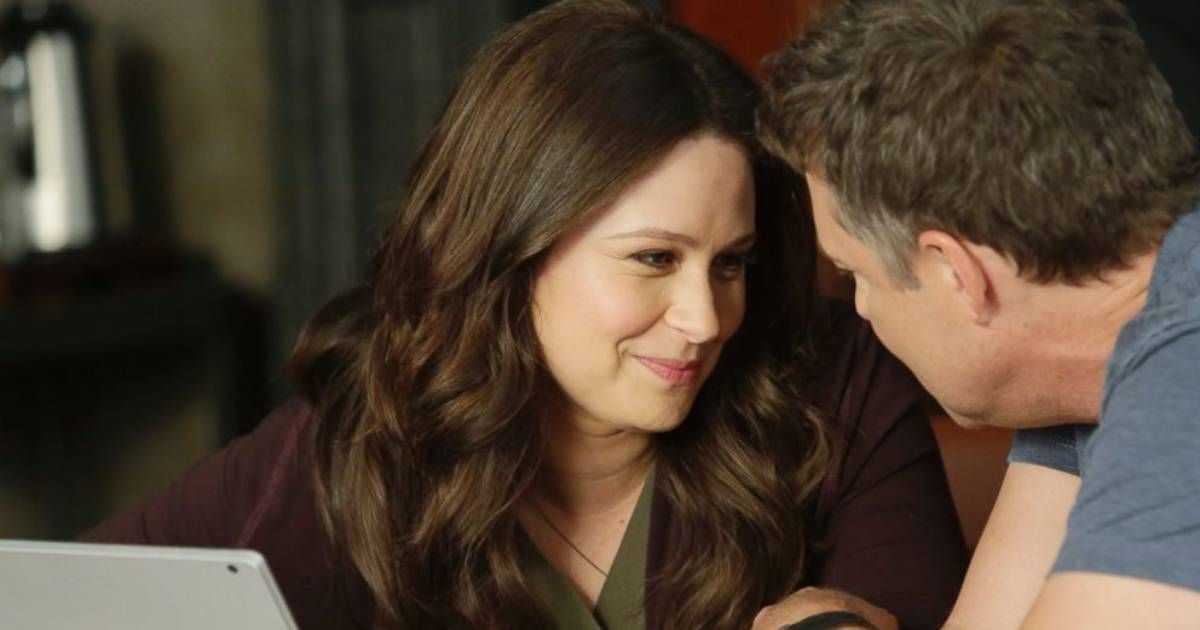 MW: On the topic of Scandal, if they ever would continue the series with a reboot or maybe a standalone movie, would you be interested in being a part of that?
Katie Lowes: Yes, we all would. We talk about it all the time. We're such a tight-knit group. We text every day. We're on a Whatsapp chain with all the leads of Scandal and all of our significant others. And I mean, I don't think the show would ever — I feel like Shonda Rhimes has even gone on record… I don't know. I mean, look, you never say "never." Who knows? But I know that our group, we're all very close and would jump at a chance to work with each other again, whether that's a movie or something. It'd be hilarious.
Related: Exclusive: Justin Hartley and Director Charles Shyer Discuss The Noel Diary
MW: Would you like to share about other any other projects you're currently working on?
Katie Lowes: Oh my gosh, I'm so busy. With this podcasting world, it has been really going crazy. And there are a lot of interesting things coming up that I can't fully mention yet, but [they] are very exciting and will be coming out soon. And I'm doing a lot of "mommying." I have two kids. One was a very little baby when I did Merry Kiss Cam, and now they're two fully, a little bit bigger kids, and they're taking up a lot of my time. And so it's sort of figuring out this juggling of, "OK, what do I want to work on next?" I got really good at working with one kid, and now it's like, "How am I working with two?" So we're figuring that out. But a lot of exciting things are on the horizon, and you will be hearing about them soon.
Merry Kiss Cam is available now on Hulu.