Mel Brooks is 97 years old and still going strong, thank goodness. The renowned actor and filmmaker is responsible for classics like Blazing Saddles and Robin Hood: Men in Tights. On the small screen, his latest project, the long-awaited History of the World: Part II, was generally well received, and was just recently, nominated across multiple Primetime Emmy Award categories, including post-production.
Speaking of, we just caught up with the editing team behind Hulu's hit series, which takes viewers through the different iconic periods of time in planet Earth's history. Angel Gamboa Bryant, George Mandl, and Daniel Flesher spoke to MovieWeb about their favorite sketches, memorable challenges behind cutting together unique bits, and more.
The First Mel Brooks Movie I Saw Was…
Everyone remembers their first. When we hear Mel Brooks, we may think of gems like The Producers and Young Frankenstein. For the editing team behind the sequel series to History of the World: Part I, a different parody film comes to mind. "I first got into Mel Brooks through Spaceballs at seven years old," said Flesher. "My parents showed it to me, and I was hooked. And I had never seen Star Wars at that point! So I didn't understand any of the references. And it wasn't until later that I saw Star Wars. I was like, 'Oh, Spaceballs makes sense to me…' And since then, I've just been hooked. So it was pretty fundamental to my comedy career."
Bryant and Mandl agreed that Spaceballs was also their first Mel Brooks experience. It's a movie that parodies a wide array of high-profile Hollywood projects that had already been released at the time. This is also the case with History of the World: Part II, and we had to ask what the editors' favorite sketches were. Bryant explained:
'The Russian Revolution' tentpole spans across several episodes. That to me was the most fun, not only to work on but to watch. And each of us dealt with different sections of it. It had so much variety, from musical numbers to a parody of Housewives. Then we had the princess storyline, where she was a modern-day influencer in the Russian Revolution. That was some of my favorite content for sure."
Another highlight — particularly for anyone who watched all 10 hours of Disney+'s The Beatles: Get Back — was the Jesus (Jay Ellis) episode when he's in the recording studio with Judas (Nick Kroll) and others. "The director of that sketch was Alice Mathias, who had a background in Documentary Now!" said Mandl. "So she knew how to set these things up to give us options, to have the cleaner takes and then the sloppy ones, where you're just in 'docu' world, and you're just following a camera from one thing to another […] just keeping it nice and messy, and true to sort of what Get Back did."
Related: History of the World, Part II Review: Mel Brooks Returns and So Do Most of the Classic Laughs
And who can forget those deep fake moments, where the 97-year-old Brooks' face is edited onto a macho man at two different moments during the show's run. "It was a very interesting, challenging experience trying to make that all happen," Bryant told us. He explained:
"We had to have Mel read the voiceover, and his sort of cadence was a little slower than we would have wanted. So we had to take it and keep speeding it up and cutting pieces out, and then we went to se. We played it back, and then [stand-in actor] Brock O'Hurn would read it. He tried to like mimic Mel's words, and it was challenging. And then when he finally got it, we had to basically, artfully put it together. And then we gave it to the [deep fake] company, who then put the face on [Brock's body]. It all worked out really well."
'A Big Jesus Action Movie Trailer'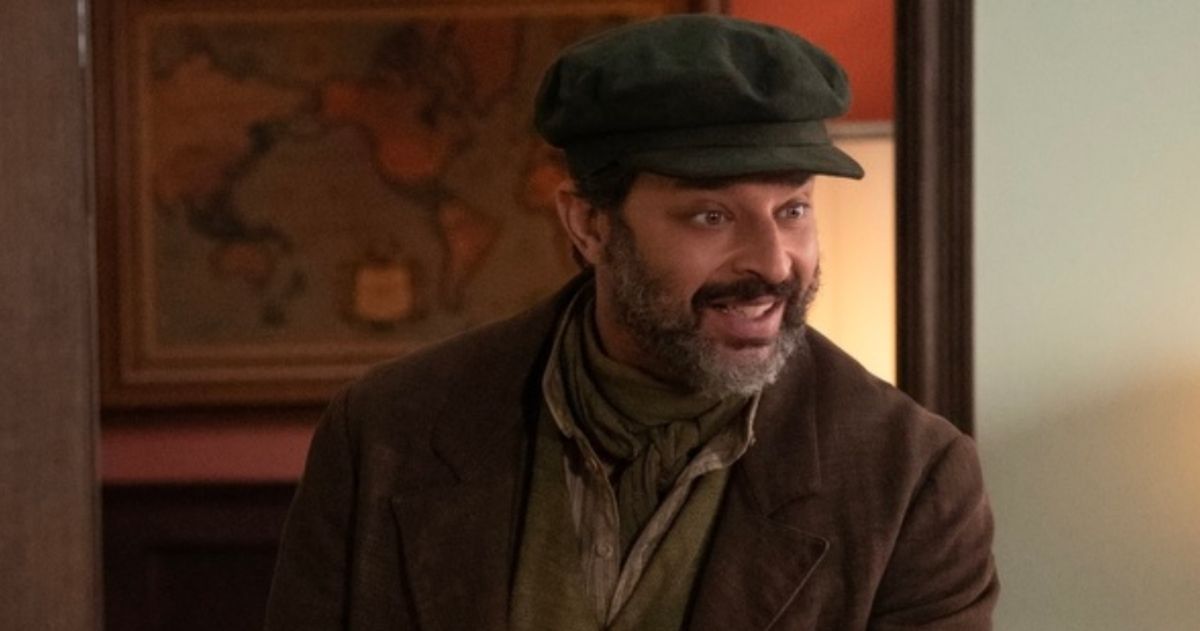 Action movie trailers are the best, aren't they? Even if the actual movie turns out to be a disappointment, there's no denying how impressive the promotional material can be. The editors of History of the World: Part II got to take part in their own beast of a trailer — with a twist of parody, of course.
"My favorite sketch was 'JC Resurrection,' our 'Christianity: The Movie,'" laughed Flesher. "It's a big Jesus action movie trailer at the end. It was challenging, but also probably the most fun thing I worked on in this show. They shot each scene like a narrative, which was brilliant, because then I was able to sort of choose the right moments to try to craft into a trailer. I'm such a fan of Michael Bay and all those action movies. So to sort of funnel my love for that genre into this parody trailer was a dream."
Related: Mel Brooks Parodies: Every Genre He Spoofed, and How
And on a related note, there's an entirely different sketch that totally pokes fun at those epic war movies from years past, such as the opening sequence of Steven Spielberg's Saving Private Ryan. "I think one of the things I really enjoyed working on was D-Day," said Bryant. He elaborated:
"It's the scene where a group of soldiers are about to go to the battle in World War II D-Day. So what was cool about that is, it's sketch comedy, but the scene was shot to be almost like a dramatic feature. So trying to maintain that element of drama combined with the quick jokes of sketch comedy, then adding in all kinds of layers of sound design to build this world that wasn't there, with bombs exploding and waves crashing — that was a lot of fun to cut."
"And then it was also really gross because [the characters] were vomiting everywhere, so trying to watch it over and over without getting [sick]," laughed Bryant. "It's a great scene."
And looking ahead, the trio of editors have other projects in the works, despite the ongoing strikes in Hollywood. Bryant plans to finish up her work on the sitcom The Upshaws, while Mandl worked on a new Roku series called Chad, which was created by Nasim Pedrad. Meanwhile, Flesher is cutting a feature film called Last Train to Fortune, starring Malcolm McDowell, and there's also a series he worked on, called Shrink, which has now made its way to Peacock.
Outside these other projects, the Emmy-nominated History of the World: Part II is a hoot from start to finish and might just benefit from repeat viewings on Hulu. The Primetime Emmy Awards were scheduled for September 18, but the Hollywood strikes have postponed the awards ceremony for now.