Director Kevin Casanova Abrams has been working diligently to bring thought-provoking dramas to the screen. He produced the Independent Spirit nominee, The Dynamiter, and the Showtime documentary, The Other Shore, before going on to team with Norman Lear for a feature length police corruption documentary called I Got A Monster. And now there's Marisol, which was just released in theaters and VOD.
The engrossing tale revolves around the aftereffects of a dire twist of fate. The gritty side of race relations and immigration issues come to light when 17-year-old Marisol Rivera (Esméralda Camargo in her feature film debut) is accused of a crime the same night she discovers she is undocumented. She quickly flees her small Texas border town and goes on the run, all the while braving the dark realities of a new identity and an uncertain future.
Kevin Abrams, who has some personal ties to the project, opened up more about this powerful film in this exclusive MovieWeb interview.
A Timely Coming-of-Age Story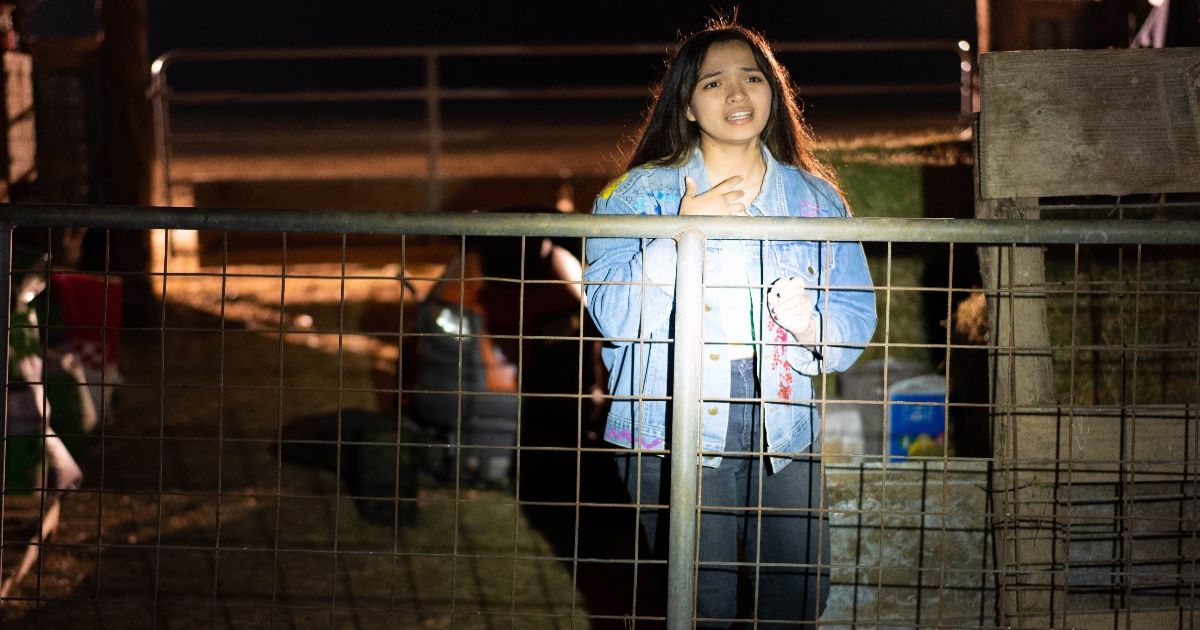 Written by co-producer Claire Audrey Aguayo, Marisol also stars Liana Mendoza, Mia King, Max Pelayo, Theo Taplitz (Little Men), and Ricky Catter (NCIS: New Orleans, MacGyver, Prison Break). When Marisol travels north to find her mother, her family is put at risk. Suddenly, she must choose whether to return home and actually confront her accusers or venture forth, forever living in the shadows.
Kevin Casanova Abrams, a second-generation Mexican-American whose family hails from Texas, delivers a memorable coming-of-age story here, leaning heavily into the themes of finding one's voice, and standing up for the truth. No doubt he was inspired by his multi-generational Latino activist parents whom, he says, did a great deal of work in the spaces of immigration and education, and the feminist space.
"My grandmother was also huge activist, got paying rights for people in the military of the Hispanic persuasion, and she helped people get education," Abrams noted of what inspired him to take on the project. "My uncle was a Chicano activist and would people up in El Paso and help get them safe passage. So, I did have some personal access and reference for this story, but it actually originated because we wanted to do a remake of an '80s cult classic called The Legend of Billie Jean."
That film starred Christian Slater, Helen Slater, and Peter Coyote, and revolved around a girl who gets falsely accused of a crime, goes on the run, then galvanizes a bevy of young people to help her correct her score.
"Initially, we were trying to do a Mexican American version of that with Marisol, and as we got deeper into it, we realized that a lot of what made that film enjoyable at the time was both translated into the current situation or the current political temperature going on at the border," said Abrams. "So, through a bunch of revisions and some really diligent, hard, consistently passionate work from a screenwriter, we had evolved this version of the story. The kernel is still the same, but our approach, the aesthetic that we took to it, differed."
Related: Best Movies About the Immigrant Experience, Ranked
On Esméralda Camargo's First Role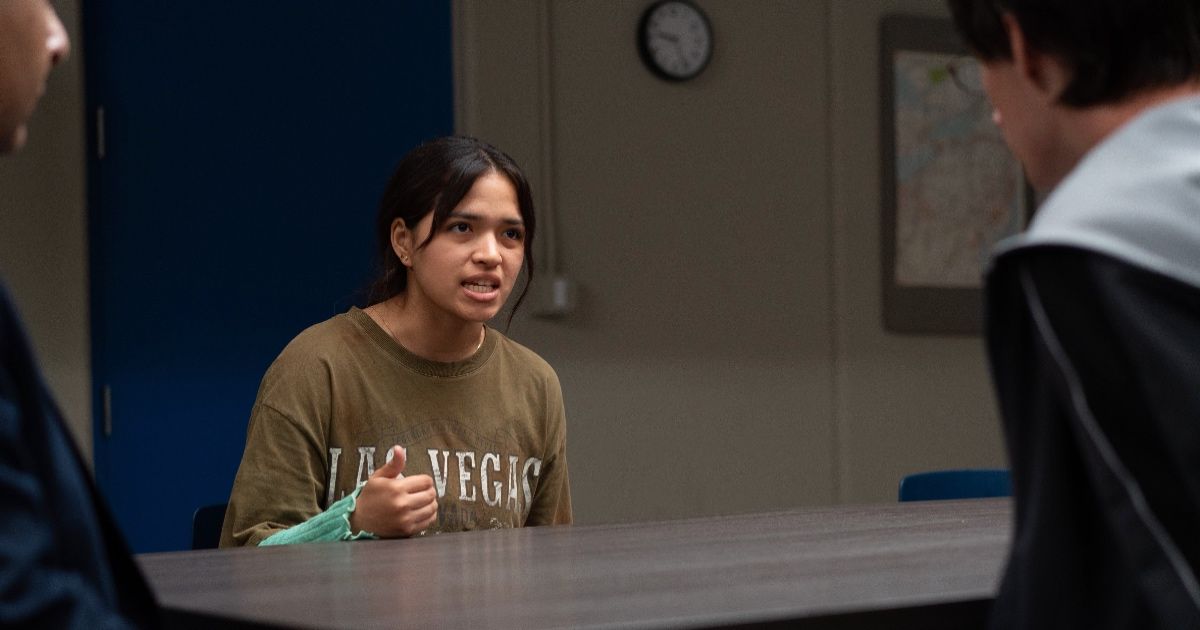 You wouldn't know it, but Marisol is Esméralda Camargo first feature film. She nails the performance with unwavering focus, passion, and gritty intensity. Believable throughout, Camargo may be one of the season's best new discoveries. But Abrams felt that way going into the project.
"What a gift she was," Abrams admitted of Camargo. "We were her first audition ever and she hacked her way into our audition process. It was pretty amazing. Vicky Boone, who is a local casting legend in the Texas film industry and does a lot of Richard Linklater film, opened up casting pretty broadly. Esméralda found out about the audition and submitted, and she was third or fourth on the list, and I remember thinking, 'Oh my God, who's this?' I said, 'Vicky, we gotta call her back in.' She's like, 'I don't know who submitted this person.'"
The plot thickened. The filmmakers came to understand that Camargo auditioned without her parents knowing. Upstairs in her room, she quietly busied herself with the audition process. And then a miracle happened — she got the role. Abrams explained:
"From day one, she probably the most professional and prepared person on set. She was incredible. She had a natural gift for knowing where the camera was. I remember there was one scene where were sitting there shooting with her that night and I see her shifting the blocking a little bit. I was like, 'Are you okay?' She's like, 'Yeah, I just want to make sure that I'm available to the light so you can get an exposure.'"
"I was like, 'Jesus Christ, it's your first film and we're five minutes into shooting. What's going on?'" Abrams added. "So, she was terrific and it's a really authentic performance. A lot of it speaks to some of the background that she has as a young woman in Texas whose definitions have overlapped in the characters [in the film], and she just brings such a truth to it."
Related: How Netflix's Mo Sheds Light on the Immigrant Experience
Why Marisol Had to Be Made
When asked why it was important for him to make Marisol, Abrams noted the era in which we live. "There are innocent casualties all the time happening in this conversation that are falling to the cracks of a larger legal schema that unfortunately, even though they're great versions of what an American citizen could be, they're not getting the opportunity to contribute that to our society."
He noted that he believes in the immigration policies of the past and that the people of the country were built on the fact that, "immigrants came here and really worked to make our country as good a version of it as good — I saw it with my own family." He wanted Marisol to be a reminder that if you look closely, you can see the people involved and that some of those people are being painted in the media in a certain light. "They have the opportunity to contribute in really great ways and should be given that opportunity."
He said his creative passions were stoked by the likes of John Sayles (Passion Fish, Lone Star) and cinematographer Haskell Wexler. "He's legendary," Abrams said of Wexler. "He did a movie called Medium Cool, which was this hybrid sort of documentary/fiction thing that he did in Chicago in 1968, and it was just this unbelievable transporting film. I realized that people could actually combine really immersive filmmaking and style and music in a way that actually had like an agenda that reached people on a deeper level."
Up next for Abrams is Circles of Failure, chronicling the 2021 Fall of Kabul and resulting Afghan refugee crisis. Deep. Just like Marisol, which may stay with you long after the film fades to black.
Marisol is out in theaters and available on VOD.