At first glance, Hulu's new series Extraordinary may look like half of Friends but with a perky pet, and just as fun. Jen, Carrie, and Kash are 20-something London flatmates with a mysterious stray cat named Jizzlord. But there's more going on than just friendships and hijinks in Hulu's fresh new comedy, which is seemingly destined to be a hit. In the Extraordinary universe, everybody over the age of 18 develops a superpower — everyone, that is, except for Jen (Máiréad Tyers of Belfast). The 25-year-old keeps falling into a pool of self-pity as she desperately attempts to find her own superpower. After all, her flatmate Carrie channels dead people and that hunk Jen's been eyeing can fly. It's not like she wants to be one of Marvel's Avengers or anything, but what's a superpower-less gal to do?
The premise of Extraordinary is engaging and fortunately, so is the show. As clever as it is original, the series tracks Jen's mission to find her "maybe-superpower." Perhaps she'll even discover the joy of just being, well, ordinary. Mix in a bevy of surprise plot twists and a stellar ending scene that will have people talking, and we've got some serious must-see streaming here.
Extraordinary also stars Poldark's Sofia Oxenham (Carrie), Bilal Hasna (Kash), and Luke Rollason (Jizzlord) in a standout performance bound to generate buzz. Derry Girl's Siobhan McSweeney (Jen's mum, Mary), Robbie Gee (Jen's stepdad, Ian), Safia Oakley-Green (Jen's half-sister, Andy), and Ned Porteous (Luke) also star. Máiréad Tyers shared more with MovieWeb about her character and how she feels the series, written and created by Emma Moran, will land with viewers.
MovieWeb: Congratulations on the show. What fun. What do you love most about the character of Jen?
Máiréad Tyers: I think she's very funny. I love how sarcastic she is, and it even 'reads' like that, with just that image of her holding balloons and having a real sourpuss look on her face while she's dressed in a Cinderella costume to go to work. I love the kind of juxtaposition that often exists in her world, where it's full of color and vibrancy, then how different it is for her in her own life.
Related: Best Hulu Original Movies of 2022, Ranked
MW: What do you feel the show is trying to say about life?
Máiréad Tyers: With the name of the show being Extraordinary, and the whole series being Jen trying to find her superpower and being the only one she knows who doesn't have one […] it's that it feels as if everyone else around her is blooming or has blossomed into these 'extraordinary' people. Yet she feels like such a late bloomer. It's that idea of not buying into it, which we often do, where you say, "Oh, when I get this thing, I'll be happy," or, "When I achieve this, then my life will be sorted." That's quite a black-and-white idea to have of the world and of life.
MW: And that's Jen's main lesson to learn, which is quite universal.
Máiréad Tyers: Right. And I think it's not that simple. As the series goes on, we see Jen realize that to get her power, she's opening up and discovering all the other elements of her life that aren't quite as simple as she thinks. Things she's been putting off or on the back burner, not wanting to think about them. So, it's more about coming into herself. She has to realize she must sort out all those other elements. There's that message of, "You don't have to be exceptionally special. You don't have to, like, win the Olympics. And you don't have to be a 'solver' or find a cure for a disease — that doesn't make you extraordinary." You can just be ordinarily extraordinary.
A Fan Favorite in the Making?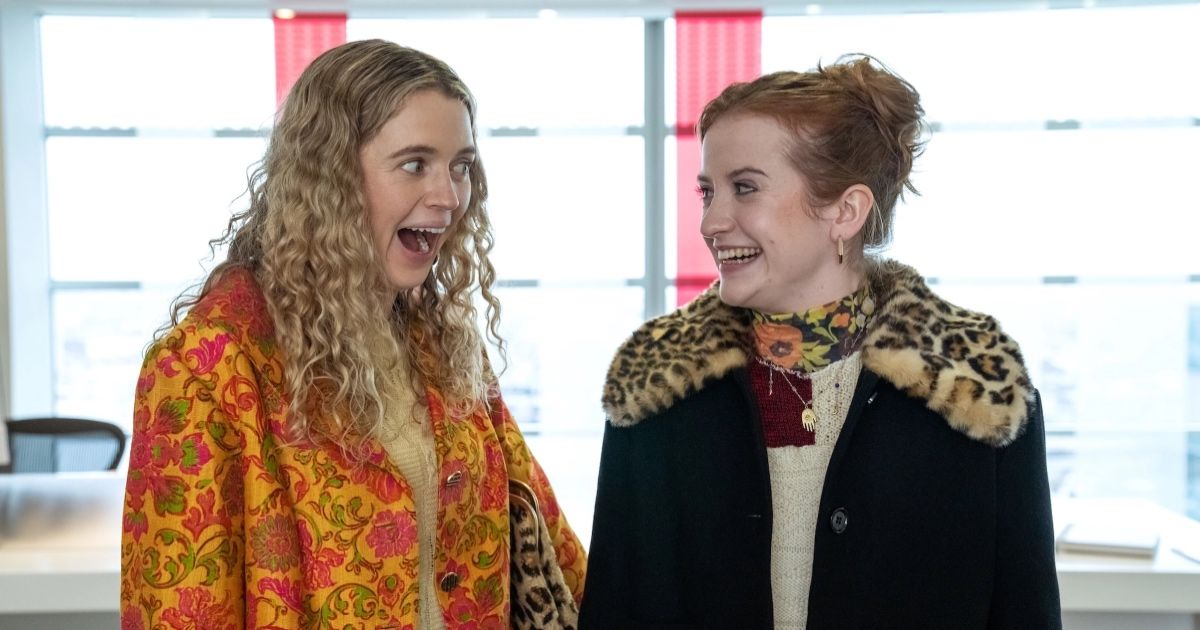 MW: The show feels destined to be a fan favorite. What do you hope audiences take away from it?
Máiréad Tyers: The series shows, in a really good way, that period of your life where you've moved away from home, and that nuclear family you knew is changing. If you've grown up with your parents and siblings, or whatever, and you've left home, and you've moved to London, or wherever, and now your friends become that nuclear family you have to live with.
Related: Best TV Series Coming to Hulu in January 2023
MW: What do you feel the show is saying about friendships?
Máiréad Tyers: When your friends become that nuclear family you live with, you talk to them about your life every single day. The relationship you have with housemates is such a particular thing, and then they're your friends as well, so it becomes so much more entwined. That's another thing that's lovely about this series. It shows friendships in many ways — how complicated it can be. You can obsess about each other, then it obviously comes to having a conversation and letting everything out on the table. But those things are healthy, and it means you can kind of recover from them. I love that the series shows that.
Extraordinary is available on Hulu in the U.S. and streams internationally on Disney+ beginning January 25.