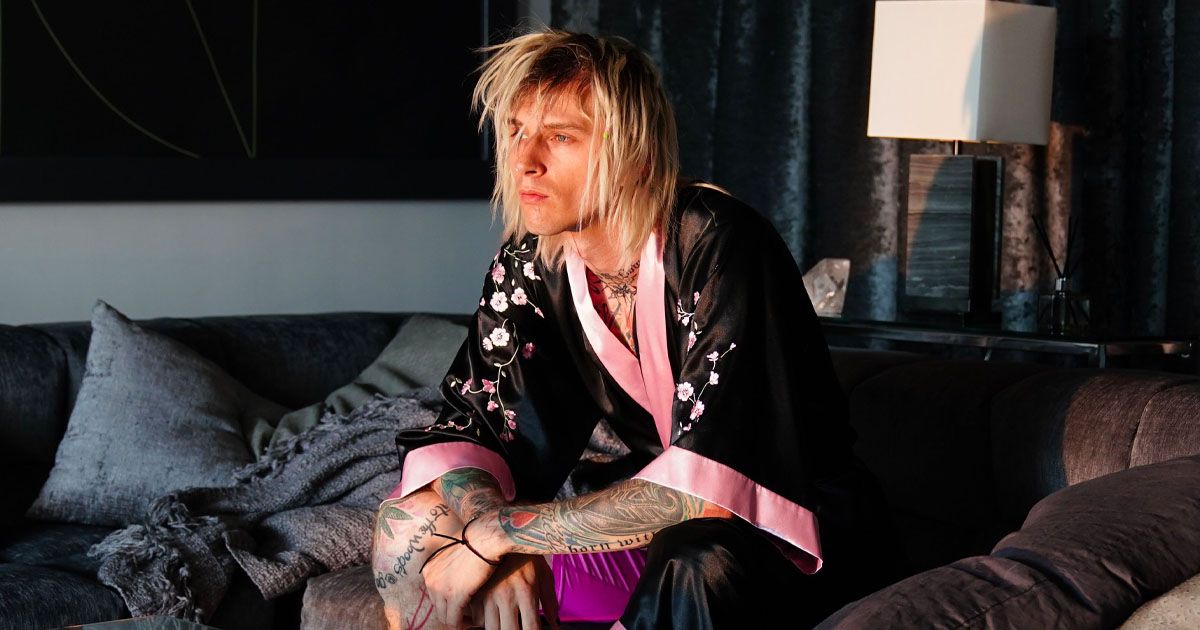 A drug-addled, disassociated rock star spirals out of control as he struggles to write a song. Colson Baker, better known as Machine Gun Kelly, probably brings a wealth of personal experience to portraying Taurus. His inability to cope with fame, fortune, and obsequious minders is a record we've heard before many times. There's no surprise to a predictable storyline of self-destruction. This incarnation floats in a trippy narcotic haze of rotating cameras and colored lens flare. The film isn't all style and no substance. Baker does have a palpable screen magnetism that slightly held my interest.
A shocking open introduces a disturbing event that factors in later. A rising singer, Lena (Naomi Wild), is thrilled to be called into the studio with Cole Taurus (Baker). He's high and distant but knows exactly what vocals are needed. Cole shows her his lucky quartz crystal. An hour later en route to his rented Hollywood Hills mansion, he can't even remember meeting Lena. His frustrated personal assistant, Ilana (Maddie Hasson), watches him carefully as he drinks in the pool. His daughter has been there for two days, but he hasn't spent any time with her. She calls him Cole.
He spends the night doing drugs with a prostitute. His manager, Ray (Scoot McNairy), yells at him the next morning. Get it together. They've given him the best studio. He's got business meetings and a tour being planned. Cole must complete his next album. An angry and fickle Cole lashes out at Ilana. She curses him for being his babysitter. He fires her in a heated argument. Minutes later, she's back at his side helping him bumble through an interview. Coles life blurs snorting cocaine, random sex, and strip club partying. But he can't get the song out of his mind. He must find a way to finish it.
Related: Argentina, 1985 Review: A Riveting Account of Genocide, Justice, & Courage
Taurus Reminds of Kurt Cobain
Taurus reminded me of Kurt Cobain. I'm not saying the Nirvana frontman was plowing through hookers and berating hapless flunkies. His out of control drug addiction eclipsed amazing musical talent. Cole, for all of his failures, has a creative essence. He's famous for a reason but overcome by the trappings of success. It has left him feeble and dependent, someone incapable of being a father. Ilana, perhaps the most relatable character in the film, is a surrogate mother. Cole's lost without her. She bristles from his tempestuous nature but cannot abandon him. Ilana cares deeply no matter his abuse.
Director/writer Tim Sutton (Dark Night, Funny Face) captures Cole's descent with different perspectives. Everything through Cole's eyes is druggie meandering of excess. Ilana, Ray, and the studio engineers are viewed clearly. Cole's the fuel that powers the money machine. Ray excoriates Ilana when Cole disappears on a bender. Her job is watch him at all times. She literally turned away for a minute. The cinematography, which started to annoy me by the final act, is admittedly key to Sutton's vision.
Taurus needed another gear for the narrative. Nothing unexpected happens. I can appreciate Baker's efforts and a good supporting performance by Hasson. A pampered, whacked out musician making poor choices isn't original. Megan Fox, apparently Baker's real life girlfriend, has a minor role. I have no clue or interest in their personal life, so don't know if her appearance has any deeper meaning to the story.
Taurus is a production of Rivulet Media. It will be released theatrically on November 18th from RLJE Films.