Summary
"Lovely, Dark, and Deep" is an atmospheric slow-burn horror-thriller with a haunting and mysterious story set in the vastness of nature.
The film focuses on a park ranger named Lennon who becomes obsessed with a beautiful yet eerie area where people have disappeared, including her own family member.
"Lovely, Dark, and Deep" is less about clear resolutions and more about delving into the dark night of Lennon's soul, resulting in a character study that leaves a lasting impression.
Of the several types of conflict in storytelling, 'humanity vs. nature' is both one of the most interesting and one of the most underutilized. Most of these stories devolve into basic survival thrillers and dramas about someone or some group attempting to prevail against the harsh cruelties of nature. From Dersu Uzala and Walkabout to 127 Hours and The Revenant, 'humanity vs. nature' conflicts can result in some astounding films.
Sometimes, though, nature becomes more abstract, and it's less about one lone person fighting the elements, and more about the vast, powerful mystery of nature consuming the smallness of humanity. Perhaps the best example of this is Picnic at Hanging Rock, a deeply ambiguous Australian film from 1975 that follows the strange disappearance of schoolgirls at the turn of the century. The massive, inhuman indifference of nature seems to overwhelm the civilized, 'developed' individuals who inhabit it. The mystery is never solved; nature seems to have swallowed them whole.
If there is a descendant of Picnic at Hanging Rock's extremely specific take on the 'humanity vs. nature' conflict today, it's Teresa Sutherland. The writer and director has a strange understanding of environments and the secret truths of nature, how it can both comfort and obliterate us. She wrote the excellent thriller The Wind, about a frontierswoman isolated in the howling confusion of nature who slowly goes mad. Now, Sutherland has written and directed the unsettling new horror-thriller, Lovely, Dark, and Deep. It's an atmospheric slow-burn with a wonderful performance from Georgina Campbell.
A Strange Woman in Stranger Woods
Lovely, Dark, and Deep follows a park ranger named Lennon (Georgina Campbell) who works for the National Parks. A sullen, secretive woman, Lennon receives a job posting at a location she seems to have been directly eyeing — a beautiful but mysterious area where various hikers, campers, and tourists have disappeared, including Lennon's own family member. Everything is dreamily elliptical in Lovely, Dark, and Deep, though, and it's often difficult to discern what has actually happened, and what is entirely real.
Lennon is a woman on a mission. She's a loner, and it's clear that she's suffered a deep loss. It seems that Lennon's relative, a young child — Her sister? Her daughter? The flashbacks are ambiguous — was one of many missing persons in this vast wilderness. She maps out the area in her small shack, turning the wall into a Homeland-style conspiracy board, and heads out into the woods for her daily patrols, blending the personal and the professional.
The outlook is gorgeous, a mountainous terrain speckled with deep woods and pure flowing water. Lennon crunches into an apple and checks in on her walkie-talkie. She's all alone out there. When a strange, panicked hiker pounds on her wooden door one night, she runs out into that dense nature, the batteries seemingly dying in her transceiver (a fine metaphor in itself). Something is wrong with these woods.
Lovely, Dark, and Deep with Miles to Go Before She Sleeps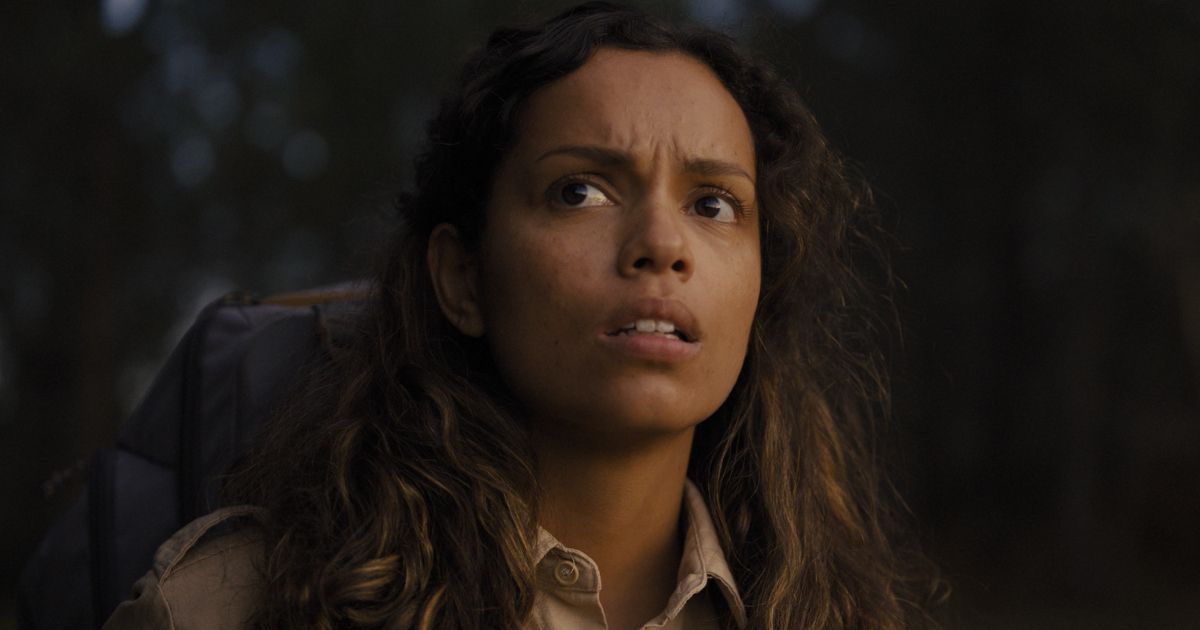 While the film is populated with other park rangers and the occasional camper, Sutherland does a great job of limiting us to Lennon's perspective. Despite the sprawling nature and some wide open spaces, Lovely, Dark, and Deep feels claustrophobic, stuck with a haunted woman on an inexorable path toward darkness. We're rarely positive just how much is real and how much is a product of (literal) cabin fever. Has Lennon's obsession essentially driven her mad? Or is this National Park an open haunted house, a prison for unfortunate souls, always hungry for more?
Campbell plays this wonderfully. On her path to becoming one of the best modern scream queens (after Barbarian and Bird Box: Barcelona, and with Psycho Killers and The Watchers yet to come), Campbell is the main attraction here. Lovely, Dark, and Deep resists psychologizing her character or filling in all the expositional details, preferring to let Campbell do her work and convey Lennon's headspace and past in her own emotional yet elliptical way. It sets the film apart from most psychological horror films like this, and is a wise choice.
Related: Exclusive: Bird Box Barcelona's Georgina Campbell and Diego Calva Talk Horror and Blindfolds
The woods themselves are an effective character in the film, and make for a fine antagonist. All-encompassing, the massive environment (filmed deep in the wilds of Portugal) perfectly fits the title and the kind of creepy Robert Frost poem it's based on, "Stopping by Woods on a Snowy Evening." In a sense, Lovely, Dark, and Deep could be considered to be a surprisingly interesting adaptation of the poem, albeit without the comfort of snow:
Whose woods these are I think I know.
His house is in the village though;
He will not see me stopping here
To watch his woods fill up with snow.
My little horse must think it queer
To stop without a farmhouse near
Between the woods and frozen lake
The darkest evening of the year.
He gives his harness bells a shake
To ask if there is some mistake.
The only other sound's the sweep
Of easy wind and downy flake.
The woods are lovely, dark and deep,
But I have promises to keep,
And miles to go before I sleep,
And miles to go before I sleep.
There is something slightly unsettling about the vastness of nature, especially when you begin to look into the large amount of people who go missing in America's large network of parks, according to The National Park Service. Of course, there are about 85 million acres of National Parks, so it's certainly something to get lost in, but the idea is a haunting one and a great impetus for an atmospheric thriller like Lovely, Dark and Deep.
Related: The Most Atmospheric Horror Movies of All Time
A Menacing Mystery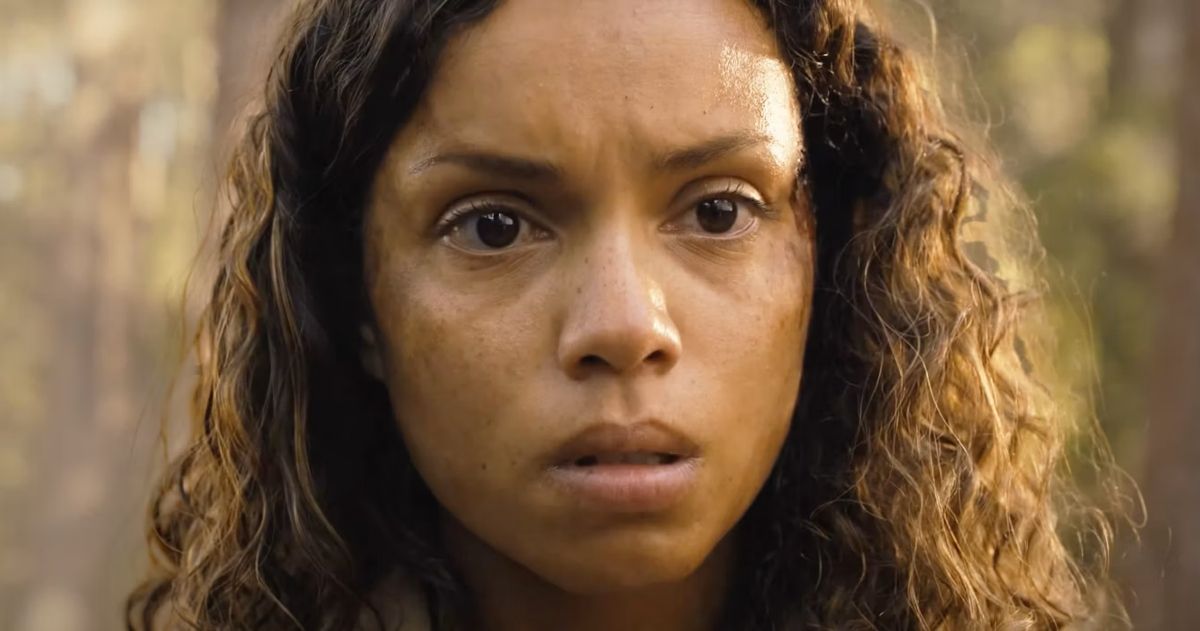 For people seeking out a more cut-and-dry horror film, however, Lovely, Dark, and Deep will likely be frustrating and way too cryptic. It's certainly spooky, and has some spine-tingling moments, but it's not a blood-and-guts horror film with a hard resolution. Fortunately, horror audiences are becoming more and more tolerant of artistic flourishes and intellectual digressions, so a mood piece like this one could be appreciated if it finds the right audience.
Even though every aspect of the narrative may not come together neatly, the whole makes for a dark, lonesome character study of a woman whose path in life seems to have been blocked. Lennon is lost in life, and at its most basic, Lovely, Dark, and Deep strips everything away to study her dark night of the soul and spend some time with her, before she's possibly lost to the forest forever. Again, the mystery is never truly solved here, though the film welcomes some chilling interpretations.
You'll remember Lennon long after the film's over, and you might not look at the woods the same way again.
From XYZ Films, Lovely, Dark, and Deep screened at the Fantasia Film Festival. Watch this space for more information about its official release.