Teresa Sutherland made quick but frothy waves after writing the excellent psychological horror film The Wind and serving as a staff writer for Mike Flanagan's brilliant series, Midnight Mass. She has a skill with lonesome characters who are somewhat unreliable narrators, and with utilizing phenomenally unique settings as extensions of her characters' psyches. Now she's bringing those traits and more to her debut feature film as a director, Lovely, Dark, and Deep, titled after the iconic Robert Frost poem, "Stopping by Woods on a Snowy Evening."
The movie features Barbarian and Bird Box: Barcelona actor Georgina Campbell in a stunning display of obsession, guilt, and a crumbling mental landscape. Campbell stars as Lennon, a ranger for the National Park Service who gets the posting she most desired — an isolated area in the woods, around which multiple people have mysteriously disappeared. One of those disappearances is extremely personal to Lennon, and she hopes to find out more.
What she discovers lurking beneath the surface of this gorgeous, sprawling park is a kind of quiet evil; either that, or Lennon is losing it. Very loosely inspired by the fact that many people actually do go missing in the National Parks, and influenced by Sutherland's own relationship to nature, Lovely, Dark, and Deep is a haunting, enigmatic film that lingers with you long after it's over. Sutherland spoke to MovieWeb about the film.
Teresa Sutherland Returns to Nature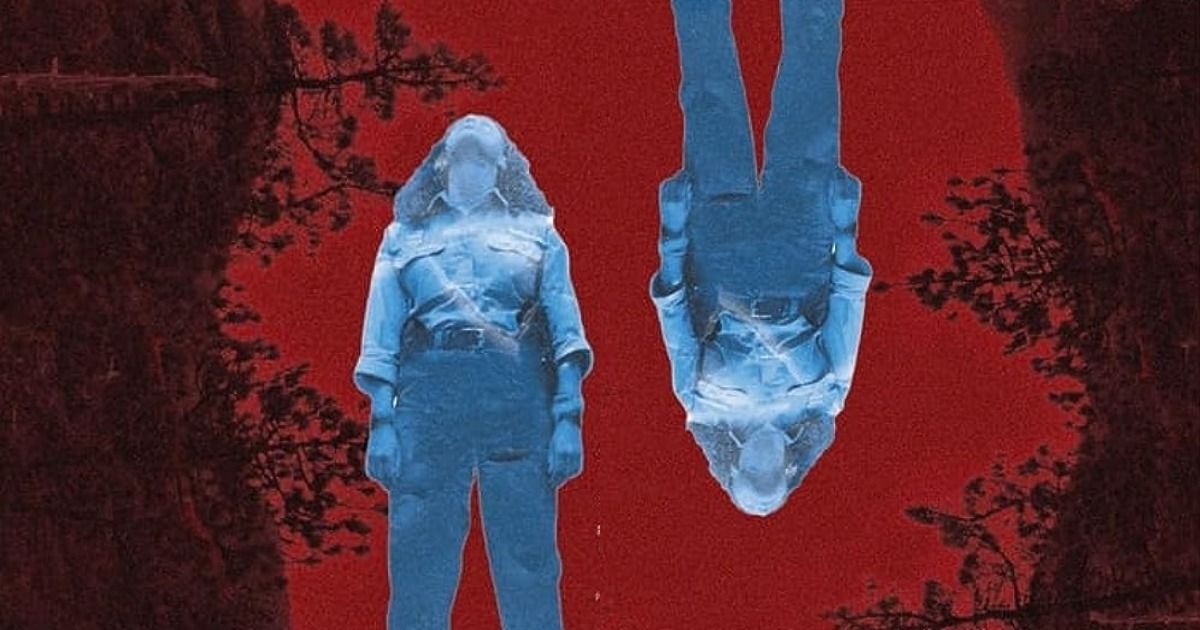 Sutherland, like Charlie Kaufman, Paul Schrader, and countless others, began as a writer but ultimately wanted to pursue filmmaking itself. "Directing has always been kind of what I wanted to do, a big goal for what I wanted to do," explained Sutherland. "And writing was something that, actually, I never really thought that it would be viable for me. I just I didn't have the confidence in it. I didn't have that kind of feeling about my own work, until The Wind happened." She continued:
And then people started talking about my writing, and it was like, "Oh, okay, I can do that, but I want to direct. So once I had like reps and a team or whatever, they were all like, "The next one's yours." And this was the next on. And I was just over the moon to be able to step up to the that position and just take it on. It was absolutely something that's been an incredible experience, and I'm so happy to do it.
Like The Wind, Sutherland's film is deeply grounded in nature, and rooted in her complicated feelings toward it. "I grew up in Missouri. We went camping for family trips, and I lived in Kansas for a long time," explained Sutherland. "And The Wind sort of came from my home, like where I'm from, and I feel like nature for me was always the place that I went when I was feeling overwhelmed." She elaborated:
Lots of times it was like, everybody's asleep, and I'm not five, I'm old enough that I can go outside on my own and just like watch the stars or have a moment and a breath and just really feel okay again. So I think they've just gotten really tangled in my head. Now I'm just like, I'm gonna try really hard to scare you in those places that make me feel so safe sometimes.
The Lovely, Dark, and Deep Filming Locations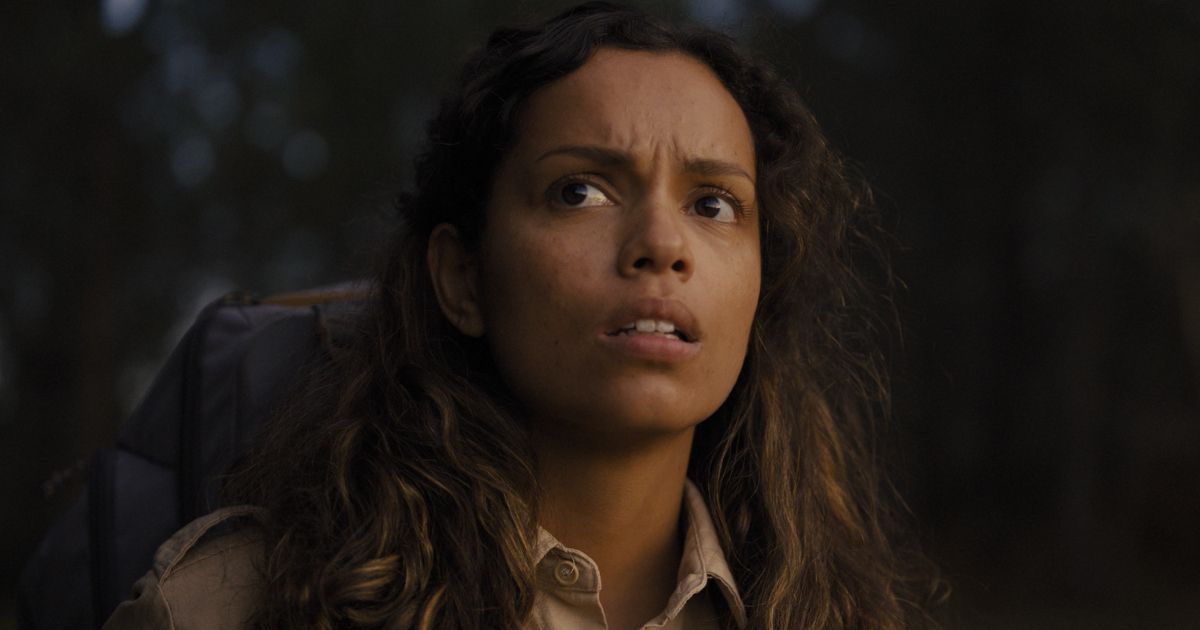 Lovely, Dark, and Deep isolates Campbell's character in the vast acreage of the National Parks, a perfect setting for her to confront the mystery that's haunting the woods and her soul. It's a gorgeous setting, but one that can also turn menacing on a dime, and that seems to engulf Lennon, dwarfing her. Interestingly, Sutherland didn't film in a National Park, and actually ended up heading overseas in order to find the perfect place.
"I wanted it to feel kind of like this West Coast National Park. They have just this rugged and vast feeling to them. That was really important to the story. Being a low-budget independent film, having access to those sorts of places in the US are very difficult to get, and so we shot in Portugal," explained Sutherland. "It wasn't just one place, but we did shoot in one of their national parks, Gerês, which was just an incredible experience. We got to go places that people usually don't get to go. We were very remote at times, which is exciting and also just helps with the storytelling. You feel it when you're there, and that was such a special experience."
Related: Lovely, Dark, and Deep Review: Georgina Campbell's Great in Enigmatic Slow-Burn Horror Film
Sutherland continued:
"We shot at so many locations. One location is four hours away from another location, one location is two hours away from another. We were just looking for these specific places just found some of the most beautiful things. Like, there's a shot where she's eating an apple after this montage, and that's all we did at that place. It was like two hours to get there, there were Longhorn cows just hanging out around us on the side of the road — it was exciting, it was really just incredible experience to make this."
The location itself functions as an extension of Lennon in Lovely, Dark, and Deep and the film's themes. So much of the character, and the movie, has to do with being overwhelmed and the attempt to confront one's issues, even if it means disappearing into the vastness of the world or one's own headspace. As the woods get dark and difficult to navigate, Lennon loses her grip, but comes closer to confronting the terror.
It's about facing these things that are hard, these traumas, this guilt, this constant anxiety — I get really bad anxiety — and it's about how you have to face them in order to come through the other side. You have to look at it. You have to go dark in order to get somewhere with it, and to emerge on the other side of it.
"Which feels pretty on the nose," laughed Sutherland. "I didn't realize it while I was writing it, but while I was making it, I saw it more. Then as I was editing it, I saw it more. And with the finished product, I was like — absolutely, this is what I've been saying. I can connect it back to when I was writing it, but it just kind of came out."
Praising Georgina Campbell and Ending the Film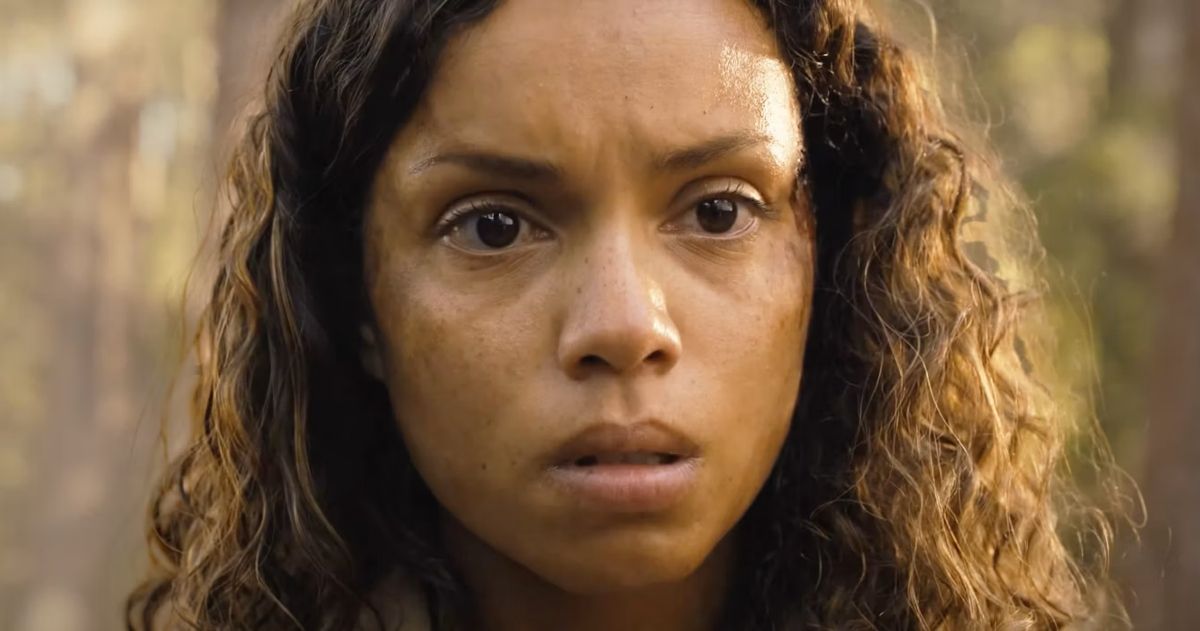 It's the woman in the woods who really seals the deal in Lovely, Dark, and Deep, though. While the film has other strong actors, it's Campbell who dominates practically every frame. She's perfectly in sync with the film. "When we were casting, Barbarian hadn't come out. I didn't know anything about it," explained Sutherland. "I'd seen her in that Black Mirror episode, and there's something that she brought to that episode, there was this realness, there was a good truth to that person. Like it wasn't a character. I didn't feel the writing. I felt a person."
Related: Exclusive: Bird Box Barcelona's Georgina Campbell and Diego Calva Talk Horror and Blindfolds
She continued:
That's very much what I wanted for this character, for her to feel like someone, not to feel like a character but to feel like a person who is going through all of this. She just has a way of being real […] We had three weeks to film this movie, and we would not have done it without Georgina. She just knocked it out of the park. She just it's such a pro.
Sutherland trusted Campbell sometimes more than she trusted herself. "She would deliver something, like a line that maybe wasn't how I saw it in my head," explained the filmmaker, "but then when she did it, I was like, 'Oh, that is absolutely how that character would say that.' The line that comes for me that, I think about a lot, is the very last one in the movie. When she says that, it's so quiet, and there's so much there. It's just like, there's no part of me that would have had this character deliver that line that way […] but watching and letting her be that character, she brought something so much more to what that moment was, and was just a joy to watch."
That final line in the movie is certainly a powerful one, and it lingers lugubriously in the viewer's mind. It's ambiguous and haunting, one of the best endings of the year. "I am not a huge happy ending person," laughed Sutherland. "Characters for me have to make choices; we are watching people make big choices, and that's what's so interesting about watching a movie, is watching somebody take a step and do something else, and cause their own fate to happen, and how that unfolds." She continued:
"And so this movie could have ended a variety of ways, but kind of being nihilistic like I am, it doesn't always end happily or doesn't always end the way we think. And we as people don't always do the good thing — what is the good, like what is the right thing to do in that moment? I think it leaves people thinking about it more, and maybe thinking more about, 'What choice would you make in that situation? How would you react?' I think it's an interesting thought experiment."
Lovely, Dark, and Deep is more than a thought experiment, though, and certainly lives up to its title. Watch this space for more information about the film's wider release now that it's screened at the Fantasia Film Festival.