Who doesn't love a heist movie? Righteous Thieves certainly shoots its shot. Steven Soderbergh's reboot trilogy of the original film was so good that it's now getting a Ryan Gosling-led prequel, speaking of. But back to Lionsgate's release, which is now in select theaters, on digital and on demand. The title says it all: a well-meaning ragtag crew of crooks out to put their tricks to work for a good cause.
Righteous Thieves is directed by Anthony Nardolillo (7th & Union, Shine) and written by Michael Corcoran in his screenplay debut. The ensemble cast features a handful of familiar faces, including Cam Gigandet (Violent Night, Without Remorse), Jania Lee Ortiz (Station 19, Girls Trip), Lisa Vidal (Grey's Anatomy, Being Mary Jane), Carlos Miranda (The Bling Ring, Warrior), Benjamin Schnau (Mank, The Current War) and Danube Hermosillo (Shameless, The Bold and the Beautiful). Sort of like the genre-mashing Cocaine Bear, Righteous Thieves is a bit of several different tones: action, drama, thriller. But the end result falls short.
Familiar Tropes of a Professional Heist
Annabel (Lisa Vidal) is a leader of a secret organization engaged in the recovery of priceless artwork. We watch as she quickly assembles a ragtag crew of art thieves to recover a Monet, Picasso, Degas, and Van Gogh stolen by Nazis during WWII and now in the possession of neo-Nazi billionaire oligarch Otto Huizen (Brian Cousins). The others drafted are second-in-command Eddie (Carlos Miranda), hacker Lucille (Jaina Lee Ortiz), safe-cracker Nadia (Sasha Merci), and "muscle" Bruno (Cam Gigandet). Said premise of Righteous Thieves is straightforward enough and ultimately lacks in any sort of mind-bending twists and turns along the way. Sure, there's betrayal here and there. And art fanatics will like the references to Monet, Degas, Picasso, and Van Gogh, as their paintings are the subject of this heist, having been missing since World War II.
Related: 13 Scariest Action Heroes Who Are More Feared Than the Villain
The paintings are now known to be in the possession of German venture capitalist Otto Huizen (Brian Cousins). There was a missed opportunity to create a scene-stealing villainous turn — my mind goes to Christoph Waltz-status a la Inglourious Basterds. Gigandet gets some juicy lines as a shady, last-minute addition to the crew of thieves, but that's about it in terms of layered bad-guy types in the film overall.
As previously stated, Righteous Thieves features components of various film genres, but there's not enough of any. There could have been more action and soon instead of fruitless exposition — especially as the planned heist approaches, and loyalties are tested when the crew learns the real reason behind Annabel's search for the long-lost paintings (without giving too much away).
Likable and Diverse Cast Can't Save the Caper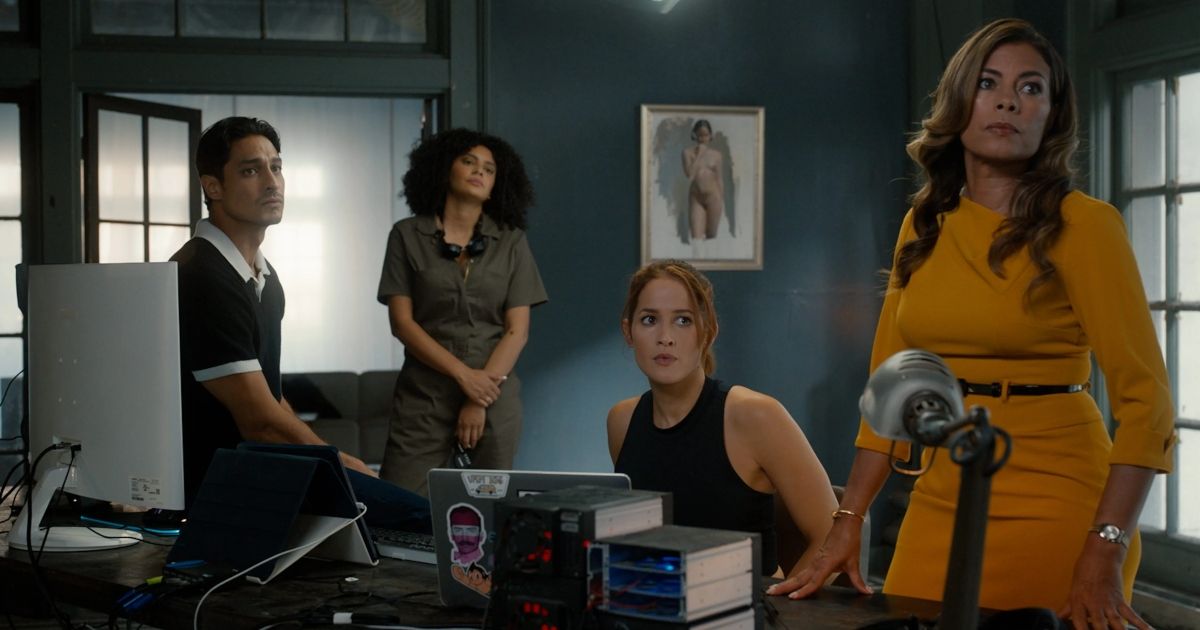 Co-star Ortiz, the film's standout player, recently told MovieWeb that she was eager to join Righteous Thieves so she could "work with [producer] Jolene Rodriguez, who is a champion for our community and Latinos in film. And in this industry, her mindset is, 'I'm going to find a way to create opportunities for my people, my community.' And that's the only way we're going to continue moving ahead in this business. It's one of those things where it's really rare to find a cast that's mainly Latino, and the producer and the director. And so, you know, if someone doesn't give us those opportunities, who's going to really create that, unless we start? So, 100% Jolene Rodriguez was the one that I said, 'I don't care what the film is about. I don't care what my character is. I want to work together. I want to continue moving the needle.'"
Related: Exclusive: Cam Gigandet and Jaina Lee Ortiz Dish on Their New Heist Movie Righteous Thieves
The film indeed champions Latinos on the big screen, and I'm excited to see which projects Ortiz and her co-stars tackle next. In the meantime, Righteous Thieves is perhaps a stepping-stone to a more substantial film that gives them more to work with, on both the character and plot fronts. When the film's centerpiece break-in finally happens, there are no notable twists or complications besides what's expected — just a generic clashing between protagonists and various security guards. And as previously stated, any sort of fight scenes are few and far between. But it's fun seeing Ortiz kick some butt here and there.
Pop and hip-hop fans will eat up the soundtrack, featuring an array of hits by known artists, but even the music can't necessarily save Righteous Thieves. The caper ends on a high note, with potential for sequels — aka future heists for the sake of justice — that may never come. With more dynamic characters and clever twists and turns along the way, Lionsgate's latest release could have set the stage for a new Ocean's 11-type franchise with a more diverse and exciting cast of characters.