Here's something to smile about. Paramount+ began streaming the horror hit Smile this week and fans couldn't be more thrilled. Don't have Paramount+, then VOD on various platforms such as Amazon is your go-to.
There's no denying Smile's success. The Paramount thriller leapt past $200 million worldwide recently. Six weeks after it hit the theaters, the film garnered more than $99 million in the domestic box office and about $103.8 million internationally. Sosie Bacon (As We See It, Mare of Easttown) headlines the eerie tale that finds her character, Dr. Rose Cotter, experiencing bizarre and frightening occurrences that defy explanation. That's plenty to deal with, but what makes the film stand out is that Rose must confront her troubling past if she's going to get out of her predicament alive.
Jessie T. Usher, Robin Weigert, Caitlin Stasey also star, alongside Kyle Gallner—his character, Joel, shares a past with Rose. Written and directed by Parker Finn, the film delves into trauma and mental illness. All that fuels the creepy stuff that occurs with plenty of frights along the way. Gallner, who's previously appeared in Interrogation, Outsiders, Veronica Mars, and Smallville opens up with MovieWeb about the global success of Smile, his character Joel, and more.
A Global Hit Nobody Saw Coming
MovieWeb: Wild. Bizarre. Fun. Are you surprised by the massive success of Smile?
Kyle Gallner: Yes. I think with the climate of film these days, it's so hard to predict anything. You just never know what's going to hit and take off. And for a film that was only supposed to be on Paramount+, and never even go to the movies, it's definitely surprising for everybody.
MW: What do you think made it take off? What have audiences latched on to?
Kyle Gallner: There's something for everybody. There's enough in there for sort of the casual horror fan. Then for more hardcore fans, especially in a theater, they're able to have that collective experience and really enjoy the film. I also think the marketing campaign for the film was so smart. It really pulled a lot of people in, and word of mouth took over. It snowballed into this monster.
Related: Smile Review: Sosie Bacon Shines in Scary Horror Film
MW: So, did Smile scare the heck out of you when you watched it?
Kyle Gallner: It's that tricky thing. Everybody gets to see and enjoy these movies for the first time, and they don't know anything is coming. You're almost a little jealous of if you're starring in them because you know everything that's going to happen. But from being on set to the screen, though, there are still surprises—the way it looks, the way it's shot, the sound design. Things like that catch you by surprise. So, I would say there were probably about two times that the movie got me pretty good with a jump scare—where Sosie's character was on the phone, and the demons screamed in her face. Actually, I think the first time the phone rang was so loud and jarring, it got me. The sound design was really good—definitely its own animal.
MW: Take us behind the scenes. What are a few things that stood out during the shoot?
Kyle Gallner: A lot of my stuff is straightforward. But what I really appreciated about [writer-director] Parker Finn is that he wanted to do as much of it as practically possible. Meaning, to see an actual "creature" and these practical effects, which doesn't seem to happen all that much anymore. It's a lot of CGI. Not that there's anything wrong with that, but to see an actual monster, that's been built, or these tearing effects on faces. That was cool. I'm a big fan of practical effects.
The Characters are Spot on in Smile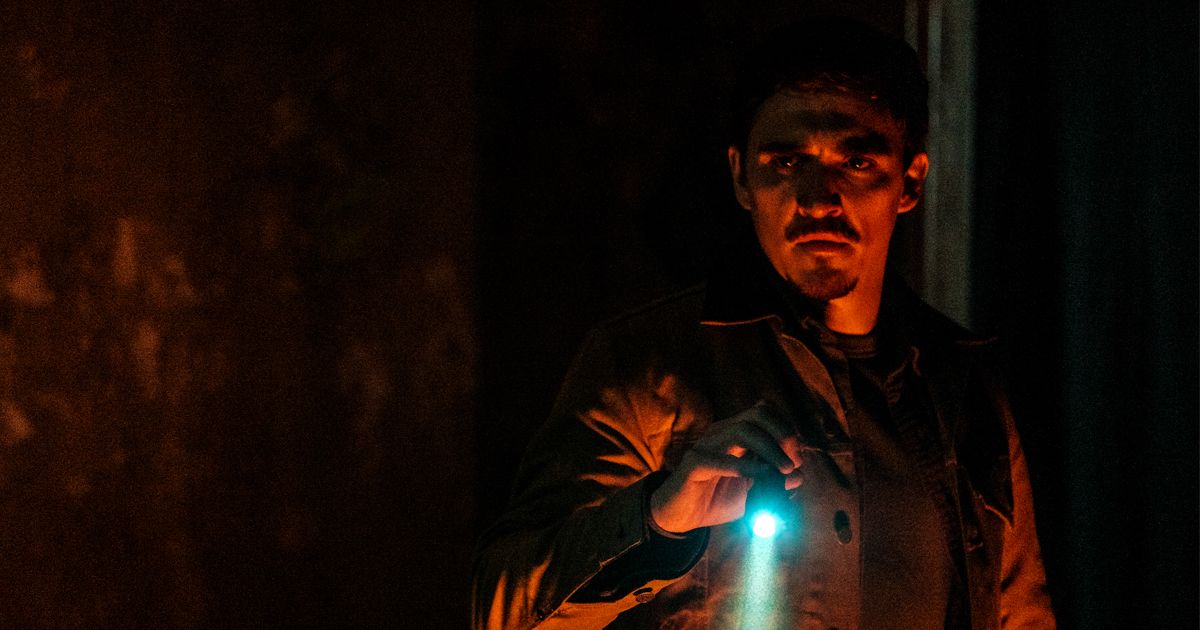 MW: Let's talk about Sosie Bacon in the lead and your character, Joel.
Kyle Gallner: I worked mostly with Sosie pretty much. And she's great. I mean, she went through it. She's in every second, every frame that movie. But, you know, she was gracious with her time. We sat down, we rehearsed. The main challenge for Joel and Rose's characters was: how do you create all that history between them without actually showing it or talking about it? How do you show that relationship and that these two people care for each other? We also saw it as an opportunity to add a little bit of levity to something that's so heavy. These two people who love each other very much but drive each other absolutely insane. I think the film also touches on how we dismiss people who are dealing with real problems—you call them names, cover it with these blanket statements of like, "Oh, well, you're crazy." And it's like, well, maybe Rose isn't crazy. Obviously, this is a horror film, and this is a much bigger conversation for the world, but you know, it touches on all of that.
Related: Dead for a Dollar Review: Sluggish Western Falls Flat
MW: Were you a a horror fan growing up?
Kyle Gallner: Yes. I was lucky. My parents had a rule of, "You can watch whatever you want. You just can't come bother us." Like, if you're scared at night. It's your own. You watch the movie. It's your thing. So, my parents let me watch scary movies. One day, my mom just handed me the Shawshank Redemption, and said, "You should just go downstairs and watch this." So, I watched a lot of different things and horror movies were definitely in the mix. I have always been a fan of horror films. I still am. I watched Barbarian the other day.
MW: Smile on DVD and streaming should be great for the movie, too.
Kyle Gallner: I think it'll go well. You still have your peers who like to own the DVD. They like to hold the box, they like the Blu-ray. It's a movie that people will watch at home. It did so well that people are going to want to watch it again or show it to their friends. Or if people couldn't get out to the theaters because we are still going through COVID, they'll finally be able to see the movie. It will be nice to have it out in the world for everybody.
MW: So, pretend for a moment you didn't do Smile. If you had your choice of starring in some kind of horror movie, what would it be? Slasher or a haunted house flick? Something else?
Kyle Gallner: Man, if I could take Cillian Murphy's role in 28 Days Later, I'd take that second.
Smile is now streaming on Paramount+ and VOD.