Shirtless men plus a hell of a lot of behind-the-scenes brouhaha about the world's most famous all-male strip club? It's Welcome to Chippendales, folks, and like Pam & Tommy before it, it's one wild ride.
Comparing the new Hulu limited series to the dark comedy Pam & Tommy is no accident. Robert Siegal was on board Pam & Tommy and is the creator of Welcome to Chippendales. He's also one of the executive producers, alongside Eternals/Obi-Wan Kenobi/The Big Sick/Silicon Valley alum Kumail Nanjiani, who headlines the series.
But folks looking for a glimpse of Nanjiani's rock-hard abs, simmer down. In Welcome to Chippendales, the fan-favorite keeps his shirt on while other fellas drop trou and then some. Instead, Nanjiani plays Chippendales founder Somen "Steve" Banerjee, often seen here as a determined if not short-tempered man.
The miniseries chronicles the trippy tale of power struggles, wealth, and hitmen, as it tracks Banerjee's highs and lows—the man went from gas station manager and befuddled club owner to spearheading a male-stripping dynasty, only to go into a tailspin.
The sprawling true-crime sage also stars Murray Bartlett (White Lotus, Physical, Tales of the City), Annaleigh Ashford (B Positive, American Crime Story), Juliette Lewis (Queer as Folk), Quentin Plair, Robin de Jesús, Andrew Rannells (AHS: NYC, Invincible), with guest-starring turns from Nicola Peltz Beckham and Dan Stevens.
Nanjiani and Ashford opened up to MovieWeb about the miniseries and why it's the perfect time for it to premiere.
Related: Exclusive: Frasier Revival Could Feature Cheers Characters, Says Kelsey Grammer
A Cautionary Tale
In addition to Siegel and Nanjiani, Jenni Konner (Girls), Matt Shakman (WandaVision), Dylan Sellers, Emily V. Gordon, Nora Silver and Rajiv Joseph, who also serves as a writer on Welcome to Chippendales, along with Mehar Sethi. Siegel and Konner serve as co-showrunners and Shakman directs.
Inspired by true events that began in the late 1970s, Nanjiani said he was immediately "drawn" to the series for several reasons.
"The real-life story behind the first decade-and-a-half of Chippendales is so wild, and so much stuff happened that nobody knows about," he shared. "Obviously, you can Google it and find out, but that backstory is really not part of pop culture, even if Chippendales itself is. For me, there really wasn't a bad time to tell a story like this, because there's just so much drama in it. I also think it's specifically interesting now to show an immigrant [Somen] trying to negotiate success in America—that was exciting to me."
"And I'd never gotten to play a character like that," Nanjiani added. "He does a lot of unforgivable things."
The darkest kind of manipulation and revenge come to mind. Overall, Nanjiani said he was, "excited for the challenge," noting that while preparing for the role, he wondered, "How do I make sense of this guy who does things that don't make sense; things that are harmful to other people—and harmful to himself? How do you create a worldview that justifies that? That really appealed to me."
Ashford loved the Chippendales story, but "the era is one of my favorites. I mean, the '70s, '80s, and early '90s—get ready hair, makeup, and wardrobe, and let's go."
She laughed, adding: "But most importantly, I think the story is infinitely complicated. This woman [Irene, who eventually marries Somen] in particular, is put in a lot of complicated situations. She's also an odd, awkward, in-love woman, but somebody who's really an incredible businesswoman."
"But she's living in an era where the patriarchy is never going to allow her to live the dreams she has. They're too big for her time. So, the way she can access those dreams is through her business partner [Somen], who happens to be her husband. We get to watch a strong woman make strong choices, and, I think, make the right choice in the end."
Related: Welcome to Chippendales: Plot, Cast, Release Date, and Everything Else We Know
Stripping Down The Message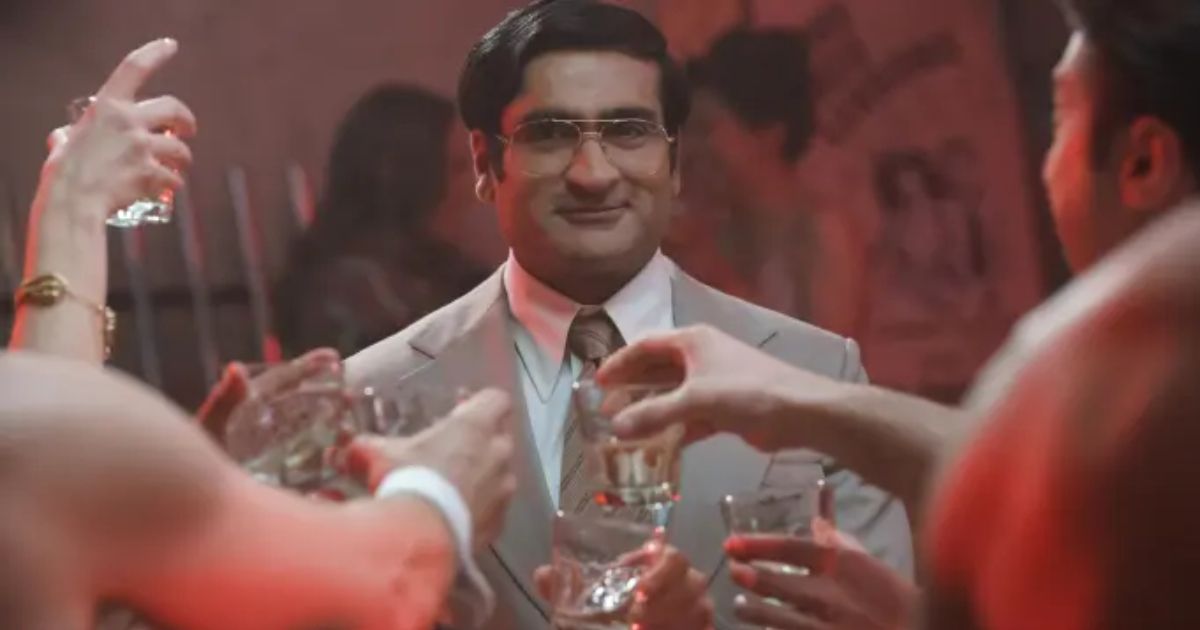 The on-screen chemistry between Nanjiani and Ashford is noticeable. The two actors play well off each other—Ashford's Irene is more grounded compared to Nanjiani's Somen, who can't seem to escape his internal struggles. Bartlett, who seems to be enjoying a solid career wave after nabbing an Emmy for The White Lotus, plays gregarious choreographer Nick De Noia here—a constant aggravation to Nanjiani's character.
When asked what they truly hoped audiences take away from Welcome to Chippendales, Nanjiani and Ashford waxed philosophical.
"Sometimes I look at our jobs as storytellers and I go, 'What are we doing for the world?' And I think it's a service to help people escape from their lives for, you know, 45 minutes, and look at what they want to be, who they want to be, and how they can make the world a better place," Ashford mused. "This show is a delightful look back at what we could have done better at a specific time in history. It also makes you laugh. And you get to see some beautiful men do some beautiful dancing—without clothing. I think it also makes you want to be a better person. There's a lot of morality and love in this show." She laughed. "Wow, I really went 'there,' didn't I?"
Nanjiani agreed. "Yes, love and morality. Honestly, I want people to have a really good time watching the show. Because it has everything you want from entertainment. It's funny. It's moving. It's thrilling. It's exciting. It's scary. It's complicated. When I watch a movie, I want to feel everything I can possibly feel. And I think that the show does that. It's really fun to watch."
The first two episodes of Welcome to Chippendales premiere exclusively on Hulu on November 22, with one new episode rolling out weekly.