Saving kittens in peril and posting no-dog-poop signs around the neighborhood isn't the most glamorous job, but for somebody like Kevin, it's heaven. In Koala Man, Hulu's clever new animated series, middle-aged Kevin (voiced by Aussie Michael Cusack who also created the series) wants to keep his town, Dapto, in check. With nary a superpower or the physique to tackle, oh, real crime, Kevin certainly means well. He can wear a koala bear mask like no other. But heads up: by the time viewers experience the soda pop fiasco Kevin tries to remedy at his kids' school, they'll realize there's much more to the town of Dapto—and Kevin and the series for that matter—than initially thought. How refreshing it all is.
Cusack garnered attention with his festive YouTube creations and the series YOLO: Crystal Fantasy. Koala Man outing first took flight as part of the Aussie anthology series Fresh Blood before the short received a full season order. It hails from Rick and Morty co-creator Justin Roiland, who also was the executive producer of Solar Opposites. Along with Cusack, Sarah Snook (Shiv on Succession), Demi Lardner, and Jemaine Clement offer their voice talents. As does Hugh Jackman (Wolverine).
Writers Dan Hernandez and Benji Samit of Pokémon: Detective Pikachu are also on board, delivering hilarious situations and inventive dialogue in what could be one of Hulu's most inspired breakout hits this year. Cusack shared more about the series and some of its deeper nuances with MovieWeb.
A Relatable Aussie Superhero
MovieWeb: Congratulations on a super fun outing. Let's talk about where this idea originated and why you wanted to bring it to life in a new way.
Michael Cusack: It was about five years ago. I was never really into Batman and superheroes, and things like that when I was a kid. I read The Simpsons and Futurama comics, and all those kinds of things, but never really vibed much with superheroes. Then I loved Spider-Man, the movie. When I was making animations for YouTube and pitching shows, I noticed there was a lack of Australian superheroes. I wondered what an Australian superhero would be like. I just thought it was funny, instead of Gotham City or New York City, that our Australian superhero would be in a suburb—like the smallest suburb possible.
MW: And what went into crafting the superhero himself?
Cusack: Well, I thought it wouldn't be somebody with amazing superpowers. Just a regular dad who was sick of people littering and people not respecting the suburb he loves. And he'd be so passionate about it. That just seemed to make sense. And to have him in a midlife crisis and a wife who is kind of on the verge of a breakdown, and not putting up with what he's doing. But the superhero himself would be going through a little bit of insanity.
Related: Hulu's Koala Man: Plot, Cast, Release Date, and Everything Else We Know
MW: Kevin/Koala Man really stands out. He's kind of 'out there.'
Cusack: There are a lot of dads like Kevin and Koala Man out there. I hope that translates. The reason I wanted to do it for American TV was because I hoped a lot of people would see that Kevin and the things he experiences was like that in America, too. There's kind of a Larry David point of view. He likes to abide by the rules. So, there's that kind of mindset in the series and mixing it with high fantasy. Partnering with 20th Century and getting Dan Hernandez and Benji Samit really helped develop the whole thing into what it is now.
MW: Are some of the characters based upon people you knew or grew up around?
Cusack: Kevin is an amalgamation of a lot of people, especially some of the "middle-aged" men in Australia I've run into—friends' dads of friends of mine, or my own dad or uncles. People like that; people you see around. It's definitely an archetype. Kevin is not the rugged Australian or the pseudo-intellectual academic who sees themselves as an authority figure.
What Lies Under the Mask?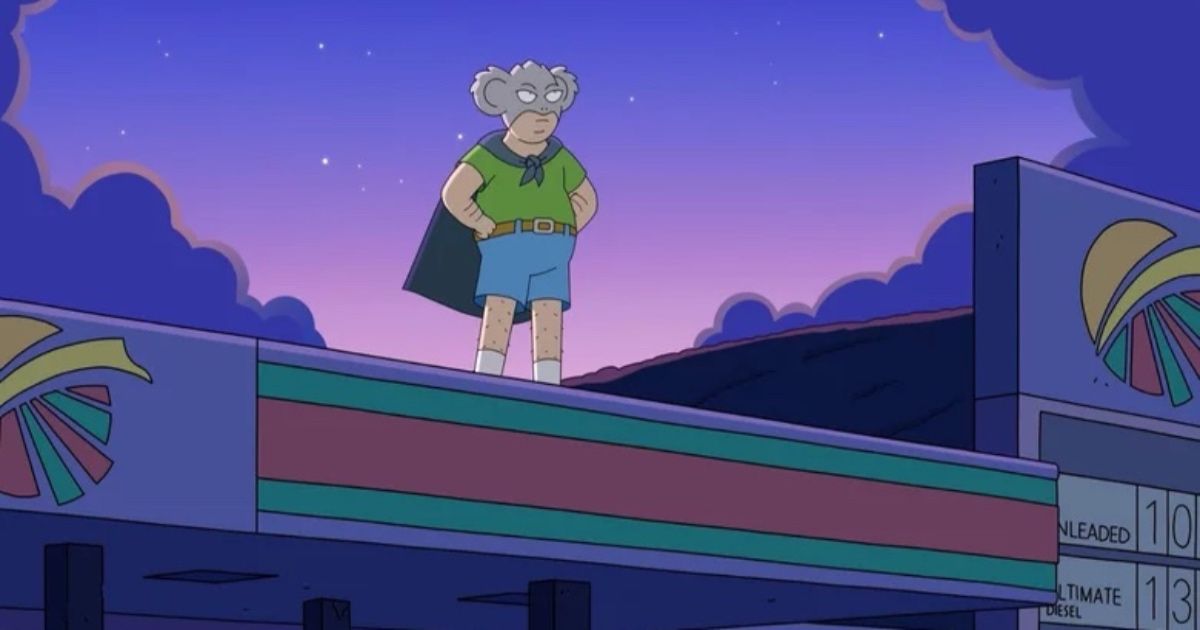 MW: Getting the right vibe across in eight episodes requires a lot of thought. Can you talk about that and how, in later episodes, we learn more about Kevin's motivations and why he's doing what he's doing?
Cusack: It was interesting exploring Kevin's backstory, and how he was affected by his father. So, Kevin is trying to impress someone and that was interesting to explore here. The fun part about this show was showing the family aspects of his life because he's trying to balance two things—something he really believes in like cleaning up his town and maintaining the family he loves. Finding that balance and developing it through the series was the most fun and rewarding and knowing how to stretch that out over eight episodes took some thought.
Related: Kung Fu Panda: The Dragon Knight EP Discusses Season 2 of the Netflix Series
MW: You mentioned you really weren't all that much into superheroes, but Spider-Man piqued your interest. So, what was it about that superhero? And are there any parallels between Spider-Man and Koala Man?
Cusack: The thing I really loved about Spider-Man was the fact he was just a teenage kid, and that he was hiding his identity from the girl he likes—and then that contrast of, like, he's a dweeb when he's just himself and then when he's Spider-Man, it's super attractive. He's a completely different person to the girl he likes and it's colorful. I resonated with that aspect of Marvel films. I love anything that's more colorful. I never really got into like the dark aspects of Batman comics. I can really appreciate what they are and that kind of like aesthetic from afar, but I never fell in love with it. So yeah, Spider-Man was definitely a big influence on Koala Man—even when he's talking to his mask. The show runners talked about it—that with Keven… he's kind of like Green Goblin, too, talking to his own Green Goblin mask.
MW: How do you feel audiences will respond to Koala Man?
Cusack: Good question. I'm always a big fan of championing Australia and Australian oddities, and just the stuff I find funny, and putting it down to an international stage. So, the story and everything the characters are, have been fun to explore and write. I love the fact that we kind of snuck Australia onto Hulu and onto American TV. That to me is almost like a Trojan horse. Even as a kid, that was always a goal of mine because I loved The Simpsons. I always dream about doing something like that—but creating an Australian show. I'm looking forward to international audiences getting into and absorbing Australian life—the slang and everything else.
Koala Man hits Hulu on January 9.