In 2022, an Indonesian period drama, Before, Now & Then by director Kamila Andini, was put on the map after premiering at the Berlin International Film Festival. The supporting actress, Laura Basuki, was awarded the Silver Bear for Best Supporting Performance. But this wasn't the first time that Andini's work was discussed; a year before releasing that film, Andini's movie Yuni won the Platform Prize competition at the Toronto International Film Festival.
Before, Now & Then is a melodrama that takes place in a not-so-distant past of Indonesian history, channeling the narrative through the perspective of one woman's experience (Happy Salma) in a time of great change. It'll be distributed in North America on Aug. 25, 2023.
Ahead of its release, we discussed the film and its making with director Kamila Andini.
Based on a True Story That Hits Home
Before, Now & Then, which goes by its Indonesian name Nana as well, is a period piece set within a moment of transition in Indonesian history. The film follows Nana, a woman who remarries after fleeing her village and losing those she loves to violence. Over the course of the movie, she befriends her new husband's mistress; at the same time, her traumatic past keeps reappearing in her memories and dreams despite wanting to leave it all behind. The movie is adapted from a novel called Jais Darga Namaku, which is based on a true story.
Andini explained why the novel inspired her to adapt it:
"[There's] a chapter in the novel about her mom that talks about the struggles of her life during the transition era of Indonesian independence. When I read the chapter, I remembered this happened to my grandmother. One of my grandmothers actually faced the same thing, so this stayed in my mind."
She mentioned how in her previous movies, she had discussed certain areas in Indonesia and social relations there, but this was her first period film. Andini also said how interesting it was to go into the past for her, and the memories about her grandmothers that led her to try and capture the past.
Later in our interview, Andini mentioned how this was one of the hardest productions she's worked on. The reason why? It was shot during the COVID-19 pandemic. "I had to design it very carefully, so if you see the film, most of it is inside the house. Even if it's not inside the house, I tried to make the scene in a natural location and without a lot of people in it. These limitations were a challenge."
Related: Best Southeast Asian Movies of the 2010s, Ranked
Focusing on Female Characters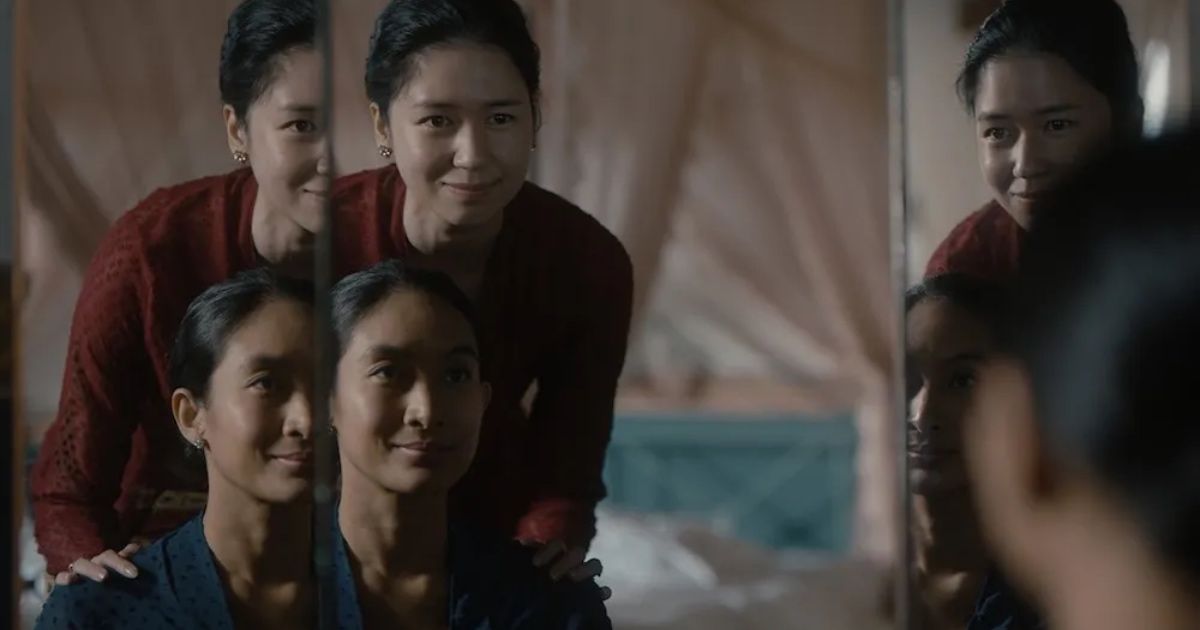 Andini has been gaining acclaim for her work that's focused on female characters; her previous feature film, Yuni, gained acclaim at TIFF last year. Yuni takes place in the contemporary era and is a coming of age story, which means that Before, Now & Then was a major pivot, taking place decades before the events of Yuni. Both films are based on true stories, but present themselves in unique ways. "It's a completely different approach, ideas, and style [than] when making Yuni," Andini said.
For this movie, she found several challenges. One was making the viewers understand that although this was a movie about the fifties and sixties, this was made by a contemporary woman, and relates to conflicts she still sees happening around her. This temporal connection is important not only for her as the filmmaker, but the audience as well.
"I want to create that bridge between the past and today. That's why when you see the film, I wanted to connect something dreamy, in your head, but also still capture the reality of a woman in [their] domestic life in Indonesia today."
Dreaminess could be one word to describe the events happening in the film. The main character, Nana, literally has nightmares and dreams about her past in the present moment. Some of this, according to Andini, was intentional from the beginning, as Nana's experience comes from memory. Just as the film bridges the past and present, it also depicts the relationship between internal and external conflicts. Andini elaborated:
This is an inner conflict story. Sometimes there is little conflict, like how a woman can be very lonely, sometimes even in a very beautiful house or family. It happens, especially for women. Every time you have to find yourself again and again.
Related: Here Are Some of the Best Women Directors Working Today
Navigating New and Old Worlds
When asked about constructing the world within the film, Andini explained that the main thing she wanted to capture was the transition of two different periods of Indonesian history. When the film is set, Indonesia has gained its independence, but is in the period before another occupation begins. "I found that this is actually the most vibrant period in Indonesia in terms of art. I tried to put it in the film with the music, fashion, and art," said Andini. "I want to celebrate this." By the time a new government was installed, art then became one of the first areas of repression.
Indonesian and Southeast Asian cinema in general has largely been underrepresented on the global stage in recent years when compared to other Asian countries, like those in East Asia. "It's true that not a lot of Southeast Asian, especially Indonesian, filmmakers have had the chance to show their films globally," said Andini.
"What happened to Yuni [led to others] kind of wanting to know what I made next. Both movies were released during the pandemic years when it was not only hard for Southeast Asian filmmakers to perform globally, but even to release their films."
Andini continued to say that this feels like magic for her to finish these films and have them distributed. She added that as a woman, it is amazing how she's found more people connecting to her work right now, and that these are important subjects to discuss. Her first feature film also had a female lead, but she mentioned that back then, it was very different.
Now, it's amazing how there are so many kinds of support and opportunities for female directors to create. For me, I have two daughters. I want to make sure they have their own freedom of choices in life. I just hope that what I do can open the doors for other women to see it's actually possible. I think filmmaking creates possibilities.
Next up for Andini: creating an Indonesian Netflix original series to join several other Indonesian shows on the platform. But until then, Before, Now & Then will be in select theaters across the United States starting August 25, 2023.