Todd and Julie Chrisley, the husband-and-wife stars of USA Network's reality TV show "Chrisley Knows Best," on Monday were each sentenced to prison following their convictions of tax evasion and bank fraud earlier this year, according to multiple reports.
Todd Chrisley received a 12-year sentence, along with 16 months' probation, while his wife was sentenced to seven years in prison and 16 months' probation, WSB-TV, an Atlanta news network, reported Monday.
Both Chrisleys were charged in 2019 with conspiracy to commit bank fraud, bank fraud, conspiracy to defraud the United States and tax fraud. Julie Chrisley was also charged with wire fraud and obstruction of justice. The pair was found guilty of the charges in June.
Prosecutors alleged that the Chrisleys submitted fake documents to banks when applying for loans to fund their expensive lifestlye. They said that Julie Chrisley also submitted a false credit report and fake bank statements when trying to rent a house in California and that the couple then refused to pay rent a few months after they started using the home.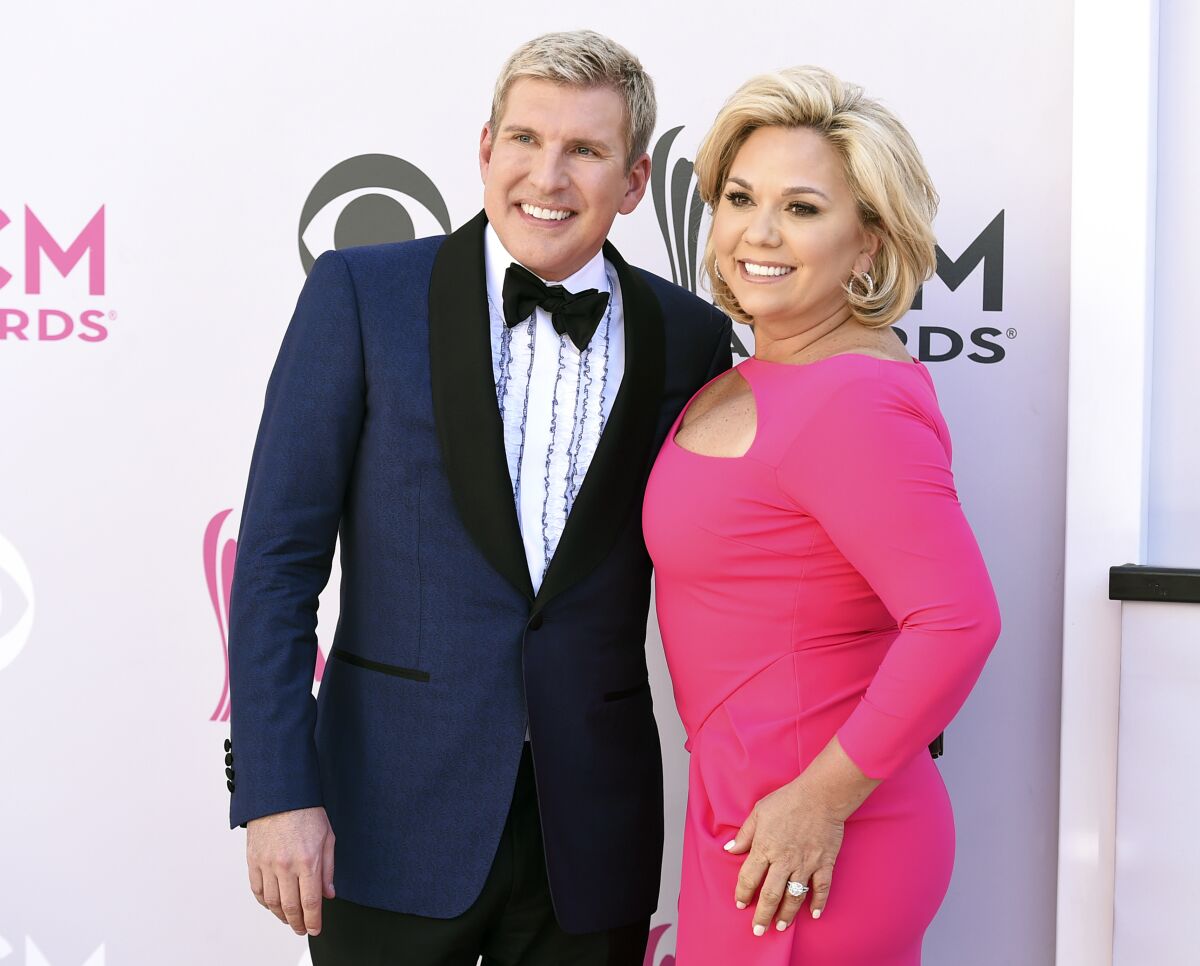 The Chrisleys' accountant, Peter Tarantino, was also sentenced Monday to three years in prison after being found guilty of filing two false corporate tax returns on behalf of the Chrisleys' company, according to Deadline.
"These convictions should send a clear message regardless of your fame or notoriety, everyone will be held accountable for paying their fair share of taxes," James E. Dorsey, special agent in charge at IRS Criminal Investigations, said after the guilty verdicts were announced in June.
Attorney Bruce Morris, who represented the Chrisleys during the trial, did not immediately respond to a request for comment. He previously said he was disappointed with the verdicts.
Days after her parents were convicted in June, Savannah Chrisley signaled continued support for her parents.
"I will continue to stand by my family and fight for justice," she wrote on Instagram. "Justice for ourselves and for others that the system has failed."
The Chrisleys' tax evasion and fraud scheme began prior to finding television fame in 2014, prosecutors said.
"Chrisley Knows Best," which followed the wealthy family, was originally set in Georgia, where Todd Chrisley amassed his fortune through real estate development, before moving to Nashville during the show's 4th fourth season. After nine seasons, USA Network cut the show but still had plans to air episodes of its 10th season, which were shot before the trial, next year, Deadline reported.
In the days leading up the sentencing hearing, the youngest of Julie and Todd's children, Grayson Chrisely, 16, also a character on the show, was hospitalized in a car collision.
Grayson Chrisley was driving north on Interstate 65 in Nashville when his truck slammed into another vehicle that was stopped during stand-still traffic, said Kirstin Mumford, spokesperson for the Metropolitan Nashville Police Department, in a statement provided to The Times.
"When police asked the driver of vehicle 2 [Grayson Chrisley] what happened, he was unable to recall anything, possible due to a head injury," Mumford said. He was hospitalized for his injuries.
The driver of the vehicle hit by Chrisely also was injured but refused ambulance transport, police said. Both vehicles were totaled and towed from the scene.