Warning: You may begin using words like "tera" and "lift" as adjectives after seeing When You Finish Saving the World. The tone and overall nature of A24's new offbeat comedy echoes modern coming-of-age classics like Juno and even Adventureland. After all, the latter film starred Jesse Eisenberg (The Social Network), who doesn't appear in When You Finish Saving the World, but rather wrote and directed it. On top of being an Oscar-nominated actor and writer for The New Yorker, did we mention he's now behind the camera these days?
In his first feature film as a writer-director, Eisenberg pins a story that touches on a whole lot of things for such a seemingly "small movie." We witness firsthand the perils of social media, selflessness, and narcissism, and how those often combat our instinctive nature as human beings to try and make the world a better place. If you can accept that the film's central characters — played by Oscar winner Julianne Moore and Stranger Things star Finn Wolfhard as mother and son in Indiana — can be outright intolerable at times, you may find When You Finish Saving the World to be a resounding success like I did.
Real-Life Inspiration for Unique Concept
Moore, in an offbeat dramedy whose tone arguably matches her past film Gloria, plays a domestic violence shelter worker similar to Eisenberg's real-life mother-in-law. "My mother-in-law is one of the greatest people in the world," Eisenberg once told Deadline. "This is not based on her, but she gave me insight into the working of a domestic violence shelter, seeing the complexities of the job of working there and the warmth." Rather, the film is based on Eisenberg's 2020 audio drama of the same name, with Moore and Wolfhard starring this time as a mother and son who navigate their contentious relationship.
Evelyn (Moore) has devoted herself to helping people in hard times, but she struggles to connect with her son Ziggy (Wolfhard), an aspiring musician and internet star oblivious to the problems of the world. As Evelyn attempts to become a parent figure to an unassuming teenager she meets at her shelter, and Ziggy fumbles through his pursuit of a brilliant and politically conscious young woman at his high school, the end result reveals a funny and sharply perceptive portrait of a mother and son who may seem at odds but who are more alike than either would care to admit.
Related: Top 15 Non-Horror A24 Films, Ranked
Moore has been rightfully showered with awards over the years, known for her breadth of work with many memorable performances from the big to the small screen. Meanwhile, the multi-hyphenate Wolfhard is certainly a future Hollywood A-lister after his starring turn in the modern adaptation of Stephen King's It — in addition to Netflix's Stranger Things, of course. He's a musician in real life, and it shows in Eisenberg's new film. A film is always that much more enjoyable when the central actor can actually perform the music assigned to his character. The effect certainly helped win us over with Ryan Gosling's award-winning turn in Damien Chazelle's La La Land, after all.
Speaking of performances, When You Finish Saving the World also succeeds through its supporting turns beyond Moore and Wolfhard. Eleonore Hendricks and Billy Bryk are fantastic as a mother and son who enter Evelyn's shelter for help. I mentioned Juno earlier as a reference point since the dynamic between Evelyn and Kyle (Bryk) reminds us of Jason Bateman and Elliot Page's rapport from the 2007 film. And Jay O. Saunders (recognizable from Angels in the Outfield and Revolutionary Road) steals his limited scenes as Evelyn's seemingly neglected father.
Creating a Distinct Look and Vibe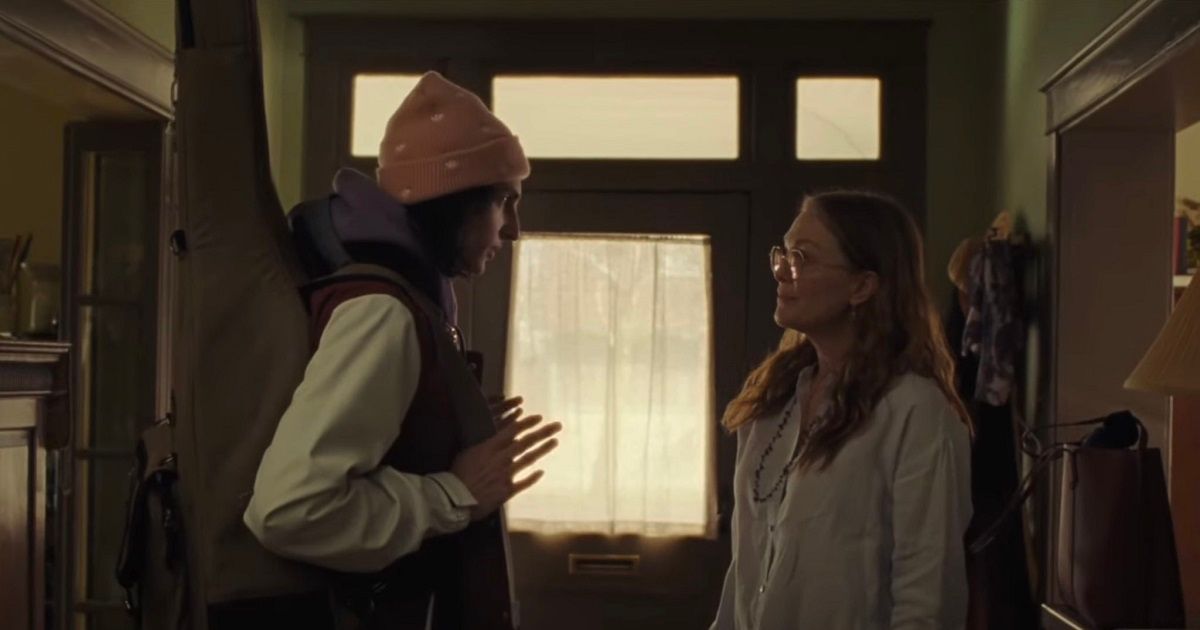 Details matter, as they say, and everything in Eisenberg's little film seems pretty well-thought-out. The Smart Car that Evelyn drives seems fitting for her oddball persona, for example. Plus, Eisenberg chose to shoot the whole film on celluloid. "I've worked on several movies that have used 16mm film to create a homemade, lived-in quality that can project a character's life in an unpretentious way," he said in a statement to A24. "It struck me as right for this story, and I was very lucky to get a lot of support from the producers and A24 for that decision. It really came together when I started working with our cinematographer, Benjamin Loeb."
Related: Sadie Sink Got to Keep Life-Saving Prop from Stranger Things 4
The slow camera zooms that accompany the film's celluloid look also help to create an eerie, purposefully uncomfortable feel at times. Watch out for a hilarious moment where the lens closes in on Wolfhard's Ziggy as he daftly proclaims to his love interest at school how he's found a way "to be political… and make money" with his music career.
On top of the camerawork, the musical score is striking, often overlapping with the music Ziggy performs on-camera to thrilling effect. It reminded me of the film Gloria, as previously mentioned — another Julianne Moore indie flick. Can you tell I enjoyed When You Finish Saving the World? It's certainly not aiming to be a Hollywood blockbuster, but rather a passion project for Eisenberg that reveals promise from behind the camera.