Jonathan Majors continues to astound in an emotional true story of service, sacrifice, and friendship. Devotion recounts the heroics of Jesse Brown, the first African-American pilot to complete the Navy's flight training, and Tom Hudner, his faithful colleague, during the Korean War. Based on the novel by Adam Makos, the film tackles the blatant bigotry and ignorance that Brown faced while shattering color barriers. He used every slight to fuel a fierce determination for success. Brown was a shining symbol of possibility for other black seamen relegated to subservient roles. He also embodied a threat to the status quo that whites were superior and blacks should accept their place. Tears will flow like rivers in this gripping, superbly acted film.
In early 1950, Tom Hudner (Glen Powell) arrives at the Quonset Point Naval Air Station in Rhode Island. Good-looking and with impressive credentials, Tom had never flown in combat. He enters the flight barracks to a strange scene. Jesse Brown (Majors) curses racial epithets at himself in the bathroom. Tom is unnerved by the experience but tries a friendly introduction. Jesse casually dismisses him before the squadron's briefing. Their commanding officer, Dick Cevoli (Thomas Sadoski), is a no-nonsense man who demands excellence. He tasks Jesse with putting Tom through the paces.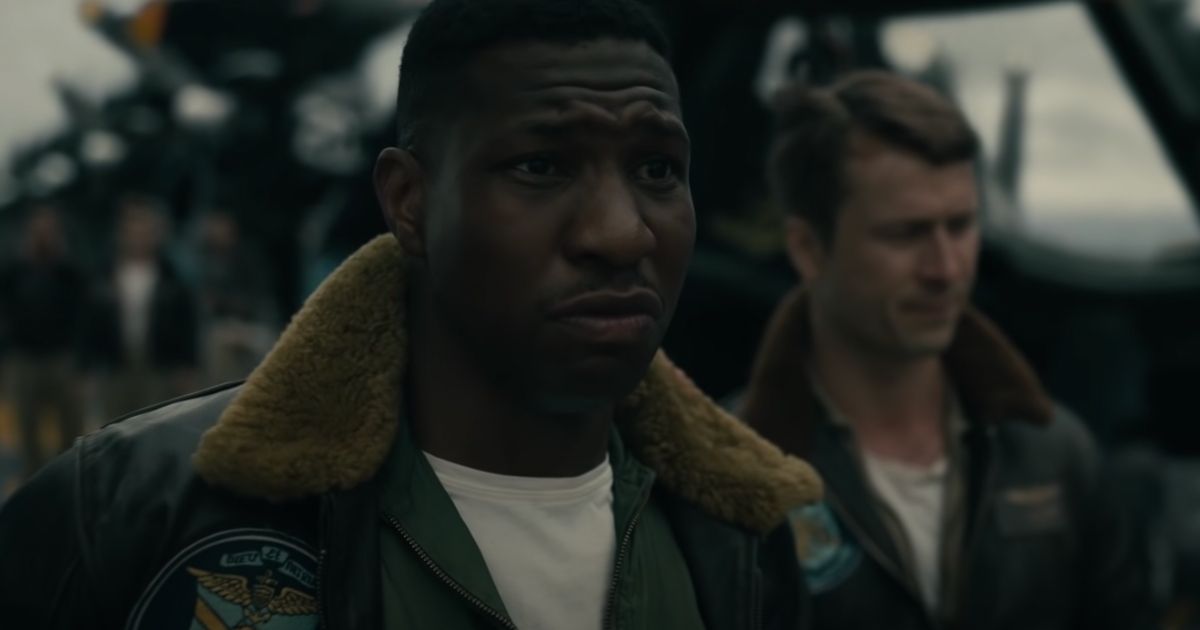 Their first flight as wingmen rattles Tom. Jesse flies at breakneck speed while doing erratic movements. He dives perilously close to a house before pulling up at the last minute. He warns Tom to keep up or stay grounded. The enemy won't be forgiving or easy. Afterwards, Tom sees Jesse's car broken down on the roadside. He offers him a ride home. Jesse's wife, Daisy (Christina Jackson), takes an instant liking to the respectful Tom. Who's surprised to see Jesse's hard countenance change around his young daughter.
Several weeks later, the squadron is deployed to the Korean peninsula. Jesse and Tom grow closer on the long voyage. Jesse is embarrassed by a flight deck interview with Life magazine. He's not a token or charity case. Jesse earned his wings and is considered an elite fighter pilot. He also doesn't want Tom standing up for him. He'll fight his own battles. The outbreak of war puts the pilots in mortal danger. The dear friends learn that honor and duty is inevitably accompanied by heartbreaking tragedy.
Related: The Menu Review: Mark Mylod Deliciously Skewers Wealthy Elitists
Devotion Honors Jesse Brown and the Forgotten War
Devotion succeeds on several levels. Jesse was a trailblazer who didn't embrace the spotlight. He had to work ten times as hard. Nothing was given to him. He scraped forward with oppressive, systemic racism pushing against him. Tom learned to understand Jesse's plight. And how to support his friend without being a savior. Their bond cemented during a trial by fire in the Forgotten War. 40,000 Americans died fighting in brutal combat that barely moved the border between North and South. The film honors their bravery and the crushing loss felt by survivors.
Devotion hits hard in a compelling third act. War's aftermath is a difficult road to travel. Feelings of guilt and sorrowful remembrance are explored. No medal or accolade can heal the hole left by the departed. We must fight to preserve their memory and contributions. Majors and Powell are tremendous here.
Devotion is a production of Columbia Pictures, Black Label Media, Anton, and Starlight Media Inc. It will be released theatrically on November 23rd from Sony Pictures.