Jillian Bell and Joshua Leonard Discuss Hulu's The Drop, Possibly the Best Wedding Disaster Film of the Season
Nothing like a dark comedy about a wannabe mom accidentally dropping her friend's baby to liven up your winter viewing. It all goes down in Hulu's The Drop, a well-crafted comedic tale from the minds of Sarah Adina Smith (Birds of Paradise, Buster's Mal Heart) and Joshua Leonard (Humpday, True Detective, The Blair Witch Project). The project comes from Duplass Brothers Productions (Sasquatch, On Tour With Asperger's Are Us, Evil Genius), so expect plenty of quirky humor.
Leonard previously worked with The Duplass Brothers on Togetherness. Meanwhile, Smith introduced audiences to Rami Malek his first lead role in Buster's Mal Heart. As for The Drop, the comedy explores what happens when a woman supposedly violates the central tenet of womanhood, and how that "violation" puts her marriage to the test.
The lowdown: Lex and Mani (PEN15's Anna Konkle in fine form here and Sorry to Bother You's Jermaine Fowler) head to their pals' destination wedding in Mexico, where many of their longtime friends are expected to gather. Shortly after they arrive, Lex accidentally drops their nuptial's baby. Breathe, the baby, thankfully, is fine, but the incident immediately changes the group dynamic for the remainder of the weekend. The film also stars Leonard, Jillian Bell (Brittany Runs a Marathon), Jennifer Lafleur (Nope), Aparna Nancherla (A Simple Favor, Mythic Quest, Crashing), Utkarsh Abmudkar (Brittany Runs a Marathon), and Robin Thede (A Black Lady Sketch Show).
Leonard and Bell play Josh and Lindsey, the gang's married couple who own the Mexican resort where everybody gathers. Seems the pressures of running a hospitality business have put a dent in their relationship and finances. Maybe they can convince some of their friends to invest in the hotel? It's just one of the many absurd twists in The Drop. Leonard and Bell share more with MovieWeb about the production.
The Characters in The Drop
In addition to Leonard and Bell's characters, there's Lex (Konkle) and Mani (Fowler), of course, who become a major focal point during the film. The couple run own a quaint bakery back in L.A., and seemingly have their relationship down, so, why not have a kid? But after Lex's faux pas, maybe it's time to reassess that idea.
On that note, take note of Peggy (Lafleur), a gynecologist, and her lawyer/partner Mia (Nancherla). The couple's nine-month-old baby Ani—played by Lafleur's real-life daughter Alma—becomes a central figure in this tale. Beyond that, the couple is—er, was—stoked about their wedding, even with all that chatter about Mia's sudden paranoia and conservative bent—she has a concealed carry license and brought a gun in her luggage, and her pals wonder if she may have voted for "he-who-shall not-be-named."
Related: The Drop Review: Intimacy, Relationships, and Family Planning Run Through a Comedic Grinder
Not to be left out: Robbie (Abmudkar) and Shauna (Thede), two entertainment industry pros fresh off their prime-time TV drama, Madame President, in which Shauna plays the prez. They're tres Hollywood, going so far as to considering using the real-life baby drop event and put it into their show. The couple proudly spew virtues of allowing their teen son, Levi (Elisha Henig), to live in a "sex-positive" household, which, for them, apparently translates into: he's allowed to watch explicit videos in public and run a dark-web forum for guys who voluntarily abstain from self-pleasure.
"It was a great ensemble," Joshua Leonard told MovieWeb of actors assembled here. "Out of what was in 'the scriptment [basically an extended treatment], there were maybe all of three lines that got into the actual movie from the actors. Every other piece of dialogue was created on the spot by this brilliant cast."
Of having The Drop come into her orbit, Bell said: "I remember reading the logline first, because Joshua and Sarah put together that 45-page 'scriptment,' which tells who each character is and the arc they're going on. And I was like, 'Well, I'm gonna do this movie. This is crazy.' I'm like, 'A maniac came up with that idea; what's the drop?' And my manager told me to just read the scriptment. So, I did, and somebody drops a baby, and as I kept going, there were so many more twists and turns."
"It felt real, raw, messy, very human, and very funny," she added. "I wanted to be a part of that, and anything where I can come in, and we get to improvise—and we're not sitting there setting our lines—and you just get to dive in as those characters… I thought, 'What can be more fun than that?'"
Conceiving The Drop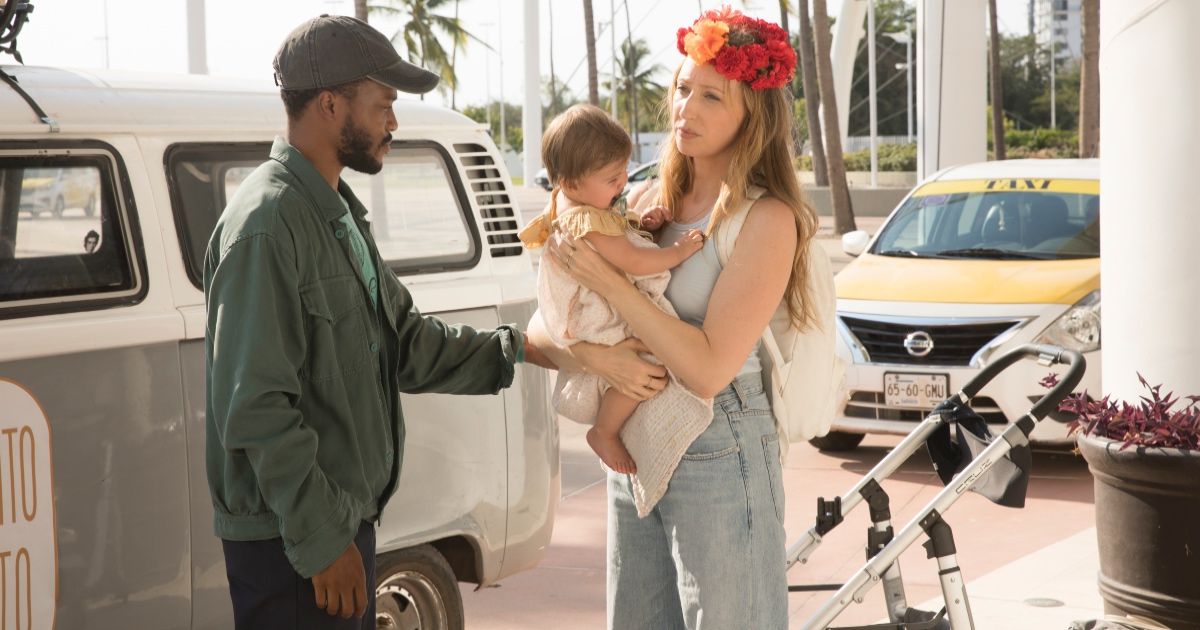 Any way you rock this creative cradle, The Drop was all Sarah Adina Smith's baby. At least initially. Smith had Force Majeure on the brain. The 2014 hit black comedy was written and directed by Ruben Östlund. It followed some heavy marital tension resulting from an apparent avalanche in the French Alps—the husband goes on to prioritize his own escape over the safety of his wife and kids.
"I was just thinking, 'What would be the female equivalent? What would a woman have to do to have the same domino effect happen in her mind and in her marriage?'" Smith noted in the film's production notes.
Related: Exclusive: Gerard Butler and Mike Colter Discuss Their Action-Packed Thriller Plane
"Sarah came up with the idea based on a conversation that she had with her husband, where she was exploring what Force Majeure explored—is it biological? Is it societal… that expectation of what masculinity is supposed to be and trying to figure out what a gender flip on that would be," Leonard added. "Basically, what could a woman do that would violate the central tenants of 'femininity' or womanhood? When she told me about the conversation she had with her husband, I just didn't stop laughing… because I'm a sick person."
He chuckled. "From there, we started talking about the potentially amazing premise for a movie, especially among a group of people who've known each other a long time and all have their kind of own alliances within their primary relationships. How everybody would be affected by this thing that happened?"
Finding the Right Comedic Beats
Finding the right tone in any film or TV series is a challenge. It proved even more so for The Drop. Still, Smith and Leonard insisted that the story be comedic, which may have felt a bit of a creative stretch for Smith, who'd been primarily working on dramas. Those challenges were handled with ease the more Smith and Leonard added nuance to the tale, going for a slightly absurdist approach, finding the humor in "the silent moments."
Another creative hurdle was working within pandemic guidelines as Covid-19 was still proving to be problematic for film schedules. When the cast arrived in Sayulita, Mexico, rehearsal time was limited, too. Somehow it further fueled the intention to allow the cast to improvise more specific dialogue and be "in the moment" with their characters.
When asked what he felt The Drop aims to say about relationships, friendships, and even parenting, Leonard said: "To me, the underbelly of truth in this movie, in terms of our own existential explorations of ourselves and of each other, is that, like it or not, we all kind of come in with preconceptions of who we're supposed to be in this world—what we're good at and how we want to be perceived.
"Then, occasionally shit happens," he said, laughing. "And that all blows up, and you must reassess your preconception of your partner if you're in a relationship. You know, 'if I'm different, does that mean they're different? Or can I change even though I committed this other version of myself to them?' It's certainly something I think about in my own life and something we tried to explore here."
The Drop premieres on Hulu January 13.