A first kiss is something to be remembered. But what if it happens in front of the entire world? That's the unique take Hulu employs in Merry Kiss Cam, one of many films in the streamer's holiday film slate. The premise is sweet and simple: Widowed artist Jess (Katie Lowes from Inventing Anna and Scandal) and sports enthusiast bartender Danny (Jesse Bradford of Shooter and Guys With Kids) go on a first date at a hockey game. Things heat up on the ice—and off. Suddenly, the couple is embarrassed to find themselves on the kiss cam. Their first kiss proves to be somewhat mystical in more ways than one, as their team scores a game-winning goal right after their smooch.
Happenstance? Or was it fate? Despite having little in common and a bundle of past emotional hurdles that have kept them single, Jess and Danny find themselves having to keep attending the team's games together or risk the heated wrath of thousands of devoted hockey fans who suddenly believe their kisses are the team's good luck charm.
Kiss away, folks. Angela Ko costars alongside Lowes and Bradford in a holiday film directed by Lisa France (The Cleaning Lady, Queen Sugar) and written by Maya Boudreau and Evan D. Watkins. On the eve of the film's premiere, Jesse Bradford shared more with MovieWeb.
On Taking on a Holiday Movie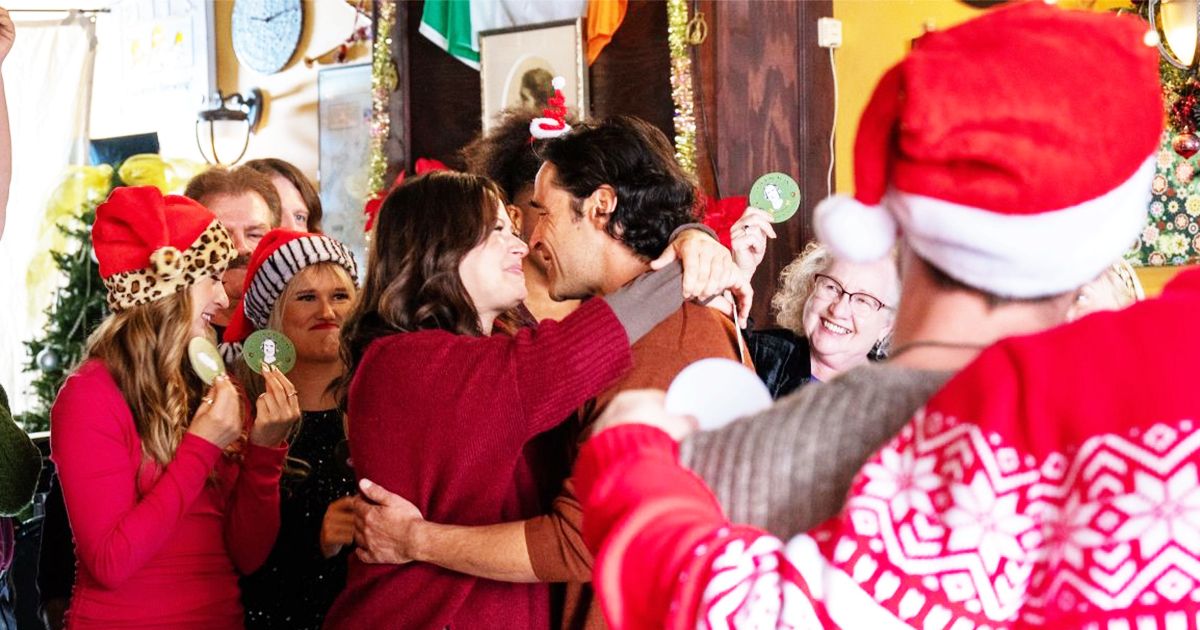 MovieWeb: What made you say yes to the role?
Jesse Bradford: I thought the script was super cute, and I had not done a Christmas-oriented film since I was about 11. I had a very small part in the movie Prancer. That's literally the last time I entered this territory. I have daughter now who's one-and-a-half years old. I think it starts to make you appreciate stuff like this even more, and the holiday season in general. The icing on the cake was Katie Lowes, whom I'm a fan of and also Lisa France. It all fell into place. And that's about how it happened.
MW: What were a few things you learned or enjoyed starring opposite Katie?
Jesse Bradford: Well, we had a blast. It's always fun when you make a new friend from work. Katie and her husband, Adam, are both just great, too—they have two young kids, and my wife and I have a daughter. It feels like we're kind of in a similar place in time. It's been seven months or so since we shot the film, and we've gotten together a bunch of times with our kids. Overall, I'd say it's always a trip getting to know somebody and starting from scratch. Then you're stuck together all the time. On movie sets, you spend a lot of time waiting, and if you're not getting too loud and disrupting people's ability to set up the next shot, you can really dive in with a costar. And I think when you're supposed to be portraying a vulnerable relationship on screen, where two characters are getting to know each other, it kind of opens the door easily to just go ahead and start doing that with a new person. Because you have to do it anyway. In a sense, you get to fake it—at least on screen.
Related: Exclusive: Kathryn Hahn Peels Back the Layers of Glass Onion: A Knives Out Mystery and Her Love of Acting
MW: What are one or two things that really make this holiday movie stand out?
Jesse Bradford: You know, we're not reinventing the wheel. It's a Christmas rom-com. I think that the director Lisa France did an exquisite job of casting, even in all the smaller roles. We have really funny, talented actors who lend a ton of validity to the whole thing. That helps. And I think the sports element in it, tied to Christmas, sets it apart from other movies a little. My wife and I just watched it last night, and it just gets the job done. It's good.
The Appeal of Holiday Films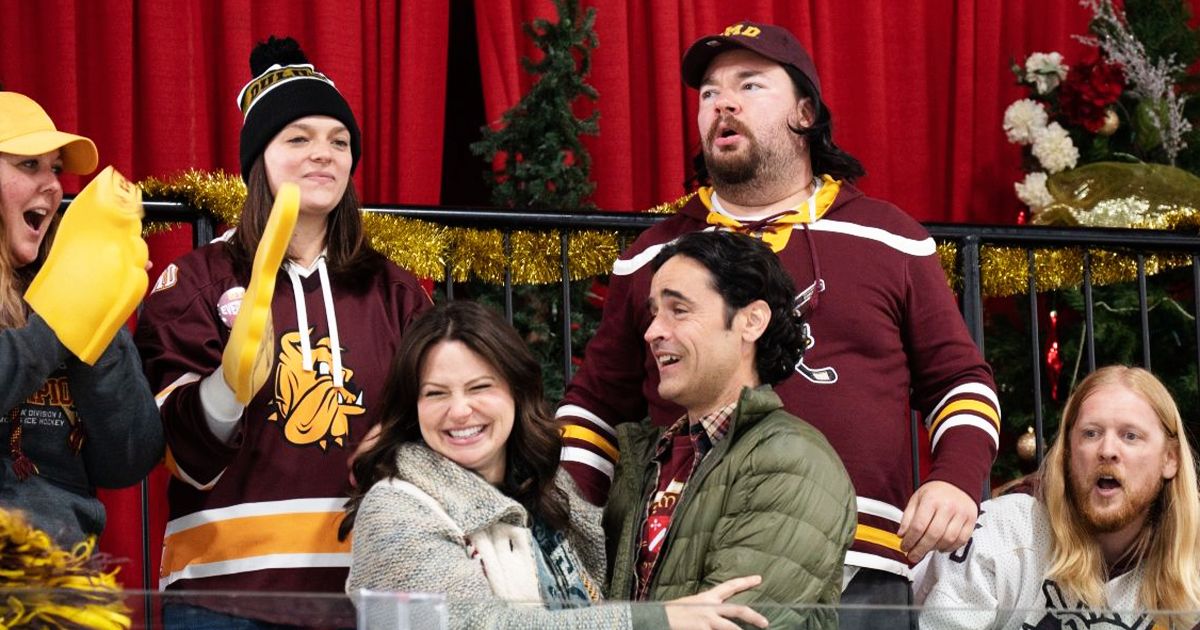 MW: So, why do you think we all love holiday movies so much? We never seem to tire of them.
Jesse Bradford: There's that sense of hope and magic, yes, but I think part of the reason that Christmas movies or holiday movies are super popular, is that they're generally—except for maybe Bad Santa and movies like that which try to go outside of the box—geared for togetherness. They're geared to watch with not just you and your wife, but also the kids, and grandma and grandpa aren't going to feel separate from it. These kinds of movies are designed for consumption together. I think the fact that this movie comes out on Thanksgiving is a perfect example of families hunkering down, maybe a bit woozy from too much Turkey, and going "Okay, what are we watching everybody?" Then settle into it.
MW: What holiday movies stood out for you when you were growing up?
Jesse Bradford: The movie I absolutely adore so much and haven't seen in about 10 years is Scrooged, starring Bill Murray. I used to take every opportunity to watch that if it was on. That's my favorite holiday movie.
MW: What do you hope people take away from Merry Kiss Cam?
Jesse Bradford: This is a lighthearted romp about Christmas and relationships, but I also hope people appreciate Duluth, Minnesota, where we shot the film. The city figures into the story enough times. Sometimes filmmakers shoot somewhere and claim it was somewhere else—shooting in Vancouver but claiming it's New York or something like that. We shot Duluth and we "claimed" Duluth, Minnesota. Duluth is amazing. I had an absolute blast there—the people, the vibe. We were there at just the right time in springtime. I hope people get curious about Duluth because it's worth visiting. Frankly, I would not have known that if I didn't get a job there and have to be there for about a month. But this lighthearted Christmas rom-com… I just want people to have fun and hopefully get a little bit of warm fuzzies. And definitely get in the spirit of the season.
Merry Kiss Cam premieres on Hulu November 24.