Director Jason Eisener (V/H/S/2, The ABCs of Death, Hobo with a Shotgun) and young actor Dominic Mariche (Are You Afraid of the Dark?) battle aliens with equal doses of horror, sci-fi, and humor in Kids vs. Aliens. The result may leave audiences craving more.
Leaping off his popular V/H/S franchise, Kids vs. Aliens comes from Eisener's segment from the 2013 anthology horror film V/H/S/2, a 2013 found footage horror anthology film that grabbed audiences' attention. The new film also stars Phoebe Rex (The Last Divide), Calem MacDonald (The Umbrella Academy, Trailer Park Boys), and Asher Grayson (The Dogs). The story finds Gary (Mariche) trying to make cool home movies with his buds. Older sis Samantha (Rex) just wants to hang with the popular kids. When their parents head out of town for Halloween weekend—never a good thing—their all-time rager/teen house party suddenly morphs into a night of terror when aliens attack, forcing the siblings to band together to survive the night.
Blending Horror, Sci-fi, and Humor
Eisener and Davies grew up together in Nova Scotia. Having known each other since we were 5 years old, they went through school together and eventually discovered their love for filmmaking together, too. All that informed the way they approached Kids vs. Aliens.
"This is about a group of kids trying to make a movie in their backyard, but it also deals with a lot of childhood fears I had," Eisener admitted. "I'm from Nova Scotia, and we have, like, hundreds of ghost stories and paranormal stories there. It's just a hotbed for that kind of stuff. I grew up hearing a story that was based on a true story, where a UFO had crashed in the southern point of Nova Scotia in 1967. A bunch of fishermen saw it happen, and they raced out with their boats, thinking that a plane had gone down, and they thought they could help find some survivors."
The story takes a curious turn. Apparently, when the fishermen arrived on scene, there was no wreckage—just an ethereal glow coming from the depths below. "When I was a kid, I had a family member who was in the Navy, and they told me all these stories and rumors they'd heard over the years. I was around the same age as the main characters in Kids vs. Aliens, so all that freaked me out. So, this new movie really blends all my childhood fears with, you know, just the pressures of growing up and trying to please popular kids."
Related: Jung_E Review: Train to Busan Director Succeeds with Emotional Sci-Fi
One of the more refreshing aspects of Kids vs. Aliens, is how well the writing, the direction, the acting, and the special effects blend so well together. The film's centerpiece illuminates how the "aliens" fuel their ship, basically by—wait for it horror fans!—using life forms that they melt down and turn into fuel.
"There's this great melting scene where you see one of the teenagers get melted with all the slime," Eisener noted. "That was the most challenging part of making the movie—just like getting the slime right. It took so many tries. We only had about two days to shoot that scene within the UFO. We'd do one take of the girl getting covered in slime, then have to reset it, and it would take like an hour. There was just a lot of pressure on getting that right, but for me, that's movie magic. You fight for it, and it's better than scoring a goal."
Like most kids, Eisener was influenced by many Hollywood blockbusters. He said he was inspired by Ghostbusters and Masters of the Universe and wanted to craft a wildly fun adventure where kids battle aliens in his new outing.
"Ghostbusters was the first movie I fell in love with. I wanted to be a Ghostbuster before I wanted to be a filmmaker," he added. "When I first saw that movie, I thought being a 'ghostbuster' was a real profession. Now, I appreciate the filmmaking of it. There's such a looseness in it, and I wanted my actors to play around in the scenes. So, I tried to do that with Kids vs. Aliens. It was always asking the kids to bring themselves into it; that I was open to any ideas for lines and improv."
Dominic Mariche on Battling Aliens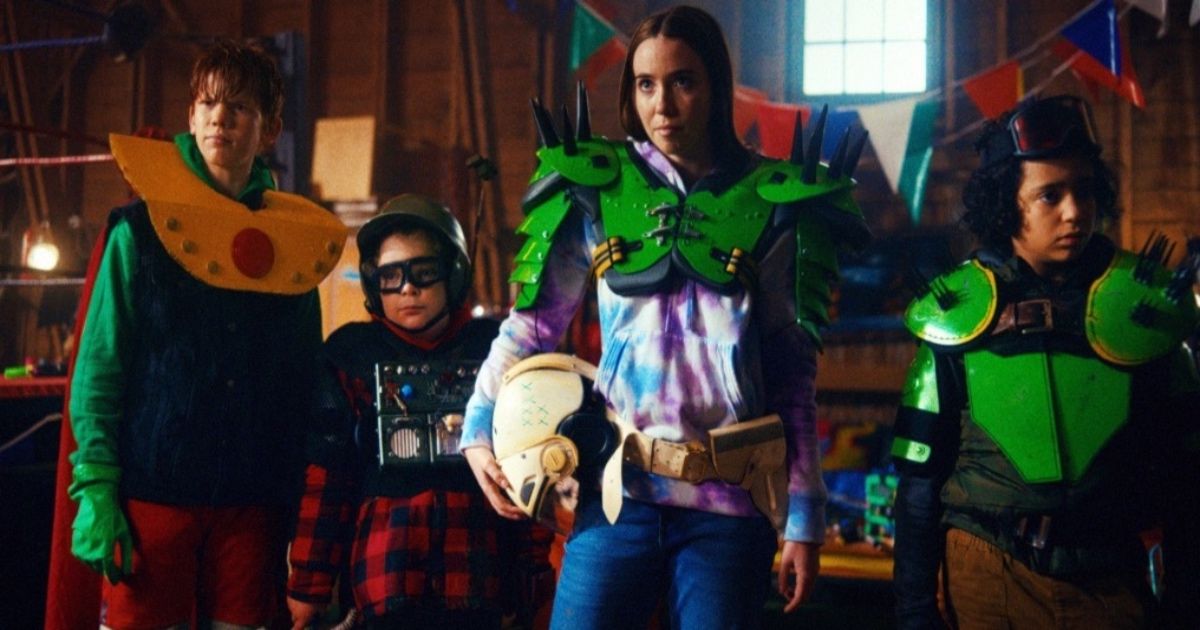 For Mariche who plays young Gary in the movie and can be seen in the upcoming film, Snow Day, shooting Kids vs. Aliens was a blast. Actually, a lot of the fun started before filming began. Director Jason Eisener took the young cast members to an arcade, and "it was super flashy and colorful," Mariche shared. "We also got to have this wrestling course because there's a little wrestling aspect in the movie. I get to take down this like giant six-foot-eight-inch-tall guy, which was super awesome."
Working with the actors in alien costumes was a little freaky at first, he recalls, but in time, some cast members wound up high-fiving the "aliens" whenever they passed by them on the set. When asked what he loved most about the production, Mariche noted the entire creative team.
Related: Exclusive: Star and Director of Jethica Open Up About Their Creative Process and Favorite Moments
"I just loved working with people and having the kids to work with, too," he said. "And Jason Eisener felt like another kid on set. It didn't feel like he was 'directing' us. I hope audiences love the film so much that they want to know more. Jason takes a little different approach. Like, the technology we see in the film isn't beyond our comprehension. It's more like ancient runic rituals and stuff like that. It leaves me wanting to know more. As in, 'What is this ancient magic they're performing?' I want the audience to feel that way too, because who knows, there might be a part two."
With Kids vs. Aliens set to drop and other projects in the works, one must ask: How does Mariche stay grounded when working in such a fickle business? "I'm just a regular kid," he said, laughing. "I try to think of myself as just a kid who acts, not an actor. It helps me stay humble and grounded."
Kids vs Aliens, from Shudder and RLJE Films, hits theaters, and is available on demand and digital on January 20,