"I feel like for many years, it was, 'I don't really know who we are,'" notes Imagine Dragons frontman Dan Reynolds as he grounds himself before taking the stage for a packed concert in Imagine Dragons Live in Vegas. "But this tour is the first time that I knew… we are Imagine Dragons." Cue up the group's hit song Believer and, well, this truly becomes one documentary film you don't want to miss. Dive into it fully on July 14 exclusively on Hulu.
Offering a nice balance of live concert footage filled with the group's breakout hits and interviews with group members, Imagine Dragons Live in Vegas chronicles the music powerhouse from performing in dive bars and casinos across Las Vegas to its current mega popularity. Fortunately, the film is anchored around the group's return to the strip to perform at the behemoth Allegiant Stadium.
Directed and produced by Matt Eastin, it features, along with Reynolds, group members Daniel Wayne Sermon, Ben McKee, and Daniel Platzman. It's a stellar concert film that delivers on a number of fronts.
A Film That Hits All the Right Notes
If you watched HBO's insightful documentary Believer several years back, you already know that in lead singer Dan Reynolds lies a fiery thirst for truth, integrity, and living an authentic life. In that documentary, Reynolds, who was a member of the Church of Jesus Christ of Latter-day Saints (LDS Church), boldly examined policies in the Mormon Church regarding the LGBTQ+ community.
While Imagine Dragons Live in Vegas is a luminous concert film and doesn't have that kind of "mission" per se, what it does have is a fierce focus on capturing the highs and lows of one of greatest modern pop acts of the 21st century. Director Matt Eastin's eye is sharp and some of the concert footage here is downright mesmerizing.
Related: Exclusive: Imagine Dragons Discuss Live Show In Hulu Documentary
Tonally, think of this as a love letter to the band and the city that helped mold them. We're given an intimate moving portrait filled with performances of chart-topping hits from the band's epic Mercury Tour — from My Life and Thunder to I Bet My Life—plus compelling archival interviews. In fact, in recounting their journey to the top, Dan Reynolds, Daniel Wayne Sermon, Ben McKee, and Daniel Platzman offer both a unique look into their own personas and the reason they do what they do.
"Our goal was to be a self-sustained indie band that could make enough money to pay rent and have food," Dan Reynolds shares in the film. "No idea that it would be this big. That's one in a billion." In a touching moment early on, Reynolds also delivers an emotional speech about what music means to him, waxing affectionate for his hometown and the schools he was so proud to attend. Reynolds is comfortable in his own skin and as such, he has no problem sharing his own vulnerabilities to a packed house. This is a human being we can all get behind and root for, and Reynolds' big heart keeps this film beating along quite nicely from beginning to end. "If we were playing for five people, Dan was still larger than life on stage," Wayne Sermon muses. "He's always been that guy."
Capturing the Group's Passion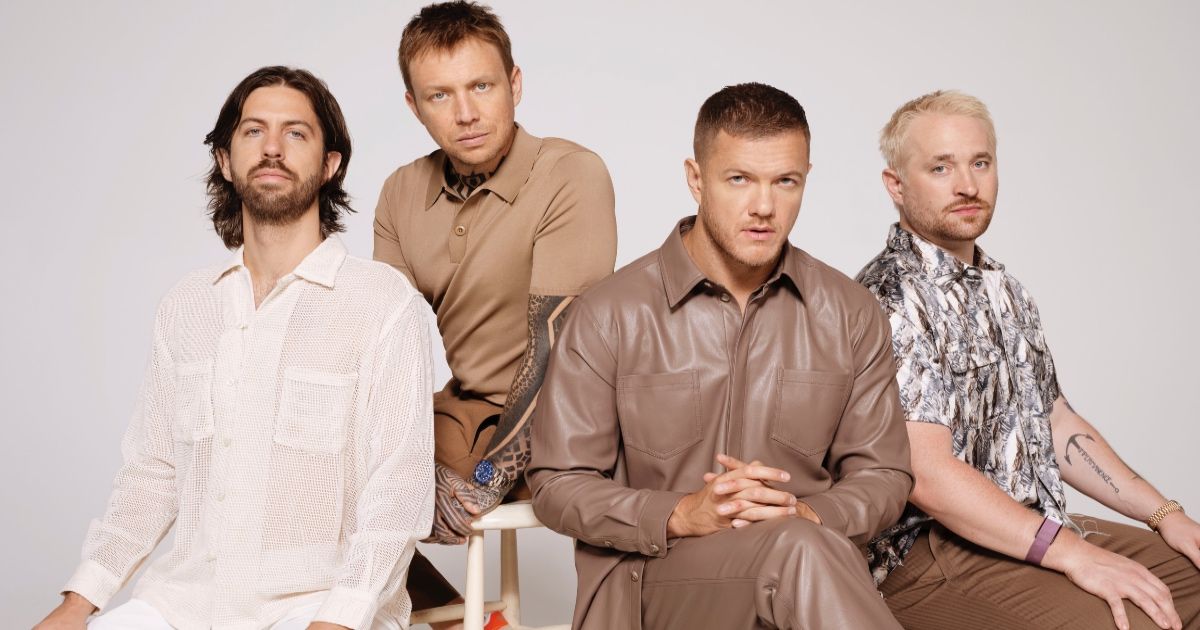 "Nobody knows your path," Dan Reynolds tells the packed stadium at one point in Imagine Dragons Live in Vegas. "Only you. You could do anything." If the man sounds like a modern-day messiah, in some ways, perhaps he is. It's not often we come across souls that exude so much purity and passion, but in Reynolds, it's there, and it comes though in this thrilling outing.
Related: Best Music Documentaries of All Time
One of the interesting creative decisions Matt Eastin made here was to offer audiences plenty of concert fun before diving into interviews. "Let them have the music," he seems to be thinking and as such, we're bathed in plenty of Imagine Dragons music for nearly 30 minutes before archival material arrives and we begin learning more about how these creative beasts came together and stayed committed to their dream. We're also shown footage of the fellas back in the day, as it were — Reynolds in band, for instance. In another moment, we're told one of the band's first gigs was opening for a mime at a mall. In between, each member of the group expounds upon the importance of remaining true to themselves and staying committed—to the creative process and the music.
If you're hoping for a triumphant finale, the director, and the group for that matter, offers that. It should be noted that this is one of finest footage to emerge from a concert film in some time—visually sumptuous. Sound wise, best to have your hook-ups to that Roku device or anything of that ilk set up. This film deserves to have the volume cranked up. Bottom line: Imagine Dragons Live in Vegas is a thrilling and enjoyable ride, but there's also a great heartfulness here that buoys this film and that truly makes it stand out. Best of all, you get the sense these musical dragons won't stop breathing fire for quite some time. And that's a good thing.
Imagine Dragons Live in Vegas will premiere exclusively on Hulu on July 14.