Imagine Dragons Live in Vegas is a soon-to-be-released documentary on Hulu combining Imagine Dragons' epic performance in Las Vegas (obviously) with intimate glimpses at the band behind the scenes. The documentary is a little bit more complicated than a normal concert film, as it also includes interviews from the band, providing context to how much this particular show means to them.
Why Las Vegas? Well, fans know that it's the band's hometown, and the energy of the city has been ingrained within them. That Vegas energy and all the filial associations with it creates an incredible performance. Band members Ben McKee, Daniel Wayne Sermon, and Dan Reynolds spoke with MovieWeb about the new Hulu concert documentary.
Imagine Dragons Play Vegas for an Unforgettable Night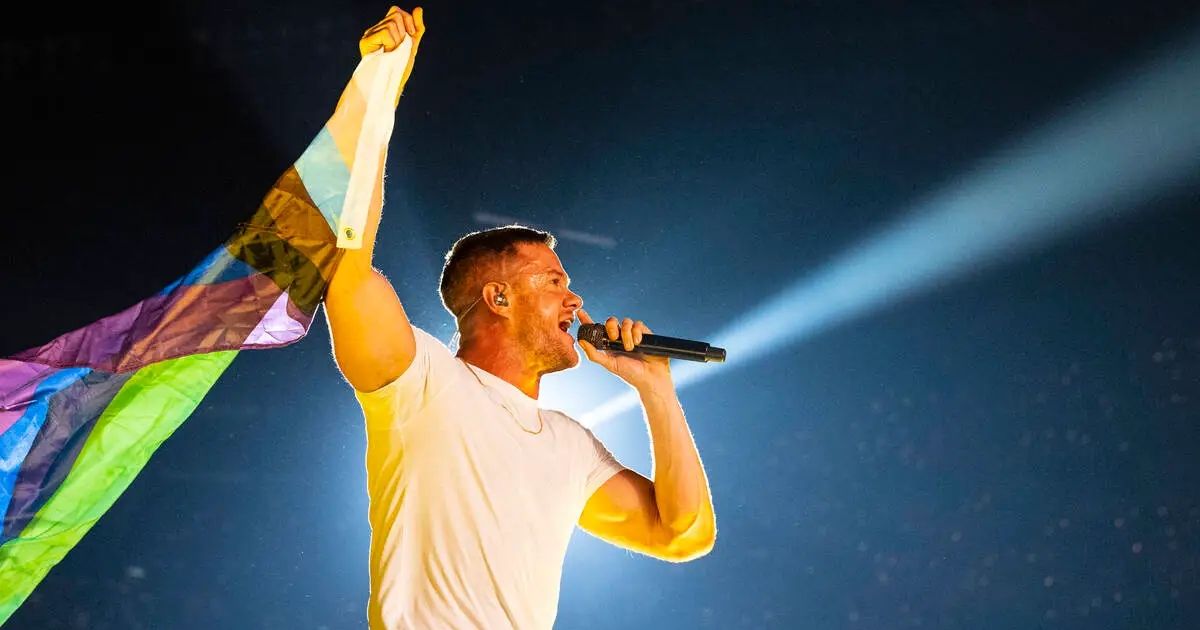 "I don't know if it was Sin City or the pressure of our performance, but certainly having so many old friends, and familiar faces, and all our family members really brings a special energy to the show," said McKee. He continued:
I think we all put a little pressure little extra pressure on ourselves to bring all the energy we can and to make sure that were playing as cleanly as we possibly can when we have an audience like that to where we're really trying to make the community that we came from proud when we're on that stage.
In the documentary, it's stated that Imagine Dragons wanted to give their audience an experience that they would never forget. During our exclusive interview, Dan Reynolds added that they also try to tell a story. They want to play the songs that the fans want to hear, because they were really grateful for everyone who came out to see them perform. Does it then become a hard balance between the songs that they specifically want to perform and the songs that they think their fans would want to hear?
"No, I don't think so," explained Reynolds. "Because typically the songs that we want to play are the songs that the fans want to hear. That's not always the case. There's certainly like a few songs that don't make the setlist that I think we would want to play, but we have rotations, it's not always the same setlist […] We strike a balance, I guess is the short answer. We strike a balance of playing the songs people want to hear and also the songs we might play."
This was also a concert that was being recorded intentionally for the purposes of being part of a documentary. However, outside of McKee putting a little extra effort into the outfit that he was going to wear for that night, the documentary filming didn't affect them too much. According to band member Wayne Sermon, the reason for this is that practically everything Imagine Dragons does is filmed. Every show they've played for the last 12 or 13 years has been filmed, so they're used to it.
"It was a little different just because there are a lot more cameras there, and at least I was a little bit mindful of it being filmed, but I tried not to think about it. I tried to just have fun and just connect with the people that were there. I mean, I think that we mostly did that. You know, we were used to it enough that it wasn't too big of an issue.
Imagine Dragons Comes to You
When asked about what they hoped viewers would get out of Imagine Dragons Live in Vegas, besides being able to attend an Imagine Dragons concert they might not otherwise have been able to attend, Reynolds discussed their greatest goal as a band — "To facilitate a space or time period where someone can feel they can feel their emotions and music can really help. I think amplify that." For instance, Reynolds himself had a hard time expressing himself when he was younger, except for when he was able to write music.
"I think our goal at a show or when someone is watching a show at home in their living room is for them to see how it relates to them in their life, to feel the things that they need to feel and express the emotions that they need to let out. That's our goal, I think in everything that we do, is to tell our truth and hopefully people can find their truth in it as well and feel less alone. Or feel allowed to express what they need to."
Imagine Dragons Live in Vegas isn't the first documentary that the band has been involved in. Previously they were featured in Believer, a 2018 documentary that examined the relationship between LGBTQ+ people and the Church of Jesus Christ of Latter-day Saints (LDS Church). However, this more recent doc was a very different experience. In comparison, Believer was filmed over a much longer period of time and the story it told was something they only figured out as they were doing it.
"[Imagine Dragons Live in Vegas] was kind of just wanting to put on a really special show, and then be able to share that show with people who don't maybe get to go to Imagine Dragons shows, for whether it's because we haven't come to their country or city or they couldn't afford to come out or whatever that is," explained Reynolds.
We want to really reach as many people as we can, especially the people that listen to our music and love it and want to hear it and want to see that show. That was really the impetus of kind of putting this together.
Imagine Dragons Live in Vegas, directed by Matt Eastin, comes to Hulu July 14th.