NOTE: This interview was conducted prior to the SAG-AFTRA strike.Mommy issues are rampant in writer-director Laurence Vannicelli's (Porn) haunting phycological thriller Mother May I? The film stars 2023's big dreamboat Kyle Gallner (Smile, Scream, Dinner in America) and Holland Roden (Teen Wolf) in a film that is bound to rattle some nerves and keep audiences on the edge of their seats.
Emmett (Gallner) needs to clean and flip his recently deceased mother's house. He wants to do it quickly, too, to sidestep any lingering trauma. Seems momma abandoned Emmett when he was a kid. Fiancé Anya (Roden) believes it could be a chance to finally get Emmett to deal with his shaky insides and morph into the partner she really needs. When she convinces him to take mushrooms to, well, "let go," something truly bizarre occurs. While they're "tripping," Anya suddenly starts behaving like his mother. The following morning, Anya is still at it. What gives?
That inventive premise rides out to compelling ends in Mother May I?, which hits select theaters and is available on digital July 21. Laurence Vannicelli and Holland Roden shared more with MovieWeb.
The Road to Mother May I?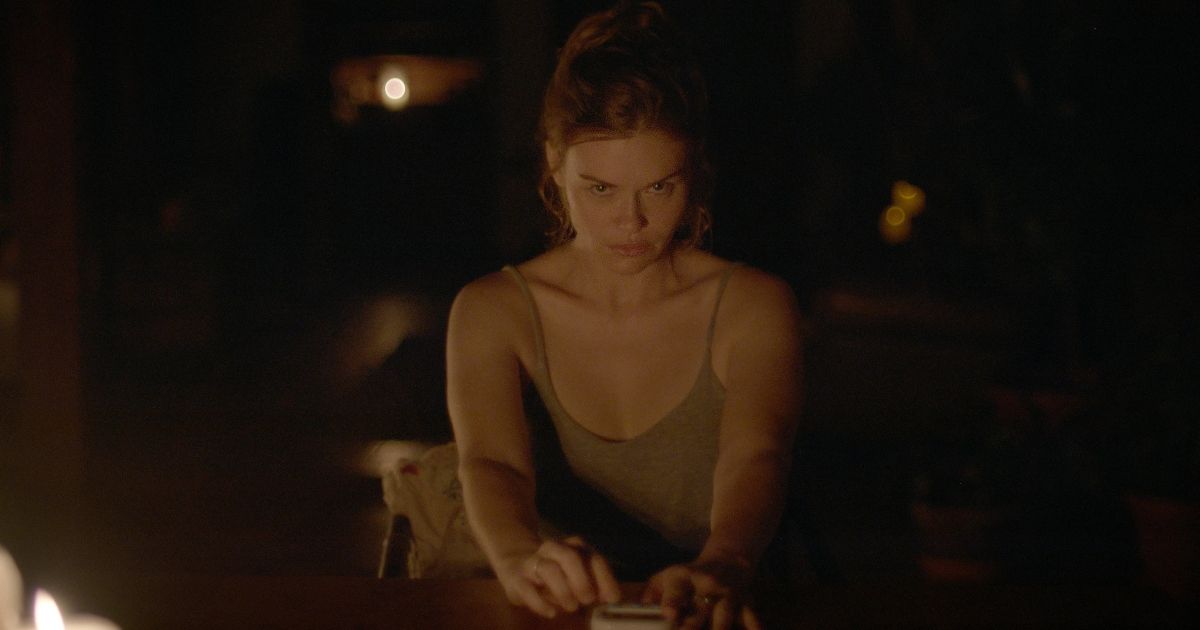 There is a fun backstory to Mother May I? It begins with Daisy Long, one of the producers of the film, who is now Laurence Vannicelli's wife. "She was not my wife when we first started developing this story. It actually brought us together, which is pretty cool," said the director. "Although, it'd be weird if that were the only reason why we got married. But we hadn't been dating that long, and we just started trying to come up with an idea for a film we could make."
He went on to say that all this went down during the pandemic. Ultimately, they pondered if they could create something with a small cast that was really performance driven, had some meaning, and in a specific genre background. "We kind of just came up with this idea of a strange love story about whether two people can overcome the baggage that they have, and find a way to love each other," explained Vannicelli. "That was really where it came from. We walked in the woods with our dog and just kind of acted out scenes and kicked around different ideas. And it just led to this script eventually."
Related: Ultimate Summer Movie Guide: 66 Movies to Watch in 2023
On that note, Holland Roden was jazzed when she first read the material. "I just kept pinching myself when my manager found the script and sent it to me. I thought, 'Okay, the person I kept thinking of [in the script] was like, an Olivia Cooke, or an indie darling. So, it was just such a blessing for me. I come from a TV background, so to be involved as a producer on this, too, before casting, I just felt really grateful." Roden added:
I love to call Mother May I? a backdoor horror movie. It's a very quiet horror movie. And I liked the tone. Laurence put together a really great pitch deck that emphasized that the tone in which I originally saw this was the same tone as what he wanted to make. That's ultimately what made me say yes.
An Indie Thriller in a Crowded Marketplace
Hollywood has been in a state of creative flux for several years now in the age of streaming, even more so now, with both the actors' and writers' strikes going on concurrently. Long before things came to a head this month with the strikes, Vannicelli wanted to create a project that not only stood out for its story and direction, but the fine actors filling up the screen. To that end, the budget was relatively slim and the shooting schedule tight.
"I really want to emphasize how Holland came on really early in the process, and how it was a real collaboration to get to where we did with the characters," said Vannicelli. "It was a real collaboration, and it happened long before the script was locked in. We changed the script a lot, working on it together. That was one of the best parts of working on this project — having a creative partner, then showing up on set and actually seeing her transform in front of our eyes. It was like watching a magic trick."
No doubt audiences will feel something similar. Holland Roden transforms from one character to another with impeccable precision. Anya, Emmett's wife, is charming and somewhat low-key. Emmett's mother — make that deceased mother — is quite the opposite.
"My main concern was, I'm not 65," chuckled Roden. "So, I didn't want this to feel sticky [when playing Emmett's mother]. I wanted it to feel very organic playing those two characters, but especially Tracy. We approached it with the physicality of Tracy, and that was probably the most different, her voice was different. That was definitely the biggest challenge — filming my Tracy days."
Related: Best Horror Movies of 2023 So Far
When asked what he hopes audiences take away from the film, Vannicelli said:
"There's such a long legacy of horror films that are meaningful and about real things, and I think it's unfortunate sometimes when genre films are just credited for not having as much substance as other kinds of films. We really wanted to use genre to tell a story that has meaning to us, personally, and hopefully that will resonate with other people. And I guess on the other side, I think maybe a film like this can draw people in who don't always watch genre films. Because it's not slasher film. There's no knife-wielding violence or anything. I hope we pull in these two different audiences and make a film that's sophisticated, and still scary and creepy."
If you care for sophisticated scares, Mother May I?, from Dark Sky Films, hits select theaters and arrives on digital July 21.