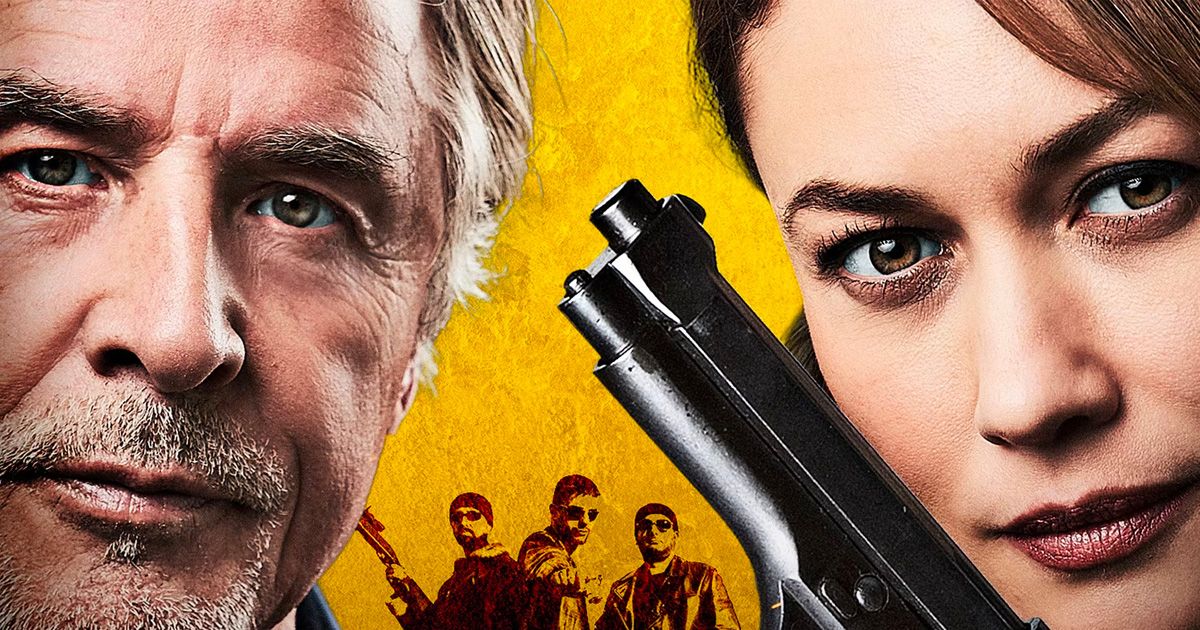 High Heat serves up wacky action-comedy like a fast food platter from the dollar menu. There's not much substance, not all of it is good, but just enough tasty choices for a satisfactory meal. Olga Kurylenko stars as an ex-KGB operative turning over a new leaf as a chef; whose restaurant's grand opening's crashed by mobsters trying to collect her husband's massive debt. Hilarious supporting characters add entertainment value when the lean premise struggles. Decent gunplay coupled with slick fight scenes also bolster meager the narrative. A snappy soundtrack had my toes tapping to the beatdowns.
Ana (Kurylenko) races around her hectic kitchen. She carefully inspects each outgoing order to make sure every plate is delicious. Meanwhile, her dapper older husband, Ray (Don Johnson), schmoozes with the customers to create a lively atmosphere. Opening night at C'est La Vie couldn't be going any better.
Ray's mood changes dramatically when Mickey (Ivan Martin) saunters in with two meatball toughs. His gangster father, Dom (Diamond Dallas Page), wants Ray's debt repaid that night. Ray has zero respect for Mickey. He wants to hear from Dom directly. Mickey grabs Ray walking an employee to her car when the restaurant closes. Then sends his moronic henchmen to burn the place down. They can collect the insurance policy as payment
The bad guys learn the hard way that Ana isn't an ordinary chef. Ray doesn't have a clue about his wife's secret past. Mickey's call for reinforcements has Dom wondering what the heck is going on. How difficult can it be to kill one woman?
Related: Avatar: The Way of Water Review: James Cameron Returns Triumphantly to Pandora
Black Humor Subplots
High Heat's subplots are chock-full of black humor. Ana, realizing she'll be overcome sooner or later, calls an old partner for help. Mimi (Kaitlin Doubleday), her bespectacled husband Tom (Chris Diamantopoulos), and their twin daughters (Bianca D'Ambrosio, Chiara D'Ambrosio), look like a wholesome suburban family. They're elite killers struggling with family issues. Arguing about therapy while also racking up a body count. Ana needs Mimi's help, but knows her former bestie holds a deadly grudge.
The biggest laughs come from Gary (Jackie Long), Dom's hapless masseuse who's forced to fight when the bad guy stream runs thin. His interactions with Ana, Mimi, and Tom are the best points. Gary's petrified quest for survival among assassins steals the show. The film might have been better from Gary's quivering point of view. Lucky for Gary his back rubs are dynamite.
High Heat takes place primarily between two settings, the restaurant and a parking garbage. The B-movie, low-budget production design gets old. Director Zach Golden (The Escape of Prisoner 614, Gigi Does It) addresses this shortfall by continually changing focus. He switches perspectives from Ana's pummeling to Mimi and Tom's bickering. Smart editing and a comical ensemble keep High Heat's fire from burning out.
High Heat is a production of Yale Productions, BondIt Media Capital, Buffalo 8 Productions, and Lucky 13 Productions. It will have a concurrent theatrical and VOD release on December 16th from Saban Films.