'Tis the season for… holiday specials. Film, television, you name it. And this year, that notion even extends to the Marvel Cinematic Universe, believe it or not. First, there was Werewolf by Night in time for Halloween on Disney+. Now, as many are aware, James Gunn's latest MCU release brings Christmas cheer to the franchise, as the Guardians of the Galaxy gang appear in a feel-good holiday special. More specifically, we follow fan-favorite characters Mantis (Pom Klementieff) and Drax (Dave Bautista) as they decide to kidnap real-life A-lister Kevin Bacon to give him as a present to Star-Lord (Chis Pratt).
Gunn wanted to bring a special animated vibe to the Guardians of the Galaxy: Holiday Special's beginning and ending scenes involving Yondu (Michael Rooker), and we recently caught up with the lead animator who worked with Stoopid Buddy Stoodios (known for Robot Chicken) to make it happen with The Guardians of the Galaxy Holiday Special (2022). Mac Whiting dishes on working with Marvel and his other projects in the works. Read our exclusive interview below.
Bringing Animation to a Live-Action MCU Franchise
MW: Could you tell us a little bit about your involvement with Stoopid Buddy and the Guardian of the Galaxy project?
Mac Whiting: My personal involvement on this was kind of unique. This was something that Marvel Studios was exploring doing, and so they kind of put out an SOS to various studios. I was brought in in the development stage to Stoopid Buddy via a connection, I actually have, a really talented director and animator-producer by the name of Tony Cervone. He's kind of best known for directing the film Scoob and some other longstanding Warner Bros. animation. And so anyway, it's a very small industry, and he and I had worked on something a couple of years ago. And so he actually kind of recommended me for this project. So I came in with Stoopid Buddy and was kind of explained the nature of the project, and initially launched a test. It was about an eight-second test for Marvel… It took six weeks to produce because the rotoscope process is so kind of laborious. Through that test, we really explored the design elements of it, how it would look, and how it would feel. I collaborated with a really talented background artist to kind of give them a proof of concept. And clearly, they liked what we did, which was really cool. And then we were hired and brought in to do the full production.
MW: And you were animating the live-action footage?
Whiting: Correct.
Related: 9 Things You Didn't Know About the Guardians of the Galaxy Cast
MW: Was there a moment from those particular scenes that was particularly challenging to animate?
Whiting: To be honest, the whole process was pretty challenging. Rotoscope in itself is pretty tough, you know, because there's an art to it. Like, you're trying to capture the live action as much as possible, but then, you also have to create this artistic interpretation. And so we experimented a lot with how many drawings we're going to do and things of that nature. But additionally to that, when we did the test, and they liked it, we kind of launched on this process of, "How are we going to make this?" And it became clear right away that we were going to need to shoot it practically and have live-action footage to work from. But Marvel was really supportive of that. So they ended up flying Matthew Senreich and Seth Green, the two co-founders of Stoopid Buddy, and myself out to Georgia to go to a soundstage and shoot this thing with James Gunn. They had Michael Rooker and Sean Gunn, the actor who plays Kraglin, there. And they also had a child actor to play the role of young Peter. So that process was pretty insane. It was really cool. James Gunn was really, really amazing to work with. He was very collaborative. And so we literally just shot this whole thing. And they would look at us and say, "Hey, is that going to work for animation?" So we kind of co-directed this thing. Then they edited the footage together, and then we launched an animation. The tricky part was, again, just sort of interpreting the style of the designs. I did the designs for the whole thing.
There were two significantly difficult parts. One was, Sean Gunn's character Kraglin needed to be de-aged, you know, because he's a teenager in the flashback. So while we had his video footage to work from, we had to come up with a design that still looked like him but was him as a teenager. So we're drawing, we're sort of interpreting his movements in action and behaviors, but in a different sort of cartoon model. And then similarly, for the young Peter, the actor who was there that day was not the original actor. James Gunn specifically wanted it to reflect kind of the actor from the movies. So we had to come up again with sort of a character design that bridged the gap. So that was a tough process to kind of fine-tune that.
And then one thing after the test that we realized — I mean, I knew all along — was that I was not gonna be able to animate this thing entirely by myself. This is way too much work. [laughs] So we partnered with a really talented studio in Australia, Studio Moshi, and they were great. But again, some of the difficulties when you're drawing these characters, it's not just a one-for-one interpretation of the live-action footage. And it's spread across 10 different artists, you know, keeping stuff to look consistent. And each scene kind of working together is definitely challenging as well.
Inspirations and Future Projects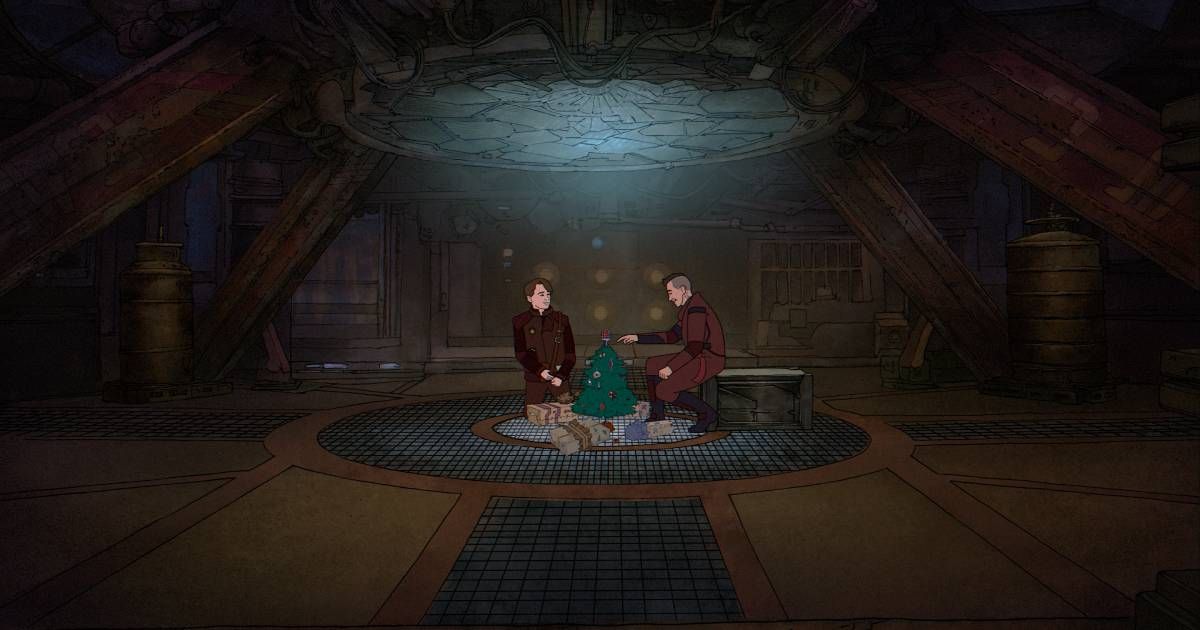 MW: Have you done something like this for other movies?
Whiting: Not really. This one was pretty unique… For me personally, it was sort of like a dream-come-true project. I'd love the Guardians of the Galaxy franchise. I'm a huge fan of James Gunn's work. Honestly, I'm deeply into animation. Growing up, I remember specifically, the sort of style we were shooting for was this Ralph Bakshi rotoscope that was really popular in the '60s and '70s. Growing up, the Lord of the Rings movie that was done that way was a huge influence on me as a kid. And later in life, some of his other more mature-themed stuff was really fun. So trying to emulate that style but also giving it a modern twist was really fun. The closest thing — I mean, I've worked on some commercials and things that integrated live action, where we would animate kind of to the live action. And so, that part of it wasn't too daunting. It was more just the amount of footage, the high-profile nature of the job, and that kind of stuff. That was exciting but also like, "OK, we gotta get this right," you know? Because a lot of people are gonna be seeing this.
Related: Guardians of the Galaxy Holiday Special's Original Kevin Bacon & Old 97's Songs Become Billboard Chart Hits
MW: Were there other influences that inspired you to pursue animation?
Whiting: Growing up, like many of us, I loved the Looney Tunes cartoons. Saturday morning stuff was my jam. Just waking up watching cartoons was absolutely a huge part of my childhood. And then as I've gotten older — I mean, for this particular project, there's the Marvel What If…? stuff that came out recently. That was really amazing. I mean, there's so much incredible animation being produced now. And I think, especially during the [COVID-19] pandemic, I think people became even more aware because we're all just shut-in and watching content. And you see big-time directors like Guillermo Del Toro people coming out and sort of advocating for animation as an art form, which is really cool to see. So I think it's continued to grow and expand, which is really cool. And clearly, I mean, James Gunn in this situation just deciding "what we need here is some old-school animation" was a pretty outside-the-box and fun concept to throw in there.
MW: Are there any other projects you're currently working on, that you're particularly excited about?
Whiting: At Warner Bros., I had a chance to do a little development work on Bruce Timm's new Caped Crusader series, which is looking incredible. I'm really excited about that. Again, that was a huge influence on me growing up and still currently. I think the Batman animated series is one of the best animated episodic shows around… [Timm is] collaborating with Matt Reeves, and it's sort of crossing over between the typical animated stuff as well as the new current take on Batman. That one's looking really cool. I mean, I loved working with Marvel. I would be thrilled to do any other kind of superhero content again in the future. And I love that stuff as a comic book reader. As just a general animation and superhero nerd, I'm definitely a consumer in that market, so getting to work on all these projects is sort of a dream come true for me. But again, the Guardians project in particular was a really special bucket list opportunity for me. So that's why when I got the call, I was like, "I'm in, whatever you need me to do on that. I'll stay up late nights." And this was definitely a labor of love.
The Guardians of the Galaxy Holiday Special is available on Disney+.