Anthologized television has somewhat gotten audiences used to seeing characters play different roles across a TV series. The best example is probably American Horror Story, which gives actors like Sarah Paulson, Evan Peters, Jessica Lange, and Zachary Quinto opportunities to inhabit a variety of characters. However, it's much rarer to have the same actors return as different characters in a serialized show.
Neil Gaiman included Maggie Service and Nina Sosanya briefly in the first season of Good Omens, playing nuns of a Satanic order who were tasked with swapping the baby antichrist out with a regular baby. Theirs was a brief but fun appearance, so it was exciting to hear that they'd be returning to the show's second season, but a bit confusing, considering they're playing completely different characters.
Neil Gaiman summed it all up by saying on Twitter (per Digital Spy), "I cast them because I wanted them in the show again, and I couldn't think of anyone I wanted in those roles except for them. There's a Good Omens family and Maggie and Nina are part of it. (Which is also why Miranda Richardson and Reese Shearsmith returned in new roles.)"
The two play an adorable pair of shopkeepers, Maggie (who's Aziraphale's tenant and owns a record shop) and Nina (who's a coffee shop owner). Service and Sosanya spoke with MovieWeb about the second season of Good Omens.
Returning to Good Omens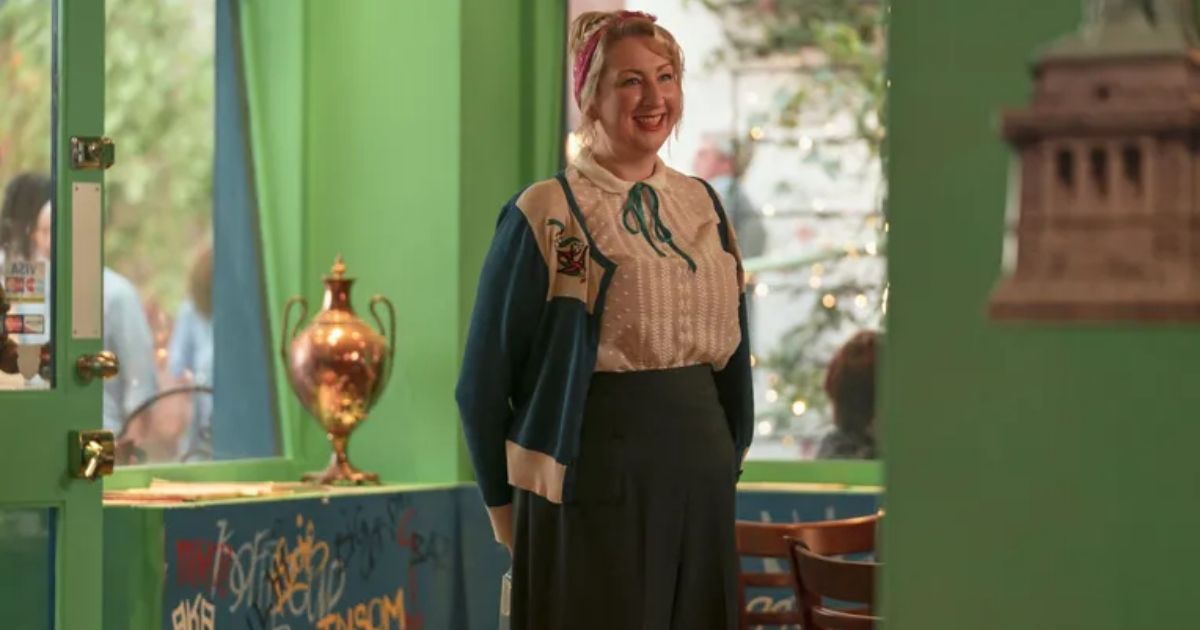 When asked what it was like to return to Good Omens, the two had similar responses. As Service said with a delightful inflection:
I immediately cried, and then said, "Yes, please. That, please. I'll do that.
"I didn't think it was particularly real," added Sosanya. "Why would it be? I got an email at two o'clock in the morning. But it turns out it was."
Their return to Good Omens is wonderful, and they play one of several pairs of people in the show who develop romantic feelings for one another amidst all the chaos and darkness of the supernatural intrusion in the real world. It's a beautiful subplot, and wonderful characters. "I think it's lovely that you think it was beautiful, because I think it is much more personal," explained Sosanya, "and it's much more about people or entities learning to trust each other and realizing that they need might need each other in order to live well. So I think that's rather lovely."
Related: Exclusive: Good Omens Season 2 Cast Talk Heaven, Hell, Angels, and Demons
Playing Maggie and Nina in Good Omens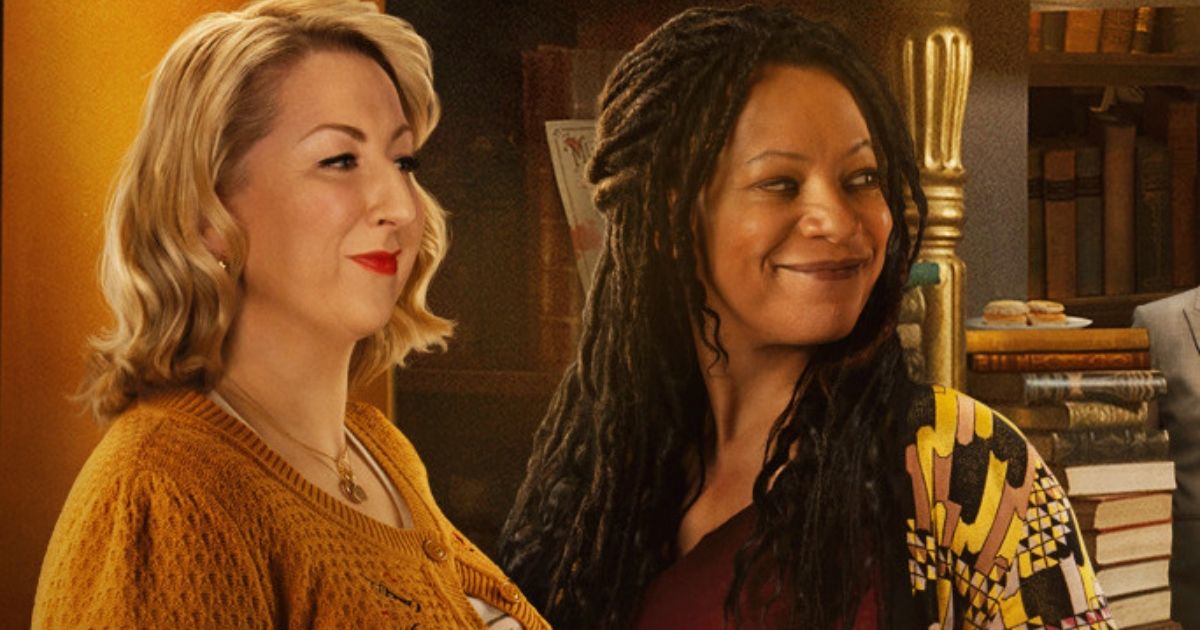 There's a subtle beauty to the arc between Maggie and Nina. One has a crush on the other, while the other is in an emotionally abusive relationship, and their friendship brings out the best of both of them. It's a quaint, queer study of loneliness and connection which fits into themes of the whole show (Beelzebub and Gabriel get together, Aziraphale and Crowley kiss). "The characters are written so beautifully that the dynamic is a lovely thing to play," said Service.
"The characters are really very well drawn," elaborated Sosanya. "You sort of instantly know who they are from the first few times you meet them in that first episode. And I guess we had conversations about the tone and how far, how big to play some things, and I guess the conclusion was not big. Yeah, it was to be just as naturalistic, as sincere and true to the real situation as possible. Even when something miraculous might be happening in front of you, as humans, you interpret it in a way that makes sense of your work."
"And there's always room for sort of quiet, unspoken connections between the lines," added Service. "Yeah, those were good few days working out the looks and the unsaid words, what we were actually saying."
Related: Exclusive: David Tennant and Michael Sheen Talk Loving Each Other and Good Omens Season 2
How Good Omens Questions Good and Evil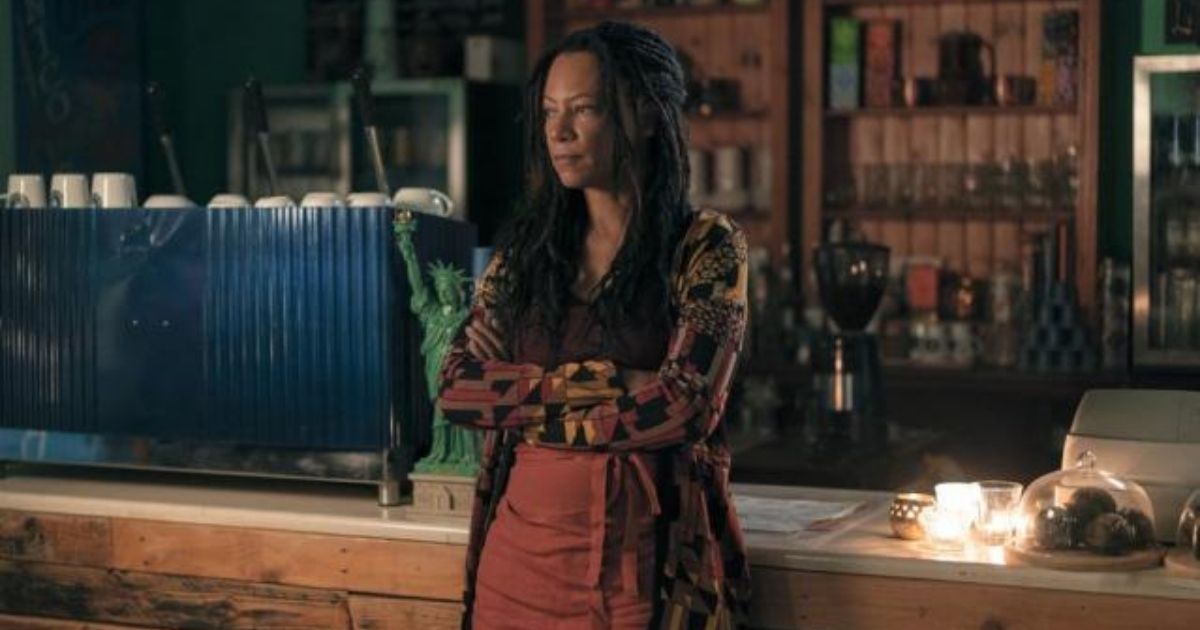 One of the most interesting thematic components of Good Omens is its study of morality and theology, and the complexity of good and evil and what those words even mean. As two of the only human main characters in the second season of the show, Maggie and Nina witness the ramifications of angels and demons, and get a comprehensive look at these physical manifestations of moral ideas. How do Service and Sosanya view the shows' interrogation of good and evil?
"I think it does endlessly in both the seasons, actually. And I don't think that we ever come to an answer. I think the point is that we have to keep asking the question and possibly not judging things and looking within ourselves. And if everybody did that, maybe the world would be in a slightly more nice place," said Service.
"Maybe in a more stable position," added Sosanya. "Who knows? Yeah, it seems to be about — the whole of Good Omens as Maggie was saying — seems to be about asking that question and about realizing that you need both sides. And it's about context as well. That good and evil only exist in whatever situations they exist in, and what might be good in one situation might be bad in another."
The six-episode second season is now streaming on Prime Video. You can check out the season two trailer below.