An uptight and depressed French divorcée reunites with her impetuous teenage bestie on a revealing journey through paradise. Two Tickets to Greece reminds that getting your groove back is never easy. Life invariably hurts, rejects, and disappoints in the most cruel ways. Sometimes we need help to get out of our comfort zones and find a new path to happiness. It's difficult at first, but dropping your guard works wonders. Writer/director Marc Fitoussi infuses quirky realism and sobering truth to a refreshingly honest comedy-drama.
In 1989, 15-year-old Blandine Bouvier (Leelou Laridan) sneaks Magalie Graulières (Marie Mallia) into her house. The girls make martinis, listen to CDs, and dream about a fantasy vacation. Luc Besson's The Big Blue is their favorite movie. They swear to take a trip to Amorgos, a Greek island, before passing out drunk and getting yelled at by Blandine's irate parents.
Three decades later, Blandine (Olivia Côte) struggles to leave her apartment. Her husband cheated and then proposed to a much younger woman after their divorce. She gags at getting an invitation to his wedding. Benji (Alexandre Desrousseaux), her 20-year-old son, is deeply concerned. He's about to move out and worries about his mother's mental health. Benji finds a collection of old music and a note while packing in the garage.
A Mismatched Pair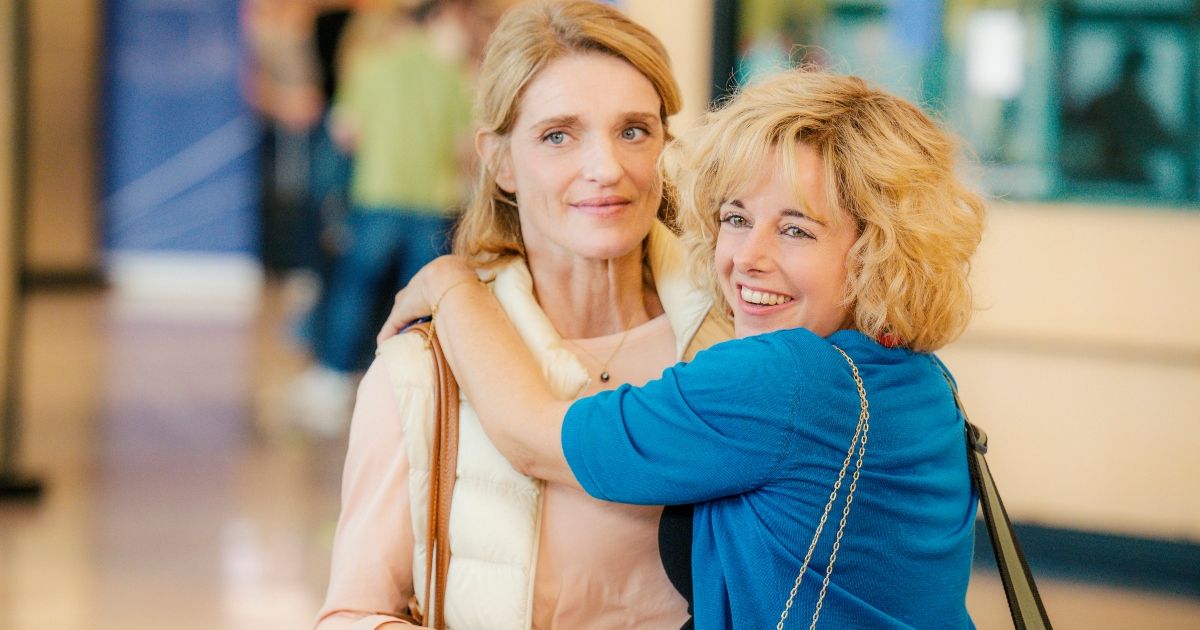 Blandine is horrified when Benji confesses to lying en route to dinner. He's arranged a blind date with Magalie (Laure Calamy) after finding her on Facebook. Blandine remembers exactly what Magalie did to end their friendship. She's taken aback when the vivacious Magalie hugs her dearly at the table. The prim and proper x-ray technician is unnerved by the wild freelance music journalist. Magalie's tales of torrid escapades with a bisexual boyfriend, and the fact she can't pay for her meal are disconcerting. The unease grows when Blandine sees a tag on Magalie's shirt. She mischievously admits to returning clothes after wearing them.
Blandine ignores Magalie's repeated phone calls and texts afterward; she thinks the woman is a sex-crazed freeloader. Blandine hopes her long-arranged trip with Benji to Greece will bring some much-needed joy. He drops bombshell news. Benji can't go with his mother and has given the ticket to Magalie.
Related: 5 French Shows on Netflix You Have to Watch
Fitoussi (Paris Follies, Call My Agent!) builds his characters with small details that continue to have relevance throughout the film. The fastidious Blandine keeps a journal and scrapbook with mementos. Magalie has an iPod loaded with disco and new wave hits. She commandeers every social gathering with her music. This initially annoys the daylights out of Blandine but then invokes their childhood together. A great scene of them dancing changes to their younger selves in the same setting. The women grew apart and became markedly different but still have a tangible connection deep within.
Magalie's Antics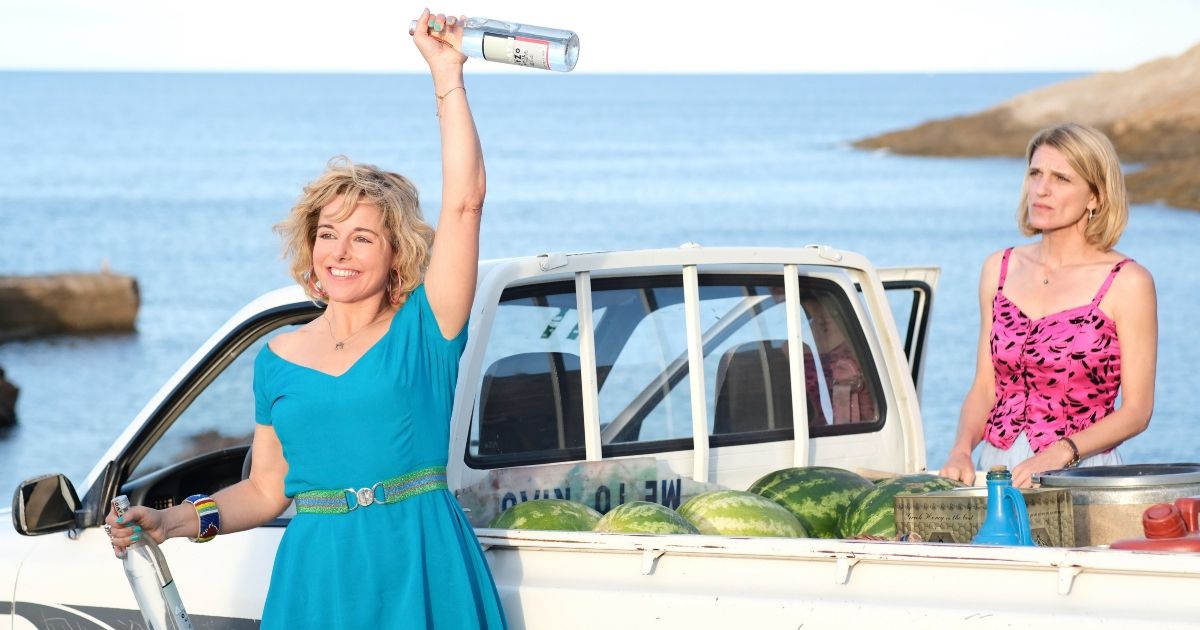 The rub is that Magalie's scheming antics results in the pair missing their ferry to Amorgos. They end up on the semi-deserted Keros and embark on a labyrinthine odyssey to get back on track. These deviations infuriate Blandine, who spent a fortune and meticulously planned her getaway. The women drop niceties and start to address the fundamental differences in the personalities. Magalie has had enough of Blandine's negativity and pessimism; to her, Blandine is a total buzzkill and has no right to belittle her.
The plot thickens in the second act with the introduction of another lead character. Kristin Scott Thomas nearly steals the show as Bijou, an old friend of Magalie's that lives on Mykonos with her artist lover, Dimitris (Panos Koronis). A funny gag has the Greek and English-speaking Dimitris having no idea what the women are discussing in French. Their ribald repartee flies under his radar but establishes Bijou as more than just a Magalie clone. She shares her voracious sexual appetite but has dealt with tragic circumstances. The film takes an unexpected serious turn as Blandine learns Bijou's secrets.
Related: Best Kristin Scott Thomas Movies, Ranked
Two Tickets to Greece has a sense of maturity to its hedonism. There's full-frontal nudity, marijuana use, and sex talk galore but not in a juvenile, frat boy way. Magalie and Bijou are unabashed about their physical needs. They're not afraid to be proactive in securing male fulfillment. Whereas the demure Blandine is clearly uncomfortable in expressing her carnal desires. She's playfully mocked as a prude then terrified when forced off the bench and back into the horizontal tango game. Fitoussi gets top marks for keeping Blandine in line with her character. The differences between her, Magalie, and Bijou become contentious in a surprising climax.
The Value of Friendship
The island-hopping Greek adventures are absolutely beautiful. You marvel at unspoiled, sun-drenched hills that wind lazily down to crystal blue beaches. The culminating boat ride to Amorgos is a dazzling affair. Fitoussi makes an effort to avoid known tourist sites. I wanted to book a flight ten seconds after watching the movie.
Two Tickets to Greece stands above recent films in this genre. It never gets raunchy or lewd in an overblown way. Blandine, Magalie, and Bijou are entirely believable. Blandine represents what happens when anger and bitterness takes hold. Getting treated like dirt doesn't mean you have to wallow in it forever. The protagonist grows to understand the value of friendship and compassion. There's a lot more to Magalie than meets the eye. The last scene will leave you with a big smile.
Two Tickets to Greece, originally Les Cyclades, has French dialogue with English subtitles. An Avenue B, Vito Films, and Canal+ production, it will be released theatrically on July 14th from Greenwich Entertainment.