Imagine surviving an emergency plane landing (after being struck by lightning), only to get taken hostage on a war-torn island. Well, you don't have to use your imagination here as Director Jean-François Richet (The Emperor of Paris, Blood Father) alongside screenwriters Charles Cumming (A Foreign Country) and J.P. Davis (The Contractor), unfolds every passenger's worst nightmare right onto the big screen in this action-packed film, Plane.
This nightmare's saving grace? Having pilot Brodie Torrance (Gerard Butler), passenger (and accused murderer) Louis Gaspare (Mike Colter), and an incredible flight crew (Yoson An, Daniella Pineda) on board.
As Plane safely lands in theaters on January 13, action stars Butler (300, Greenland, Angel Has Fallen) and Colter (Luke Cage, Evil) buckled down for a MovieWeb video interview exclusive, sharing everything from carry-on essentials to filming a one-take combat scene Butler says is "cinematically, one to be remembered for a long time."
Gerard Butler and Mike Colter Discuss Plane
Nicki Sun: I'm so excited to be here with the three stars of Plane—Gerard Butler, Mike Colter, and obviously the plane behind you guys. How are you both doing today?
Mike Colter: Yes. Finally.
Gerard Butler: What a great photo, huh?
Sun: I know. I love it. I'm glad that you guys are having fun and I know that because 'every minute matters,' I'm just going to jump right on in. Gerard, you've been producing and acting in several of your films, so what makes Plane stand out to you?
Butler: When I read this script, I went, especially the first part—by the end of the first act, I literally felt like an audience member, like I was white-knuckling it, going through this storm with these pilots, it felt very believable. You could follow what they were having to go through, but you could see the extreme peril that they were in, and that was the first act. Now, normally you have to wait till the end of the movie to get all that fun and that action. It can be a slow burn. We had all that in the first act, and then from there, it unfolds as a completely different movie. Then, it's a survival movie, it's a drama, it's a thriller. So it felt like it had all the elements. And it's been a while since we've seen a really good movie where the plane is the central character because it's a terrifying prospect. We all, as people, imagine what it must be like being in a plane when it goes down and this doesn't let you off the hook. It doesn't happen in two minutes. You are stuck with them the whole way through this, and then they basically land in hell. And then it's a whole other movie. Then in steps this man with me.
Related: Plane Final Trailer Finds Gerard Butler Rescuing Hostages Alongside Mike Colter's Convict
Mike Colter Transitions from TV to Movie Star Alongside Gerard Butler in Plane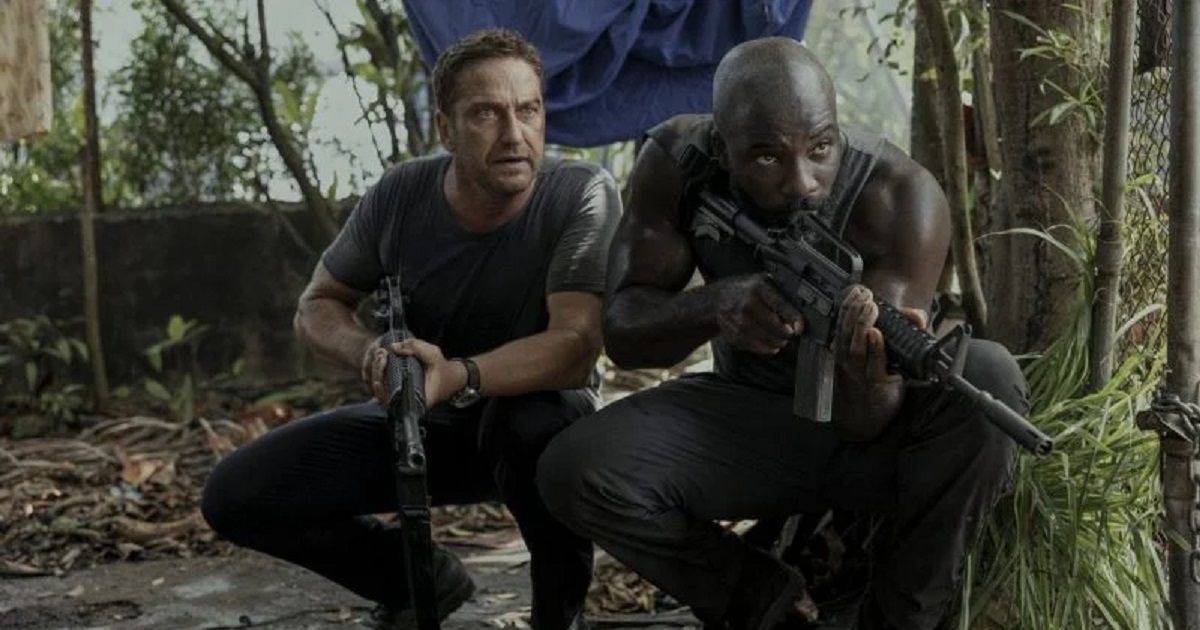 Sun: Mike, you play so many iconic characters on television, and this is like one of your major breakout movie star roles in film. So what has been the biggest difference for you in film, and what made you say yes to this film?
Colter: I'm not gonna lie to you, the hours are better in film than television. I'll tell you that right off the bat. In television, these hours are ungodly. I don't know what's going on, but they act like, you know, they, they just won't, I don't know, there's just ridiculous hours on television. I'll complain about that to the day I die. Anyway, so the thing about film, there's just a certain freedom with the development and script because when you step on the set, there's a certain power that the producers and the leads and the director have that you can sort of create magic on the spot. In television, you got too many people that you're answering to in terms of the creativity of it all. Nothing can be done on the fly because there's too many cooks in the kitchen. When you do a film, it's like the concept is, "What's the main thing?" and then after that, it's like you gotta try to create in the moment. "What's happening right now?", "Does this make sense?", "What can we do to adjust things?" And so there's certain freedom and creativity that you get in film that you don't have on television. So, I enjoy bouncing back and forth, but I really, I really did enjoy this project because of that freedom and the collaborative process.
Gerard Butler Didn't Have a Stunt Double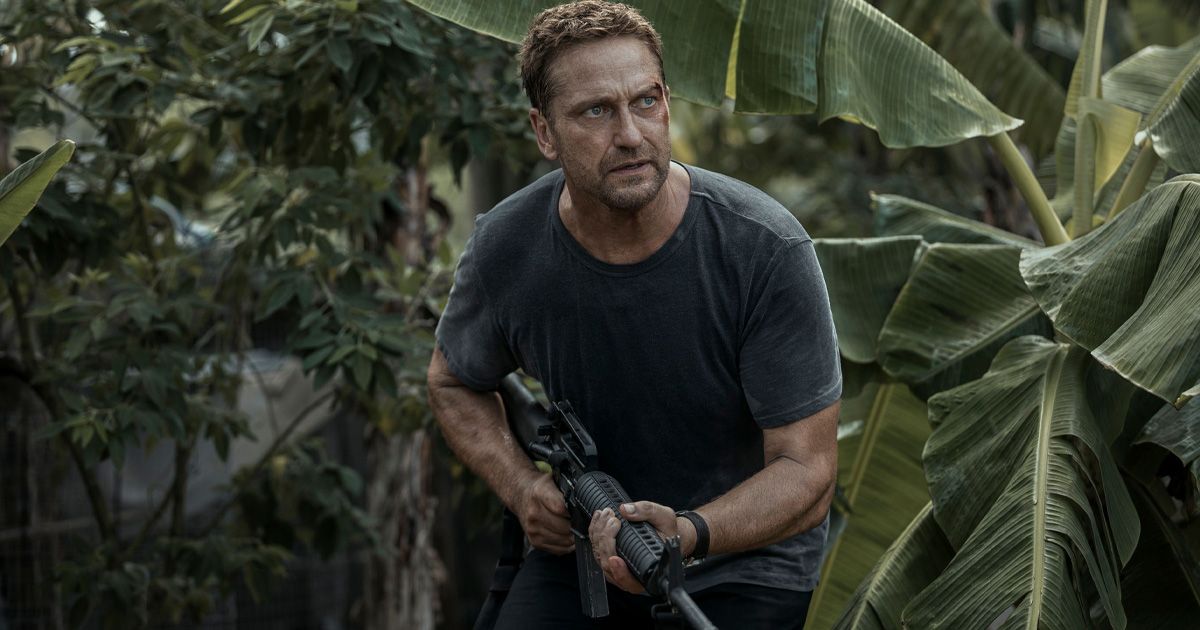 Sun: Amazing. Now let's talk about the prep for this film. Gerard, between the fighting and the flying, what was the most challenging scene? I read that you actually filmed a hand-to-hand combat scene two minutes straight in one take, and I believe that's actually you fighting, correct? It wasn't a stunt double?
Butler: No, that was me fighting. Yeah. And, and I think it was more than two minutes. It certainly felt more than two minutes!
Related: Plane Review: Gerard Butler Rules the Sky in Tense Thriller
Colter: Yeah, I say two minutes seems long, but it might have been longer.
Butler: Yeah, it felt longer than that. But, and that's rare. Just to quickly explain, typically when you shoot an action movie and, and often, you do these, there might be slightly longer takes, and then they cut it down, and it's like a bit of a punch and this, and you go, "What have you done with my scene?" And this was the opposite. We literally shot it all in one take, one camera, which meant every hit had to sell. Like if you even miss by an inch, you're not right—the whole thing is, is wasted. We're talking about 105 degrees on the heat index, 100% humidity. And it's a fight that is supposed to be brutal and messy and desperate and exhausting. Um, but it was great. And I think cinematically, it will be remembered for a long time for that reason as this kind of one-take fight sequence cause they don't happen so often.
Gerard Butler and Mike Colter Share That They're Both 'Mummy's Boys'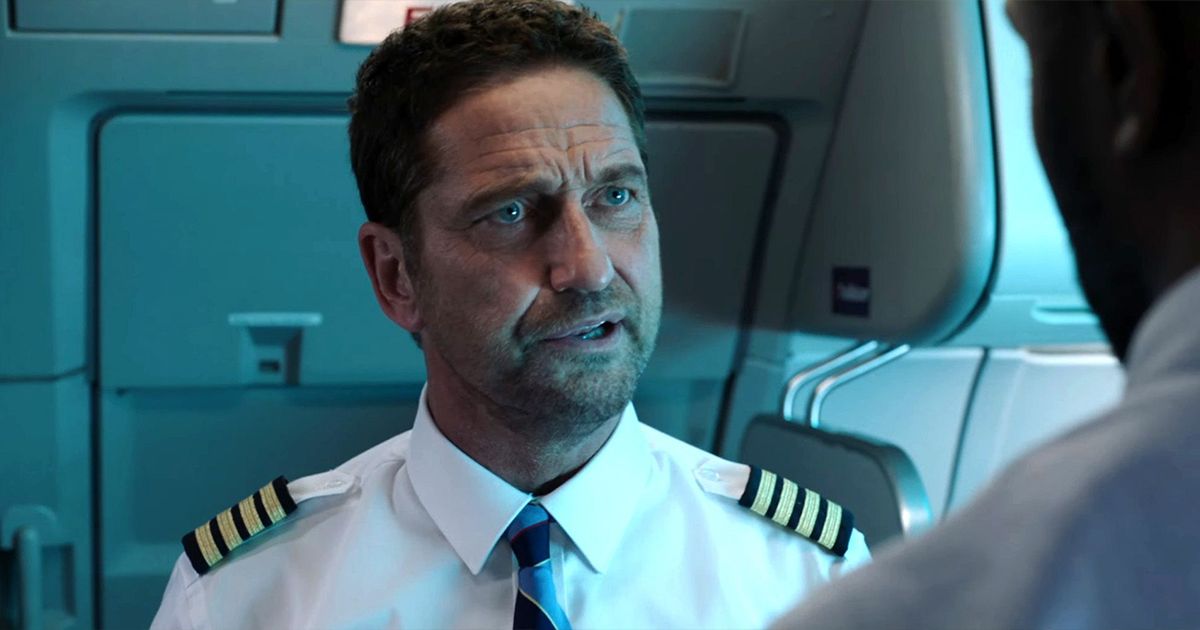 Sun: Yeah. And I imagine that both of you have spent a lot of time together in filming and right now, even during interviews. So what have you two learned about each other during this whole process?
Colter: I've learned that there's some Scottish phrases that Gerry is not familiar with, that I would assume, being born in Scotland, that he would've heard 'em all. We played this game today. There were Scottish phrases and I would repeat them, and then I try to guess what they meant. And, I missed most of them. I only got a few of 'em, but then I was surprised Gerry missed a couple too. And, you know, had to refresh his memory because he hasn't been home long enough in a bit.
Butler: Yeah, but by the way, I'm still disagreeing with them. You know, one of them is 'tidy' and I'm like, "Tidy, what is that?" Yeah, it's um, so, no, I feel like I know enough, but yeah, I guess I got some more studying to do. I know that he's a mummy's boy. That's what I learned. He's a big mummy's boy.
Colter: That's a compliment though.
Butler: It is, by the way, because so am I. We're both very inspired by our mothers and they both keep us firmly in place. And I love that he gives her so much credit. You know, cause I give mum, my mum,
Colter & Butler: Mum—
Butler: We have the same mum. We give mum a lot of credit.
Mike Colter's Hero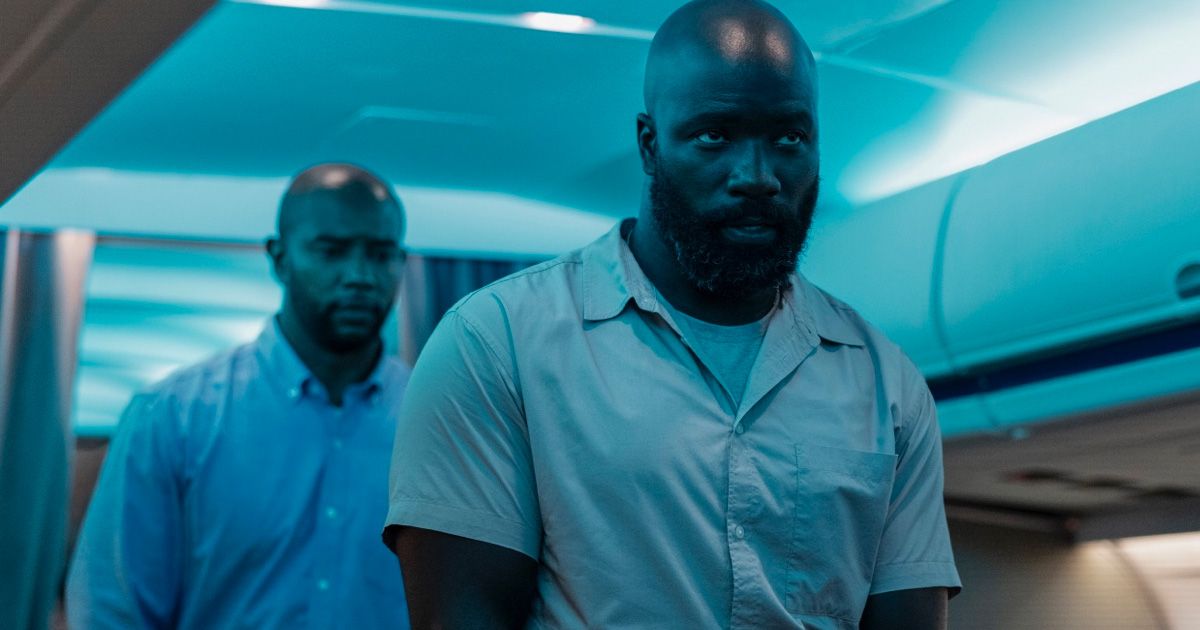 Sun: Just going off of that, you play an everyday commercial airline pilot that goes above and beyond, rises to the challenge, and you are a hero. So I was just gonna ask, in both your lives, who has been that hero to you?
Butler: Actually, yeah, my mum.
Colter: Yeah. I'm gonna switch it and go and say my dad, because my dad's been gone now for about 20 years now. And I gotta say that he's a simple man, but one thing I remember fondly about him, and I guess I don't know if I inherited from him or just learned it by watching him, is his work ethic. The way my dad was and he, he was always up, you know, five in the morning, four-thirty in the morning, six o'clock—
Butler: Wow—
Colter: starting work, whether it was something he wanted to do for himself or whether it was something he had to do for others, or something to have to do with his job. He was a hustler too. You know, he was one of those people that always had multiple jobs. You know, he wasn't a well-educated person, a blue-collar guy. He didn't go to high school, so he probably stopped when he was in his sixth grade, I believe. So he just didn't have a lot of education, but he knew enough to say, you guys gotta get more education. You have to finish, you have to go into college. You have to go into your and, and get, and get something that I didn't have because you have that opportunity that I didn't have. And he understood the importance of that. And then he sort of deferred to our mother in terms of whatever she said was gospel, and he would back her up. There was no division between the two of them. So I really understood how he was and how he sort of really supported her as being someone who sort of really took care of the kids. But at the end of the day, you know, he still was the head of the household and, it's a tough, but it's a very simple approach and my dad was really good about that.
Butler: That's awesome, man.
Sun: Awesome. And then after watching this film, obviously what is now one essential item you both are gonna bring on your, carry-on, on any flight?
Must-Have Carry-On Essentials (and Non-Essentials)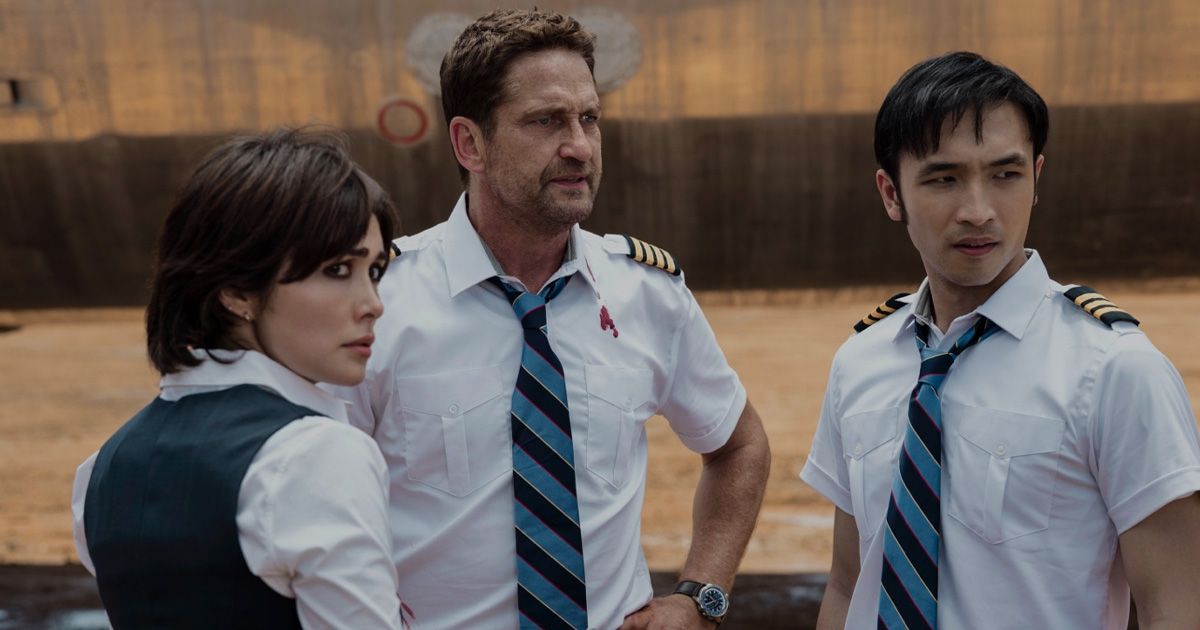 Butler: Hmm. Um. An iPad with Plane downloaded on it.
Colter: Cause they won't play it.
Butler: Show it to all the passengers. Yeah, hey look what could go wrong?
Colter: Well, I've always said, the noise-canceling headphones, the eye patch, or whatever, so you can cover your eyes up. Um… I like a bottle of water. You can't get a good bottle of water on a plane. I mean, every plane—the water they serve is, you know, it's essential to stay hydrated on a plane. You just gotta stay hydrated. So I like a nice, make sure I get a good bottle of water.
Butler: He's so sensible.
Colter: I'm sensible. I can't, like I don't wanna blast a bottle of water that's on the plane, but you know that bottle of water is served on most planes. You know that brand, and it's not very drinkable, so I'm just gonna leave it to that.
Related: Exclusive: Latest Plane Image Showcases Gerard Butler in a War-Torn Jungle
Butler: Okay, I'm gonna go with the little bubble thing. You know where you blow bubbles?
Colter: Bubbles?
Butler: Yeah, just to…
Butler & Colter: Annoy people?
Colter: Yeah, okay.
Butler: That's what I'm doing.
Colter: Oh, it's Gerry Butler.
Butler: And a little doll baby that cries really loud.
Colter: And you're gonna…
Butler: And I'll just pet it the whole flight.
Colter: Stick 'em in your jacket, and cover their head up?
Gerard Butler Shares the Line that Gets Cut Out in All His Movies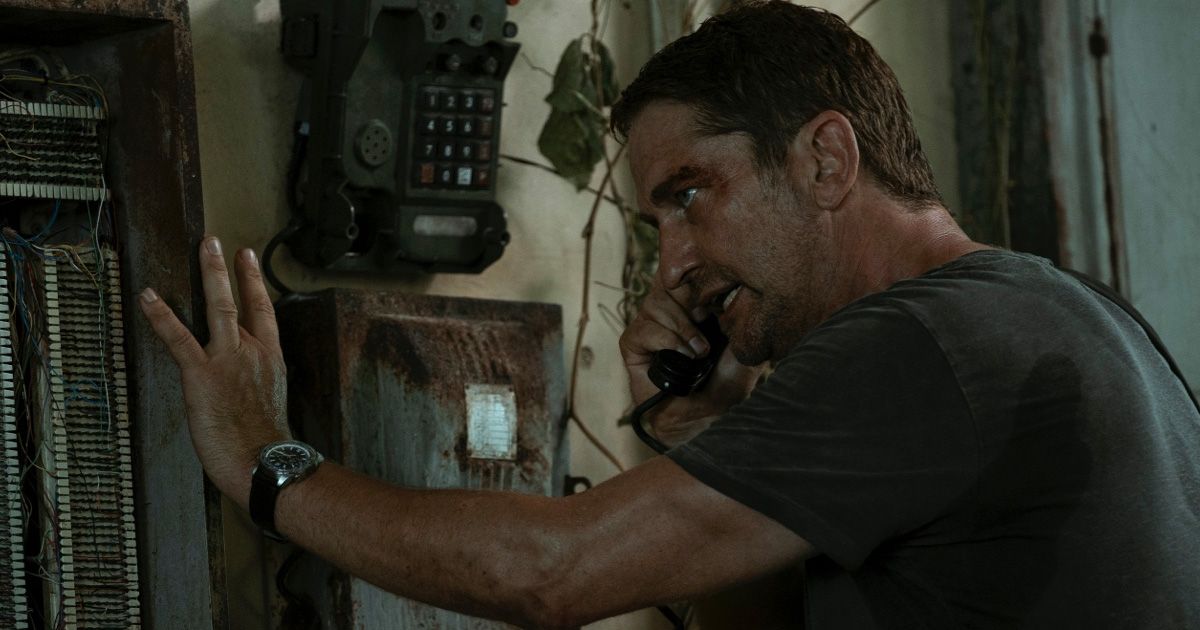 Sun: I mean, you both play such recognizable roles. When I was watching Plane, part of me wanted to see a slight crossover. I just have to ask Gerard, was there a moment that you wanted to go, "THIS. IS. MY PLANE!" and then kick them all off?
Butler: I did say that many times, but they cut it out of the movie. Yeah. I do that in every movie. Whatever that movie is, you know, 'Greenland!' and I don't know why, but for some reason, the editors keep taking it out. Yeah. No, I didn't.
Whether Plane will actually be shown on airlines or not, it's best to catch Plane in theaters on January 13 from Lionsgate.