It's curious to see writer-director Neil LaBute merge into the 2020s with power plays between genders again, first in House of Darkness and now Fear the Night, which hits theaters and digital platforms July 21. Avid filmgoers no doubt appreciated LaBute's deep dive into the messiness of human emotion and behaviors in films like The Shape of Things and In the Company of Men back in the 1990s. His work after those two great films never felt quite as elevated, however some have been downright engaging nonetheless.
Fear the Night falls nicely into that slot. It's a throwback to those 1970s action thrillers that so often filled the screen and, for some reason, have made a resurgence in the early 2020s. Those were B movies, to be sure, and Fear the Night feels like another one. Hey, there's room for all kinds of "art" on screen. But there's something compelling about Fear the Night that keeps you invested until the very end.
Maybe it's simply the premise. A spirited bachelorette party at a remote location is interrupted by masked intruders who surround the house and begin shooting arrows inside the house. They want something hidden inside the home, but these women aren't about to give up so quickly. Mainly because of Tess, played by Maggie Q (The Protégé, Designated Survivor, Nikita) doing what, well, Maggie Q does best. Kick ass. Read on.
For the Love of Maggie
Maggie Q is the predominant driving force in Fear the Night. As Tess, she inhabits her brooding military veteran very well. Tess is battling her own addictions and difficulties fitting in with other people. It doesn't help that she promised to attend her sister Rose's (Highdee Kuan) bachelorette party in the California hills. Her other sister, Beth (Kat Foster) also comes along, much to the displeasure of Tess. The two have unresolved issues, and while LaBute's execution of that brouhaha never quite feels all that believable, we're not meant to dwell on it for too long.
Related: Exclusive: Diane Kruger, Ray Nicholson, and Neil Labute Discuss Their Femme Fatale Noir Out of the Blue
You see, it's all about the battle with the "bro" guys wearing masks and toting arrows who want to break into the house. Tess has the military smarts to at least attempt to thwart the takeover and begins doling out instructions. Some of them work. Others are sketchy. Blood is shed, and often in the way you would find viscera splatter in a 1970s film. It's kitschy yet, dare we say, thrilling.
The goal then becomes getting through the night alive. Rounding out the cast is Gia Crovatin (in a noteworthy turn), Kirstin Leigh, Ito Aghayere, and bad guy Travis Hammer, who keeps his minions on alert, fiercely salivating over the alleged "fortune" hidden in the home. Through it all — and this is not a surprise — Maggie Q delivers a powerful performance and her character's existential angst begs for as many scenes as LaBute will give her. On that note…
Fear the Night Wants to Dive Deep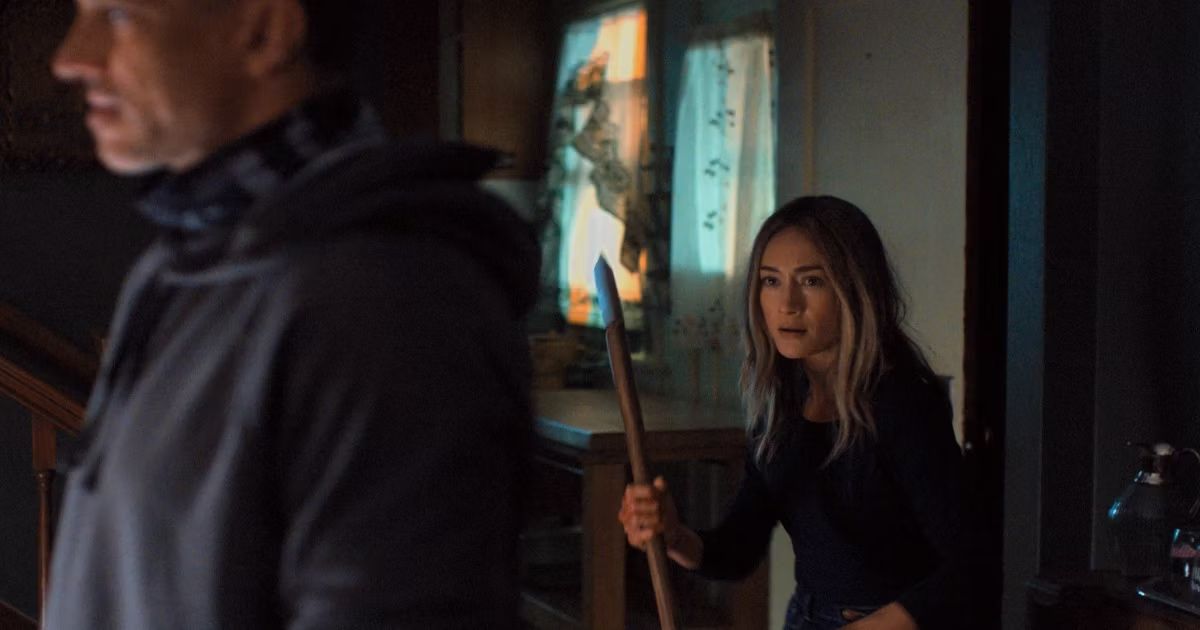 Clearly, LaBute is attempting to showcase a battle of the genders here with a touch more bravura. He also wants you know there are underlying themes running through Fear the Night. One of them is that the "terror" is always inside of us. "The call is coming from inside the house," as it were — figuratively in this case. We are our own worst enemy. But other people can be, too. So there's that.
Another theme is the fear of the unknown. Tess and the other women don't know what these brutes are truly capable of, at least until the body count rises. And finally, there's that feeling of having messed with the wrong people. In this case, women who have been controlled and marginalized, let's say. LaBute spins the tale in effective fashion, tossing in several big, bold 1970s-style titles; chapter headings, if you will. It's like an amped-up episode of Police Woman by way of a female Kojak with any kind of female law enforcement flick tossed in for good measure. But in a good way.
Related: House of Darkness Review: Neil LaBute Mines Fun Horror From a One Night Stand
Maggie Q and Travis Hammer and, to some extent, Gia Crovatin, fuel this endeavor. As we enter the final stretches of the film, there's plenty of gore, action, and thrills to keep people invested. LaBute captures the mood and the raw nerves prevalent pretty well. If you haven't dipped into LaBute's previous work, you wouldn't really know that within him lies something even deeper and deeply moving to bring to the screen. But judging by the number of producers listed in this film's credits — it does appear to outnumber the cast, and even Jeff Sackman of American Psycho is on board — you realize how challenging it can be to get any movie made in Hollywood these days.
There may have been a few too many cooks in the kitchen. The litany of producers may also be a glaring reminder that the current actors' and writers' strike — and that near-miss of a potential Broadway strike this week — come at a time when creativity and talent ought to be appreciated on a deeper level. Fear the Night may not be the best Neil LaBute film, but it's a good one and manages to keep you invested until the very last frame.
From Quiver Distribution, Fear the Night will be released in theaters, on digital, and on demand on July 21.