In conversation, James Purefoy is dashing and thoroughly engaging. The revered actor who turned heads in The Following, Sex Education, Marie Antoinette, and Pennyworth, is in the limelight again with the release of Fisherman's Friends: One and All. The sequel to the surprise 2019 UK hit, Fisherman's Friends, hits theaters November 18.
The next installment of the crooning fishermen—based on real-life fishermen singers—finds the fellas taking stock one year after their debut album, "No Hopers, Jokers and Rogues." Seems the guys are struggling with all the attention, pressure, and pitfalls of fame.
The story, which also stars Dave Johns (Blithe Spirit), Sam Swainsbury (Mum and Rowan), Maggie Steed (Pie in the Sky, Ten Percent), Jade Anouka (His Dark Materials), Richard Harrington, David Hayman, and Imelda May, continues the journey of the lovable "buoy band," as they navigate their popularity, second album syndrome, and—this is big!—performing on the pyramid stage at Glastonbury.
Purefoy once again steps in the role of Jim. He opens up to MovieWeb about the sequel and how, surprisingly, some aspects of the story were deeply personal.
Returning to the Buoy Band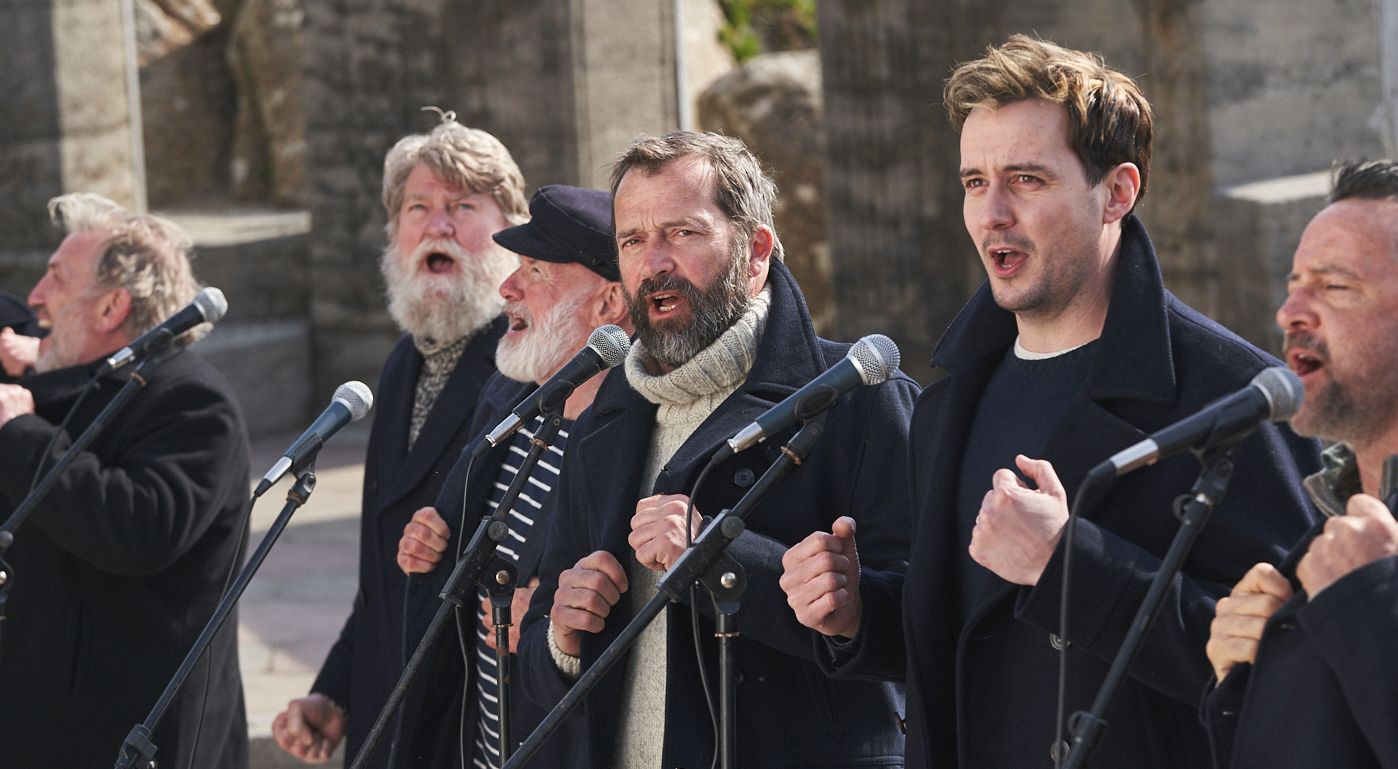 MovieWeb: You're back for another round of Fisherman's Friends.
James Purefoy: It's a strange thing to create a sequel for quite a small little film, but we did feel there was more story to tell. When they first pitched it to me, I said, 'Well, what's the story? What else have we got?' And they said, 'Glastonbury!' I went, 'Oh, we play Glastonbury?' And they said, 'Yeah, we're going to play customer in front of 100,000 people; you might get to make it 15 minutes on the Pyramid Stage. You might get to do the song twice, maybe one-and-a-half times.' So, I became an executive producer on the film, then the pandemic hit, and of course, Glastonbury canceled, right? We had to then find a way to recreate Glastonbury. By then I was kind of in it—there was no going back. Even though we never got to play in Glastonbury, I feel like I can watch the movie and feel like I may have just been there.
MW: How did you recreate Glastonbury?
James Purefoy: We set up a stage in the middle of a field in Cornwall with 70 extras. We did a lot of shots, as you can imagine—an over my shoulder boom, and onto that bit of a crowd. Then you shoot them that way and use the same 70 people in lots of different ways. We shot the song 30 different times, over a day. We had to make it look like there were thousands of people. This was only a $4 million film, so you get what you pay for, I guess, but I enjoyed it. That was a good day's singing. When I watch it, I can certainly fantasize that I played Glastonbury, which is just 20 minutes away from where I live.
Related: Exclusive: Blue's Big City Adventure Director Matt Stawski Discusses Paramount+'s Musical Extravaganza
MW: Were you surprised by the great success of the first film?
James Purefoy: We were all surprised. Astonished. Because we were down in Port Isaac [filming], and it's a really tiny village. There's one road in, one road out. And a small population of people. I was just thinking, "really—is this going to fly? Is this going to work?" But I like letting audiences have a good time. Every now and then you get to do a film, which gets people to laugh and cry and cheer, and you know, there's an honorable tradition in this country, of movies like Calendar Girls and The Full Monty—stories where extraordinary things happening to ordinary people. And triumphing in the end. Certainly, we like those kinds of films, because it makes people feel that everybody's got a chance, right—if something astonishing might happen to them in their lives?
MW: Do you think it was that element audiences connected with—that humanity in the first film?
James Purefoy: For sure. I think our first film—this won't mean much to you as an American—but when it was released, we were coming out of Europe. There was the Brexit movement, and there was a great sense of polarization, which I guess your country can understand now. The film was saying, "these are the important things—your friends, your family, your community." Whatever community means to you. The village you live in, but also the people you hang with. Things can fracture friendships—Brexit, Trump, whatever, right? So, how do you move on from that moment? I think people were able to watch the first film and make that equation for themselves. Communities had been fractured. So how do you turn that around, move on, and actually try to patch things together, so that you can become whole again?
MW: Beautifully put.
James Purefoy: I mean, it's a deep way of looking at, you know. It was a very popular film, but I think probably underneath it, it's the element of all that, that made it successful.
MW: What was it about the sequel, and the script itself, that you found appealing?
James Purefoy: It's a weird thing. Because we're talking about what is essentially a frothy romcom. But here, I was really interested in male depression [depicted in the sequel]. I had not seen anything about that. I wanted to see something that had that issue as a central thread. Because it's such a big deal. Males—middle-aged males in particular—depression is a big deal. Men die of it all the time. They take their own lives. They take their own lives because they don't talk. They don't talk in the way that women talk. You know, the stats—there's something like five times more men take their lives in middle-age through depression than women. Particularly, in a much more violent way. I felt it was an under-explored subject. So, when we first started talking about the character of Jim—because I was an executive producer on the film—they came back and said, 'Okay, what happens if he hasn't got over the death of his father?" I thought, "Okay. Interesting." Then this strange thing happens. Awful. About three weeks before we started shooting, my own dad died. Oh, my God. Before we started shooting, I buried him. So, I arrived on set with that grief. In a strange way. It was useful.
Related: Exclusive: Kyle Gallner Chats Up the Global Success of Smile and its Streaming Launch
MW: How was the shoot for you then?
James Purefoy: For an actor, it's hard to talk about real emotional things—real life—when you're trying to regurgitate them up as a tool. But that is what we do. It might be slightly distasteful in many ways. Using real things, but that's the truth. But it wasn't particularly useful to me because my grief was so real. It was so present, so recent. I don't know if you've ever been through grief, but if you had, then you will know there's a process, right? It takes time and time takes its own [expletive] time. You can't rush it. The waves knock you over. They become less and the fact that you can stand up again, means you can face that wave again, and it's not going to kill you. You could just keep standing up in the sea. So, the character of Jim had been through a process, but his was really bottled down. It happened over a year ago. He was at a different stage of grief than I was. So that was an intrusive, and quite a tricky thing to deal with for me, personally.
On the Cast and Life Influences
MW: You seem like a deep, introspective guy. I'm curious—who were among your great influences? Whether they be psychologically, or in life or acting?
James Purefoy: I've been very blessed to have great women around my life. And by that, I mean my mother and my sisters, and my wife. I think the female influence on me is exceptionally strong. So, I think that's probably a big part of where I've come from. Makes me a lot less silverback than your average man.
MW: What do you hope people take away from this next chapter of the fellas?
James Purefoy: Oh, I think is quite simple. I've had so much stuff come at me because of this film about people who've been struggling, who've had depression—especially men. There's that idea that yes, you can be absolutely suicidally depressed or consider drastic ways to get out of that depression, but things always get better. Things always will get better. Just get to bed tonight. If you can get to bed tonight… yeah, tomorrow might be bad, but it might not be, right? You might start moving on from it.
MW: What stands out about working with the cast?
James Purefoy: Well, the cast is great and beyond just the cast, the Fisherman's Friend themselves, you know, they all seize life by the neck. To be working in that little community was just a privilege. They are very protective of their community. I feel like we are allowed in. I go there now for about a week every summer with my kids. I go down to the pub and sit on the beach and eat fish and chips–with the seagulls stealing your fish and chips—and it's fun. But I don't think they let people in very often.
MW: Do you still sing with them for fun whenever you visit?
James Purefoy: [Smiles, laughs] Oh, yeah. If they let me.
Fisherman's Friends: One and All, from Samuel Goldwyn Films, hits theaters November 18.