Dumb Money tells the astonishing true story of a "David vs. Goliath" financial revolution that rocked Wall Street and caused a global media firestorm during the pandemic. Keith Gill, played superbly by Paul Dano, was a Mass Mutual financial analyst working from home near Boston. He became a working class hero through a series of YouTube videos under the moniker Roaring Kitty. Gill believed that GameStop, the brick and mortar video game retailer, was being purposely undervalued by billion dollar hedge funds. They were "shorting" the stock by betting that its price would plummet, thus opening the company to the possibility of a predatory takeover where it could be broken up and sold.
Gill urged his followers to buy GameStop stock to increase its value and market share. A legion of average Joe traders, primarily through the no-fee Robinhood app and the WallStreetBets Reddit forum, drove up the stock price 1,500% to hundreds of dollars per share. This "short squeeze" became a rallying cry against wealthy elites with billions lost and the eventual bankruptcies. Congress became involved when the backers of Melvin Capital and Robinhood used their influence to try and tank GameStop's trading.
Dumb Money, adapted from The Antisocial Network by Ben Mezrich, is a raunchy, hilarious, and surprisingly emotional rollercoaster of sweet comeuppance. The film brilliantly contrasts the lavish lifestyles of the 1% with those struggling to survive during a deadly crisis. Essential workers like store clerks and nurses are seen banding together with college students via social media against previously untouchable financial giants. They brought the market to heel while not succumbing to greed as the GameStop stock soared. The meme "HODL", or "hold on for dear life" became a rallying cry to not sell and take significant profits.
Paul Dano as YouTuber Roaring Kitty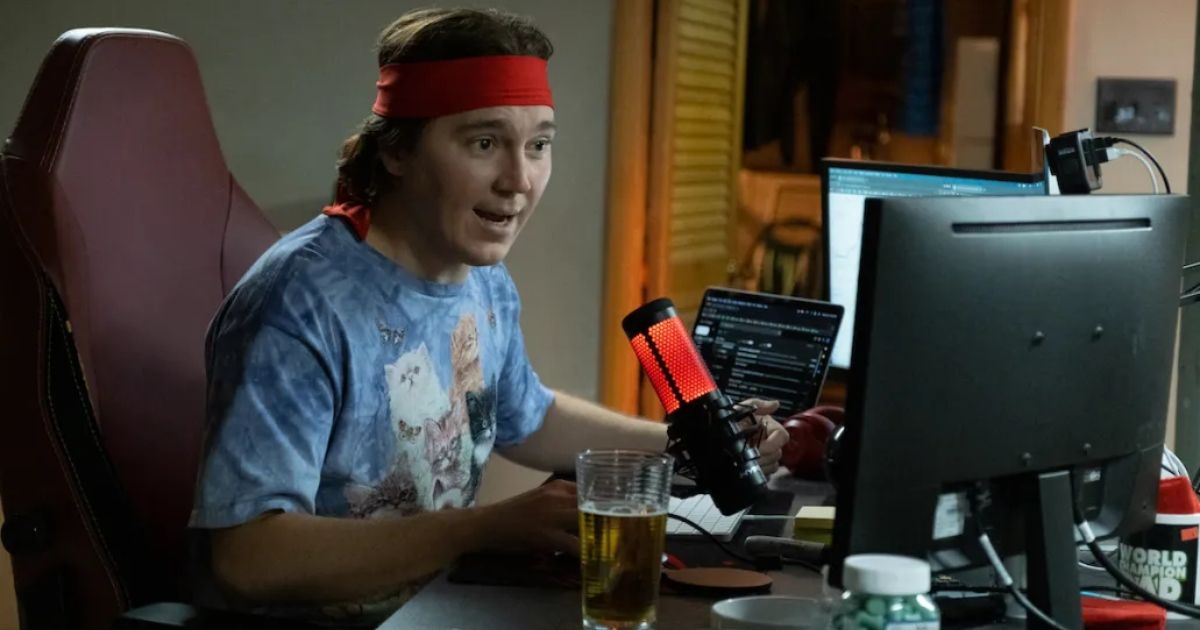 Director Craig Gillespie (Lars and the Real Girl, Cruella) takes a segmented approach to the narrative but spends the time exploring all ramifications of the "GameStop short squeeze." The primary characters never interact with each other in real life. We first see Gill meeting an old friend for beers. He admits to sinking his entire savings into GameStop, which elicits a shocked response. Gill can barely pay the rent on his house. But he has the confidence of his wife, Caroline (Shailene Woodley), who believes in her husband's financial intuition; a sentiment not shared by his slacker, pot-smoking younger brother (Pete Davidson) and worried parents (Kate Burton, Clancy Brown).
Related: Apes Together Strong Review: A Funny and Frightening Exploration of the GameStop Stock Scandal
Gill goes downstairs to his basement, puts on a red headband, an explosively loud t-shirt of cute kittens, and opens his YouTube livestream to explain why GameStop is worth buying. His message echoes across the country to Jennifer (America Ferrera), a recently divorced single mother working double shifts at a hospital, college student girlfriends Harmony (Talia Ryder) and Riri (Myha'la Herrold), and Marcus (Anthony Ramos), a GameStop store clerk whose insufferable manager (Dane DeHaan) constantly reminds him to wear a COVID mask.
Meanwhile, in Florida, where the moneyed and billionaire capitalists have fled to buck COVID restrictions, Gabe Plotkin (Seth Rogen), the CEO of Melvin Capital, argues with a contractor in deep frustration. He's bought the mansion adjacent to his palatial Palm Beach estate to build a tennis court and second pool for his family. Plotkin gets a worried phone call from Steve Cohen (Vincent D'Onofrio), hedge fund manager of Point72 Asset Management and owner of the New York Mets. Plotkin needs to jump on an emergency meeting with Citadel founder and CEO Kenneth C. Griffin (Nick Offerman).
GameStop stock is soaring, and they don't understand what's driving the buying frenzy. Cohen and Griffin, two of the richest men in the world, are worth almost $60 billion dollars. They have the ability to move markets with their sheer buying power and are stunned to see Melvin Capital in danger by its short bet on GameStop.
Billionaire Vultures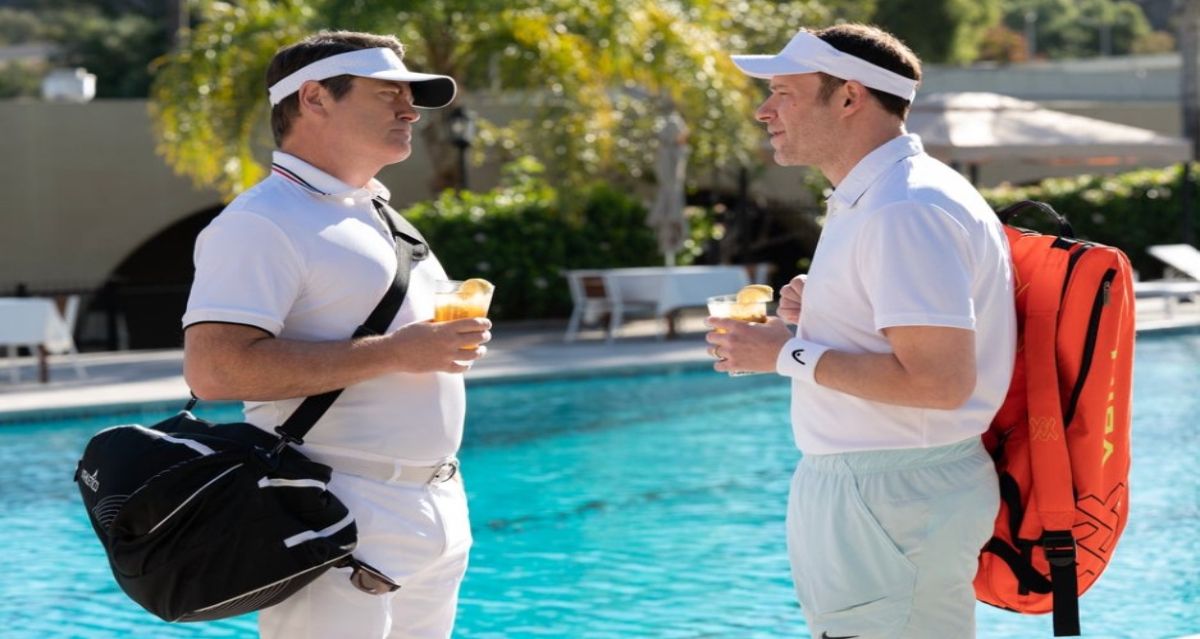 Gillespie gleefully contrasts billionaire vultures with those severely affected by the pandemic. Gill has a newborn daughter and lost his beloved sister to COVID. Jennifer is wracked with debt while saving lives. Marcus, Harmony, and Riri share her financial distress. They can't afford the basics while Plotkin and his ilk have an army of servants for every whim. Cohen feeds his pet pig gourmet food. Jennifer can hardly buy gas. It's a laughably disgusting portrayal of classism that strikes at the heart of economic inequality.
Related: These Are the Best Movies About Capitalism
Dumb Money keeps a running tally on the characters' net worth throughout the film. Scenes are accompanied by Cardi B's obnoxious "WAP" song as a reference to Roaring Kitty's surging fame. Gillespie eschews all subtlety to illustrate chaotic events that came to a head in February 2021 when the federal government finally got involved. The House Financial Services Committee subpoenaed Gill, Robinhood's co-owner (played by Sebastian Stan), and Melvin Capital's backers to explain how they manipulated the GameStop stock price and if any laws were broken.
Dumb Money had me cackling like a jackal as it makes a clear point with a sledgehammer delivery. Wall Street rigs the system to benefit wealthy investors at the expense of everyone else. The term "dumb money" is an insulting reference to regular traders who lose their shirts. They exacted a pound of hedge fund flesh, but it remains to be seen if anything has truly changed.
Dumb Money is a production of Columbia Pictures, Stage 6 Films, Black Bear Pictures, and the Ryder Picture Company. It will be released theatrically in New York and Los Angeles on September 15th. Then followed by a staggered national rollout over the next three weeks from Sony Pictures.