There's a lot of groovy good going on in That '90s Show, the heartfelt revival of That '70s Show, which just dropped on Netflix, but even Don Stark, who played Donna's father Bob Pinciotti in the original show and returns for one hilarious episode, says he missed not having original cast member Tanya Roberts in the revival—Roberts passed away in 2021.
"Tanya was a doll, and so great to work with," Stark told MovieWeb. "I was so sad when I heard about her passing. It hurts when you think about it, but I think about her often and her presence was there on set. I think she would have been very excited about the revival. And, you know, I think she definitely would have come back to be a part of it, even though [in the original show], we were still split up.
"Both of our characters [Bob and Midge] were great foils for Red and Kitty," he added, "and it would have been magical having her back. But she was there. You may not see her, but you felt her there on set."
On Bringing the Gang Back
So far, the buzz has been good for That '90s Show. Original cast members Kurtwood Smith and Debra Jo Rupp reprise their roles as Eric's parents, Red and Kitty—Kitty, honey, maybe it's time for a new hairdo? And Topher Grace and Laura Prepon returned, appearing in the very first episode, leaving their daughter Leia (Callie Haverda) behind for a summer in Wisconsin with her grandparents.
A new batch of Wisconsin teens: Gwen (Ashley Aufderheide), Jay (Mace Coronel), Nate (Maxwell Acee Donovan), Ozzie (Reyn Doi), Nikki (Sam Morelos), and Sherrie (Andrea Anders) move through, well, what '90s teens moved through. Mix in some potential romance, a little alcohol, teen drama, and stir, and, well… you get the picture. There are few surprises—Jay is Kelso and Jackie's son—and appearances from other original cast members like Ashton Kutcher, Mila Kunis, and Wilmer Valderrama—he pops up as the owner of a beauty salon—are stoking viewer interest.
Related: Exclusive: Tommy Chong Says He Loves the Mindset of His Character in That '90s Show
"The thing that made That '70s Show great was that it took place in the '70s, but it was always really about relationships," Stark said. "It was about coming of age and dealing with your parents and authority, and everything from first kisses, and experimentation with alcohol with drugs. And whether you were in a basement, or in the garage, everybody has those experiences."
He went on the say that the original show captured something universal—friendships, relationships, and growing pains. Both on and off the set.
"You knew who these people were right away in the show without it being blown into your face," Stark noted. "You had 'the cool kid' in your own life. You knew the good-looking guy, who wasn't so smart, or the foreign person who was trying to find his own identity. And even, my character, Bob, who was trying to be younger than he was. I mean, Mila had her first kiss with Ashton on That '70s Show, and Callie had her first kiss doing an episode on That '90s Show."
Why the Revival Rocks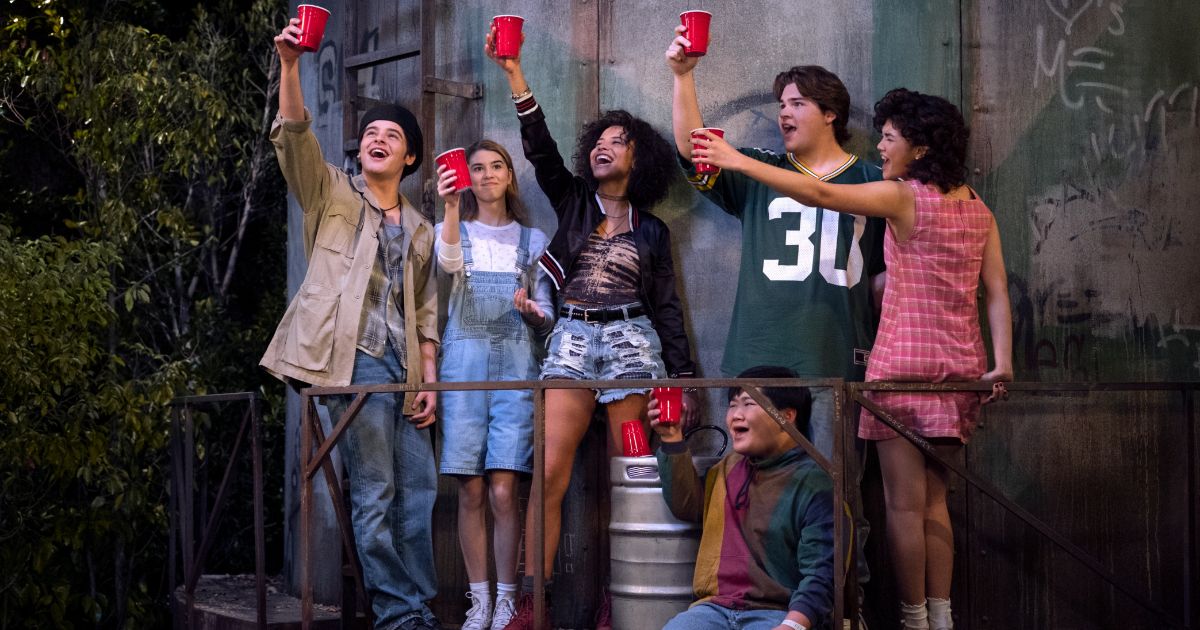 Stark's Bob appears in one episode of the revival. He said he loved reprising his character and working alongside his former costars again. "When I read the script, knew that Bob was coming from Florida, so I had this image of Miami Vice, which actually had ended right before the '90s began. But I thought, 'Well, Bob would still be in the kind of outfit [on that show].' So that first outfit I come in with—that white suit with the sleeves rolled up in the hot pink shirt—it was the idea of channeling that Miami Vice look but keeping the wig and the sideburns and the familiarity of Bob, but in a new outfit. Basically, Bob's still trying to be hip 20 years later."
Related: That '90s Show Review: An Utterly Hilarious Blast from the Past
Working with Smith and Rupp again was great, too. "Those two are just a joy. And as soon as I got back and fell in there, suddenly, my Bob accent just kick right in."
As for the new kids on the block—the new teens taking on Point Place, Wisconsin, this go around—Stark calls them "brilliant," and is quick to note a few (good) differences from the original crew.
"I think we're showing that the times have changed between the '70s and '90s," he explained. "Fez was the only person of color later in the original show. Later, in other episodes, we had other people come in, so here, this new main cast are all interesting, unique, charming, and talented—and in so many ways.
"What I love about That '90s Show is that it isn't a repetition of what we had," he added. "It's a new invention of what existed before, made all brand new. This new cast just embodied it, and fans and viewers will love it."
Stream That '90s Show on Netflix.