In an era where locally/family-owned theater chains are quickly vanishing, director Raphael Sbarge's (LA Foodways) must-see new documentary, Only in Theaters, is somewhat of a battle-cry. Streaming films may be groovy and good, it suggests, however, there's nothing like parking your derrière in a movie theater and experiencing cinema the way it was intended to be captured.
By the time the likes of Ava DuVernay (Queen Sugar, Selma, When They See Us), Cameron Crowe (Almost Famous, Jerry Maguire, Say Anything), James Ivory (Call Me by Your Name, Howards End), Nicole Holofcener (Walking and Talking, Friends with Money) and a slew of other talented filmmakers share their thoughts about the indelible Laemmle family—they've been running their beloved arthouse cinemas in Southern California since 1938 and are the film's main subject—you're pretty much hooked into the heartwarming and illuminating tale.
Only in Theaters takes audiences with the Laemmle family, spanning nearly three years of challenges, losses, and personal triumphs. Peppered with plenty of backstory—there's been a Laemmle in the movie business since there's been a movie business—the story chronicles four generations of the Laemmles and their dedication to elevating the art of filmmaking and the filmmakers who make them. Sbarge effectively captures how the Laemmles were responsible for bringing foreign film to Los Angeles, thereby popularizing countless foreign independent films. They did more than that, in fact. The clan seemed to remind moviegoers of the importance of cinema.
Filmed over the span of two-and-a-half years, Only in Theaters is also about a family business, and the determination to survive. In addition to interviews with well-known filmmakers, Sbarge features Laemmle family members Robert Laemmle, his son Greg, who is now running the show, as it were, and Alysse Laemmle—a spirited storyteller at 103. We even glimpse Carl Laemmle in historic photos—the man who founded Universal Pictures. Sbarge shares more in an exclusive MovieWeb interview.
How Things Got Rolling
MovieWeb: Congratulations on the documentary, which is not only timely but truly illuminating in terms of showcasing the challenges of locally-owned theater chains.
Raphael Sbarge: This is an incredible legacy story, and it goes all the way back to the origins of Hollywood. But the Laemmle story is also an immigrant story about people coming to Americas, escaping the war, and basically doing something extraordinary and standing the test of time.
MW: What's great about the documentary is that people who live outside of Los Angeles and New York might not know about the family theater chain, but the story is powerful.
Sbarge: My experience at this point [with audiences], and my hope, is that the "specific" becomes the "universal." The story is universal. Arthouse theaters, in general, are struggling. There are challenges being faced, not just nationally, but internationally. We played in Ireland, for example, and the audience was like, "This is happening for us. There's a 'Laemmle' here." And so, there's a there's likely a "Laemmle" in Chicago or Atlanta, or New Orleans. These family-owned theaters are important cultural centers that have obviously suffered a great deal, not just because the pandemic, but before that, with some of the changes happening in the landscape. That's the theme of the movie, right? But at the end of the day, it's also just a story about a family. It's a story about a multi-generational family struggling. They're people who had this mission, and it comes through so clearly—to love and support film. That's been their sole mission and continues to be, and it's so genuine.
Related: Exclusive: Jason Eisener and Dominic Mariche Want Audiences to be Inspired by Kids vs. Aliens
MW: And you were very familiar with Laemmle Theatres?
Sbarge: Very familiar, and as an independent filmmaker, those of us in L.A. who want to show a movie in a theater know that it doesn't really feel like a movie until it translates from a screen to an audience. I mean, I've made many movies that are on hard drives, but they don't feel like movies until they have that remarkable space in the middle when that happens—the movie meeting the audience.
MW: I love how fate seemingly connected you with Greg Laemmle, who now runs the family chain.
Sbarge: I called the theaters and I got Greg on the phone, which was sort of remarkable. You don't call most companies and get actually the guy with the name and title. It was great. And he's a good businessman. We worked out what the arrangement would be [to shoot the doc]. But at the same time, he also clearly cared about me as a filmmaker, and wanted to support the project. It was a delicate and wonderful balance that left me very endearing to him. And I've heard that about him over and over again, from other filmmakers. Ava DuVernay who also was helped by Greg, and Cameron Crowe, who apparently never does interviews, was inspired by Laemmle, and James Ivory. That family theater chain encouraged them to become filmmakers.
Crafting a Powerful Documentary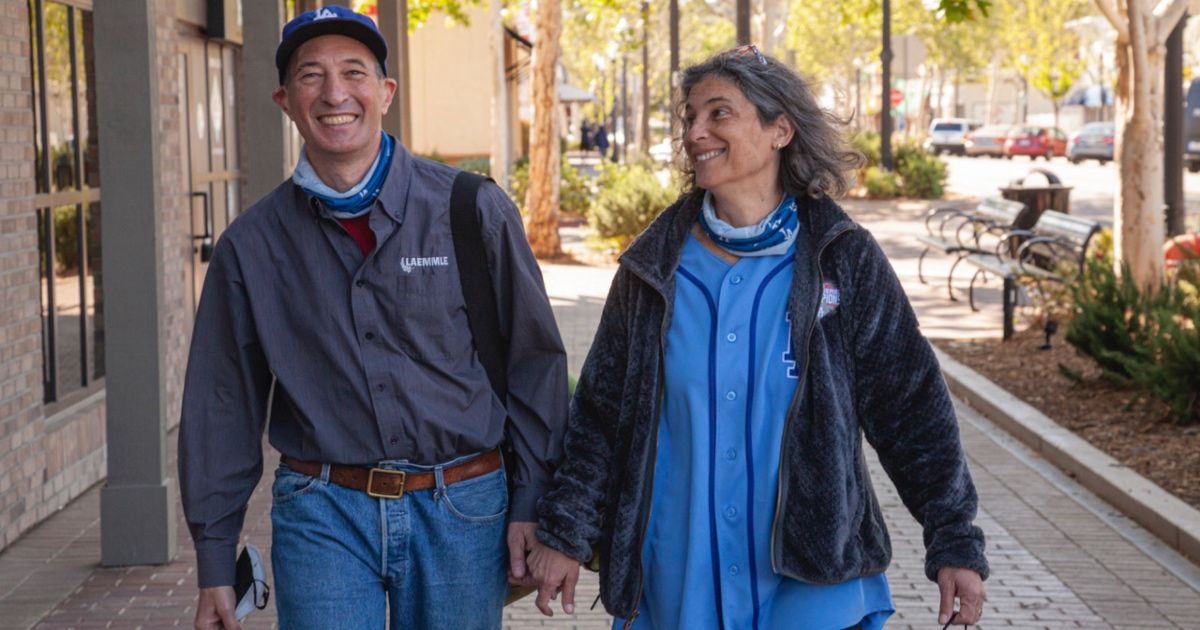 MW: There's such a deeper message in your doc, which started out just as a spotlight on the Laemmles.
Sbarge: My hope is that there's a cause at the center of the movie, which is to remind people how wonderful it is to go to movies. We've all gotten so used to sitting at home, and the convenience, whether it be from ordering from Amazon—even a pen that we could probably walk to the corner store and buy—or watching a movie on whatever streaming outlet you might be subscribed to. At the end of the day, these theaters are important places, and they represent more than just an opportunity to be around other people. They're also how the art form was designed to be consumed. This is a 125-year-old art form, right? And it was always about being in this space where you could be transported, taken into the director's vision, and really taken away on a big screen—something bigger than us. Not these diminutive, little screens, like watching Lawrence of Arabia on your iPhone. There's an inflection point in the documentary—to remember how important it is to support these theaters.
Related: Jung_E Review: Train to Busan Director Succeeds with Emotional Sci-Fi
MW: What do you really hope audiences take away from the documentary?
Sbarge: My hope is that people reconsider getting out of their houses and going back to theaters, that they'll really think about what it means when someone says, "you know, such and such theater is closing." I live in New York, and there's an incredible theater, the Cinepolis, that just closed right in Chelsea. It was such an important theater for that neighborhood, and it's gone forever. They're going to build condos there. These theaters are important, sacred spaces for filmmakers. There's something about that space and the movie—they meld and affect us. We end the documentary with this kind of a question mark. And the question mark goes back to us—we must vote with our feet; we have to get our butts in the seats.
Only in Theaters opens in New York City on January 20.