When Oscar buzz first began building around Brendan Fraser's performance in The Whale several months ago, director Darren Aronofsky (Requiem For A Dream, Black Swan, The Wrestler) knew he had to be frank with film festival audiences. Oftentimes, he shared that he wanted the film adaptation of Samuel D. Hunter's award-winning play about a reclusive, morbidly obese gay English teacher—a man hoping to make amends with his estranged daughter—to hit all the right creative beats.
"When I saw the play 10 years ago, I was really moved by the characters who were very different from myself," Aronofsky told Chicago International Film Festival audiences. "I met with Sam and started working on the screenplay for a while, but I just couldn't figure out the character of Charlie [for the film version]. There was nothing that really excited me to get out of bed and fight for it. Then Brendan came along, and that was one of those aha moments. I had never thought of him [for the role]. It was a pretty cool idea, and he was a super sweet guy, and clearly very hungry to take something. That's where it began."
The Whale, which hit theaters earlier this month and has been hailed as Fraser's career comeback, also stars Samantha Morton (The Serpent Queen), Sadie Sink (Stranger Things), Ty Simpkins (Insidious), and Hong Chau in a breakout performance.
But adapting Hunter's work for the big screen proved to be challenging all around, particularly on how to effectively capture Fraser as a 600-pound gay man living in regret. So, how did Aronofsky weave all these creative elements together?
Why the Film was Shot in 1:33 Ratio
What's rare about The Whale, in terms of character structure and thematic dialogue, is that it pretty much adheres Hunter's original work. The play, which took place in Charlie's living room, often felt purposely claustrophobic. The film version does, too, which Aronofsky explained:
"Sam and I talked about it a lot, and I said I didn't want to open it [the film] up, which would have been the natural thing to do—seeing the character of Sadie (Charlie's daughter, played by Sink) in school or something like that. I always thought there was something really challenging about setting a film around the couch—my last film was reduced to a house. So, how do you make something cinematic that is so tight, and that will work?"
Related: Brendan Fraser's The Whale Continues to Dominate Early Release
To be sure, the play had a unique, effective slice of a pie quality to it—particular moments in a person's life.
"But when you make a movie you can get inside the pie," Aronofsky added. "That was fun to figure out—basically how to make it as dynamic as possible. Film is ultimately three things: camera, light, and performance. Then trying to figure out how to use the camera and light, precisely in every scene was a great exercise for me and my team. Because during COVID, when things should be simple, we just returned to the basics."
The film is shot in a boxed-in 1:33 ratio, a creative component that captured Charlie's sense of being trapped by the grief he carries over losing his lover nearly five years prior. Add a deep longing to reconnect with his daughter, and you have the makings of intense drama—and an award-worthy turn for Fraser to boot.
"We did the 1:33 ratio specifically because the 'close-up' was a huge deal, and the performances were huge, and really important," the director noted of the boxed frame look of the film. "But also, you should use widescreen when you're doing any western and shooting beautiful landscapes. Just showing any more books on the left and right of frame didn't really do anything for us. And the characters are so separate in this—they're all kind of in their own world. So, I didn't need to use the larger frame.
"The studio was a little nervous because they get pushback from international territories for sales, but it just felt like the right decision. And it really works for the framing."
On Researching Obesity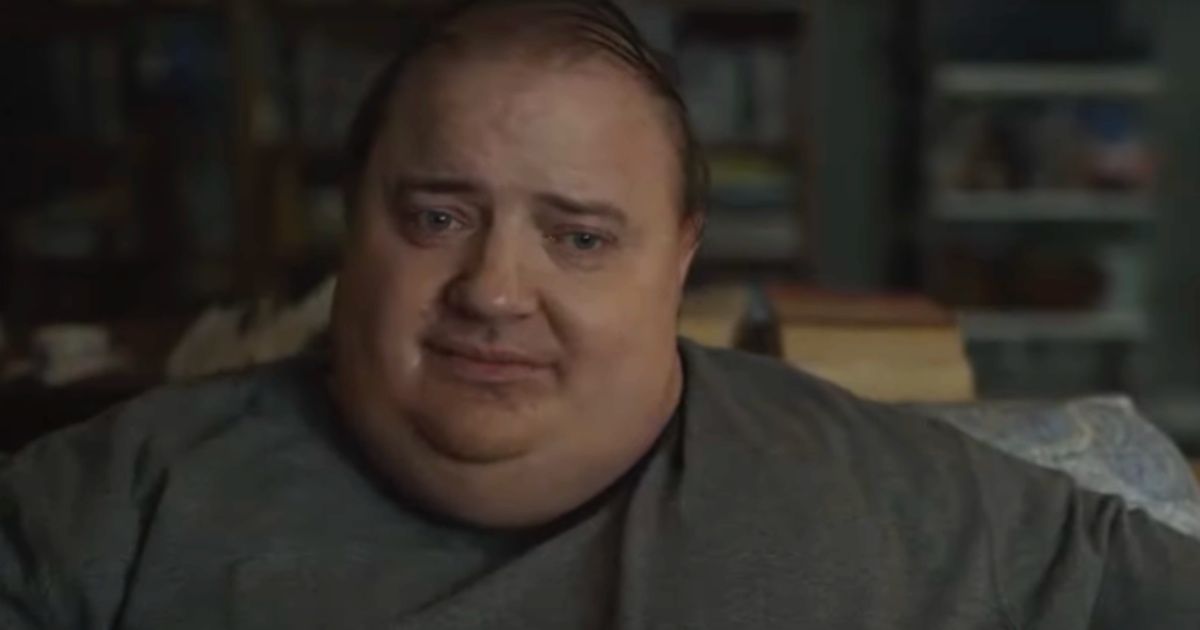 One of the most important factors Aronofsky employed was research. He wanted to make sure the character of Charlie—morbidly obese and often confined to the couch—came across as believable "We did a lot of research with a group called Obesity Policy Coalition—OPC—and met many people who lived with obesity and/or are still living with it. We were definitely inspired by those stories."
On that note, Aronofsky wound up receiving some pushback, with some calling the film "fat phobic," particularly noting Aronofsky's use of a fat suit to help Fraser embody Charlie. That suit, in fact, was crafted by the director's frequent collaborator, Oscar-nominated digital makeup artist Adrien Morot, and Aronofsky has pushed back himself over the last month, pointing out the great strides he and his team took to be mindful, honest, and just.
Related: Darren Aronofsky Spent Ten Years Looking for The Whale Star Before Casting Brendan Fraser
"The second phone call I made after we decided to go with Brendan was to Adrien. I wanted to see if it was possible, because the history of prosthetics, to truly represent people living with obesity," Aronofsky said, "because in the past, it starts off with the characters, and characters themselves were often perceived as jokes or punchlines or evil characters, and they're not considered real human beings. So, my very first question was, 'Is this at all possible?' And Adrien thought that there were some techniques to make it possible."
Things began moving forward right when the pandemic hit, Aronofsky shared. All that, coupled with restrictions as far as how to truly create an effective model to present Fraser as an obese man proved to be both exciting and challenging. As a result, Aronofsky et al wound up using new technology.
"I didn't want any of the makeup to, in any way, interfere with a single wrinkle or crease on Brendan's face because I wanted him, as an artist, to be able to use his entire instrument," he said. "So basically, the [bodysuit] comes up and wraps around, but everything you see—there's no real digital work."
Why Brendan Fraser Was Cast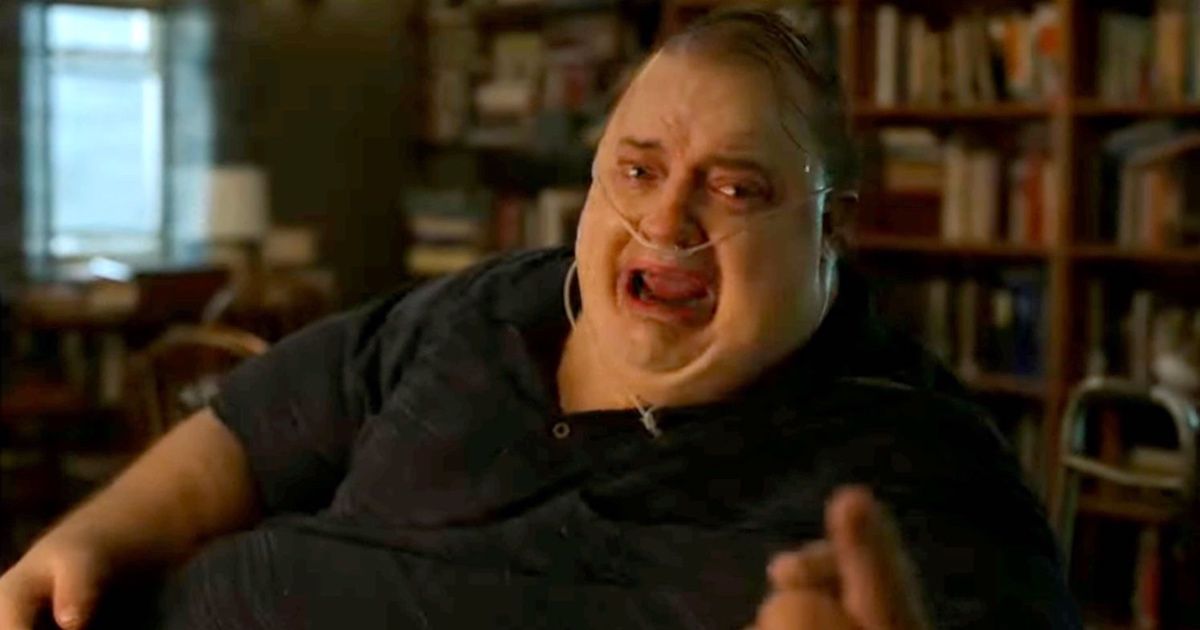 The heart of The Whale is the character of Charlie—he often references "Moby Dick," hence the film title. But Aronofsky admitted that he didn't have screen tests. "There were a lot of meetings, a lot of looking at tapes, and a lot of considerations, but no one really excited me. People have asked me about the decision [to cast Brendan]. I didn't even see much of his work. I'm not really a George of the Jungle fan, and I hadn't seen the Gods and Monsters, where he did a dramatic turn. I hadn't seen School Ties. It was just a gut feeling that there was something there, and that it needed to happen. So, I was discovering as much of it as I got to know Brendan over the course of making the film."
One of those discoveries was how Fraser's used his voice, which illuminated Charlie's inherent vulnerability—a quietness and a fragility that also called attention to the character's desire to connect with people.
"That was unexpected," Aronofsky noted. "We went to the Toronto Film Festival, and Brendan got an award, and the fest rolled a reel of his career. And it was mostly the films from the '90s and a couple of clips from The Whale. And that, to me, was a staggering moment because there is this purity and innocence that's in all those early roles. And I think that's what connected people to the character of Charlie, but in a much more rich, complex way."
"It's almost impossible to believe when I was watching The Whale, that it was the same human," the director added. "That's exciting because Brendan's suddenly this new actor and voice that so many people clearly love. But Brendan is not Charlie. They're in no way related to each other. That's an acting job. So, the potential of what Brendan is going to bring to the big screen, the little screen, and all screens ahead, is really exciting. As a fan now myself, I'm excited to see what he does."
When asked what felt most personal to Aronofsky during the production, the director is candid: "The personal part for me was always in feeling what the performers were doing in the moment. It's always that way when you're on set. Look, I'm not the wrestler [in The Wrestler], and I'm not the ballerina [in Black Swan], and I'm not the drug addict [in Requiem for a Dream]. But cinema is this exercise in empathy. The reason we all love movies is that they can transport us, and we can relate to characters that we may pass on the street or judge. So, in film, suddenly, you really feel who these people really are. And it feels human."
The Whale, from A24 Films, is playing in theaters.