Fans of Nick Moran (Lock, Stock and Two Smoking Barrels, Harry Potter and the Deathly Hallows, Hounded), Lee Majors (Six-Million Dollar Man, The Fall Guy), and Danny Trejo (The Book of Boba Fett, A Tale of Two Guns, From Dusk Till Dawn) rejoice. The trio join forces in Renegades, a film that's bound to pique interest for its thrill factor.
The story finds a veteran Green Beret murdered in cold blood by a drug gang that has been threatening his daughter. The beret's old special forces comrades reunite and seek revenge, bringing their own brand of butt-kicking justice to the London streets.
Directed by Daniel Zirilli (Invincible, Acceleration, Hollow Point), Renegades was penned by Tom Jolliffe (Wrath of Van Helsing, The Legend of Jack and Jill) from a story by Jonathan Sothcott, who's also on board as producer. The all-star cast also includes Ian Ogilvy, Patsy Kensit, Billy Murray, Paul Barber, Jeanine Nerissa Sothcott, Michael Paré, Stephanie Beacham, Michael Brandon, Tommy 'Tiny' Lister, and Louis Mandylor. Zirilli opens up with MovieWeb about the shoot and working with a fiery gang of seasoned actors.
Crafting a High-Octane Thriller
MovieWeb: What a wild film. What were your initial thoughts when you first read the script?
Daniel Zirilli: First of all, I love the sort of Guy Ritchie-type movies and some of the older English movies, and really wanted to work with English actors, like properly trained English actors. So that was one of the things I was looking forward to shooting in London. Also, trained legendary actors like Danny Trejo. They just elevate the work because they're so good.
MW: It's great to see Lee Majors and Danny Trejo here. What was that experience like? Because they both really gel here.
Daniel Zirilli: Danny and I've been friends for 15 years. I'm actually in Thailand right now and lived here most of my life. I brought Danny here to Thailand to do a movie, and I've worked with him on many films. So, this was just natural for us. We shot at his house. Danny's always great, reliable, and amazing on set—nearly a saint in real life with what he does helping charities. And Lee Majors was super. I loved Six-Million Dollar Man when I was growing up. He's been legendary to me and super supportive. You know, he'd come over to me and say, 'You know, you're doing a great job, kid,' and stuff like that. These legendary older actors are so good. So, this was a pleasure.
Related: The Inspection Review: A Complex Portrait of Love and Acceptance Anchored by Riveting Performances
MW: What was your vision in crafting the big action scenes in the film?
Daniel Zirilli: The main action was to be contained within the bar—the main bar where the climax of the movie takes place. It was very strategic blocking and working in within a confined space—the bar was quite small. In fact, the line producer showed it to me and thought I'd never like it at all, but I really love the charm of it. It felt like it was the right size for these guys—you know, these veterans taking over their local pub. So, it was very strategic to work every part of the action within that small space. Initially, it was just going to be on the ground floor, but when you watch the movie, I'm in the basement, I'm up in the bathroom, the stairs. I'm in the back. I'm in everywhere—behind the bar, literally. So, choreographing and timing the action was quite complicated.
MW: But it played out well.
Daniel Zirilli: I think so. And the younger guys, Nick and Lewis, have a major hand-to-hand fight there. We had a fight coordinator for that and planning Nick's intricate fighting and blocking those fights all happened in advance. But the gun fights… they were pretty easy. The good news about post-production is that with the flashes and blood hits—that's easier now and safer. I've made probably 25 action movies now, so, for me, the difference will be that some of my other movies had bigger action and longer fights. But here… it's the acting. These older actors… acting is always solid. You know, one of the greatest things about the movie is the camaraderie between the renegades. They've lived, they're real, you believe everything they say. And at least I do—with the real actors. For me, that's what elevates the film.
On Audience Expectations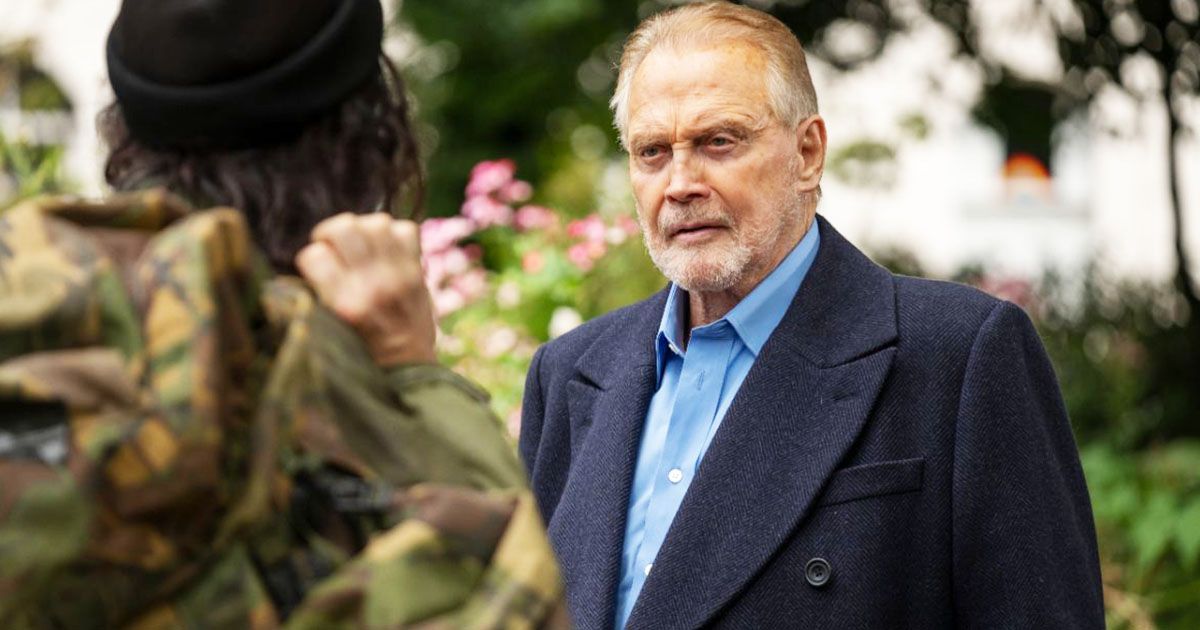 MW: What do you really hope people take away from the movie?
Daniel Zirilli: The film follows a sort of genre, but I truly felt it was well written, better written, in fact. It was the characters, the flavor, the warmth, and the originality in it that appealed to me. I hope people see that the acting is solid, and the locations are amazing. Shooting in the streets of London, you know, with all that incredible architecture, was memorable. The place is very lived in and more real than what you'd might see in other movies out there. And it's a little bit of a throwback. I think people will fall in love with the characters—the characters work, and I gave the actors room to improv, which the 'old timers' love to do.
Related: Exclusive: Filmmakers Sheena M. Joyce and Don Argott on Their Powerful Showtime Docuseries Spector
MW: And what are you working on next?
Daniel Zirilli: I'm doing a movie called Intercept that I'm shooting in Malta in February. It's something that we initiated before the pandemic. We shot a section of it but had to pause. It's about some guys on a rescue mission for a kidnaped girl. Initially, we shot three men and a woman jumping out of a plane, and now we're going to connect the dots with the actors. After that, I'm heading to Miami for a film called Triggerfish, which I've already prepped. So, I've got a couple of films lined up back-to-back. We have a whole slate of films with Saban Films. We want to make these genre films that are a little bit different, hopefully better, and more interesting. And with fantastic actors.
Catch Renegades in select theaters, on demand, and digitally.