The yule log has become a Christmas staple, whether it's a fake one projected on a television screen or a cozy fireplace in the living room. This year, Adult Swim and Casper Kelly had something different in mind. The beloved, aesthetic image of a fire peacefully burning turns into a movie that blends genres, something that many may describe as bizarre but falling within the realms of a Christmas horror movie. Adult Swim Yule Log has a lot of tricks up its sleeve and looks to establish Kelly as an upcoming director and writer to watch out for in the film arena.
MovieWeb was joined by the director and writer to discuss the movie.
Blending the Unthinkable
MW: What inspired this movie?
Casper Kelly: Last year I was watching a yule log video, just this tight shot of a fireplace, and I got this image of legs, out of focus, walking in front of the fire and dialogue off-screen. It inspired me to start thinking of a story that started to unfold. I was like, "this could be interesting."
MW: There's a lot packed into this movie: social commentary, multiple genres, and themes. During the creative process of fleshing all of this out, how did you bring all of these elements together?
Kelly: That's a great question. I just like to try different things, and maybe, also, I've been wanting to make a movie for so long that I thought I'd put in a lot of different ideas I've had. And as far as how to synthesize them, it was a bit of a gamble. I wasn't sure if it was going to work. It was such a relief when people seemed to respond to it and like it.
Related: Why Batman Returns is a Great Christmas Movie
MW: Did you cut anything from the story?
Kelly: No, this is the main story I came up with. I don't think I really cut anything, except we were going to have one more time period in the 1900s, but we didn't have the money to keep changing the sets.
MW: When adding in and writing the social commentary bits in the movie, how did you think about that process and address those themes?
Kelly: I think I was just writing about things very personal to me, or I was concerned about, and not really with a message, more questions I'm asking myself. Like with Alex and Zoey, Alex believes the world is getting better and progressing with technology, and Zoey believes that it is getting worse. I kind of feel both of those, too. I got to give each character a side, or fear.
A Feature-Length Debut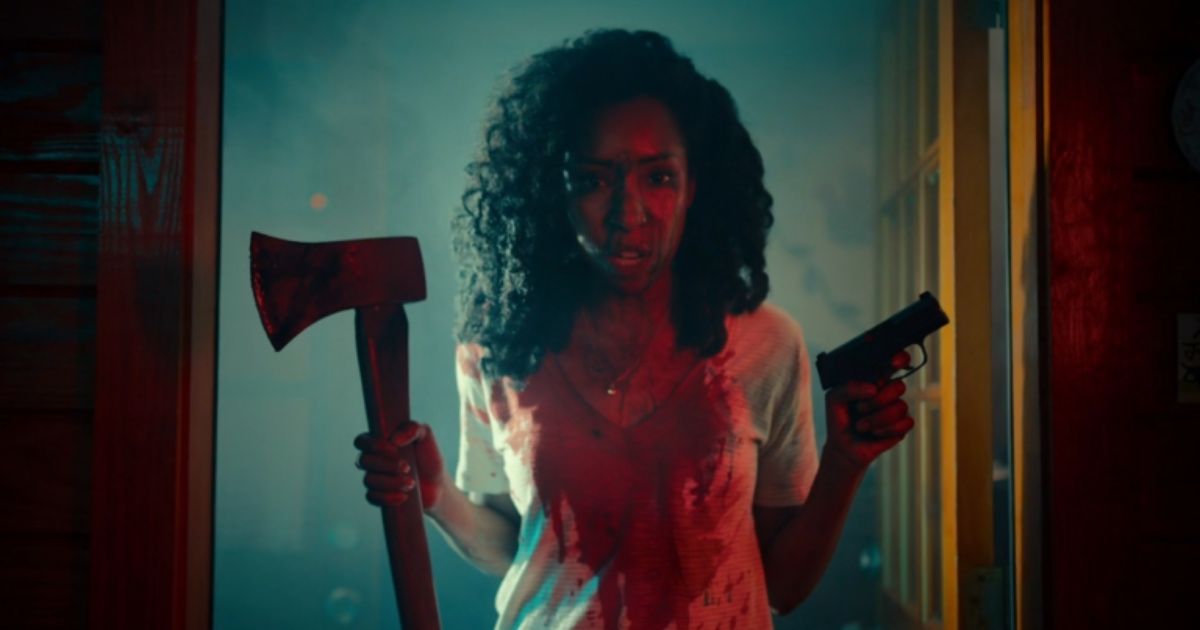 MW: This is your first full-length feature. So what were the challenges that came with that?
Kelly: Stamina; as far as shooting, long days for longer. And just keeping it all in your head.
MW: There are multiple antagonists throughout the movie. Was this intentional from the very beginning?
Kelly: I think it was pretty early on I thought I wanted to try it. I guess for a while I wanted to know and try that idea of just adding stuff in a feature film format. I did think it would be interesting to try and build on that vibe.
Related: Violent Night Producer Confirms Sequel Plans
MW: When did you decide to make the actual yule log and fire a villain?
Kelly: I originally thought that I was going to have a couple of hours of the yule log video and then the movie would start, so people would hear about it, go on HBO Max, and fast-forward to it. I thought that if you've been looking at this yule log for hours, that should be a character. Then it grew from there.
MW: How did the technical parts of filmmaking (shots, angles, etc.) play into how you decided the story should unfold visually?
Kelly: It was a matter of taking advantage of the idea. If you start with a tight shot of a yule log, take advantage of that as long as you possibly can until you think the audience might be done, then escalate it a little and take advantage of that.
MW: What's in the future for you? Any projects in the works?
Kelly: Nothing I can talk about yet, but I have a couple of movies in the works, some television show pilots considered, but I'm very excited. Now after this movie I have the bug actually, so I want to do more very badly.
Yule Log is now available on HBO Max and for digital download.