Note: This interview was conducted prior to the SAG-AFTRA strike.Gran Turismo tells the incredible true story of an avid young videogame fan who earned a professional racing license and corporate sponsorship from Nissan. Jann Mardenborough, played by Archie Madekwe, was a 20-year-old gamer from Cardiff, Wales, and the youngest winner of Nissan's 2011 GT Academy. The brainchild of marketing executive Danny Moore (Orlando Bloom), the competition trained simulator racers for a chance against professional drivers on the international circuit. Moore hires Jack Salter to put the drivers through their paces and run the pit crew for the Mardenborough.
David Harbour portrays a deeply skeptical Jack Salter. He thought the kids were going to kill themselves hurtling around racetracks at over 150 miles per hour. Playing a videogame was nothing like the grueling physical intensity of Formula One and Indy cars. Salter put Mardenborough and the competitors through a harsh training regime. Harbour comments that "he was concerned about Jack coming off too hard after we shot the movie." He felt "nowadays" that kids are treated with "a lot of false optimism." Harbour didn't want to be "condescending." His philosophy as Salter was simple — "allow them to impress you." There's "a method to his madness" that "on the surface seems mean."
Gran Turismo's racing scenes look realistic and spectacular. South African director Neill Blomkamp (District 9, Elysium) "didn't want any CGI in the movie." Harbour learned to "pit change the cars." He commends the "stunt drivers" actually "racing at 170 miles per hour" with "drones weaving in and out of the cars." Harbour played early versions of the game in college but "got less interested" as it became "more sophisticated." He originally thought a film adaptation was "a terrible idea." That sentiment changed completely after reading the script and learning it was a true story. He likens the film to Hoosiers as a "sports wish fulfillment underdog" story.
Harbour spoke to MovieWeb about all this and more in an interview that was conducted prior to the SAG-AFTRA strike. You can watch our video interview above.
Gran Turismo's Visceral Racing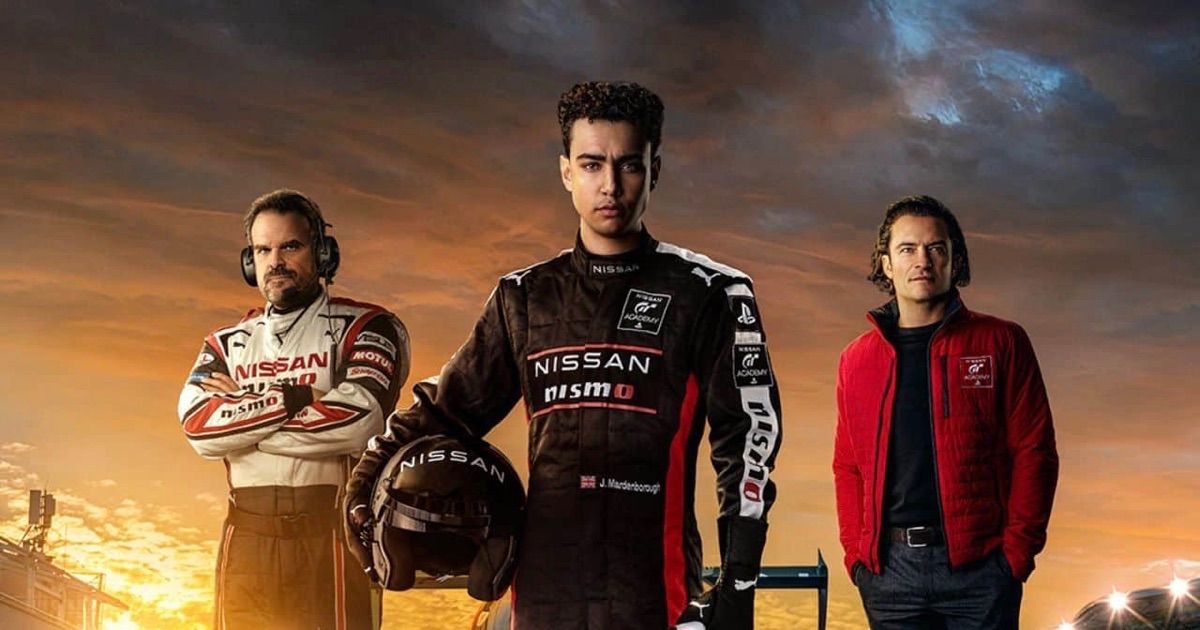 MovieWeb: Let's start with the obvious questions. What was your familiarity with the Gran Turismo video game? And why did you want to play Jack Salter?
David Harbour: I played Gran Turismo in college, but it must have been an earlier iteration, like Gran Turismo 2, three, or something. It was never really my thing. Even as it got more sophisticated, I got less interested. I'm not really into the simulation games. I'm more into the RPG-type games. When they told me they were going to make a movie, I thought this is a terrible idea, because there's not even a story in the simulator. Then they sent me the script. I read the script and was like, "Whoa, this is crazy. This is a true story." It's very moving in the way that the sports wish fulfillment underdog stories are. I've always loved Hoosiers since I was a kid. I would love to make my version of that Gene Hackman, Hoosiers movie, that you get that feeling from. I feel like this is it.
Related: These Are the Best Movies For Car Lovers
MovieWeb: Neill Blomkamp directs the hell out of this movie. A lot of recent racing films I've seen look like a video game. Gran Turismo looks spectacular. Talk about being on set and working with Neill. What did he do that was different? Did you know that the visual style of the film was going to be this amazing?
David Harbour: It's funny, because you hire a guy who's primarily like a sci-fi guy, you think initially it'll be, you know, sci-fi is all green screen. But no, his sci-fi is so grounded. When we showed up on set, he just wanted everything to be real. He didn't want any CGI in this movie. It was crazy. They put together an entire team of people that knew how to race these cars, pit people that knew how to do it. All the stuff you're seeing is real-time stuff. We actually learned how to pit change these cars. We had teams of people, the guys racing, the stunt drivers racing cars, the cars are actually going 150 to 170 miles per hour. The FPS [sic, First-Person View] drones weaving in and out of the cars. It gave it all this real visceral violence that feels like Top Gun: Maverick or something.
David Harbour: I would listen to Tom Cruise do interviews sometimes about the realism in his movies like Mission Impossible or Maverick. And I would think to myself, you can do that as CGI. What does it really add? Then being on this movie, I felt exactly the way that I'm sure he must feel as a producer, like wanting to do it real, even though it's going to take more time, more skilled labor. It's going to be more difficult. That's something that makes a difference in the movie. I loved it. I love that Neil demanded that and fought those battles for us.
Related: The 10 Best Movies and TV Shows Adapted from Video Games, Ranked by Rotten Tomatoes
David Harbour's Generous Behavior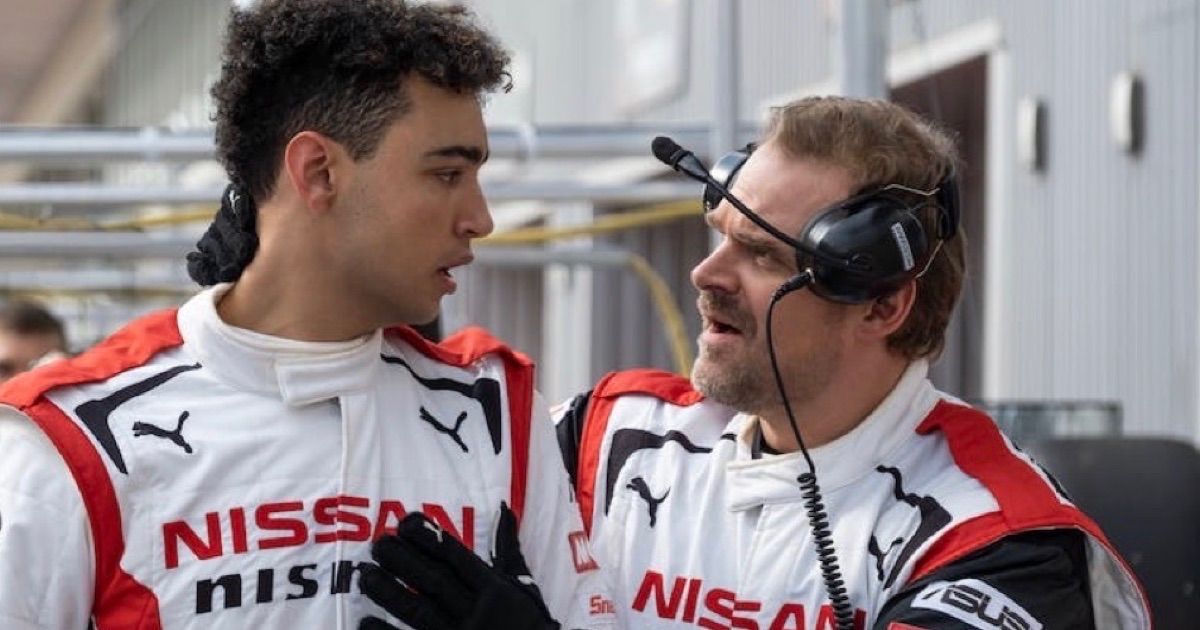 MovieWeb: Jack is a salty character. He's pretty mean and not the kind, cuddly mentor. Was there ever a point where you thought he was coming off too hard? You put this kid through the motions to prove himself.
David Harbour: Yeah, I was concerned about Jack coming off too hard after we shot the movie to be honest (laughs). I got a call with the producer. I was like, "Man, I might have messed this up." But as we were shooting, it just made a lot of sense to not be condescending to these kids. I feel like nowadays with technology, with apps, with the way that kids are treated, I feel like there's a lot of false optimism out there. A lot of people are condescending to your kid. Like, "You're going to be great." Well, I sort of like the opposite take. Which is a real hard look at someone, but real detailed observation, and allowing them to then impress you, and to stick with them.
David Harbour: There are great things about Jack, where he's like, you don't have it in you. These kids are not worthy. Then at other times, Orlando [Bloom] will question him. He'll turn to Orlando's character and say give him time. So there's a method to his madness. He does believe in the kids, even though he says he doesn't. I think there's something quite not condescending about him. I mean quite generous about that behavior, even though on the surface it seems mean.
Gran Turismo will be released theatrically on August 25th from Sony Pictures.