Blood and bruises, anyone? It's a battle of will and grit in The Siege. Saban Film's new action thriller is a relentless tour de force, mightily held up by its bulky leading man, Daniel Stisen (Jurassic World: Fallen Kingdom, Justice League, Last Man Down).
The actor, a former Norwegian bodybuilder, and winner of powerlifting and bodybuilding contests, plays Walker. The guy is buff, tough, and weary of his international assassin-ness. Why not seek a new identity in a secret compound? Enter the tactical mercenaries, who are just as tough as Walker.
Directed by Brad Watson (Miss Willoughby and the Haunted Bookshop) and written by Nicole Bartlett, from a story by Tom Paton, the action-packed drama also stars Lauren Okadigbo, Yennis Cheung, Byron Gibson, Samantha Schnitzler, and Michael Geary. Expect pumped biceps, sweaty brows, alpha males, gun fights, and plenty of danger in this wild ride. Watson's unique take on directing action—Miss Willoughby and the Haunted Bookshop was sweet, after all—works here. And Bartlett's script gives him—and Stisen—plenty to work with. Stisen shared more about the film with MovieWeb.
Bang Bang, You're Not Dead Yet
MovieWeb: How much physical training did this wild role require?
Daniel Stisen: I trained all my life. So, I've always been good with sports, even from a young age. I always had this physicality to myself, and I did all this bodybuilding and powerlifting stuff. I was always good at adjusting into new sports, and when you do a lot of action, it's almost like a sport. So there wasn't that much I had to do physically.
MW: You had training way back.
Stisen: When I decided to go into acting, I wanted to make action movies. So, when I started doing acting courses, I also started doing martial arts and stunt courses so I could perform stunts. I went to military training, too, where you have military-like private companies doing military stuff in Europe. I knew some people running one of the companies and I called them and said I needed more training. And this was with proper mercenaries, you know, the sort of people that do this for protection [of others]. So, I trained with them and did a lot of courses in stunts, and I also did a lot of training by myself. I keep myself in shape all year round. So, mainly the preparation here was mentally because when you do a movie like this in 25 days, it's challenging. As a lead, you may be in 90 percent of the scenes, and probably have to do like three to four scenes a day, sometimes even five. You need to be mentally strong to be able to do that.
MW: It's interesting that you trained with the military. I'm curious if there was one particular thing you learned from those folks—a mindset or focus, or anything else—that stood out?
Stisen: What I said to him [the man at the military training], was how to hold a gun—the way you hold it and aim. It's a certain feeling when people to do it, and there, I felt the energy of their environment, and how they think. If you go to into a boxing environment, you get a sense of how people think just by being there training with them. At the training, it was everything from the way they thought and told jokes to the seriousness of everything. We did 12 hours of training a day. You know, running around push-ups, shooting all this stuff. But in film, it's not real, guns, so you need to understand how shooting feels, and try to reenact that point of view. I definitely understand how dangerous weapons are.
Going the Distance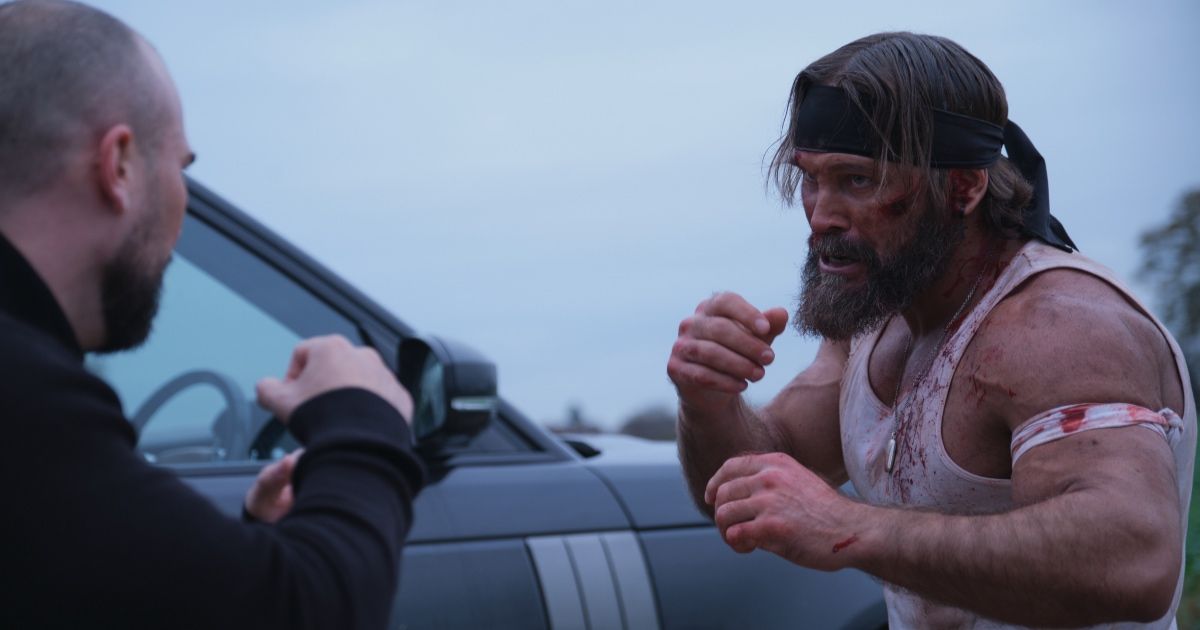 MW: Was there one particular scene or sequence in The Siege that was more challenging to execute than others?
Stisen: I would say the most difficult thing was the time pressure. We had to shoot it before Christmas. Everything had to be done in a few takes—bam, bam, boom. That was the most challenging because you don't have time, and you can't afford to fail.
MW: What else stood out for you?
Stisen: It was cold outside, and I was in tank top. That was really challenging because the film starts in the evening and ends in the morning. So, we did so many night shifts and the night shift is tough—and cold. And it's December, and I'm in a tank top. And I'm doing it for 12 hours a day. That's hard. And because of our time schedule, I didn't have time to rehearse [lines]. We just had to do it. Some of the scenes, it's more like, "Well, I'll just do it." I needed to trust myself. It was like, "Okay, let's just go in and improvise." And it worked. When I did supporting parts, this wasn't an issue. Because if you do a supporting part, you may be five days on set—you have all this time to rehearse and think through everything. When you do five scenes a day, like we did in this film, there's not much time.
MW: What do you hope people take away from the action-packed thriller?
Stisen: That they really enjoy it. Going into acting, I said to myself, "Let's make some good entertainment. It doesn't have to be too serious. A lot of other people make serious stuff. I don't need to do that." I want to make something I would love to watch when I was a teenager. So, I want to make entertaining action that's fun for people to watch. Something where you can just have a good time. Like, a positive surprise when you're on Netflix and see it and say, "What's this?" Then you watch it and realize, "That was interesting. It was funny."
The Siege arrives in theaters on March 10, as well as on digital and On Demand on March 14.