Note: This interview was conducted before the 2023 SAG-AFTRA strike, and the show covered here would not exist without the labor of the writers and actors in WGA and SAG-AFTRA.Killing It showrunners Dan Goor and Luke Del Tredici go bigger and bolder in season two of Peacock's hit comedy about class, capitalism, unlikely bonds, and outrunning the bad guys. Out: Snakes. In: Something libidinous. Craig Robinson and Claudia O'Doherty's characters, Craig and Jillian, put aside their snake-wrangling ploy (somewhat) for a newfound money-making venture that's bound to get a rise — literally. Best to tune in and see for yourself about that plot device.
In the meantime, like Poker Face, Killing It has emerged as one of Peacock's best series, and its guest stars are part of the draw. In addition to Robinson, O'Doherty, and Rell Battle, who plays Craig's brother Isaiah in the show, there's Stephanie Nogueras, Dot-Marie Jones, Glee, Bros), Tim Heidecker (Us), Jet Miller (Young Dylan), Scott MacArthur (The Righteous Gemstones), Jackie Earle Haley (Watchmen, A Nightmare on Elm Street), and many others who bring more wit to Craig and Jillian's money-making schemes.
Ahead of the season two premiere on Aug. 17, Craig Robinson and Claudia O'Doherty opened up with MovieWeb in these exclusive clips and the interview below. Dive in.
What Happened to the Snakes?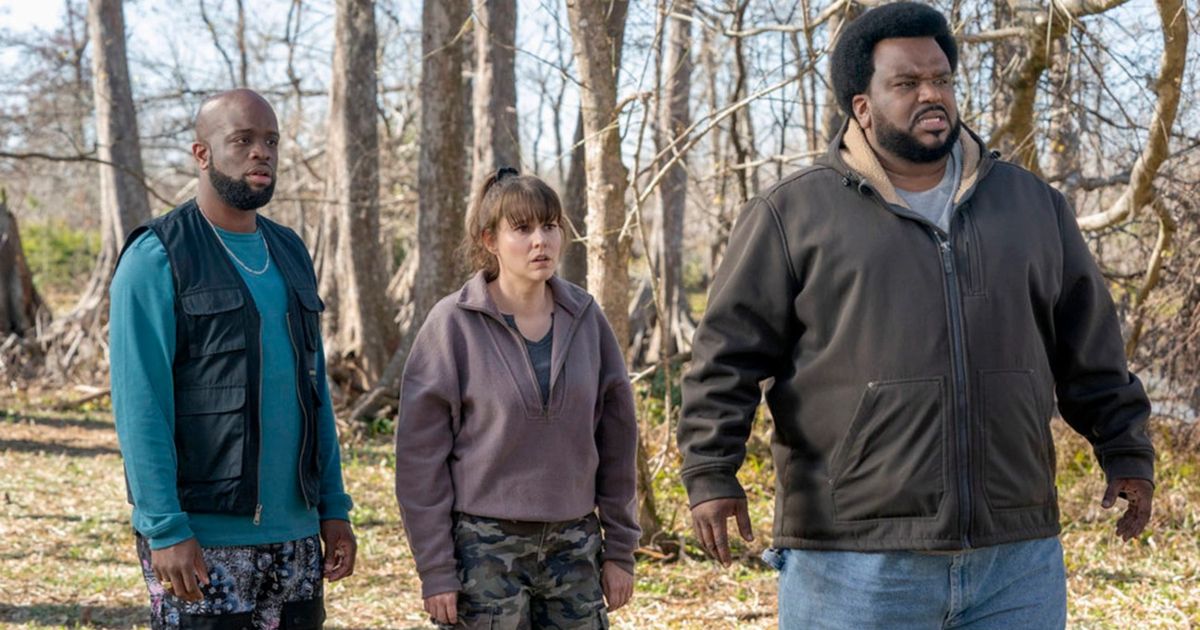 Almost immediately, Killing It found a solid fan base. Between the humorous take of trying to find the right money-making plan to hit it big, the show's flashback elements, and the distinctly original wit of its two leads, Killing It seemed destined to be a hit comedy. Audiences could relate to Craig and Jillian's financial woes and the idea of forming an unlikely friendship as they plotted to make it big. A snake-wrangling scheme was at the forefront of last season, but that gets reworked in season two.
"I used to be afraid of snakes because, you know, Raiders of the Lost Ark and the Bible," Craig Robinson quipped. "Then one year I went to Australia and this animal sanctuary, and I got to see how beautiful snakes actually are. So once we got to rolling, to film this show, I was already in. But they have this gigantic snake [this season]… some people are cool with them, so I do love snakes.
"But as far as Dan Goor and Luke Del Tredici go, they're at the top, as far as writers go," said Robinson. "They take us on a roller coaster this season that you can't seem to get off of. The show goes to a lot of different places."
Related: Craig Robinson's Best Performances, Ranked
The new money-making scheme will no doubt entice viewers. Dot-Marie Jones' character figures prominently into that storyline. Meanwhile, Craig's brother, Isaiah (Rell Battle), is on the run, but look for some big twists with that character as the season rolls out.
"You can't really anticipate what's going to happen in the show, and I love the twists and turns," Robinson added about the season ahead. "It gets dark and edgy, you know, but still has heart. That's going to resonate with a lot of people."
Claudia O'Doherty on the Season Ahead
Craig Robinson was quick to note how well he and Claudia O'Doherty work together, their on-screen chemistry, and how their two very different characters manage to come together for a greater purpose.
"We're like musicians together," he said of O'Doherty. "We listen to each other. I love Claudia's timing, her personality, her charm, and that she is so aware of herself and her comedy. And that we can just go anywhere together. I love the relationship we're building on-screen and off-screen."
Related: The Best Peacock Original Series, Ranked
O'Doherty loves being on the show, noting: "This is a dream come true to be in a show that has such funny scripts with Craig. That's cuckoo crazy," she said. "I can't believe I get to do it. I'm still shocked to be in a show where you actually think it's funny. And you think the person you're acting with is funny. These are like the rarest gems. I'm so lucky."
She went on to say that she and her character Jillian are very different. "I'm probably not as desperate in real life as my character. But again, sometimes I'm friendly, but not as friendly as Julian. We're both Australian. We both have immigration issues from time to time, just because that's the nature of living in a foreign country. And I'm not as violent as her as she is in season two, episode two."
It's fun to track just where Craig and Jillian's new outing takes them in season two. Expect those costars to become potential foils. But if season one enticed for its relatable premise, season two will surely stand out for being even more inventive.
"It's an interesting show to be out right now, because it's told in flashback format, so it starts in the current day, but we flashback to 2016 when Craig's character is at rock bottom," O'Doherty explained. "We get to see this journey unfold, and it's a very interesting time in America's history." She also noted that the show stands for another reason:
Maybe we need to dismantle capitalism.
Season two of Killing It premiers on Aug. 17 on Peacock.