For director Luke Gilford, his feature film debut National Anthem, which made its international premiere at TIFF, started at the rodeo — the International Gay Rodeo Association, to be specific. He spent years traveling through different states in America, photographing queer rural life within the IGRA's community, a project that resulted in a monograph also called National Anthem, which was published in 2020 and featured a collection of images and essays that foreground queer joy and resilience. ("It's sold out, babe," Gilford said proudly at the start of our interview when I lamented not being able to find it for purchase online.)
The way Gilford photographed his subjects, turning his monograph into a movie was practically a given. "I wasn't just showing up and documenting, shooting a million things and trying to be a fly on the wall. I was going up to people, talking to them, connecting," he said of the "intimate process" that involved his subjects looking directly at the camera, as if confronting the viewer with their existence. He added:
Over time, I felt like I had no choice but to write some of [their stories] down. And it's such a cinematic experience going to the rodeo: the animals and sunsets and hairspray, Dolly Parton, barbecue, and beer.
For National Anthem's lead actor, Charlie Plummer, the film was especially fateful, coming at a time after the height of the pandemic when he needed to reconnect with his work. "When this script came in my inbox, it felt like the universe giving me this incredible gift and opportunity to get back to the kind of work and challenges as an artistic person that really inspired me and excited me," he said. "For a little while, I hadn't really felt that connection to [my work]."
The Power of Touch and Intimacy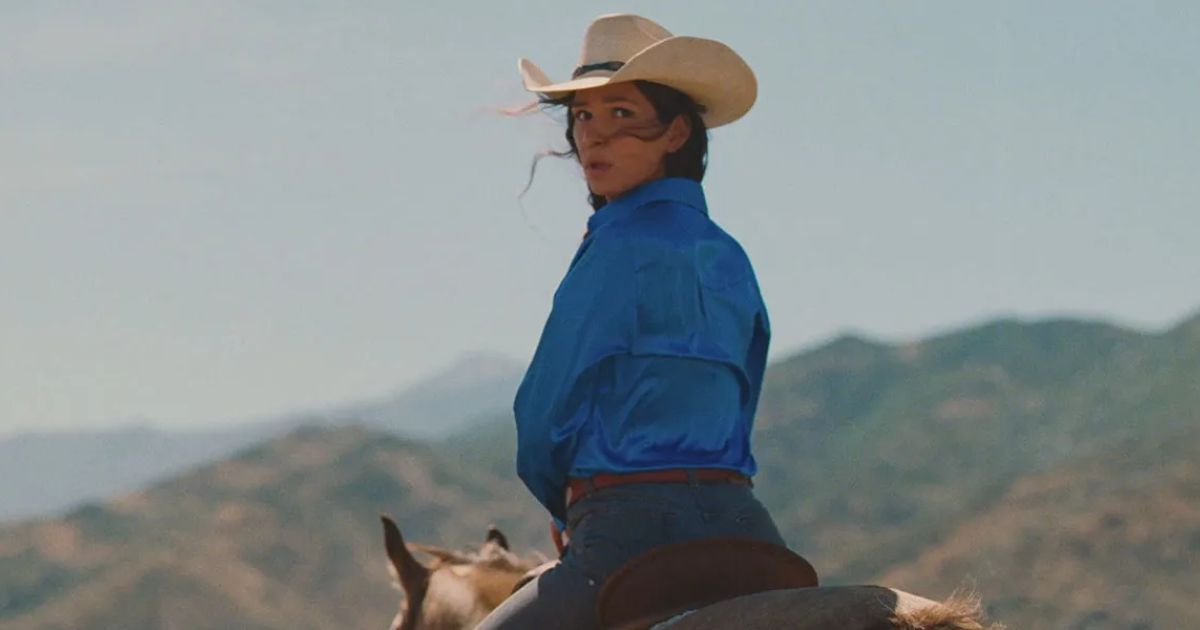 In National Anthem, Plummer stars as Dylan, a young construction worker who has been forced to grow up too fast. Raised by an alcoholic single mother (Robyn Lively), who seems more preoccupied with partying than parenting, Dylan's main priorities are making sure the bills are paid and that his little brother is taken care of. In need of a higher-paying gig, he takes a job at the House of Splendor, a ranch community like none he has ever seen. Here, where everyone is queer and full of joy, Dylan finds a sort of chosen family, who helps him understand parts about himself he either didn't know were there or hid out of fear. One person who catches his eye — and his heart — is Sky (Eve Lindley).
National Anthem is a particularly tactile film, with dirt, denim, and the natural landscapes providing much of the texture, which is underscored by the prevalence of physical touch and intimacy between the characters. On the ranch, all the characters are uninhibited in their affection for one another, whether it's a casual drape of the arm, a head on the shoulder, or, more deeply, an open attitude towards sex. Stepping into this world, Dylan, an otherwise lonely young man who was closed off to this part of himself, learns to embrace the importance of intimacy, not just to others, but towards himself as well. It's a journey that Plummer revealed mirrored his own in a way.
Related: Exclusive: Director Noora Niasari on Taking Shayda Around the World (and Maybe the Oscars) [TIFF 2023]
"Before reading this script, I had recently just begun that understanding of myself in terms of how important the role of physical touch, regardless of whether it's romantic or platonic, is to a healthy life — just being loving towards yourself as much as towards other people," he said before elaborating:
I don't know if it's because I'm an actor, and growing up I was so conscientious of myself in space, or whatever, but I do feel like there's been a big lesson. And Luke, and certain people in my life that are very close to me and feel like real teachers to me, [helped me to understand] the importance of touch in this film.
In addition to having intimacy coordinators on set, one of the ways in which Gilford helped foster a trust and level of comfort among his cast was through leading by example. "I would be in the office during pre-production during the day and then would invite Charlie, Eve, Mason [Alexander Park], and the rest of the cast over to basically become friends and build that platonic intimacy," said Gilford. "My producer, Ben Hannon, a dear, dear friend — we have a lot of that type of intimacy in our friendship. By the time those scenes came up, everyone was so comfortable with each other and felt safe to talk about what they needed and wanted."
Getting into Drag for the First Time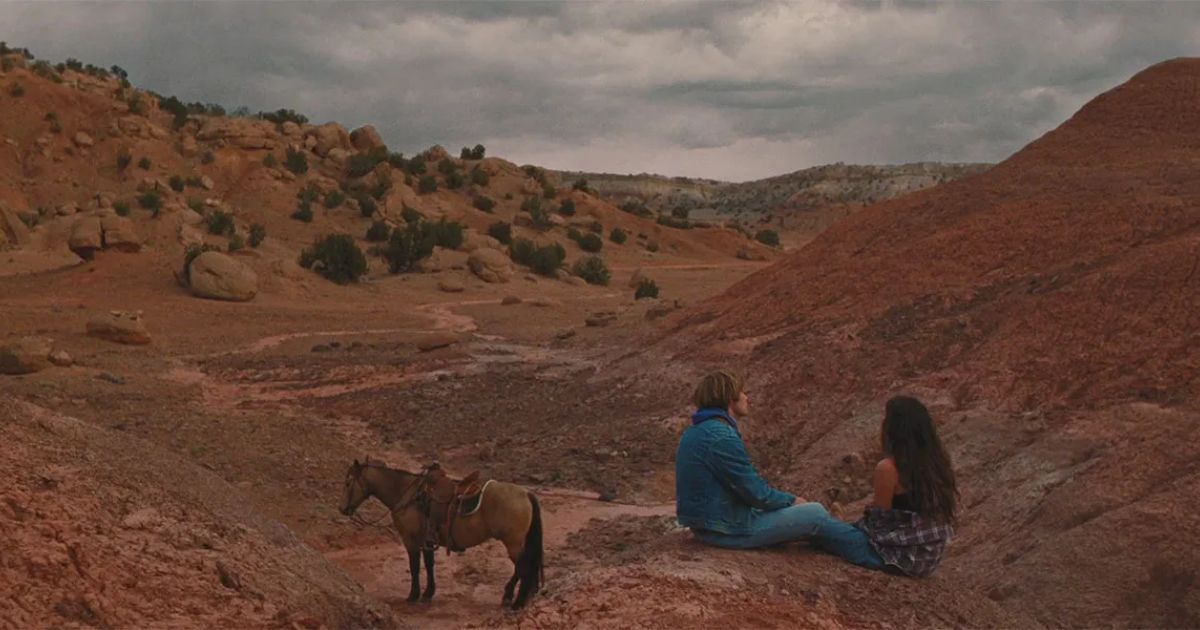 "It was a dream come true," Plummer said about getting into drag for the first time in his life in what is undeniably one of National Anthem's most memorable scenes. In it, Dylan, with gentle encouragement from Park's Carrie, dresses in full drag to perform a lip sync number at a small venue at a queer rodeo. "I've been such an admirer of the art form for years, it's actually been a huge foundation of relationship with my younger brother because he's probably one of the biggest [RuPaul's] Drag Race superfans in the world, just obsessively consuming all forms of drag and content at all times."
What makes the scene so touching is that, in addition to Dylan's friends being supportive of his commitment to the performance — and, by extension, his desire to explore a new side of himself — Cassidy (Joey DeLeon), Dylan's little brother, is also in the audience and plays a crucial role in cheering his brother on. According to Plummer, early conversations about this scene didn't include Cassidy's involvement in the number, but the energy he felt from DeLeon while shooting elevated his performance. "Really having Joey there as my touchstone through the performance was so special."
Related: The Holdovers Review: One of the Best Movies of the Year [TIFF 2023]
Considering the current anti-drag rhetoric and legislation active in many parts of America, this scene in National Anthem takes on an extra meaning. While it was not Gilford's intention when he and fellow screenwriters David Largman Murray and Kevin Best began the project — it was written before the country's political climate worsened — he nonetheless understood the weight the scene held.
"We felt it was more and more important to show just how, in essence, [drag] is," said Gilford. "It's not like people giving their kids guns and telling them to be hateful. It's, in this case, so innocent, just this kid expressing an interest and being given the space and opportunity to explore without judgment, and how beautiful that is and how normal that is for kids to want to experiment — and to be given that freedom is such a gift."
For more information on National Anthem and the film festival, visit the TIFF website.