"The almond" and "the seahorse" are nicknames given to the parts of our brains that lay down new memories and hold on to the old ones. That proves to be a tricky thing for Joe (played by Celyn Jones) in The Almond and the Seahorse—the man suffered a traumatic brain injury (TBI) and his life and marriage to Sarah (Rebel Wilson) are trapped in the past.
Jones (Born A King, Manhunt) stars opposite Wilson (Senior Year, The Hustle, Pitch Perfect) in her first dramatic role here—he originated the role of Joe on stage more than a decade ago in a play by Kaite O'Reilly. The part was written for him, in fact. But long after the show bowed—a "five-hander," he said because it starred just five actors—the duo joined forces again for a film version, which Jones also co-wrote with O'Reilly and co-directed with Tom Stern, mostly known for being the main cinematographer for Clint Eastwood films like Mystic River, Million Dollar Baby, Gran Torino, and others.
"I met Kaite when I was 15 in youth theater, and we worked together later when I became a professional actor," Jones told MovieWeb. "In the play, Kaite built a very real world, and I loved playing Joe. I always felt the door was left open to do more. So, we tackled it together and elaborated with the film, finding different visual language around it, and adding more characters, and a different ending. But the essence of the story is really about saying goodbye. It's really about being forgotten, and how sad that can be, especially when a relationship is ending through no fault of your own."
What shines through in both the play and the film are remarkable moments of levity. The story is buoyed by the kind of humor you'd expect to experience in everyday life.
On Working with Rebel Wilson
In The Almond and the Seahorse, Wilson plays Sarah, an archeologist whose love for her husband, Joe, is overshadowed by his TBI, which has frozen their relationship. Enter: Toni (Charlotte Gainsbourg), an architect who loves her partner, Gwen (Trine Dyrholm). But after a TBI they've been imprisoned in a 15-year loop. Love is the common thread for both couples, but as Sarah and Toni find comfort in each other—both emotionally and physically—they realize their greatest fear lies in being forgotten by the people they love most.
"I was very excited about working with Rebel," Jones said. "I really get excited when actors do something new for the first time. So, when the idea of Rebel was proposed, I thought, 'Yeah, I want to see that movie.'" He went on to add the Wilson was somewhat "nervous" initially, as she'd always wanted to do dramatic roles, but her career had taken down the comedy path.
Related: Exclusive: Phil Tippett on the Meaning of Mad God and the Disturbing Film's Blu-Ray Release
"Rebel was worried that the emotion wouldn't be there, but I was never worried about that with her because I see her. I know the story she tells," Jones went on. "And I knew that if we had a natural chemistry between us, we'd be there for each other."
He also said the part of Sarah was a tough role, but the fact that it was played by Wilson, an actor "audiences really love, connect with, and relate to," just made the storytelling even more powerful. "With a different type of actor, it might have been a harder story to engage with. The fact is, being with Rebel, we know she can make good choices. She can make funny choices and emotional ones, and the audience is with her. She has brilliant moments of improvisation, and she's always in the moment, which is exciting to play opposite."
On Playing a Complex Character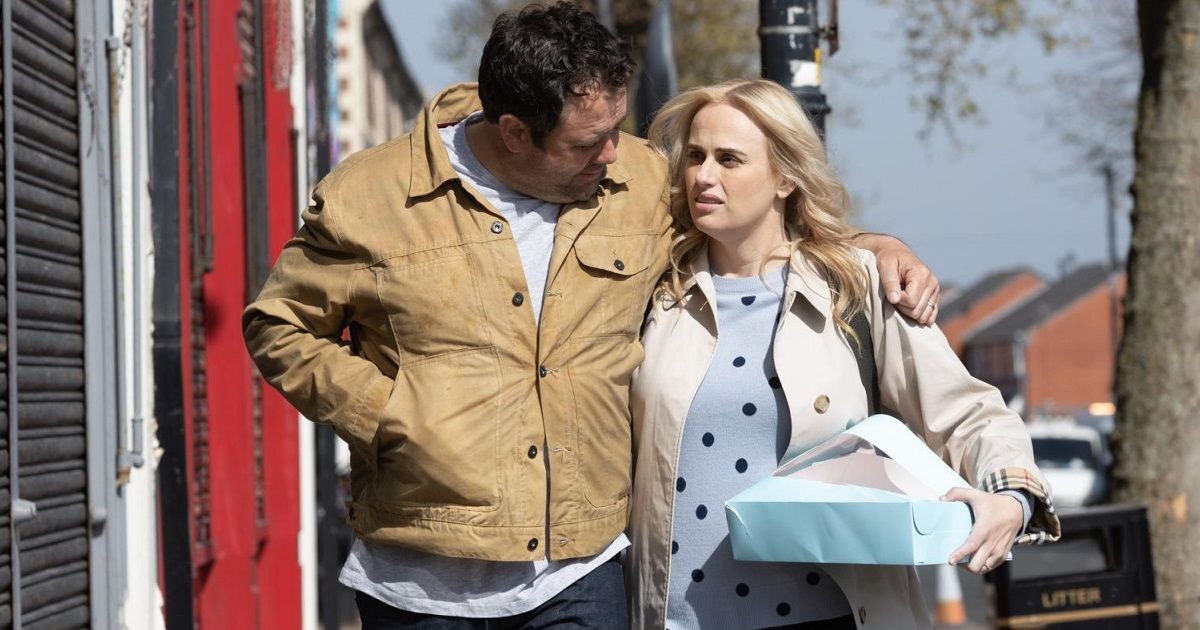 "The Almond and the Seahorse" opened in a small studio theater in Cardiff, Wales—the film was shot on location in Wales and received support by Welsh Government via Creative Wales. Jones admitted that he didn't know much about TBI when he took on the stage role. He also didn't realize that a story about TBI, "would be so funny, and then a second later so moving whilst remaining so very relatable."
"We balanced things out more in the film version," Jones said. "We built out the backstories of the two couples. The play ends at a very specific point, but we go beyond that in the film." In both versions of the story, playing Joe had its challenges. As Joe struggles with TBI, moods swing, and behaviors shift.
"But I don't mind delving into the darker side of characters, and I was excited to play somebody disinhibited," Jones said. "I like characters that have the monster or the 'madman' then the angel of the beast within them. And the almond and seahorse are nicknames for the amygdala and the hippocampus, which lay down new memories. "Neurologically, Joe cannot lay down any new memories, so nothing new goes into his brain. It has no future with Joe because he'll never lay down a future, which is the tragedy of his and Sarah's relationship."
Related: Exclusive: Riley Dandy and Sam Delich Were Freaked Out by the Robotic Santa Claus in Christmas Bloody Christmas
Playing the character demanded intensity, but it also offered Jones great freedom to explore and improvise. "One minute, Joe is in a meet-cute rom-com, and the next, he's in oblivion," he said. "As an actor, he was challenging, but very exciting to have the rails taken off. Like any good part, it demands a lot of you, and you just have to take that leap, and hopefully get to where you need to get to."
From the looks of it, Jones landed where he needed to with the role. And rightly so. The man is a critically acclaimed actor and BAFTA-nominated screenwriter. He penned Set Fire to the Stars, in which he starred as Dylan Thomas opposite Elijah Wood. Jones also wrote the critically acclaimed, BAFTA- and BIFA-nominated, noir-thriller, The Vanishing, starring Gerard Butler and Peter Mullan and co-wrote Eddie Izzard's first screenplay, Six Minutes to Midnight, starring Judi Dench and Jim Broadbent.
Up next: Jones will star opposite Jo Hartley and Aisling Bea in the Brit comedy Swede Caroline, followed by the hotly anticipated Janis Pugh debut Chuck Chuck Baby.
The Almond and the Seahorse, from IFC Films, hits theaters, and everywhere you rent movies, on December 16.