Casper Van Dien (Starship Troopers, Sleepy Hollow) couldn't wait to dive into The Flood. Literally. "When I read the script for The Flood, they said it's Con Air meets Anaconda, but with alligators, so I was like, 'Oh, that sounds cool.'" In fact, The Flood is cool. In this fiery throwback to action-thriller romps from the 1980s and 1990s, the film also stars Nicky Whelan (The Binge, Trauma Center) in a standout role along with Louis Mandylor.
As for the plot, after a devastating hurricane floods Louisiana, it unleashes a deadly threat. The rising water is a major challenge but when a horde of giant hungry alligators enter the scene, things get even worse. Toss in a group of in-transit prisoners and their security guards seeking shelter in a local prison, and suddenly, you have a mixed bag of personalities, and deadly beasts, trying to escape flesh-eating attackers.
If that doesn't grab you, perhaps director Brandon Slagle's (House of Manson) director's statement will:
There's no agenda here. There's no deeper meaning. It's far from politically correct… [The film is] a rip-roaring, foul-mouthed, down-and-dirty ride. Man versus Beast – or BEASTS.
Fun. Sign us up. MovieWeb interviewed stars Casper Van Dien and Nicky Whelan to learn more. Jump in…
Welcome to Gatorville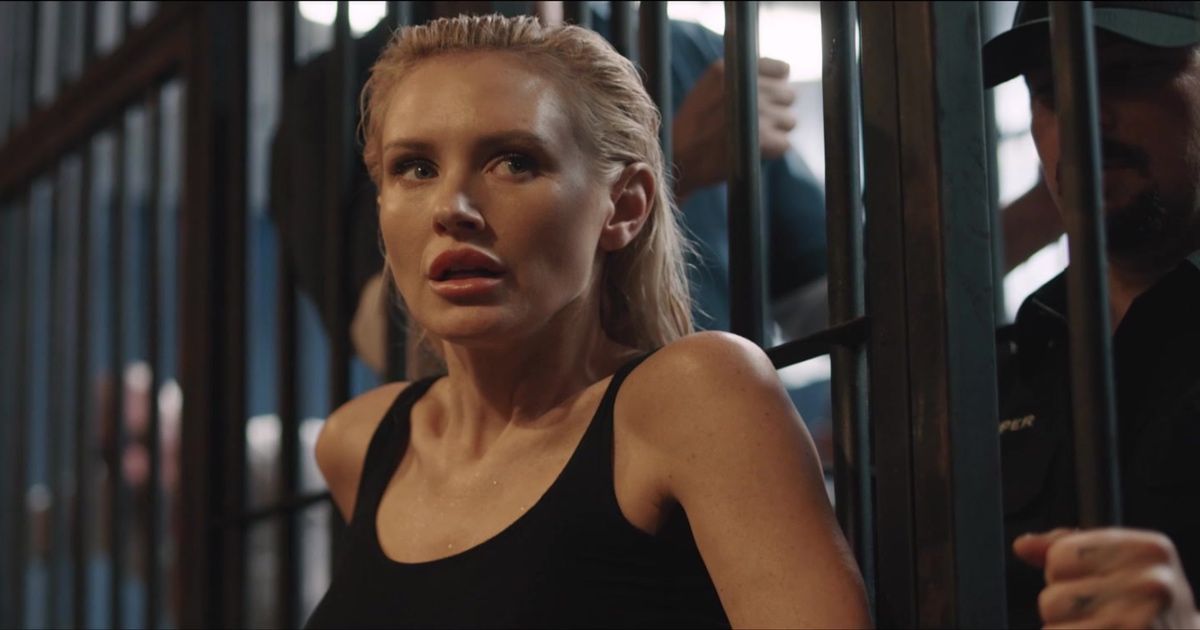 The Flood was written by Chad Law (Section 8) and Josh Ridgway (The Sector). While the plot twist isn't brand new — in order to survive, the prisoners and guards have to join forces and fight together — these monstrous alligators are. The result creates an action-packed thriller that feels wonderfully related to those campy hits from decades ago, such as Assault on Precinct 13.
Related: Best Creature Films That Are Seriously Underrated
"This is one of those fun, scary movies. It's a real thriller," shared Nicky Whelan. "It's kind of horror, there's a bit of like gore, and it feels old school, you know what I mean? For all those people that get into these kinds of things — and alligators — I hope people love it and just enjoy it."
Casper Van Dien immediately commented that even with all the thrills, the script was pretty solid and grounded. "I liked all the character development, because they're not one dimensional here," said Van Dien. "There's a lot of gray area, and they do some things that you're shocked by — almost every character does that."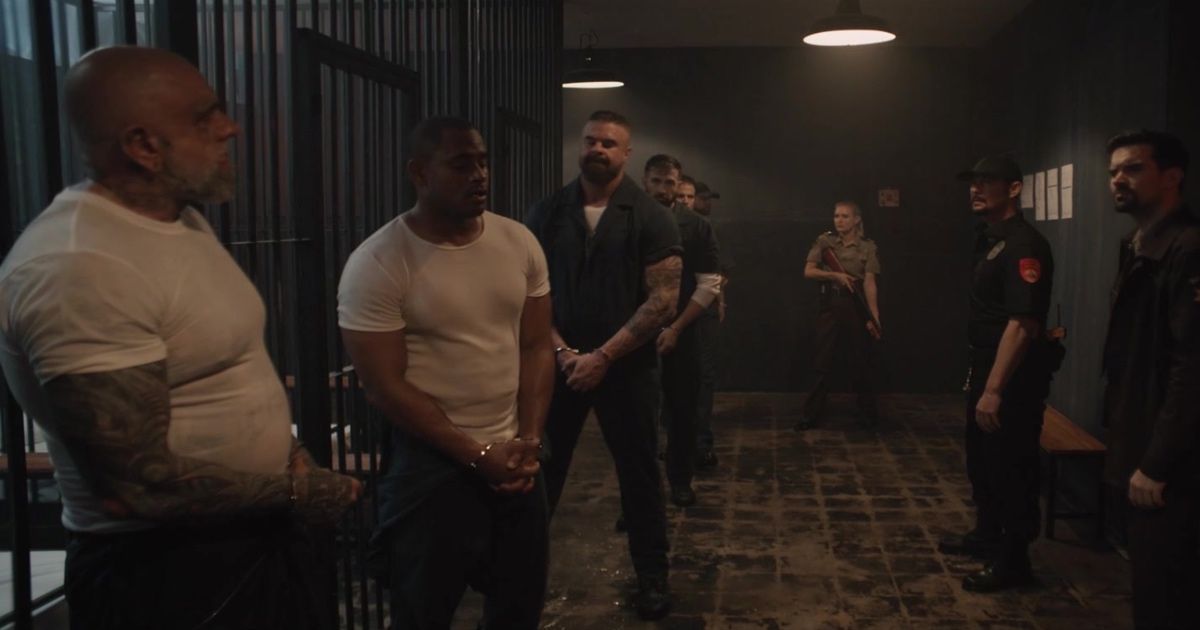 No doubt audiences will find Whelan's character compelling. Her Sheriff Newman must transport a posse of gruff prisoners when that ill-fated storm hits. When everybody is confined in tight quarters amidst disastrous floodwaters and the large alligators swimming in, the situation turns dire.
Related: Exclusive: Nicky Whelan on the Making of Her Upcoming Shark Attack Movie Maneater
"My character is very challenged from the very beginning," said Whelan. "There are storms going on, and floods filling up her entire department. She has a group of prisoners that need to come into the night that she wasn't prepared to take on and watch. Then they're invaded by alligators and then by a bunch of terrorists coming in to grab one of the characters. She's got everything going against her. And she's the only woman. She can get her ass kicked by any of these dudes at any stage. That's the beauty of making a movie, I can take them all on, you know, so there's a lot going on for her."
Casper Van Dien Gets Wet
You can't film a hurricane/killer alligator movie without water. A lot of it, in fact. Casper Van Dien shared that for several weeks, the cast and crew were confined into tight quarters that was filled with water. "There were a lot of challenges filming in water," said Van Dien (whose full interview can be viewed above). He continued, chronicling the hellish but rewarding production:
"We were in abandoned buildings that they tried to waterproof, but then they pour the water into it, but you know, the building has rats and snakes and bugs and dirt. The water is clean when they put it in, then everybody's walking through it, and it eventually gets muddy and your clothes very dirty. And there's always this threat of possibly a rat or a snake. That part made it the threat always more real, actually. You don't want to be bitten by a rat or snake."
"Also, once we're getting dunked underwater, there's snot and everything else that comes up so by the end of the day, I was ready for a shower. It felt that real […] Somebody who's getting pulled away by an alligator — that's real stuff that they were doing. And those scenes where somebody is getting pulled away by an alligator, those were shot on wires, ropes, and whatever else. There was some kind of team that did that and that was really awesome to see."
All the action scenes are gripping in The Flood. Audiences may be surprised by where things lead in the third act. Alligators, alligators, alligators! Van Dien loved it all, however. On a separate topic, it felt fitting to ask whether he'd be up for another iteration of Starship Troopers, that trippy 1997 hit about humans waging a war with giant alien bugs.
"I would love to do that. We came close a couple of times doing a series with director Robert Rodriguez," noted Van Dien. "But then there was a change in the guard at Sony Television, and they dropped the ball on that one. I don't know if Robert revisited it. I know he's really busy with The Book of Boba Fett. But I would love to do it. That would be a dream of mine. Come back and play Johnny Rico."
For now, you can see Van Dien and Whelan kicking some gator tail. The Flood will be available in theaters, On Demand and Digital on July 14.