Director Brandon Slagle is known for his fun, quick, in-and-out style and prolific indie filmography (Frost, The Dawn, The Black Dahlia Haunting, House of Manson). While no film production is easy, he arguably met his greatest challenge with the new alligator thriller, The Flood. Starring Nicky Whelan and Casper Van Dien among others, The Flood centers on a Louisiana prison being battered by a hurricane; the flooding gets so bad that a congregation of alligators makes their way into the prison, and soon inmates and guards must work together to survive.
As one can imagine, shooting the wet alligator film was no dry picnic. "There were a lot of challenges filming in water," Van Dien told MovieWeb. "We were in abandoned buildings that they tried to waterproof, but then they pour the water into it, but you know, the building has rats and snakes and bugs and dirt. The water is clean when they put it in, then everybody's walking through it, and it eventually gets muddy and your clothes very dirty. And there's always this threat of possibly a rat or a snake. That part made it the threat always more real, actually. You don't want to be bitten by a rat or snake." He continued:
Also, once we're getting dunked underwater, there's snot and everything else that comes up so by the end of the day, I was ready for a shower. It felt that real […] Somebody who's getting pulled away by an alligator — that's real stuff that they were doing. And those scenes where somebody is getting pulled away by an alligator, those were shot on wires, ropes, and whatever else. There was some kind of team that did that and that was really awesome to see.
Slagle himself joined MovieWeb to elaborate on the production behind The Flood, the performances he got from the cast, and the fine line balancing over-the-top wildness with serious suspense.
Brandon Slagle's Watery Nightmare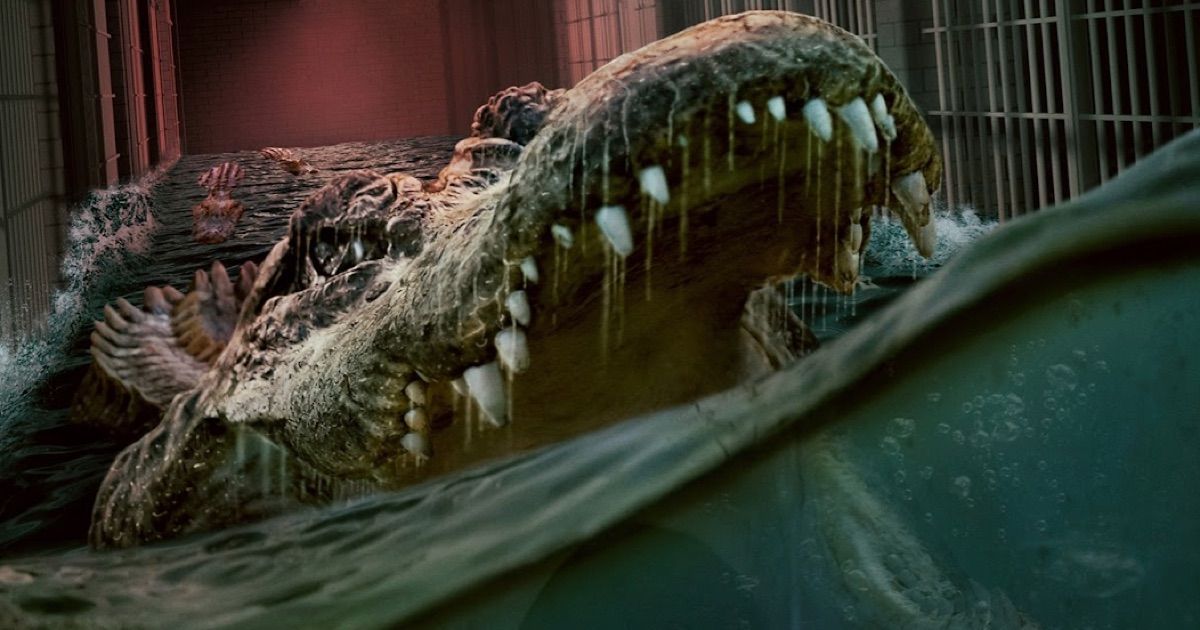 MovieWeb: What were some of the difficulties of shooting in this location, or the production in general?
Brandon Slagle: THE WATER! It was really a character unto its own.
So – we shot in and around Bangkok, which worked great for this slightly heightened version of Louisiana. Producer Daemon Hillin co-owns a production services company called Benetone Films out there, and I'd previously worked with many of the crew on a martial arts/war movie called Battle For Saipan.
However, despite the incredible, literally second-to-none work ethic of the crew (I can't say enough about the film workers in Thailand), and our familiarity with each other – to quote the original Mortal Kombat home console ads, nothing, NOTHING could prepare us for this.
Whether it be massive rain machines, rain bars on the windows, leaking ceilings, submerged floors from ankle to nearly chest high, the water elements presented a special kind of challenge for everyone, coupled with largely overnight shoots which are an entity of their own to begin with…
Anyway, I think after a few days we were operating on pure adrenaline and caffeine, and hate for the devil that was H2O.
Related: Best Movies About Deadly Alligators and Crocodiles, Ranked
From Script to Stars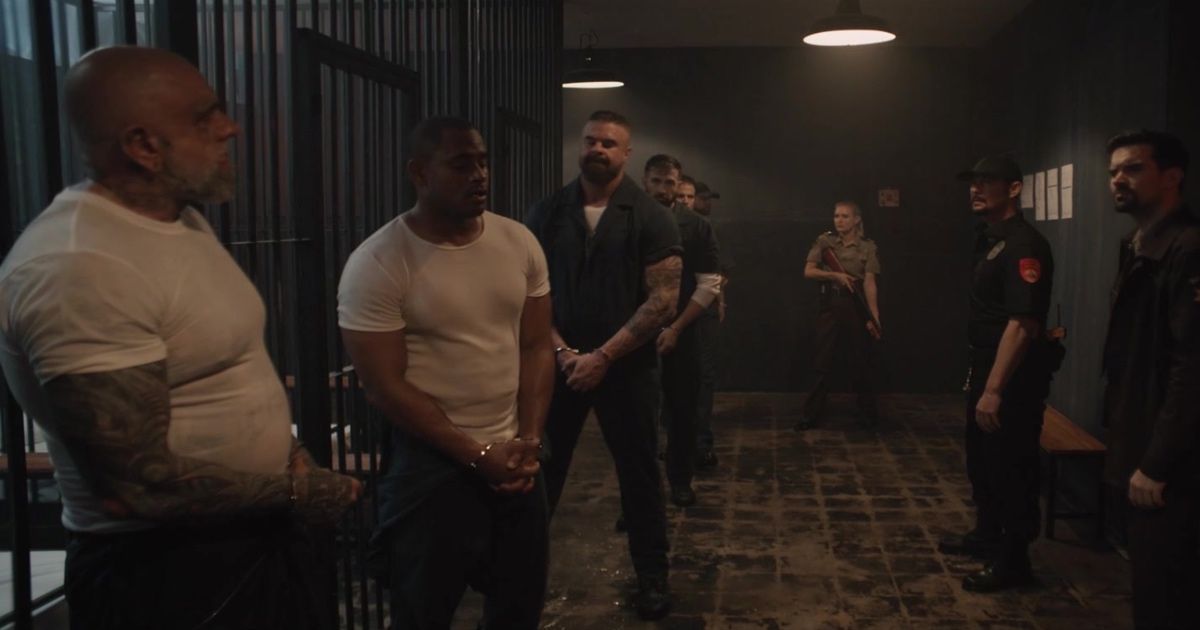 MW: What interested you about Chad Law and Josh Ridgway's script, and how did it stand out from other aquatic thriller/horror movies?
Brandon Slagle: Chad is an old friend of mine, since before one of the last movies I acted in (Daylight's End), and we've been trying to do something together as a writer/director team for a while, so when the original director attached to The Flood had to leave due to a scheduling conflict, I quite literally said yes at the mention of Chad's name.
Beyond that, there's a bit of 1970s cinema grit to the setting and characters. The people are tough, no-nonsense, salt-of-the-Earth, which you don't see so often lately. There's some young Eastwood, some Steve McQueen, and of course some Arnold and Sly peppered on top of their archetypes.
MW: Everyone is delightful here, especially Nicky Whelan. What were your conversations like with the actors? What mindset did you want them to be in?
Brandon Slagle: I'm big on chemistry and rapport, whether it's between myself and the performers or the performers and each other. I encourage a lot of improvisation and the actors to bring their own special twist to each character, otherwise why hire this particular actor for this particular job? It's basically a big sandbox where we all become bonded – great friends and even greater colleagues, which helps not only keep everyone happy, but result in a lot of happy accidents in the performances that you just can't plan. And, of course, that camaraderie helps when you're dealing with the aforementioned water elements.
The Line Between Serious and Silly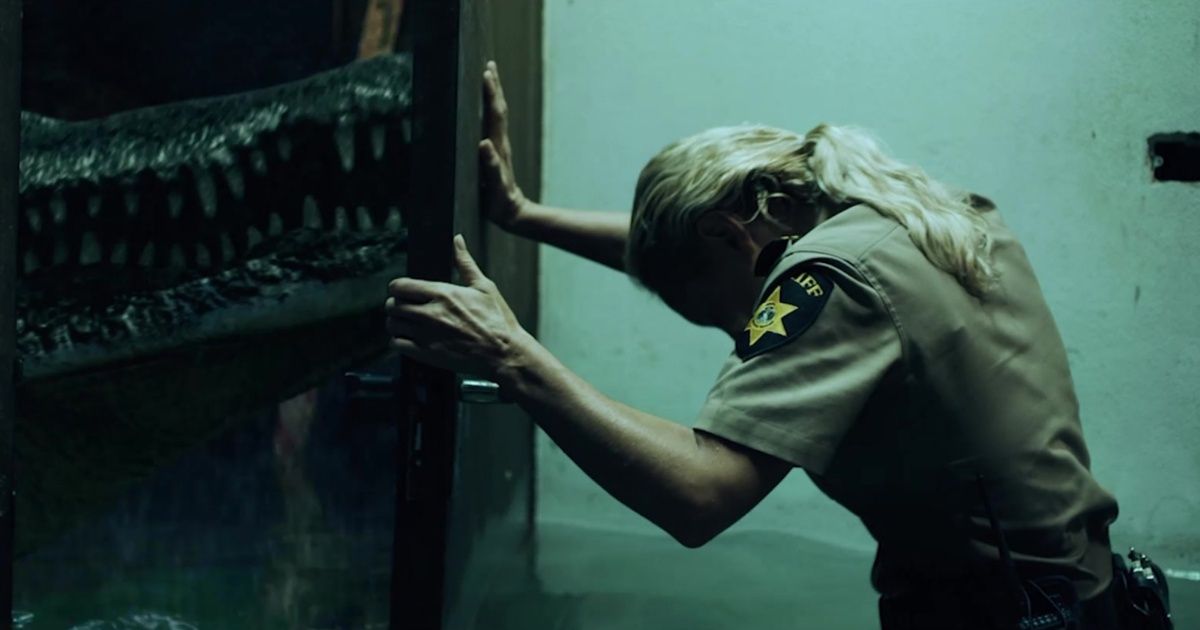 MW: While the movie's of course very entertaining, it also brings to mind the genuine horrors of what it must've been like to be a prisoner during Katrina in Louisiana, or to be a prisoner in any dangerous situation, mostly at the mercy of others. Were there any real-world considerations like that for you when making the film, and/or do you see it reflected in the final product?
Brandon Slagle: Not to turn myself into a broken record here, but again – the WATER on set definitely gave us a taste of real-world disaster. I think only one or two shots of it are augmented by CGI. Other than that, what you see of it was all actually there.
For example – the cell block set – once we started filling it with water, well – you were more-or-less stuck there. The only ways in or out of it were up and over two ladders placed just out-of-view of the cameras that would take people over the wall and to glorious freedom.
When you have, say – 10+ actors on set and a couple of dozen crew in there with you, plus another few dozen outside of the set with no easy way out, well – you budget your time in a certain way. I would rarely leave and instead would be wading in water for hours on it.
After a few days of staying primarily in that set with usually waist-high water and rarely taking breaks, you really get a taste of what the water does to you physically and psychologically. My feet actually had holes in them which I don't know how to describe in any other way. Once the clock goes past three or four in the morning, you definitely get a fraction of a sense of how terrifying it must actually be to be left at the mercy of the elements in that way.
Of course, all of these things resulted in extra safety precautions here that I'd not dealt with on other productions.
Related: Best Creature Films That Are Seriously Underrated
MW: Are there ever discussions (aloud or internally) about balancing something that's over-the-top fun without it ever becoming too ridiculous? Or is "ridiculous" / "cheesy" not necessarily a bad thing?
Brandon Slagle: It really depends on the piece. In my opinion, if you're dealing with over-the-top or fantastical elements, the best way to sell them to the audience is to make them a part of something tangible. Most people can relate to the real-world threat of a massive storm, whether it be a hurricane, tornado, or etc. If that's presented as a real threat, then it totally sells that on top of everything else going on, aggressive animals looking for food and shelter could also join in on the festivities.
So in short, I guess I'd say if there's a way to ground a ridiculous situation or event, then by all means it's not a bad thing and GO FOR IT!
MW: What's scarier, an alligator or a shark?
Brandon Slagle: The shark's mom.
If you want to see this mother of all gator movies, The Flood is now available in theaters, on demand, and on digital courtesy of Saban Films.