After nearly thirty years, everyone's favorite blue puppy has finally gotten her own feature film. Paramount+'s Blue's Big City Adventure brings the popular Nick Jr. star to New York City, where Blue's owner Josh (Joshua Dela Cruz) hopes to make it big on Broadway. Along for the ride are a few of Blue's friends, including former Blue's Clues hosts Steve (Steve Burns) and Joe (Donavan Patton). The man helming the musical adventure is director Matt Stawski.
Stawski's fifteen-year career has been primarily in the music video field, but he was hand-selected for Blue's Big City Adventure by Paramount CEO, Brian Robbins. "We did a musical project for AwesomenessTV in 2013 called Side Effects," said Stawski. "Since then, he's gotten me a couple of other gigs, so he called me early last year and told me about this Blue's Clues project. Obviously, I know that it's a big preschool brand, but I thought, 'Can I have fun with it?' Because the show itself was geared toward two, three, and four-year-olds, I just wanted to have fun with it and make it my own. Brian said, 'Yeah, man, it's a musical. Do your thing.' So I was given a lot of creative freedom from Brian and Nickelodeon. That's kind of why I signed on to it because they really let us go classic MGM musical."
The Right Person for the Job
While there are notable differences between directing a music video and a feature-length film, Stawski felt confident that his experience made him more than qualified for the job. "If anything, I was very prepared for it, because in 95% of music videos, you only get one day to shoot it," said Stawski. "An artist will come into town for press, and they'll have one day to shoot a music video. You also had to stretch the dollar, too. When I got into music videos, budgets were rapidly decreasing, so we had to be really creative with the money."
As prepared as Stawski was, he admits that there was a bit of a learning curve. "The biggest adjustment I had to make was working with animated characters," he said. "We were on set in New York City, and for every shot, you have to do extra rehearsal time to make sure all the eye lines are correct, especially if the characters are moving. And once you get the shot in the can, you have to have the VFX guy come in with their 360-degree camera that captures all the lighting, and everyone has to stand still. So, your shots take about 10-15 minutes longer. That was a learning curve for sure. But it was kind of cool because ever a majority of the people on the crew hadn't done that either, so we all earned that Cub Scout badge together."
Related: Blue's Big City Adventure Review: A Delightful Romp That's Sure to Please Kids & Parents Alike
Stawski also had to make adjustments in learning the language of filming for a younger demographic. "I basically had to learn the rules of shooting Blue's Clues," he said. "We had to consider things like eye levels and interacting with the kids. There were things that were set in stone as far as how we had to shoot them. I've done some kids' videos before, though, so I have been in that space."
Another space in which Stawski was familiar was the musical numbers, which allowed him to work with his long-time choreographers, Lindsey Blaufarb and Craig Hollamon. "I've worked with them since we worked together on a Ceelo Green video back in 2010, so we've always been really good at collaborating and figuring things out on the fly," said Stawski. "This one was no different. I think the toughest/most enjoyable thing was walking through New York with them after the location scouts. We did a choreography scout and figured out what we could dance on, what's a historical landmark, and what we can do with the choreography that makes it a little bit different than just flat ground choreography. Like, can you jump up on a bicycle carriage? Can we do it on the steps over there? Just sort of putting the choreography into the geography of New York City. So that was kind of different because often we're on sets and stages. We even had to determine what kind of shoes the dancers had to wear based on the different types of ground. That was a cool little fun logistical puzzle to figure out. It's fun just being in the musical space. It's a genre that you can break a lot of roles and be fantastical."
That world of the fantastical applies not only to the film's genre but also to its location. Stawski, along with the film's cinematographer Derek McKane and production designer Alexander Marc Calle, set out to create a "hyper-real" version of New York City. "We had budgetary restraints, but we were able to get the locations because of the New York Film Office," said Stawski. "If you scheduled it, right, you can get all those really good iconic locations. A reference point worth noting is The Young Girls of Rochefort. In that film, they shot in a city location, but they painted all the buildings bright colors. When I met with Alex, I said, 'Let's do a candy-coded New York City.' So, for anything we had control over, we painted using a lot of primary colors and added a lot of flowers. So, that was a fun challenge too. We made a kid version of New York City. It definitely wasn't Taxi Driver."
During production, Steve Burns posted a heartfelt video that was directed at the same fans that watched him growing up addressing his departure from the show, The tear-jerking video, which was posted in conjunction with the original series' 20th anniversary, went viral, and served to provide some encouragement to those working on the film. "Everyone, from the AD to the electricians to the PAs, saw that video, and it kind of gave the whole crew this boost of energy," said Stawski. "Steve is a legend and he doesn't like to pop up in the public eye very often. It was marketing for Nickelodeon, but he was putting his heart into it. That was really cool. It added an exciting pressure."
Creative Feedom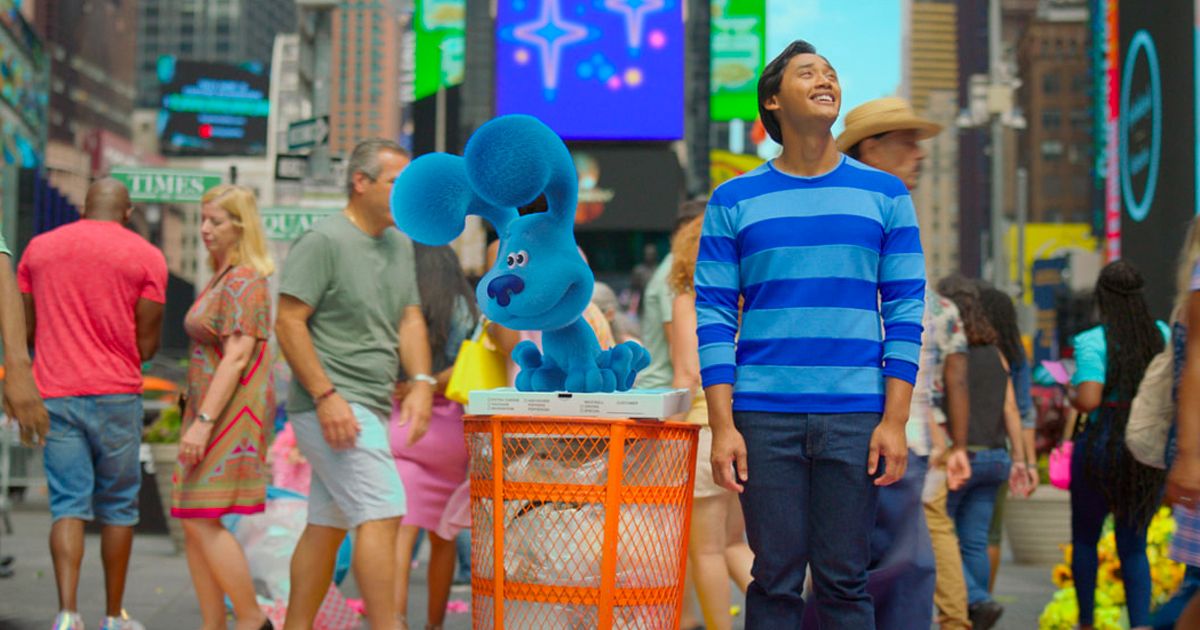 While the film as a whole is essentially a marketing tool, Stawski says that Nickelodeon was incredibly supportive of any creative decisions he and his team made. "They were fully open," he said. "As long as I followed the rules of Blue's Clues, and portrayed the characters correctly, and made sure that the characters' wardrobe and colors like match the brand, and that everything that I presented in the original pitch showed up on the monitor, all the executives were really excited. So they actually gave me, the choreographers, even the musicians, a ton of creative freedom."
That freedom extended to Stawki's music choices as well. "Even when I was even pitching the music, the musicians I was pitching were pretty non-traditional," he said. "I had a lot of friends in the indie folk punk rock space that I grew up with, like Keith Goodwin from Good Old War, Anthony Green from Circa Survive, and even Alex Ebert from Edward Sharpe and the Magnetic Zeros. They were some of the non-traditional types of indie folk artists that I pitched for this, and their songs made it in the movie. We had Stef Fink, our incredible music producer, who wrote 'Happiness is Magic,' the last song, and she just Broadway'ed it all up. The executives were a bit hesitant in the beginning, but I said, 'Trust me, these guys are either incredible songwriters.' I really wanted to tap into people from my music video background and bring them into this Broadway, kid space."
Related: Monster High Gets Renewed for Season 2 at Nickelodeon
Contributing to that space was star Joshua Dela Cruz. The actor, who was previously an understudy in Disney's Aladdin on Broadway, brought his years of performance experience to the production. "He is an incredible talent," said Stawski. "When we first started the choreography rehearsals in New York, the music wasn't even done yet, so certain parts of the songs were just metronomes. We had to create the dance, and he didn't even know what he was singing yet. But he just nailed the choreography. Within one rehearsal he knew the skeleton of it all, so we had tons of time to like fine-tune it. He is an uber-talented and incredibly kind and humble guy to work with."
The same, as it turns out, can't be said of Dela Cruz's co-star. Stawski admits that the rumors of Blue's diva tendencies on set were true. "Yeah, she was terrible," he jokes. "She would never eat her normal food and only wanted treats."
Blue's Big City Adventure is currently streaming on Paramount+.