Francis is a 115-year-old Yiddish vampire who still looks 35. He's been roaming American backroads in his beat-up muscle car for decades, keeping to himself, and liking it that way. One day, a teenage kid, Jane, shows up. She says she's his daughter, and she's got the fangs to prove it. They go on the road, deciding whether to sink their teeth into family life.
That's the premise of Blood Relatives. It's a fun storyline featuring supernatural characters — but it's also a passion project for the writer-director-star. Noah Segan has been the Hollywood game for years, often appearing in Oscar nominee Rian Johnson's films (Brick, Looper, Knives Out). He recently opened up to us about how real-life fatherhood inspired the darkly comedic family tale that is Blood Relatives. Segan also dished on working with Johnson extensively over the years.
Drawing On Experience For A Personal New Film
MW: What was it about a project like this that interested you? Between the vampires and fatherhood, what inspired you?
Noah Segan: I started writing the film after I became a dad and found myself sort of looking around at the last 20 years of my life, maybe even longer than that. But really, my career, the thing that I had built my identity on, and realizing that things are different. Things have changed, and my priorities have changed. And my perspective has changed. And it motivated me to want to tell that story. And of course, because I work a lot in genre movies and horror movies — and I think that genre is, in my opinion, one of the better ways to sort of tell a big idea like that, in a way that people find entertaining — I started to think of myself as a vampire. It's also not hard, you know, you're up all night with a kid with a baby. That's "vamperism" creeping in, and not in the bad way!
MW: You start in this project movie, in addition to writing and directing it was it was that particularly challenging, you know, wearing multiple hats?
Noah Segan: Well, it wasn't easy. [laughs] You know, I come from a background where I work with a lot of directors directing their own screenplays. And I kind of think of it as sort of evangelical filmmaking. It's like, if you write a script, and you like the script, and everybody who's working on the movie likes the script, you can sort of just keep people on track with that, right? You just keep saying, "Hey everybody, we are all unified over this script. And it's not about me, and it's not about you, and we can kind of all keep going back to the text." And so, for my experience, the writing was the most important part. If I didn't have a script that people wanted to work on with me, I wasn't going to have a movie at the end of the day. So really, that was sort of the directing experience, really just kind of trying to maintain the vision of the screenplay that the cast and the crew had showed up to do, you know? And respecting their choice to do that, and protecting them in that respect, watching their backs, you know what I mean?
Related: Exclusive: Mandela Van Peebles opens up about SYFY's Reginald The Vampire
As far as the acting goes — listen, I love acting. I've done it for a long time. It would have been interesting to direct another actor playing this role, but so much of it was about what I was going through personally and how I sort of felt about my journey — and also the excitement of playing a vampire, which, as an actor, I've always wanted to do — that I really did get to relish in it. I really did enjoy it. It was it was truly lovely.
MW: You set up a really cool universe with Blood Relatives, and you even introduce a werewolf-type character at the end, which I thought was fun. Would you be interested in expanding on this movie with either a sequel or spinoff?
Noah Segan: Absolutely! I think, you know, the takeaway that I hope people sort of get from the movie is that everybody is a monster. Everybody's family are monsters, but there are monsters. And I think that if that's a sentiment that can be repeated and supported through fun movies, fun shows, I'm all for it. The thing that I really wanted to project in the film is, even though it's a story of two people who were kind of alone coming together, I wanted it to feel at the end, like they weren't alone. The world wasn't alone with them; they were part of something. And so maybe that does mean that we are able to kind of continue the story in some respect.
Knives Out and Working With Rian Johnson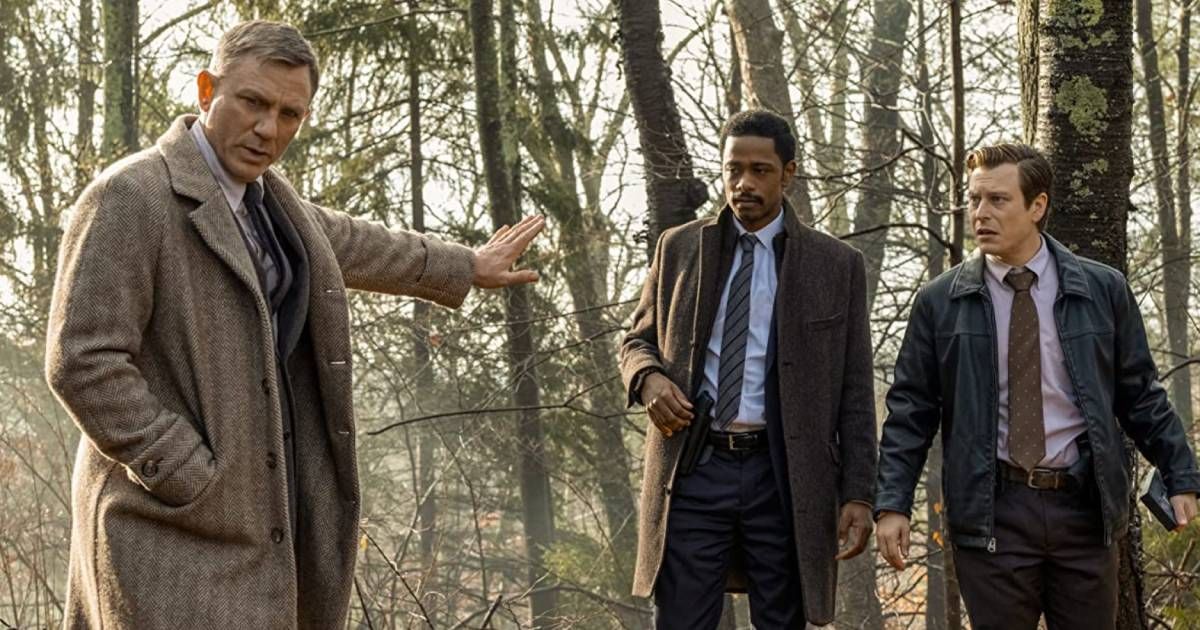 MW: I really enjoyed your performances in Rian Johnson's movies, going back to Brick and then Looper and Knives Out. What's it like working with him?
Noah Segan: It's like, going home, you know? Wherever we do it, whenever we do it, whether it's on a soundstage at Pinewood, where I get dressed up like I did when I was a kid for Halloween, or whether it's outside of Boston, and I'm dressed kind of like a boring dad — it always feels like home because I'm with Rian, Steve [Yedlin] his DP, Ram [Bergman] his producer, Nathan [Johnson] who does all the music. There's a group of us who have all been sort of together since Brick. It not only is fun — because you're working on a fun script and you're working with other fun people who you've never met before, some of whom you hang out with all the time — but the sort of overall sentiment is — I never really went to school, didn't go to college or finish high school — I'm sure it's what it must feel like to go to a reunion or to hang out with your pals from school. It just feels like there is such a comfort and a hospitality that they cannot get rid of me. [laughs]
MW: Is there anything you could share about the new Knives Out movie?
Noah Segan: I will say that with regard to the movie, I think that Rian has done the incredible job of taking the things that we love about the first movie and giving us more of them. It sounds really simple, but that's all too often not the case with a sequel. And I think that just the idea that we love this world, and we love this detective, and we love these adventures, why not just keep doing it? And that's sort of been the mentality. And it sounds so simple, but he really threaded that needle. And as far as my involvement goes, I cannot tell you much if you haven't seen the movie, but what I can say is that, that art imitates life.
Blood Relatives is available now exclusively on Shudder.