Just when you thought every clever spin on the vampire subgenre of cinema was done — enter Blood Relatives, which is available exclusively on Shudder starting November 22. The film is written and directed by Noah Segan (Knives Out, Looper), who also stars in the film. The film succeeds as it follows a heartfelt rapport between an estranged father and daughter, both of whom have some serious fangs. Francis (Segan) is a 115-year-old Yiddish vampire who still looks 35. He's been roaming American backroads in his beat-up muscle car for decades, keeping to himself, and liking it that way. One day, a teenage kid, Jane (Victoria Moroles), shows up. She says she's his daughter, and she's got the fangs to prove it. They go on the road, deciding whether to sink their teeth into family life.
We recently caught up with Victoria Moroles, one of the stars from Teen Wolf who also joined the latest season of Mindy Kaling's Never Have I Ever. Moroles opened up about returning to a supernatural world on camera, playing a vampire for the first time, working with the iconic Kaling, and more.
Playing a Vampire, Reentering the Supernatural
MW: What was it like playing a vampire?
Victoria Moroles: It wasn't the first time I've kind of lived in a supernatural world, per se, but it was my first time being a vampire. And I had a blast! It was a lot of fun, having the teeth fit in and be able to kind of think about [my character] Jane's super-speed. And all of these things that she was kind of growing into was really fun because it kind of paired really nicely with the fact that it was my first time playing a vampire. So I kind of connected with her in that way.
MW: Given your time on the show Teen Wolf and then doing a movie like this, would you welcome future opportunities to return to a supernatural world?
Victoria Moroles: Oh, for sure. I love it. I love separating our world and just kind of living in this fantasy land. I think that there are so many opportunities in that. And I love using my imagination. And it's really cool because you get to do a bunch of fun special effects and the prosthetics and stuff like that. I'm like a huge fan of people who do that. So those are all just kind of pluses in working in something like that.
Related: Every TV Show Created by Mindy Kaling, Ranked
MW: What was your favorite scene to shoot, or maybe your favorite day on set while filming?
Victoria Moroles: A lot comes to mind. Honestly, I would go back and do it again. I loved playing Jane so much. One specific thing, though, that I really loved was — initially in the original script, when Hilda comes in to the hotel room, Francis [played by Segan] was supposed to kind of defend us… It was rewritten, I think, like a couple of weeks before, and Noah was like, "Alright, you ready to punch somebody?" And I was like, "What? What's happened? What?" And he's like, "Yeah! This only makes sense that Jane would be the one to give her a good shake." So I was like, "Alright, I'm always game for anything!" So it was a lot of fun kind of putting that stunt together… It wasn't just throwing a normal punch in the stomach. It was like, "OK, I'm a 15-year-old vampire who actually has a super strength." And so that was kind of added on to it. So that was probably one of my favorite things to do. And seeing it all cut together and everything was awesome because Jane just looks like a badass."
Related: Why The Teen Wolf Movie Can Succeed (Even Without Stiles)
Never Have I Ever and Mindy Kaling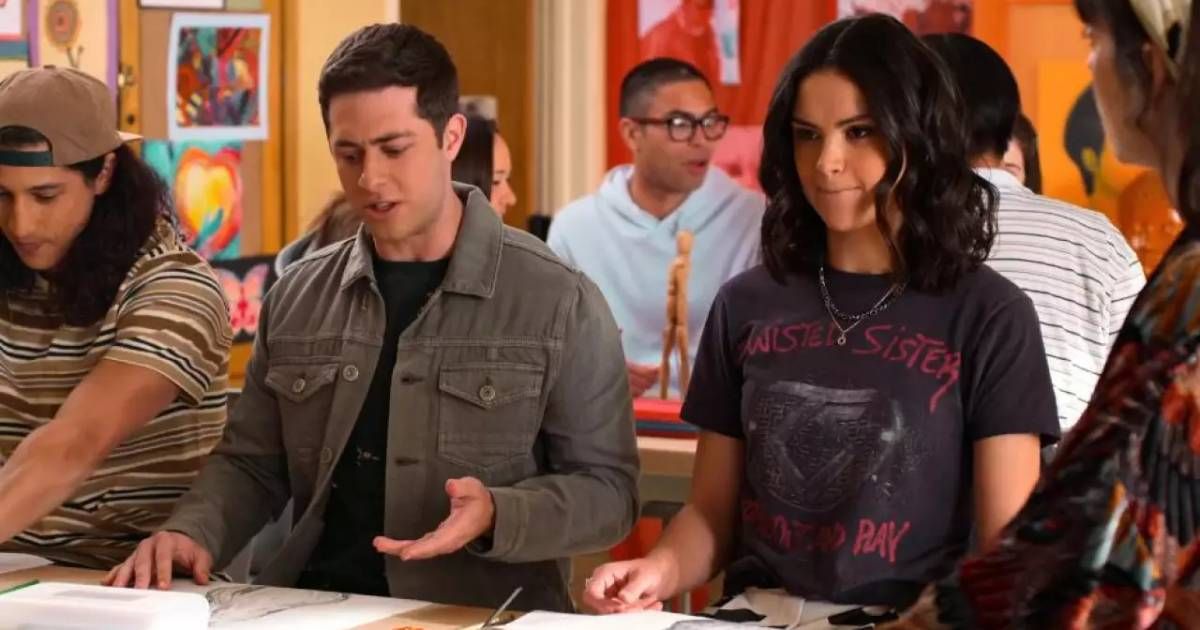 MW: Would like to share about any other projects you're currently working on?
Victoria Moroles: I just finished shooting the fourth season of Never Have I Ever in August. The third season came out, it's on Netflix. And the fourth season's gonna come out soon. And I just have loved Mindy Kaling for so long. I watched her on The Office and was a big fan of her as an actor, but also as a writer. And so I was really stoked to be on a show that she's co-creator and showrunner of. And so I had a lot of fun doing it. I love single-cam comedy, and so I'm really excited. The show has like a super big following, so I hope that a lot of people like the fourth season. There's a lot of fun stuff in it… The fourth and final season, I was so sad!
MW: What's it like working with Mindy Kaling?
Victoria Moroles: I honestly kind of blacked out when I met her. I think it's one of those things where we were on set working on this scene in the art classes, like this big kind of group scene, and she was coming in to say hi… it was the first time that I had met her. And so she came up to me and was like, "It's so great to have you on the show." And I just, I kind of went to another place. [laughs] But she was really so kind and so sweet. Lang [Fisher], who's also the co-creator on that show, is awesome. I worked with her a lot. At the end of season 3 and throughout season 4, she was like super hands-on, and they're awesome.
Blood Relatives is a Shudder original.