Oscar nominee Tom Berenger (Platoon) has been in the game for decades, and so has the director of his latest on-screen effort. Black Warrant is directed by Tibor Takács (The Gate, Sabrina the Teenage Witch), with a thrilling storyline that follows a semi-retired special ops assassin (Berenger) and a DEA agent (Cam Gigandet from Violent Night) as they cross paths on separate missions to stop a cyber-terrorist organization seeking to bring catastrophe to the world. Jeff Fahey (recognizable from Lost) even makes a fun cameo in this gritty, action-packed thriller.
We recently caught up with Takács to learn more about directing the film, which is now in select theaters and available on demand. He also dishes on past projects and his filmmaking plans for the future.
Bringing a Household Role to Tom Berenger
MW: What was it about Black Warrant that attracted you to the project?
Tibor Takács: Well, that whole concept of the sins of the father visiting upon the son, you know? I've sort of been messing with that idea for a few years on different projects… It's one of those themes that maybe in my own life, it has some sort of resonance, even though my father was a good person, a good man. But you know, he had his own sins. And I always wondered about that. And actually, my son, who's a director, made a music video that really struck me that had that theme as well. So, you know, I've just been drawn to it as a biblical kind of theme. It works for me, it's very rich. It has a lot of questions. And even in the Bible, it's very convoluted — is that what they meant when they said, "The sins of the father will visit upon the son," you know? How clear were they? The movie kind of explores that.
Related: Black Warrant Review: A Surprisingly Entertaining Action Thriller
MW: What was it like working with Tom Berenger?
Takács: It was great. I mean, for me, there was this movie a long time ago, Someone to Watch Over Me. He plays like a bodyguard… [Berenger] just struck me in that movie and then also in Platoon… And then he's got his Sniper movies too… He pulls off this idea of being an older guy who's sort of gone to pasture but, you know, he's called back. He fits that role very well. It's almost become a cliche in some respects. But he brings a fresh approach all the time… He's very much a hard-working actor. We had a lot of demands on him. We had him for a short time. But you know, he pulled it off every time, even with being older and having to do some physical stuff… And he always had the right questions. He always got right to the point in any kind of situation, and he dug right into this idea of the father-son thing right away. They wanted to create all this backstory… [but] we didn't have time to really put that in our story, you know? There's only a certain amount of narrative that you can inject, but they went in and explored all this other stuff that was happening off the screen.
MW: What was your favorite moment on set or scene to shoot?
Takács: Well, the most exciting day was very early on in the schedule. There's a little kid at the end [of the film], and the person that we cast became unavailable. And so they said, "OK, we'll get somebody." They brought a kid who was just a little older… I'd say, 3 or 4 — and very misbehaved. And we're in the thick of it. We got to get off the boat at a certain time because it's the scene that takes place on a boat. Add that into the mix. And this is the second kid… [But] the girl that was playing the partner's wife… had a friend in Tijuana who just had a baby. So she called her friend and said, "Can you be here in like, 15-20 minutes with your baby?" And the baby came, and the baby was really good. I was really pleased.
Influence and Future Projects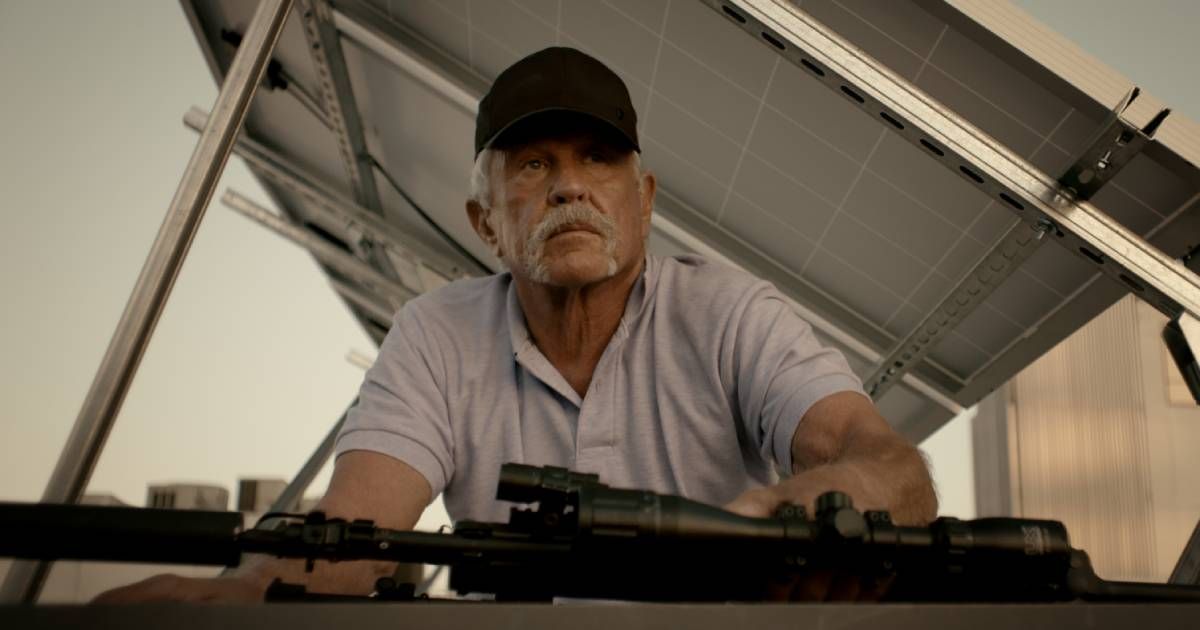 MW: I loved how you ended the film right back on the boat, which was where we first met Berenger's character.
Takács: I was kind of channeling a movie that you might have seen, Sexy Beast. That was like my favorite film. I was trying to get Tom to give me that vibe.
Related: Exclusive: Cam Gigandet Refuses to Be Intimidated in Black Warrant Clip
MW: It's currently the holiday season, and I know you've had a history of directing Christmas movies. Would you ever return to the genre and direct another holiday movie?
Takács: My whole thing is about having opportunities to do different kinds of movies. I know that goes against the sort of business sense of Hollywood and how people want to see you. Like, you're supposed to stay in your lane and be in a genre. But you know, my hero directors are more eclectic than that. And I've always sort of strived, to a fault almost, to choose projects that weren't the same as the last one. But you do get into some little channels, so suddenly I'm doing like five romantic comedies; three of them are about Christmas. [laughs] And then you stay in that lane for a while. And then you say, "Alright, time to shift." That's how I've been doing my career.
MW: Are there any projects you'd like to share about that?
Takács: We're planning, with the same group of people [production-wise], to do another thing in New Mexico, another sort of action thriller sometime in the new year. And I've got my own little script that I'm playing around with called Collection, another father-and-son story… But yeah, [action thrillers are] way more demanding than a Christmas movie. I'm sure you can imagine the reasons. On the Christmas movies, you get a chance to play with the actors, and it's all about them. It's really just their performance. And you know, [there are] a lot of talking heads and people walking around. But action [films], you're out and about changing locations every day, using all the resources and movie magic that you could possibly bring to the table or that you can afford, and try to put it all together and come up with something that sort of competes with what I call the "language of the rich cinema," you know?
Black Warrant comes to us from Saban Films.