Baby Ruby had an impressive debut at the 2022 Toronto International Film Festival. The compelling psychological tale directed by Bess Wohl (Siren) brings us a unique character in Jo, played with equal doses of sublime grace and intense grit by Noémie Merlant (Portrait Of A Lady On Fire). Jo is a successful lifestyle entrepreneur who is joyfully pregnant and awaiting the arrival of her first child. With Game of Thrones alum Kit Harington coming along for the ride here, playing a supportive husband, what can go wrong? Yeah, you can see where things may head next.
Soon after Jo welcomes baby Ruby home, something feels off. The new mother is assured all is well and her rattled nerves are perfectly normal. Still, she wonders if something is wrong with her. And baby Ruby for that matter. Then there's the seemingly "perfect" neighborhood moms, who seem desperate to befriend her. Why? Suddenly, Jo fights to protect herself and her baby and well, Baby Ruby becomes a waking fever dream where everybody is a threat. Is anything what it appears to be, Jo frets.
"I haven't seen that many movies about motherhood and babies like this except maybe Rosemary's Baby. I'm not a mother, but I felt so much sincerity in this project, even if it is a horror-thriller movie," Merlant said. "I found it very audacious and risky, and that's why I wanted to do it."
Down Will Come Baby…
Audiences have long been intrigued with tales about mysterious babies, bizarre pregnancies, and any number of psychological plights some mothers face. Apple TV+'s Servant, for instance, hones the best of M. Night Shyamalan (Knock at the Cabin, The Sixth Sense) and spins a wicked mystery about an ominous nanny. Films like Still/Born, Baby Blood, and Hungry Hearts tweak some of the psychological tropes that Rosemary's Baby spawned. In Wohl's tale, ultimately Jo must confront the truth of her own darkness and brace herself for the ultimate human sacrifice: The one mothers make for their children.
"This story really came from a very personal place for me," Wohl admitted. "I'm a mother of three incredible, amazing children, who I love very much. During the experience of becoming a mother three times, I started to feel certain elements—the sort of strangeness, the absurdity—because the film also has a lot of humor in it, too. For me, I experienced different moments of fear, and my mind would go to certain places."
Related: Exclusive: The Cast of The Ark on the Sci-Fi Show's Characters and Secrets
She added that she had not seen that particular element on screen before "in a way that felt right to me. Obviously, there's been scary baby movies and motherhood explored in different ways in different genres," Wohl added, "but I had never seen the version that really had all the complexity I felt in it. A lot of my ideas come from taking like a little germ of something, a little glimmer of a feeling, and then pushing it to the nth degree—like, how far can I push this tiny little impulse that I personally would never follow through on?"
"I found the film so interesting," Merlant quickly noted. "Even if I don't have a baby, I identified because it's all my fears. I sometimes wondered, 'Do I want a child or not?' And I worried that it was too terrible to say… But it was like, 'I'm scared that the baby will kill me.' You know, when I'm pregnant. Or, 'I'm scared that I will not be happy at all and that the baby will eat me in some way.' It's a real sensation. Even if you don't have a baby, you can have the sensation; that moment where you question yourself. I loved that this film had many strong images, and they were presented in a very poetic way."
The Role of a Frantic Mother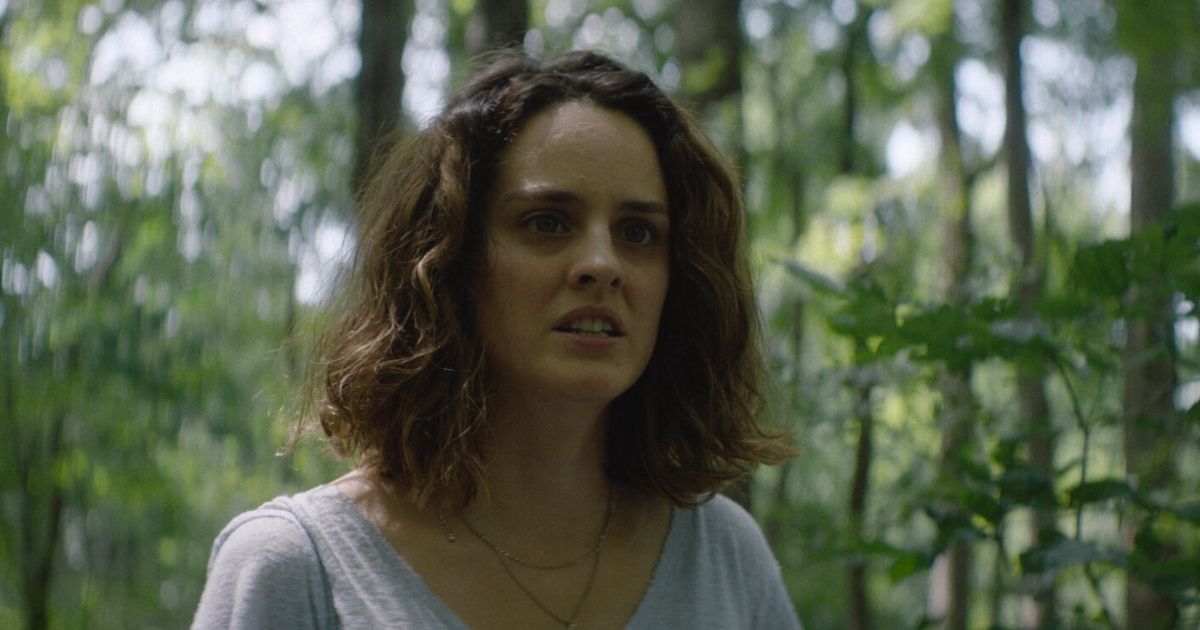 Slipping into different characters is what actors do. Slipping into characters moving through psychological traumas is particularly challenging. How do you shake all that off? Can you? Especially in a film that leans into postpartum depression.
"When I first went into this character, it was hard because when you are in the process of acting, you have to lose your mind a bit—I'm talking about me, not about all actors," Merlant said. "So, for this film, there were these moments where I'd lose myself in this kind of character. I'm French, and the filming was in upstate New York for a long time, and I was not used to not having longtime friends around. But it was good to discuss with Beth how, at times, somebody can become completely lost and confused, so much so that you don't know who you can trust. You don't know who you are anymore. That was interesting to me."
Related: Knock at the Cabin Review: M. Night Shyamalan's Apocalypse Thriller Stumbles
Wohl captures the vulnerability of motherhood in unique ways in Baby Ruby. In her director's statement, she noted, in part: "When I think back to that day in the delivery room, I realize that I was in fact giving birth to multiples: not only to my daughter but also to a new self that could be both artist and a mother. Finally, though I couldn't have known it at the time, I was also giving birth to this film. And while the birth was not easy—they seldom are—the immense reward has been all of us, my daughter, my film, myself, going forth, taking shape, becoming part of the world."
When asked how she hopes the thriller will land with audiences, Wohl said: "My hope is that audiences are surprised that there's jump scares, and moments that you don't see coming, and all of that. I always get excited to send audiences on that rollercoaster. But on a deeper level, I'm hoping they are surprised by how much they relate to the character and the experience. And Noémie does such a magnificent job of bringing us inside this woman's psychology and her feelings.
"So, whether you're a parent or not, I think you kind of jump in with her and feel what it would be like to go through a really earth-shaking transition in your life."
Baby Ruby, a Magnolia Pictures release, is in theaters and on demand on February 3.