Luther was a critically acclaimed British series from the BBC which only became more beloved each season. Much of this is thanks to Idris Elba as the titular character, a brooding and brutal detective who becomes intertwined with the sexy psycho, Alice Morgan (a perfect Ruth Wilson). As Elba's star power grew throughout the decade that Luther was releasing its five seasons, viewership increased drastically in direct correlation with the actor's international renown. The first season already attracted a strong 4.8 million viewers, but by the time of the fifth season, that number had doubled in the UK alone.
Three years after the series concluded, Elba is back and just as bad as ever in the Netflix original movie, Luther: The Fallen Sun. While Stringer Bell of The Wire may be his greatest performance, DCI John Luther may be his most iconic, and unlike many film adaptations of TV shows, the character certainly deserved a movie. Series creator and writer Neil Cross is back for it, and in the absence of Alice Morgan, Luther has a new violent dance partner to engage with — David Robey, played by the incredible Andy Serkis. Cross, Serkis, and director Jamie Payne spoke with MovieWeb about the film.
Neil Cross and Jamie Payne Bring Luther to the Movies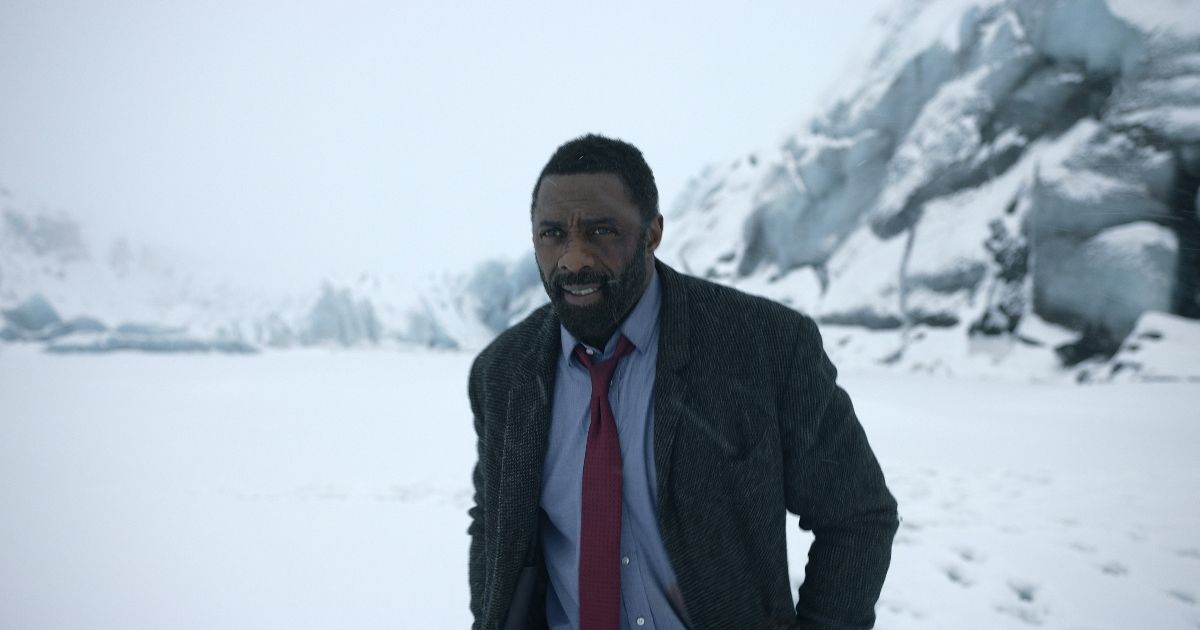 Some television shows can't quite stick the landing when jumping to the big screen; they simply feel like longer episodes of the show. While fun, this could be said of The Bob's Burger Movie, The Simpsons Movie, and Veronica Mars. Luther: The Fallen Sun, on the other hand, feels like a film, so it's good that Netflix allowed a theatrical release, as well. Part of this is because of Larry Smith's phenomenal cinematography, mastering the lighting the same way he did with Eyes Wide Shut, and utilizing darkness and artificial light as he did in Only God Forgives. The film looks, sounds, and feels cinematic, and for its creators, that was the point.
"Certainly, we wanted it to be cinematic," said Cross. "We wanted it to be different from the TV show. It's not the same thing. It's not like a big Christmas special, and the road to this film is littered with the corpses of other similar projects. These things so often kind of detonate on impact. So I wouldn't say for a moment there was an endeavor that we went into with anything but respect for the challenges that lay ahead. We didn't take it lightly."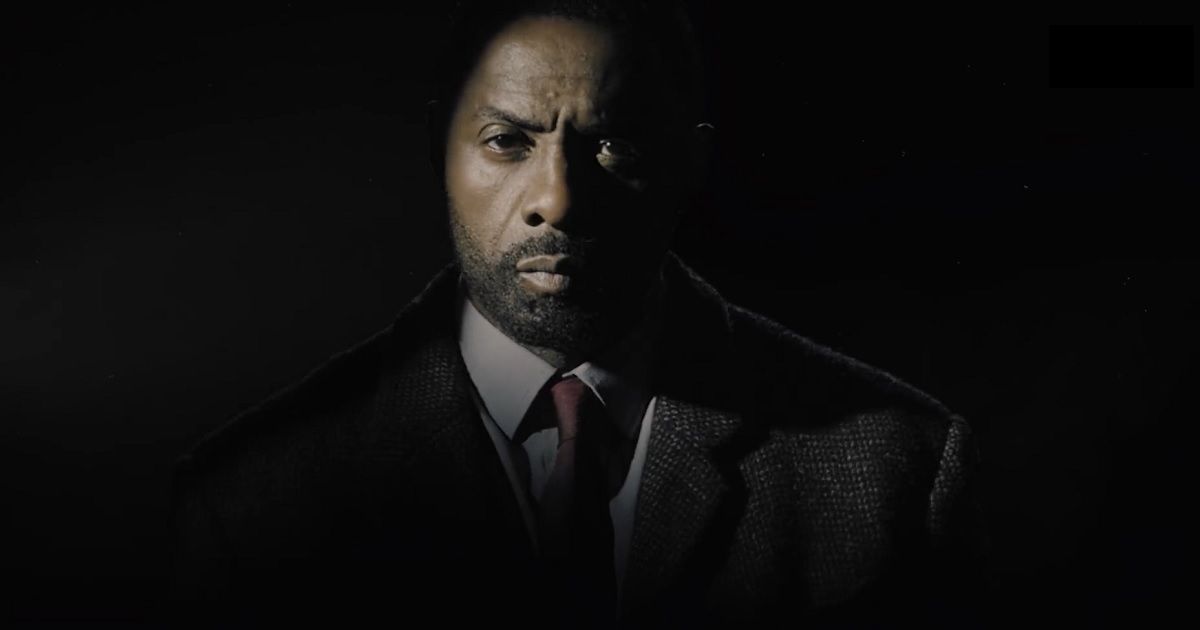 "The great thing is, I genuinely loved the series before I directed it and joined the team," added Payne, who has directed some of the most visually entertaining episodes of television over the past two decades (Outlander, Doctor Who, Call the Midwife). "Neil and I'd worked together before, so it was a great relationship before we started." Luther: The Fallen Sun works as a sequel of sorts, picking up where the series left off, though it certainly works as a stand-alone film; either way, it is evocative of the show. Payne continued:
The thing is, there are very few series that really carve a path in the way that Luther did, and I think the whole idea was to take that, to recognize the importance of honoring what came before, and just enjoy the fact that we were going to properly enter that space without apology, in the way that the series did. The series arrived without apology, and we needed to kind of lean in, we couldn't shuffle coyly into this new space. I think we had to push through like the freight train that is John Luther, and I'm thrilled that we got the opportunity to do it.
Casting the Villain of Luther: The Fallen Sun
Without the fabulous antagonists of Luther, the film had to find someone who could go head-to-head with the character, which is difficult to do when the character is played by someone who was once a casting favorite to play James Bond. That antagonist was ultimately found in Andy Serkis, the brilliant performer who is perhaps best known for his motion-capture work in the Lord of the Rings and Planet of the Apes films. There's an immense physicality that goes into those roles, though they do disguise Serkis' appearance from the audience. When he does appear without CGI, as in the excellent Death of a Superhero and in the MCU as Ulysses Klaue.
Related: These Are the Best Movies Made From TV Shows
It was as that character, in the MCU film Avengers: Age of Ultron, that Serkis seemed to greatly impress Elba (who plays Heimdall), though they never actually shared a scene together. When Cross and Payne first started to find the perfect antagonist for Luther: The Fallen Sun, Elba immediately suggested Serkis. "We never actually worked together," explained Serkis. "We've always sort of circled each other in hopes that we would, so I was thrilled that wanted to have me on board. That was really flattering."
Jamie and I were particularly very daunted by the idea of casting this," said Cross. "One of the very practical considerations with Luther is having someone who can stand toe to toe with Idris Elba as John Luther, and convincingly be a threat. So we were psychologically prepared for, you know, the hunt for Scarlett O'Hara. We thought it was gonna be a long, long process. We hopped on a quick Zoom with Idris, really to lay the ground with him that this was going to be tough, and that this was the beginning of a long road […] Idris just went, 'Oh, it's Andy Serkis.' And we were like, 'Oh yeah, of course. That's that.' In terms of aspirational casting, it was the easiest process I've ever been through."
A Psycho Uses Computers to Haunt Luther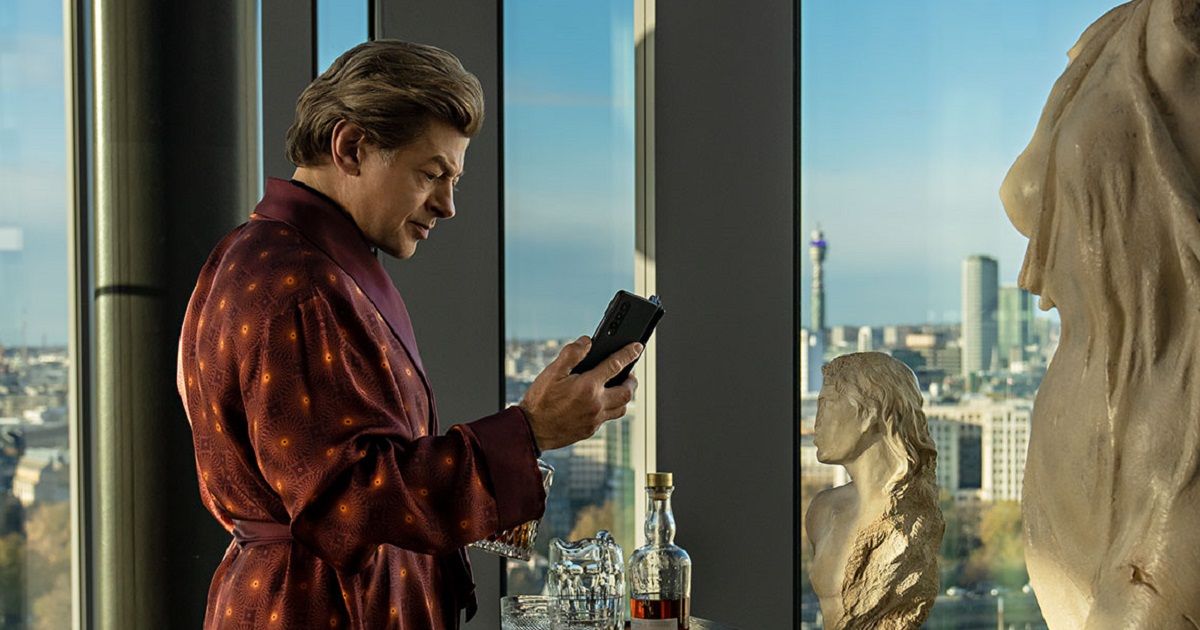 Serkis plays David Robey, a nasty and extremely disturbed hacker who has amassed a following that blackmails and kills various people after compromising their technology. The monstrous maniac is a dark headspace to get into. "I think Jamie had to seduce Andy somewhat, into the intentions behind the character," said Cross.
"Andy loved the script but obviously felt uncomfortable, as you'd imagine anybody as loving and warm as Andy Serkis himself would be," added Payne. "I think the lovely thing about David Robey is it allows a performer to properly immerse themselves into the extremes of this human. And I think 'human' is an important word, because even though, to an extent, this is a monster movie, you can't play a human monster that doesn't have a heart; well, Andy Serkis can't. So I think the fact that there's a joy in there, that Andy Serkis understands the tragedy and what makes David Robey happy and the happiness that he's pursuing — I don't think there are many actors that could do all of the above."
Related: These Are Andy Serkis' Best Performances, Ranked
Serkis was ultimately "seduced" by the tangential aspect of the character, who uses technology to destroy lives in a way that feels depressingly relevant to today. "I think what really finally appealed to me about it, was understanding that David Robey is only partially the monster of the movie," said Serkis. "The rest of the monster, and the debate around it which thrills me to examine, was the fact that the internet and computer world that we live in, that we've completely abjured all our responsibility to and given up all our power to, that is the overwhelmingly terrifying force." Serkis continued:
That is the tool that David Robey has access to, and can then manipulate, shame, and observe, and voyeuristically steal and suck people's lives so that he can come into existence himself. And that is why I finally [chose the film]. When I read the script the first time, I thought, 'This is so dark, I don't know if I want to go there.' But it was really the debate around the power that we have [with technology], that we've all bought into. I just thought this was a really valuable discussion, actually.
Andy Serkis Switches Off the Darkness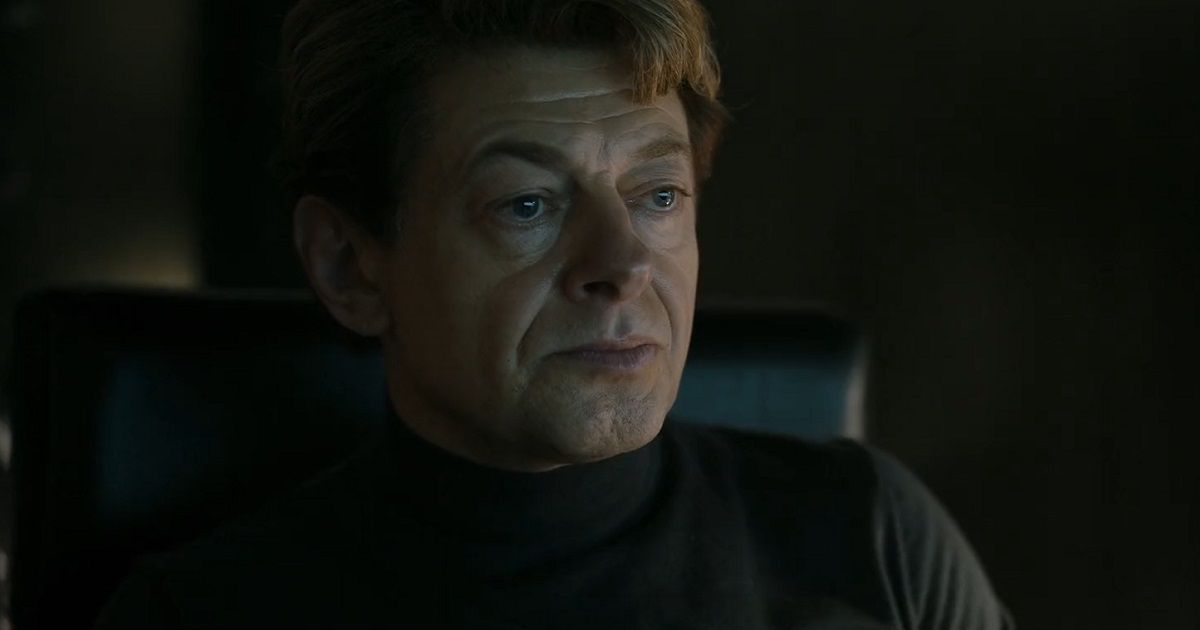 While Serkis may have initially been dubious about going into such a dark place for Luther: The Fallen Sun, he's developed a lot of coping mechanisms and skills over his many years in the industry. After you play a character as tragic and twisted as Gollum in Lord of the Rings, you probably need to learn how to switch it all off. "I've definitely had to, sort of like by definition of having a family, a real life, and being a director and producer on other projects too. I think if I played this role when I was in my early 20s, I would have found it a lot harder to press the pullout button, you know. Because when there isn't anything else, you're focusing just creatively on one thing. You can go down a real rabbit hole of a character like this, and I have done that in the past, but I think having other things in my life forces me to be present in other ways."
It's interesting that Serkis was attracted to the discussion in Luther: The Fallen Sun about the compromise humanity has made in order to have digital technology, considering that few actors have worked with technology as much as him. From Supreme Leader Snoke in Star Wars to King Kong himself, Serkis has fused his body with state-of-the-art technology in the most impressive of ways. For him, though, there isn't much difference between being obfuscated by CGI and appearing with his own recognizable visage.
"It's all about character and story," said Serkis. "You know, it's as live-action as it comes, being in a motion-capture suit in the rainforest in Vancouver or climbing a snowy mountain. You know, it's all about character and story." For fans of good characters and strong stories, Luther: The Fallen Sun is out on Netflix on March 10.