Andrew Bowser and Olivia Taylor Dudley Talk Sundance Premiere of Onyx the Fortuitous and the Talisman of Souls
It was about a week before their film, Onyx the Fortuitous and the Talisman of Souls, made its Midnight premiere at the 2023 Sundance Film Festival when I met Andrew Bowser and Olivia Taylor Dudley over Zoom. Other than the typical pre-flight mental checklist — what to pack, what to wear — the pair is naturally anticipating playing their film for a general audience for the first time. "That's the thing I've been running through my head," Bowser said. "I'm picturing an audience watching this thing that, you know, we've mostly been looking at in my garage for months and months and months, which is very exciting to imagine."
Indeed, in addition to starring in Onyx the Fortuitous, both Bowser and Dudley serve as producers — the former, in fact, pulls quadruple duty, having written and directed the film as well — which inherently increases the stakes of the movie playing for an audience. "Our DNA is all over it," said Dudley. "It feels like our baby going out to the world, and so it's really exciting, but it's also quite nerve-wracking. When something gets released that you're just acting in, there's a part of you that can say, 'Well, I did my job. Whatever they did with it after, I had nothing to do with it.'" To which Bowser added, "As producers, we know every single cut, we were in every stage of the process."
Reminiscent of horror-comedies from the 80s, Onyx the Fortuitous follows the eponymous Onyx (Bowser), who, per Sundance's official synopsis, "lands a coveted invitation to the mansion of his idol Bartok the Great for a ritual to raise the spirit of an ancient demon." It's essentially a lifeline for Onyx, who is constantly ridiculed and outcast both at home and work. Joining him at the mansion are other misfits: Mack (Rivkah Reyes), Mr. Duke (T.C. Carson), Shelley (Arden Myrin), and Jesminder (Melanie Chandra). It isn't long after they arrive that the group discovers that neither the ritual, nor their hosts, Bartok (Jeffrey Combs) and Farrah (Dudley), are entirely what they were led to believe, and so they must fight in order to keep their souls and stay alive.
From Internet Sketch to Sundance Selection
If Onyx the Fortuitous looks familiar, it's because you might likely know him as The Weird Satanist Guy or The Weird Arby's Guy from the internet. In fact, Bowser created Onyx in 2012 as a fun character for him to play in shorts or sketches made specifically for the internet and social media. "I don't think when I first performed Onyx that [making a movie about him] was in my head, but I can say that I have always been a filmmaker [and] narrative has always been my passion," said Bowser. "The fact that he kind of grew alongside my narrative passion, and then they converged, I think, was a surprise."
Related: Exclusive: Marlee Matlin Is Excited to Bring a 'Unique Perspective' as Festival Juror at Sundance 2023
In the end, playing Onyx for a decade proved beneficial for Bowser. Right before the COVID-19 pandemic hit, the filmmaker had a completely different feature lined up and ready to be financed. However, that feature took place during a horror convention and would have needed hundreds of background actors, which meant Bowser had to pivot towards something more manageable and COVID-safe. Soon after, Onyx became a TikTok sensation, which inspired Bowser to turn towards partially crowdfunding the feature that would effectively become Onyx the Fortuitous. "He's got some cachet on the internet. I love him to death. Having spent 10 years with him, I now know there's this internal and emotional life you could explore in a larger context."
Building and Expanding Onyx's World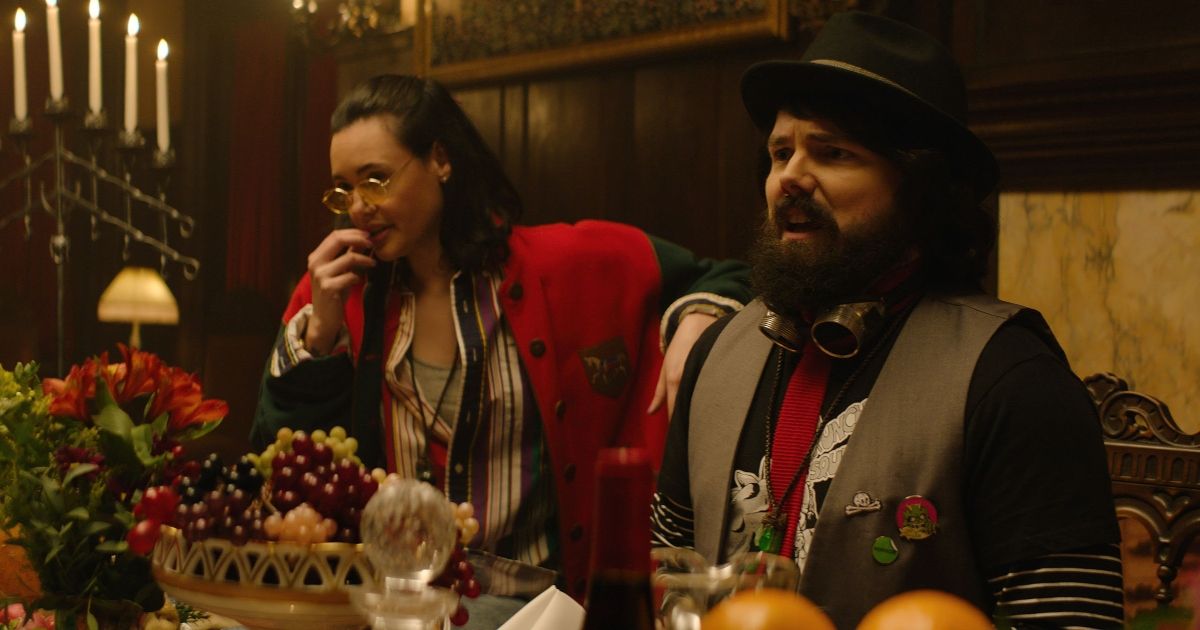 "Bowser and I have been creative partners for a decade now, so anything he's working on, we're kind of working on together," Dudley said when asked how she initially got involved as both producer and actor. She was, in fact, the first person to read pages of the script as Bowser wrote them, after which they would discuss story ideas for hours a day, then Bowser would go back to writing and rewriting, and back and forth until it was complete. "That's how we worked together on some of the shorts and other films we were developing. It was a very similar structure for [Onyx the Fortuitous]."
If there was one thing Dudley was certain of, it was that she wanted to play Farrah. "I wanted to be the villain. I like playing villains. In my head, I'd always been Farrah." On a personal level, Dudley related to Farrah in the way Bartok initially underestimates her, orders her around, and takes her for granted, before she slowly rises and reveals herself to be the true threat to Onyx and his friends. "There's just something about being a woman in this business, in this world, having men tell you what to do and that whole experience. I think, if I just kept her head down in the beginning and let her roar in the end, all the pieces would fall where they're supposed to."
Related: Sundance 2023: Most Exciting Movies Making Their World Premiere
For Dudley, of course, it helped that Farrah was already a full-fledged character in Bowser's script. "Andrew is really good at creating a world and making the characters feel very real and lived-in. There was so much heart, and I think all the actors fell in love with the script immediately because he gave them all so much to work with." According to Bowser, "It's really up to Onyx to dictate what the film becomes. After living with him for so long, I know his heart and his perspective. When I sat down to write, I really could feel Onyx saying, 'I just want some friends.' He really wanted it to be a story about finding friends and finding a family."
Luckily for Onyx fans, he and his family won't be going away anytime soon, even after Sundance is over, as Bowser and Dudley have potentially mapped out five movies, and Bowser has started writing the first sequel. "I don't think I would have been able to stop myself because now all of the actors really showed me who those characters are. So, sitting down to work on the sequel has been very easy and very fun. They're all making me laugh."
Onyx the Fortuitous and the Talisman of Souls is currently playing at Sundance. You can visit the festival's website for the full screening schedule.