Recently dumped strangers make a romantic connection over the course of an eventful day in vibrant London. Rye Lane enchants with imaginative filmmaking, dynamic settings, and hilarious lead actors. Director Raine Allen-Miller astounds in her feature debut, crafting a whimsical journey where polar opposites discover an undeniable magnetic attraction. They learn the value of being appreciated without sacrificing yourself for narcissistic and indulgent partners. True love blooms with acceptance and just the right amount of tension. Your heart will swoon between bouts of raucous laughter in this great new rom-com.
Yas (Vivian Oparah) rushes to the unisex bathroom at her friend's art gallery show. She hears uncontrollable sobbing in the stall beside her. Dom (David Jonsson) weeps while perusing social media posts of Gia (Karene Peter) with Eric (Benjamin Sarpong-Broni), his best friend. An intrigued Yas looks under the stall to see a pair of pink sneakers. She's surprised to see Dom sporting the unusual kicks at the exhibit.
Yas has to know the source of Dom's anguish. He sadly recounts how a six-year relationship ended with cheating and crushing betrayal. Yas admits she's also just broken up with her boyfriend. Dom's tears are a stark contrast to her chipper attitude. Yas has no emotional baggage — she's embraced her newfound freedom.
A Seemingly Mismatched Pair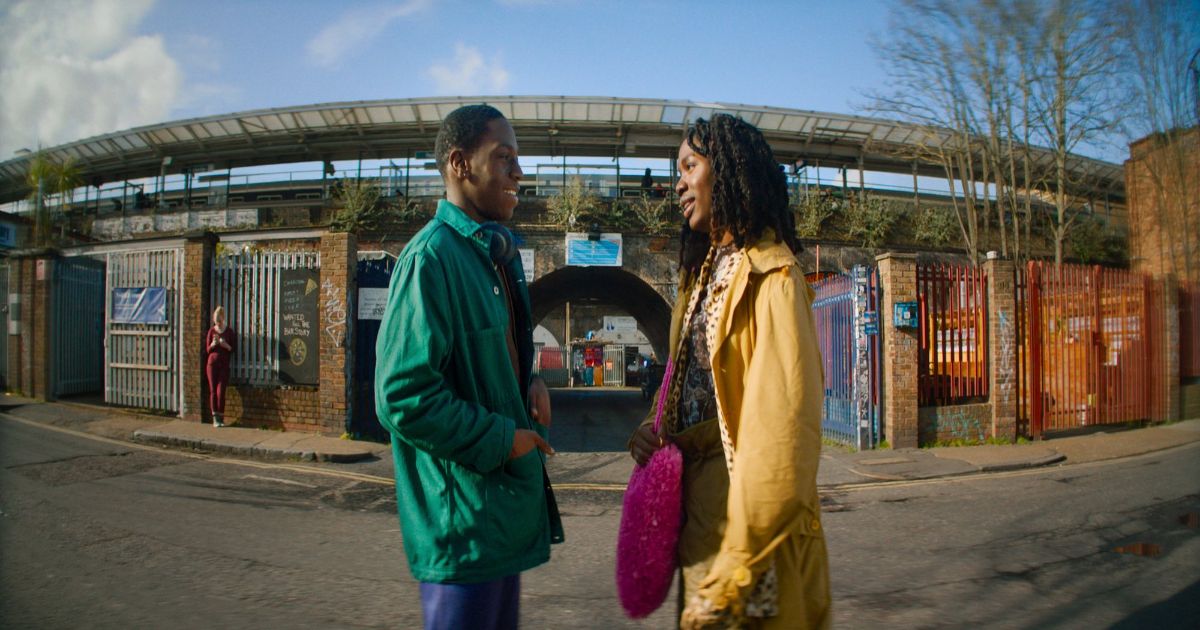 Dom tells Yas he's off to meet Gia and Eric for lunch. Yas wonders, "Why would he put himself through such torture?" Dom's going because he wants to know what he did to push his beloved away. Yas warns that his attempt at closure is a bad idea. He rebuffs her insane offer to join him at the restaurant. She's a random person he just met, after all. They go their separate ways, but destiny has other plans for the seemingly mismatched pair.
Yas and Dom's accidental meeting lights the fuse to cinematic fireworks. Allen-Miller's vision is fantastic to behold. Her camera work, lighting, and editing choices are extraordinary. The characters are initially shot in close-ups, but as they embark unto bustling streets, the perspective changes to wide-angle. Panoramic and fisheye lenses are used to capture the colorful surroundings. The couple's kept in center focus, but we see everything in their immediate hemisphere. This is especially impressive as they walk through stores, gardens, and busy intersections. It's a mesmerizing effect that draws the audience deeper into the story.
Related: Best Romance Movies on Hulu for Valentine's Day 2023
Allen-Miller has the protagonists appear as observers in each other's memories. They relive and comment on past woes with sharp comedic timing. Dom watching Yas frustrated by her ex-boyfriend's (Malcolm Atobrah) massive ego is hysterical. The flashback scenes show the inordinate lengths people go to make uncaring partners happy. It's a losing battle when that level of nurturing and attention isn't reciprocated. Yas and Dom were taken for granted, a realization which dawns as they find what was previously missing in their lives — someone who gives a damn about their feelings.
A Great Date Movie
The film bursts with infectious energy. There are no downbeats as the couple traverses a cosmopolitan metropolis. They encounter different cultures as Yas pushes Dom to expand his boundaries; while he provides the honest and unconditional support she desperately seeks. Rye Lane is a great date movie. Hollywood take notice. Allen-Miller has significant talent.
Rye Lane is a production of DJ Films, Turnover Films, BBC Film, and BFI. It will have a March 31st streaming premiere on Hulu from Searchlight Pictures.